What is Gen X soft club and why is it coming back?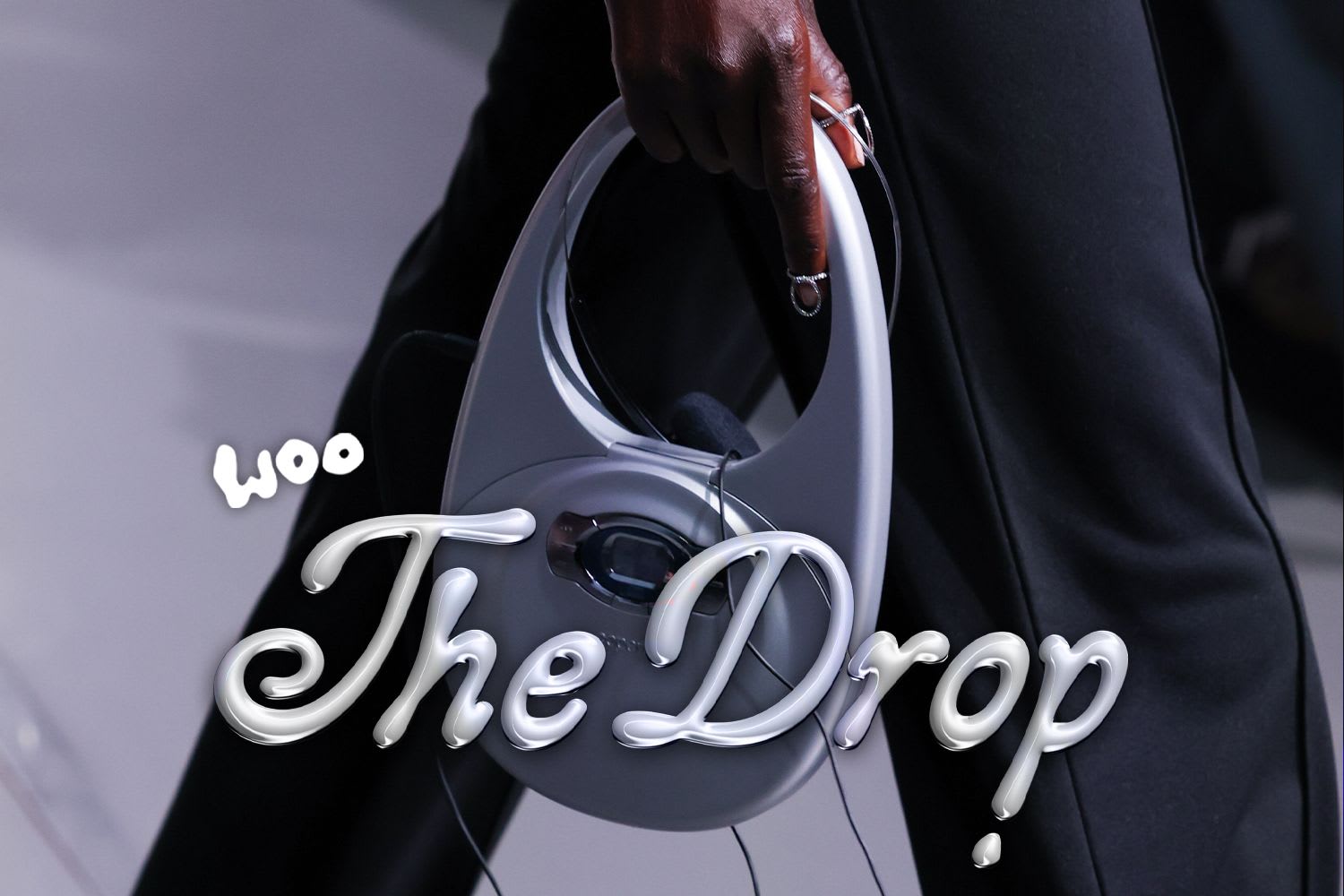 Plus Miu Miu becomes the hottest brand in the world, Donnie Darko's Frank goes to Heaven and more feel good fashion news
Fashion week, and all the extravagant shows and outlandish street style that come with it might be over, but there's still plenty of juicy style news coming your way. Once you're all caught up with our trend reports from London, Milan and Paris, featuring bare bums, short shorts and the new rules for after work dressing, it's time to dive into this week's latest updates. Here's all the feel good fashion news you might have missed.
What is Gen X soft club?
What do silver CD players, the Spice Girls '2 Become 1' music video and the Teen People photoshoot of Britney Spears with a robot dog all have in common? Well, aside from soundtracking our childhoods, they're all examples of the Gen X soft club aesthetic, a true-thousands offshoot of the Y2K revival, encapsulated through retrofuturist fashion, All Saints music videos, U2 album covers and Gregg Araki films.
Gen X soft club fashion – think futuristic, cool blues and greys, neutral leathers, silvery tech inspired accessories, frosted tips and sci-fi infused Oakley shades – is coming back. Coperni's silver CD player bag from the SS24 shows tapped into this nostalgia while at Acne Studios, futuristic sunglasses, neutral leathers and a palette of beige, white and grey channelled soft club energy. If the Y2K revival so far has been all about hot pink, butterflies, low-rise and diamantes, then Gen X soft club is offering a muted, more gender neutral antidote, one that is truer to how Gen X and Millennials remember people really dressing at the time.
you are missing out on some content here because you rejected our cookies. want to change that?
Inspired by the techno-optimism of the Millennium, the Consumer Aesthetics Research Institute describes Gen X soft club as, "Contrary to the contemporaneous Y2K aesthetic and the McBling style of the early 2000s, Gen X models in editorial fashion or artist marketing were much more "natural."' This translates through nude makeup and neutral, muted colours. It combined the minimalism from earlier in the '90s with the futurism of Y2K. The blurred, bleached music video aesthetics of mainstream pop icons like Britney Spears and the Spice Girls overlapped with the ambient haze of artists like Boards of Canada and Aphex Twin.
In many ways, Gen X soft club was a simpler time. An era before smartphones, where Web 1.0 promised to make us all more connected. When you could go for a walk with your portable CD player and switch off from the world, instead of listening to Spotify and getting a hundred notifications popping up at the same time.
you are missing out on some content here because you rejected our cookies. want to change that?
So, why is it coming back in 2023? The over-saturation of McBling Y2K aesthetic means designers are starting to look for alternative inspirations that existed around the same time. If we follow the 20-year rule that says trends come back around every two decades then we're at the tail end of Gen X soft club's peak. Fashion always looks to the past to scope out the future, but TikTok microtrends have made the trend cycle more frenetic than ever. Now, it seems, anything can be turned into a niche aesthetic as long as the algorithm happens to pick it up.
On TikTok, where trends are coined, revived and explained, Gen X soft club is emerging as a true-thousands antithesis and antidote to dominant girly girl Y2K trends. Currently, the hashtag #genxsoftclub only leads to five videos dating back to August this year with a total of 422K views. That's compared to the hashtag #y2kfashion which has 2.4 billion views. TikTok creators are heralding the return of Gen X soft club with Tumblr-esque moodboard videos splicing together images of Madonna's 'Ray of Light' photoshoot, Fiona Apple's 'Tidal' and Kate Moss walking for Prada in the '90s. Other TikToks respond to the recent Digital Fairy video offering a breakdown of the trend.
you are missing out on some content here because you rejected our cookies. want to change that?
Like all nostalgic fashion trends, there's something comforting about Gen X soft club. Whether that nostalgia is real or imagined, depending on your age, is besides the point. The trend feels more down to earth than the Y2K revivals we've seen so far. While any aesthetic from that era will be plagued with the toxic body standards of the time, this take comes with less pressure to be perfect, shiny and happy all the time. At its core it's grungier, but also more classic. Neutral fashions are less likely to go out of style than glitzy butterfly tops and hot pink micro-mini skirts. So, smudge on some Maybelline cream eyeshadow, dig out your old CD collection and dress like the cool teenagers you looked up to when you were a kid.
Miu Miu is officially the hottest brand in the world
you are missing out on some content here because you rejected our cookies. want to change that?
In news that will surprise literally no one who follows fashion, Miu Miu is the officially the hottest brand in the world, according to the Lyst Index report for Q3 2023. The brand, who knocked Loewe off the top spot, recently closed Paris Fashion Week where Troye Sivan, Gigi Hadid and photographer Petra Collins all took to the runway to showcase the sleaze academia collection that featured frazzled school uniforms, shower wet hair and flip flops. Miucca Prada's namesake brand has been popping off with their much coveted ballet flats as well as 2022's viral micro-mini set. Recruiting buzzy celebs like Mia Goth, Ethel Cain and Zaya Wade has helped cinch their status as the coolest brand right now. Only Miucca Prada could turn dischevelled school uniforms and flip flops into a desirable fashion statement.
Donnie Darko's Frank goes to Heaven
you are missing out on some content here because you rejected our cookies. want to change that?
Why are you wearing that stupid bunny suit? Because it's Heaven by Marc Jacobs, of course! Heaven loves to tap into a cult pop culture moment – previous collections have referenced The Virgin Suicides and the films of Gregg Araki – and their latest inspo is 2001's Donnie Darko, just in time for Halloween. The offbeat sci-fi thriller stars Jake Gyllenhaal and has become fodder for misunderstood teens to share and reshare screen shots since the Tumblr days. The collection is comprised of graphic t-shirts, zip-up hoodies and a Frank the bunny hat. Perfect outfits for the end of the world. Shop the collection here.
Gucci Cosmos lands in London
you are missing out on some content here because you rejected our cookies. want to change that?
Not sure what to do with yourself now fashion week is over? Well, if you're in London, there are still plenty of fashion exhibitions to check out. Gucci Cosmos, 180 Studios' latest immersive exhibition, takes you through the history of Gucci, showcasing some of the brand's most iconic designs over the years. Gucci's earliest products, including luggage inspired by founder Guccio Gucci's visit to The Savoy, are shown alongside more recent designs from Tom Ford and Alessandro Michele as well as a room dedicated to new creative director Sabato de Sarno, who showcased his first collection in Milan last month. The exhibition is on at 180 Studios from now until 31 December.