How fashion shows turned into gigs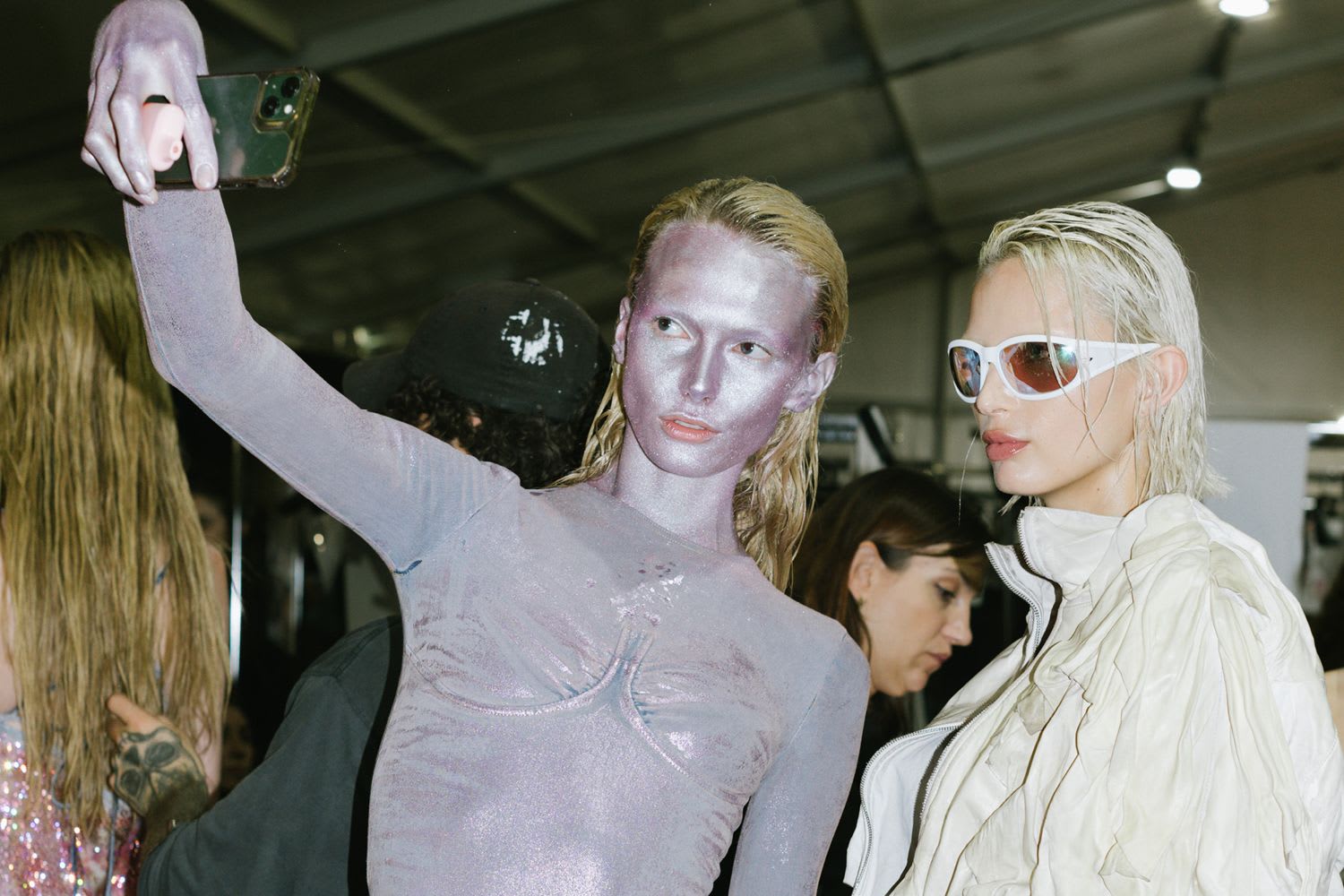 Creative directors are fusing music and inclusivity with the traditional fashion format to make a more dynamic atmosphere...
Last week, seven thousand students, fashion insiders and members of the public descended on Milan's old Scalo Farini rail yard to spend eight gin-fuelled hours dancing in the rain. But this motive wasn't an illegal rave. And it wasn't set up by the NTS DJs on the decks either. It was Diesel's SS24 show at Milan Fashion Week.
It's not the first time Diesel has opened their runway show to all. Last September, 1,600 students partied with another 3,000 fashion fans who'd bagged free tickets online. They far outnumbered the 200-ish industry people and influencers who were there. Since reinventing the brand in 2020, Glenn Martens has ushered in a riotously youthful new era, but Diesel isn't the only brand reinventing the wheel when it comes to the fashion show format. Increasingly, designers are hosting shows that double up as gigs and parties. And they're inviting all of us along for the ride.
At London Fashion Week this season, 1,000 club kids flocked out to London City Airport where Mowalola had taken over BEAMS, a spacious club venue that hosts raves more often than runway shows. The show felt as much like a concert as a fashion show, with Colour Factory afterparty tickets available to buy on DICE. Meanwhile, Moncler and Pharrell recently threw an epic party at Portrait Milano, featuring rapper and singer Tobe Nwigwe performing to a 5,000-strong crowd. Last season, too, the Italian fashion house filled Olympia London with 10,000 guests for their immersive Moncler Genius show that included performances from Alicia Keys, Little Simz and Cleo Sol. Marine Serre and Raf Simons have also invited crowds along to shows in recent seasons.
you are missing out on some content here because you rejected our cookies. want to change that?
In short, fashion week is - finally! - becoming less exclusive. With tickets available to members of the public, more fashion fans are able to engage with fashion shows the way that music fans engage with gigs. Add to this the fact that most of these mammoth shows feature live music and the growing overlap between runway shows and concerts is clear to see.
All of this makes sense. After all, fashion and music go together like bread and butter. Live music has long been a fixture at traditional runway shows. For brands, music is an important part of world building and another way to engage with their brand ambassadors.
Some will argue that fashion week is a business event for press and buyers, but, the truth is, it hasn't been just that for a long time. Today, fashion is a form of entertainment and culture, much like music, film or art. The fans who discuss and dissect it online usually can't afford the clothes, but they might have a chance of snapping up a ticket to the Diesel show.
"I think fashion and music should be merged more," says Lucy Harbron, editor-in-chief at Gigwise. "Fashion is fun and, just like music, it's all about subcultures and identity and history. I think fashion shows could take a leaf out of the gig book by making things more casual and more fun, and making it easier for young people or working class people to get involved."
Sophie Spratley, a fashion designer behind the independent brand, Rabbit, presented her SS24 collection at iconic gig venue, The George Tavern. The off-schedule runway show during London Fashion Week was followed by a lineup of emerging musicians with live music continuing 'til late. "I work with bands all the time and it's where I find the most joy in seeing my work," says Spratley. "Having these garments shown to audiences, performed in and brought alive by music is perfect. I don't want these dresses to just sit in a cupboard."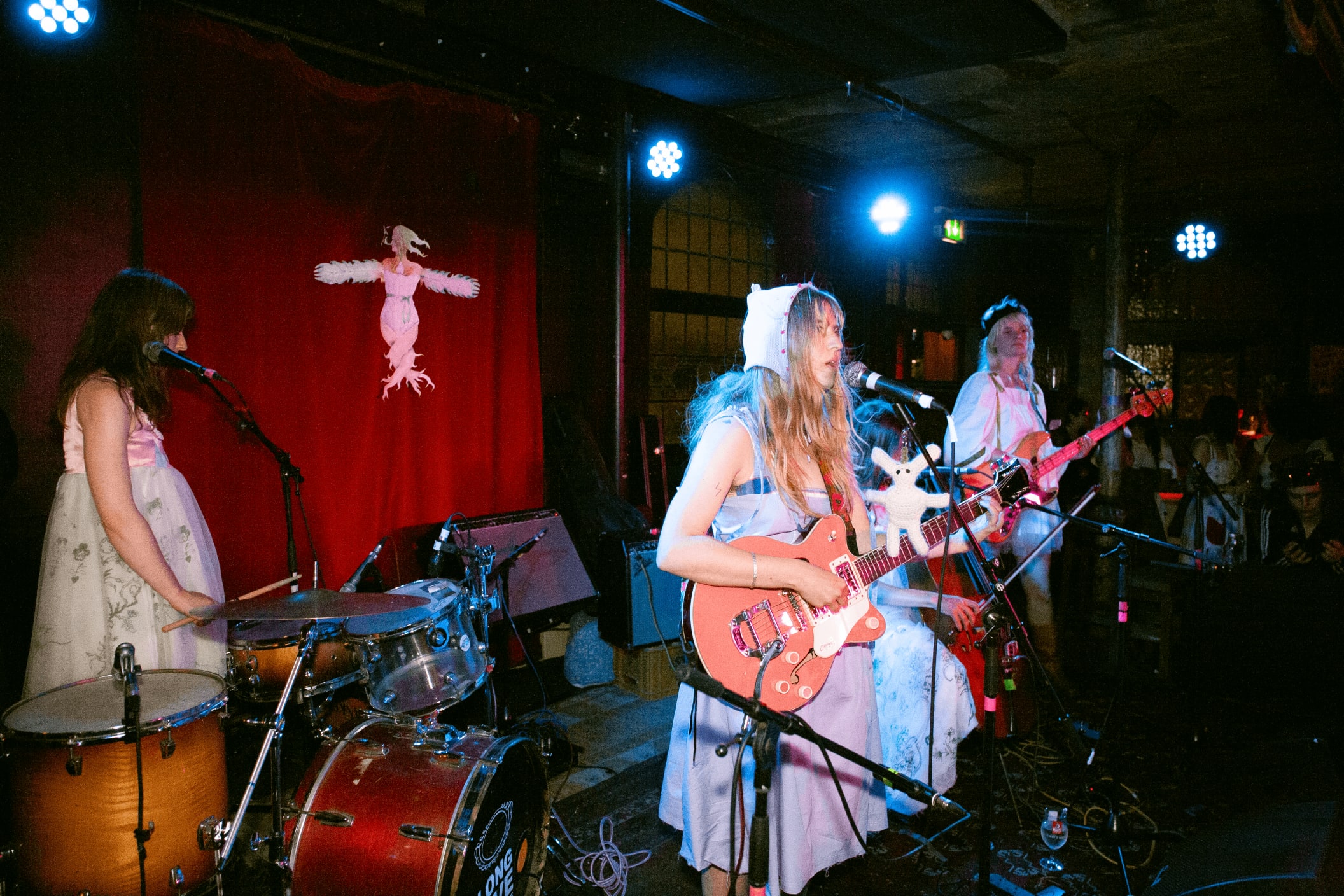 The New Eves performing in Rabbit's SS24 collection. Photography by Willow Shields
A common criticism of anything that diverges from the traditional runway show is that it distracts from the clothes. Spratley disagrees. "I dislike how fast catwalks fly by after months of hard work," she says. "You have longer to see an outfit on a gig stage than flashing past on a runway model."
Large scale events have also been accused of being gimmicky or simply another bid for that coveted viral moment. For independent brands, however, these experiences are rooted in authenticity. The way that most of us interact with fashion in our daily lives isn't through runway shows, but through the joy in getting dressed up for a night out or a gig. Seeing clothes come to life in these settings can feel inspiring and connective.
Live music, too, is often about that connectivity. Gigs bring people together to dance, sing, scream and cry together over music that has soundtracked the good times and the bad times. Music is personal and is often capable of capturing more emotional depth than the average fashion collection. Live music can add a new emotional dimension to the clothes, but it does run the risk of alienating a part of the customer base. "Involving music also means that the brand has to really clearly pick a vibe and a sound," says Harbron. "There's a higher chance of putting people off when music especially feels like a very personal thing."
Having every fashion show become more like a gig is not practical nor, necessarily, desirable. The pace of the current fashion week model is more suited to a 10-minute runway show than a 3-hour long gig, even if it seems nonsensical for small brands to spend so much money on an event that only lasts as long as a long video on TikTok.
However, as fashion shows continue to evolve, the fashion weeks of the future could look very different to how they look today. Fashion has always traded in exclusivity. Its inaccessibility can make it seem dreamlike and alluring at times, but elitism is going out of style. That allure and dreaminess can be just as artfully constructed through immersive shows and presentations that invite fans as well as industry insiders and build worlds through combining fashion and music all in one place. Fashion students often cut their teeth crafting clothes for their mates to wear on nights out. And there's a reason for that. Dance floors are where the real magic happens, where the clothes we wear become memories and fashion history is made.