Feel good men's street style from LFW SS24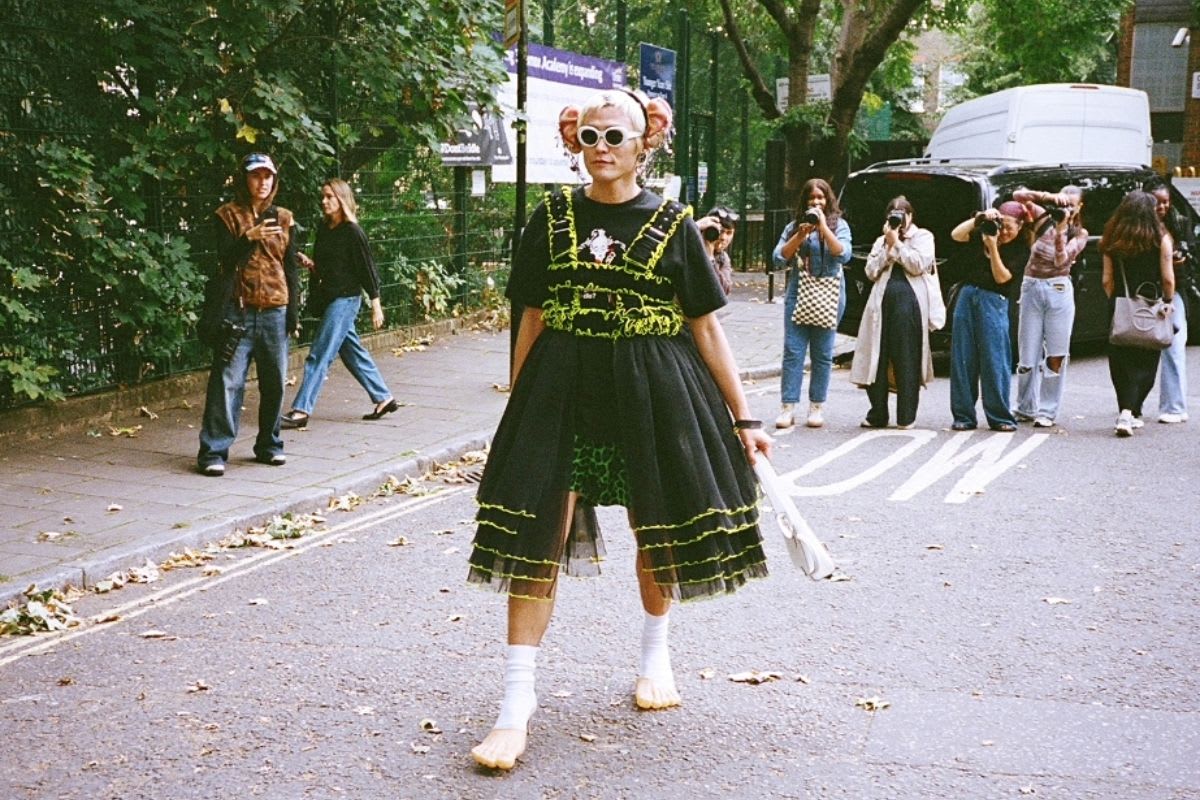 Your guide to what the fellas were wearing this London Fashion Week
image Rhys Thomas
words Rhys Thomas
It's all been going on! Everyone's been racing around London, dashing through "Burberry Street", jumping in and out of cabs. The full force of fashion week has been put upon us, and now (some would say mercifully) things are almost, almost winding to an end (though of course Milan Fashion Week will take place immediately afterwards).
The year LFW has seen very hyped and exclusive shows from the likes of Burberry, Molly Goddard and KNWLS, collections as inspiring as they are beautiful from Sinead O'Dwyer, Susan Fang, and Eirinn Hayhow and endless fresh talent displaying collections on one of the biggest fashion stages there is, as part of the British Fashion Council's NEWGEN campaign.
From super sharp suits with inspired and new silhouettes, to elaborate looks bordering more on costume than outfit, fashion's busiest months provide a lot for the how-to-dress moodboard. But the best place to get more attainable inspo for the fits? It's not at the shows, it's on the streets. And they don't require a near impossible ticket to look at, either.
Yes, the streets of London are currently full of people going to and celebrating fashion week. Influencers, celebrities, industry insiders and simply the fashion obsessed are milling about wearing their most fashion looks for all to (respectfully) admire. Often these are the top of the wardrobe looks, ready for the cameras. Other times they might be taking note from the 'fits they've been seeing on the catwalks. Either way, if you want to know what the fashion people wear, and actually walk about in all day, there is no better place to browse.
Given things are going to wrap up soon (it's a fast paced world) we've made sure to document this year's best London Fashion Week street looks for you. As these images show, there's been a lot of legs out from the lads this year (remember, the fashion week is SS24). We're talking cropped and boxy trousers, jorts jorts jorts, skirts, and tailored shorts. There's also a lot of monochrome with a single pop of colour, statement maximalist tops and overcoats (with no colour off bounds), and double denim. On the feet, there's a massive uptick in formal shoes, usually a dark and leather finish, occasionally with a matching handbag. Trainers aren't completely dead, but they're no longer the default! This year, there's clear themes, but something for everyone.
As they say, a picture paints a thousand words. So we'll let you browse the gallery and enjoy. Bye bye!