Dare to bare it all! Bare bums were LFW's biggest trend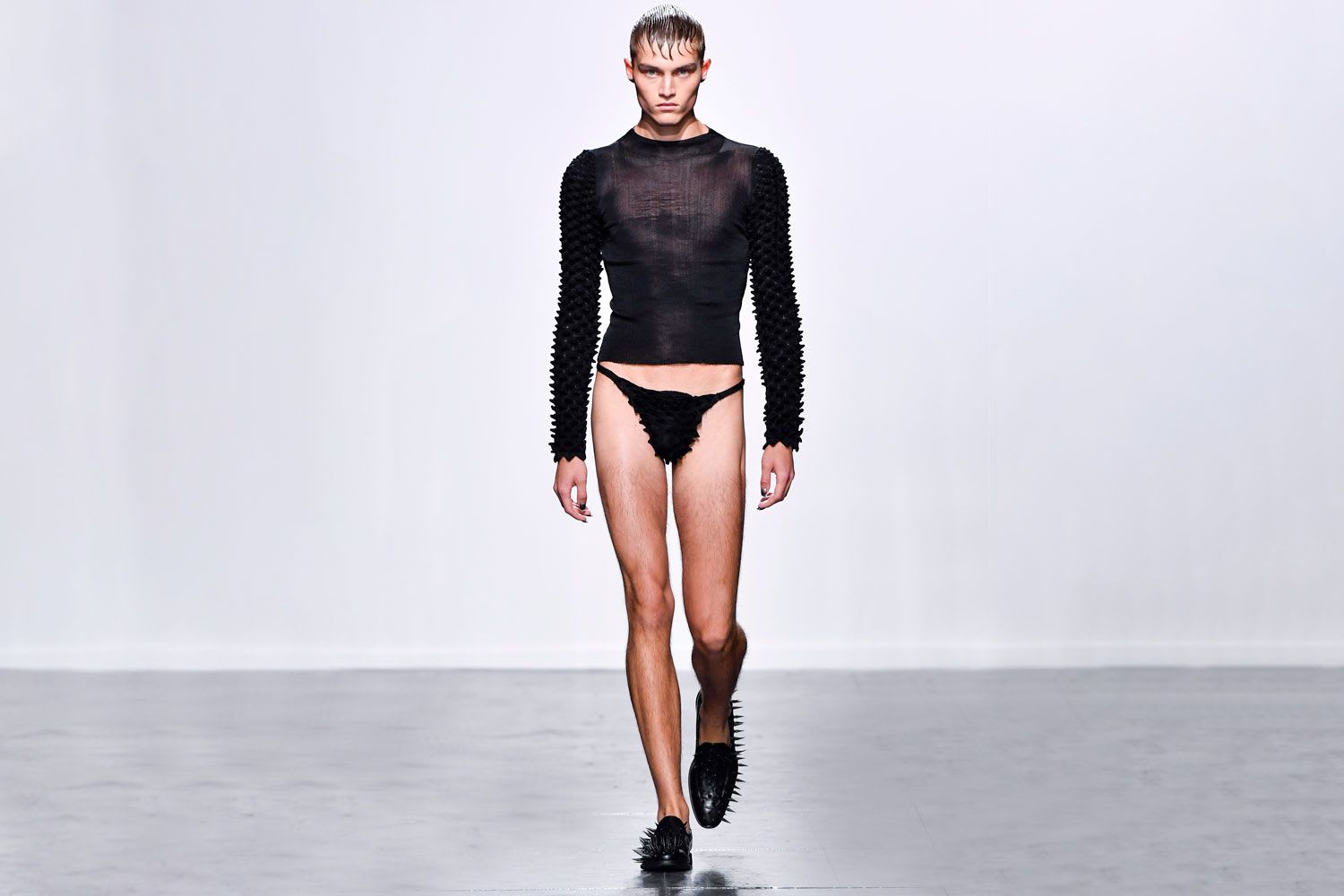 Thongs, naked dresses and assless chaps are set to be next summer's big style flex
Gone are the days of spotting a builder's bum and feeling only second hand embarrassment. Now, the brazen among us might rush home to imitate the look. London Fashion Week's biggest trend was surprisingly easy to miss. Not because it was particularly subtle or understated, but simply because photos from runway shows only show looks from the front. This means that if you are looking at the collections online, you might miss an expertly draped back, a neatly tied bow, or someone's entire bare ass, as was the case this season as designers embraced the cheekiest body part through thongs, cut-outs and assless chaps.
From Mowalola to Fashion East newcomer Olly Shinder, the SS24 shows have been awash with bare butt cheeks humorously mooning the serious faces on the FROW. This shift towards cheeky sexuality has been approaching for some time, with the popularity of cut-outs and naked dresses foreshadowing it in recent seasons. Olly Shinder's debut Fashion East collection infused butch workwear shapes with references to club and fetish culture, such as zipper slashes that open to expose the butt. Meanwhile, Mowalola who has previously explained how she wants to celebrate "parts of the body that aren't typically shown, whether that is a little bit of bum crack of the side of your arms." This season she did so through super low-rise trousers and shorts, as well as barely there micro mini skirts and denim hot pants.
Of course, getting a peak of someone's bum on the runway isn't new. Lee Alexander McQueen also championed the bum crack as a fashionably erogenous zone as early as his debut Taxi Driver collection in 1993. His iconic 'Bumster' trousers kickstarted the low-rise trend that would dominate the '90s and '00s and come back with the 2020s' Y2K revival. Meanwhile, Tom Ford cemented the sensually-charged status of his Gucci era in 1997 with a barely there interlocking G-logo G-string. This time around however, the trend isn't exclusive to womenswear – men are allowed to have nice bums and show them off too!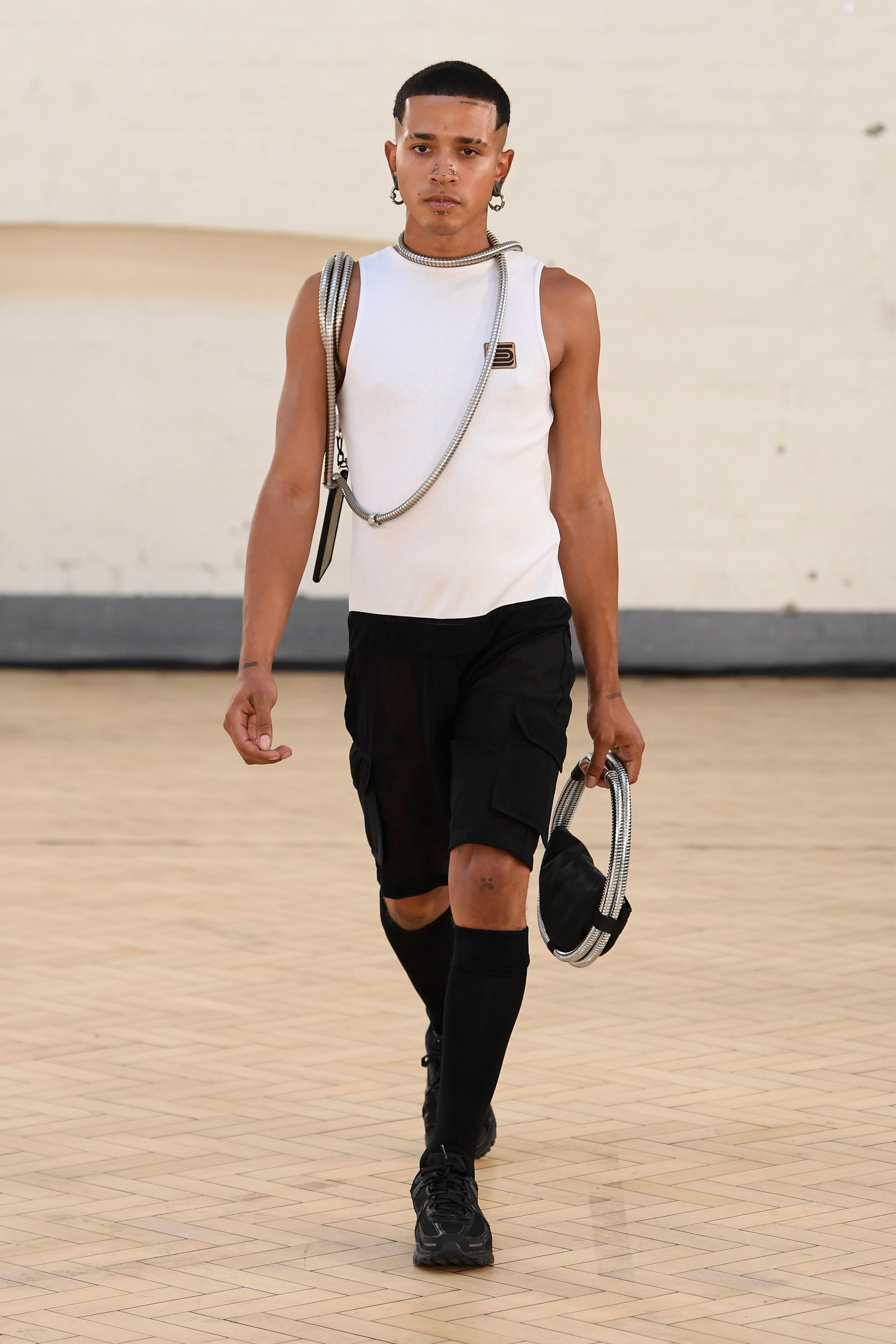 Photo by Giovanni Giannoni/WWD via Getty Images
The trend also feels less about achieving a perfectly toned Kardashian-esque BBL and more about accepting your bum enough to show it off as a fashion accessory in its own right. Still, having your ass out is still taboo in most situations. Thankfully, it's possible to engage with the trend in more understated and wearable ways – a slightly sheer dress, for instance, or denim with daring cut-outs at the hips that don't quite expose it all.
Take Masha Popova's SS24 show where hips peaked out from beneath her signature tie-dyed jeans, some dipping low enough to show just a hint of cheek. It was sexy and playful, but if you wore them in public you wouldn't have to worry about getting pulled up for indecent exposure. At ASAI, mesh netting in lurid shades left little to the imagination, but could easily be layered over underwear or bodysuits to add more modesty. "This one's definitely a lot more about revealing the body," A Sai Ta laughed after the show.
Indeed, there's something cheeky about a bare bum in unexpected contexts. It brings out the childish humour within us all. At Ashish, one model dressed up as an angel in a sheer t-shirt emblazoned with 'I Love Fairys' worn with a silver sequin thong and matching platform boots. It embodied the cheeky, camp, uplifting tone of the collection, both humorous and empowering. Chet Lo's SS24 show, too, was about embracing his sexuality and exorcising the shame he felt in the past. Part of this involved transposing his signature spiked knitwear onto a black thong that is simply too stylish to hide underneath your clothes.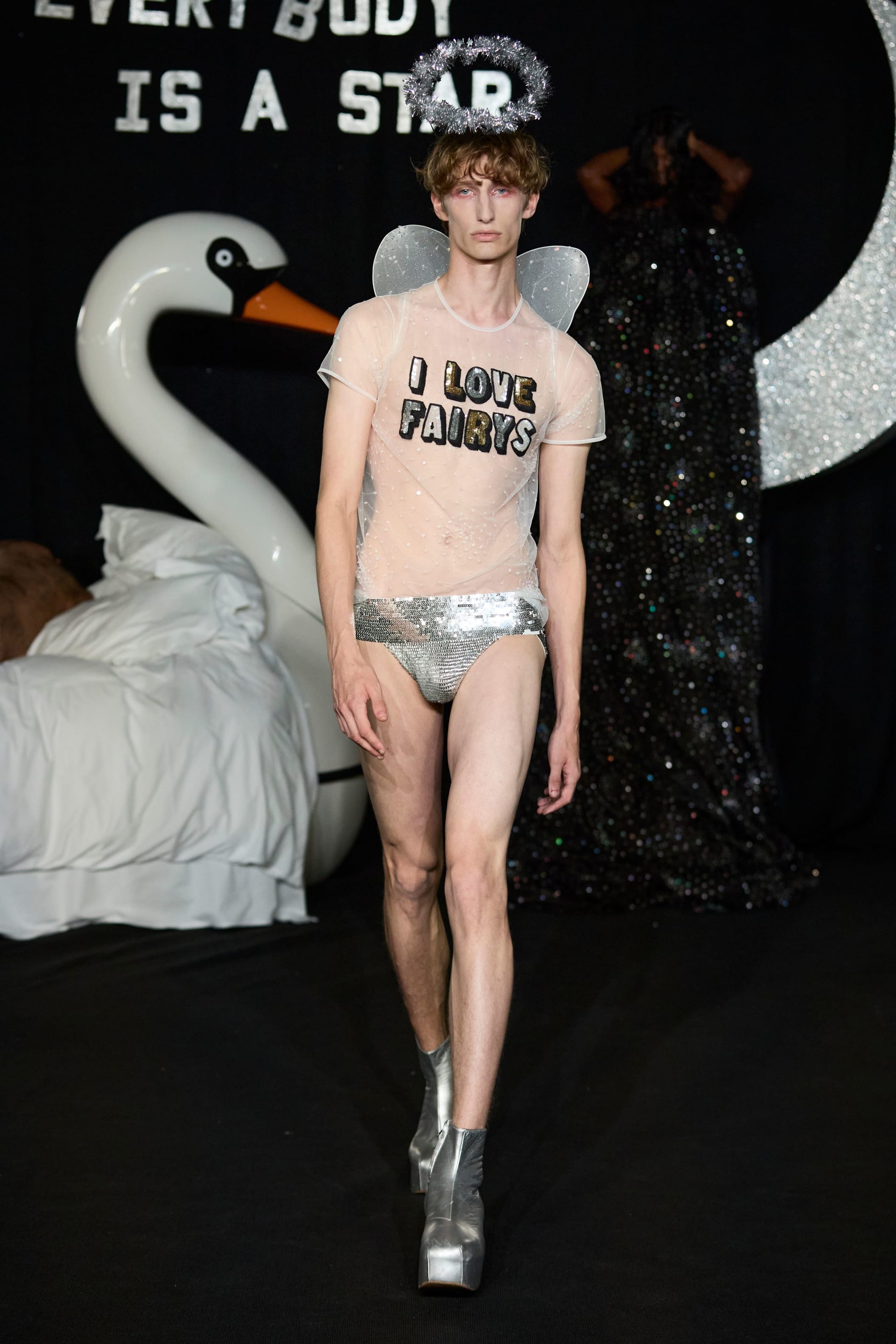 Courtesy of Ashish
In essence, this trend is about having fun with self-acceptance. Playing around with fashion can help you heal from shame or any negative feelings you might have about your body. It might never be office appropriate to walk around with so much exposed, but having your bum out is no longer reserved for daring clubwear or going to the beach. Whether you can't wait to run out and buy a pair of assless chaps or you're thinking of trying out this trend in a subtler way, it's time to embrace the bare bum once and for all. Bottoms up!