How to style shorts this season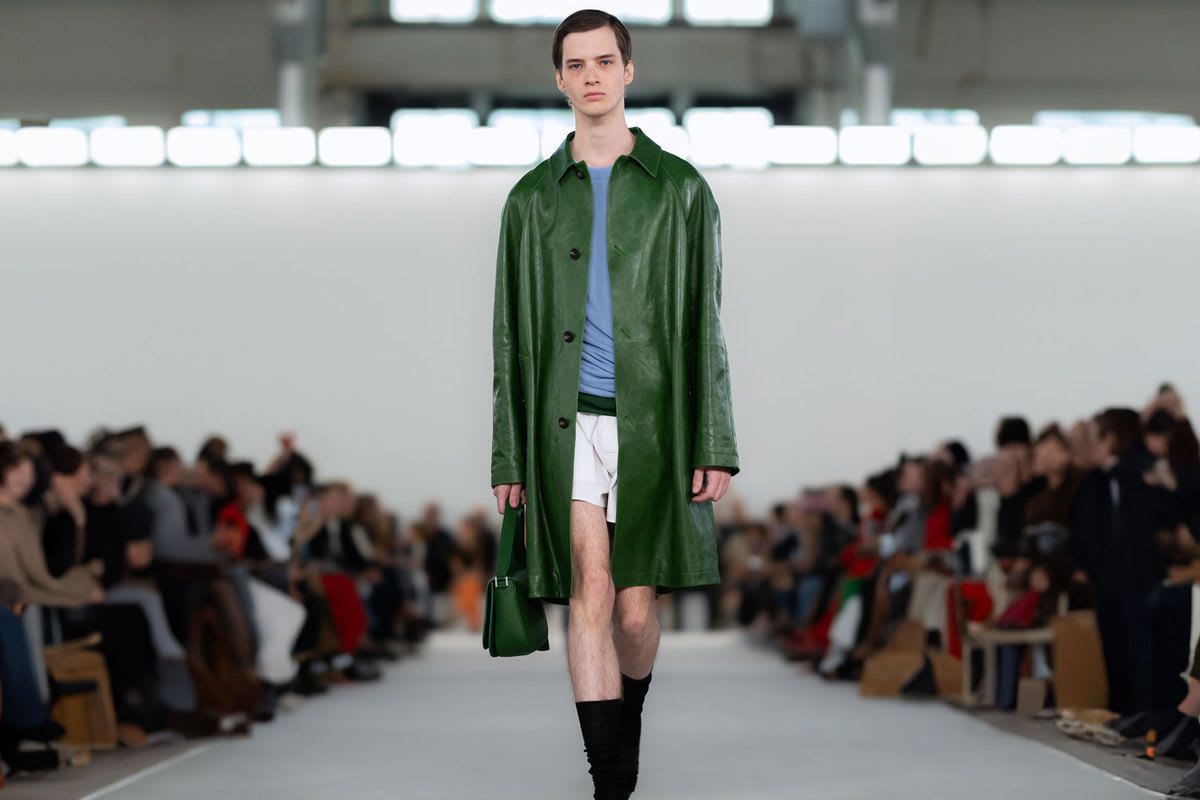 Shorts ruled the runway at Milan Fashion Week – here's how to wear the trend now
image Justin Shin/Getty Images
words Sophie Lou Wilson
Shorts? For summer? Groundbreaking. It's no surprise then that at the Spring/Summer 2024 shows in Milan, having your legs out was very much in. While London gave us bare bums on the runway, Milan was a little more refined. The most risqué it got down there were the teeny tiny hot pants at GCDS or the bikini bottoms at Cormio.
Instead, the Italian fashion capital gave us toned quads peeking out beneath shorts that were silky, tailored or leather, styled with resplendent shirts, soft leather jackets and cinched tailoring. These short shorts are no longer just for the beach or gym. They're smart and chic enough to take you straight from the office to afterwork drinks. From Prada and Gucci to Ferragamo, Fendi, Cormio and GCDS, every major fashion house was giving this summer wardrobe staple a formal upgrade.
At Prada, Raf and Miucca returned to the cinched waist silhouette they explored at their menswear show in June. High waisted tailored shorts were worn belted with matching broad shouldered utilitarian shirts or cardigans with metal eyelet details. Meanwhile, Sabato de Sarno's first outing at Gucci paired vest tops, blazers and tiny gem encrusted bra tops with smart tailored shorts, belted at the waist with a classic double G belt, of course. Then at Ferragamo, creative director Maximilian Davis sent out shorts for men layered beneath leather coats and cropped black jackets.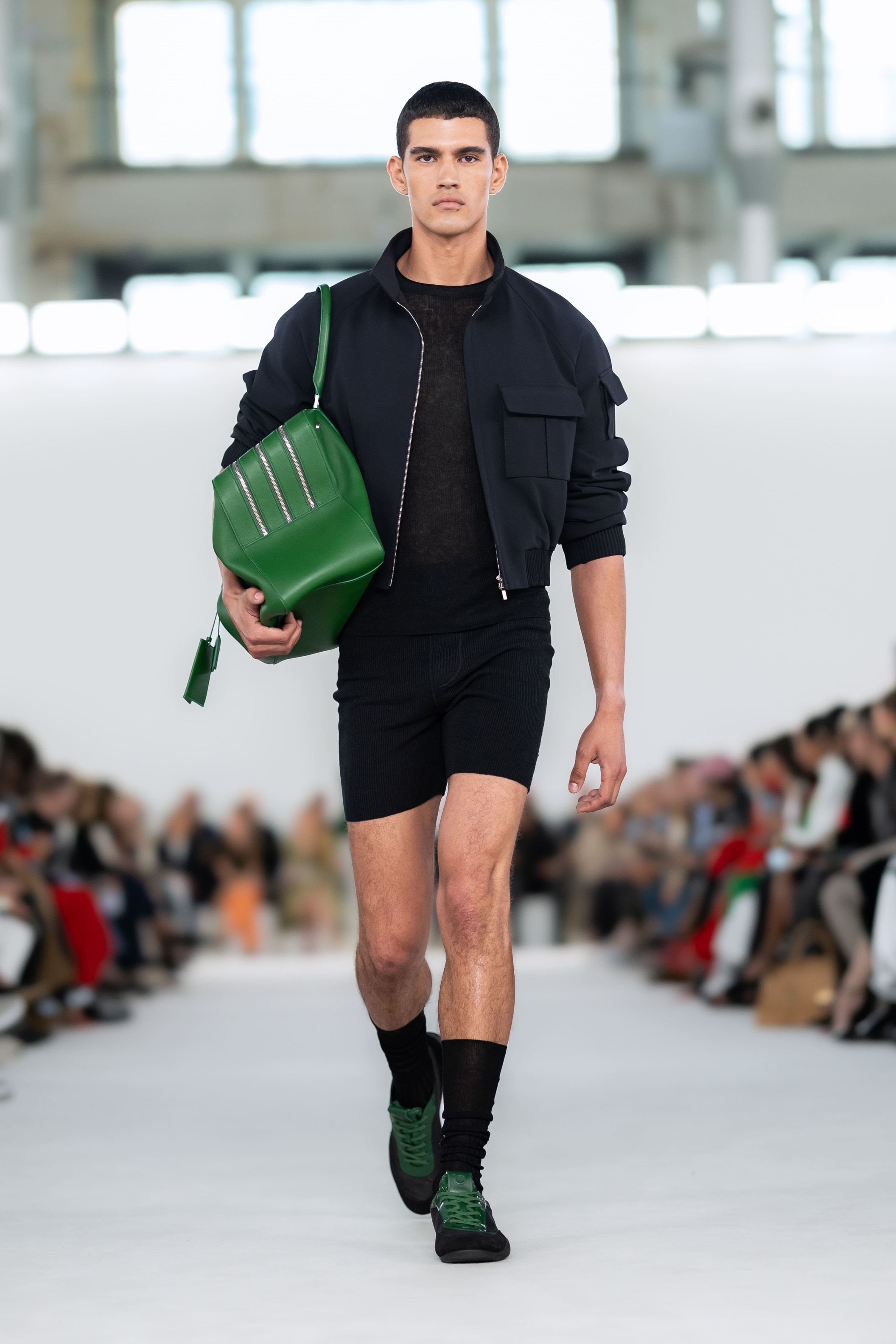 Ferragamo by Justin Shin/Getty Images
Prada by by Victor VIRGILE/Gamma-Rapho via Getty Images
So, that's all well and good, but hearing about how shorts are a trend when we're about to go into winter is hardly very practical. If just the thought of having your legs out in the cold is enough to make you shiver, then read on. Here's how to embrace the look during the colder months.
How to style shorts for autumn/winter
Choose the right shorts
Try to go for thicker, heavier materials like leather, wool or corduroy because these will keep you warmer during the colder months. Take the checkerboard tweed two-piece at this season's Versace, or the wide leather shorts at Fendi, for instance. Opt for these kind of materials and save the cottons or silks for summer.
Layer your shorts
More or less every autumnal style dilemma can be solved by layering. You can layer your shorts over tights or leggings for added warmth. Avoid trying to match the tights to your skin tone and instead go for lace or patterned tights or leggings to make them a statement in and of themselves. If tights aren't your thing, try layering wide shorts over trousers for an edgier look that was seen at Diesel this season where silky basketball shorts were worn over matching trousers. Alternatively, you can wear knee high socks to keep your legs warm. Choose a thicker or thermal pair for extra comfort.
Wear them with boots
If you're wearing shorts then your choice of footwear is important. After all, you can't hide your shoes under long trousers. Boots help keep your feet warm and provide protection against the cold. Most knee high or thigh high pairs have a warm inner lining to keep your legs cosy all winter long.
Wear them with a long coat
A maxi coat will never not be chic. Opt for a wool blend or embody the elegant ease of Ferragamo's SS24 collection in soft, colourful leather. A floor sweeping coat will help keep your whole body warm. You can wrap it around you when you go outside to keep your legs shielded from the cold. This one comes with the added benefit of being able to swish it around dramatically like a romantic character from a Victorian novel.
Add winter accessories
Not to sound like your mum, but a hat, scarf and gloves really can do wonders when it comes to warming the body in winter. If you know one part of your outfit might be lacking warmth, like if you're wearing shorts, then whack on a cosy hat, scarf and gloves and it'll help keep your body temperature up even if your legs are out.
What are the benefits of wearing shorts?
Beyond just being fashionable, shorts and short-wearing actually have a few health and wellness benefits too. Of course, they provide greater freedom of movement, which is why they're so popular in sport. Having your legs out can also let your skin breathe and help with Vitamin D synthesis. Beyond the purely practical benefits, wearing shorts can help you feel more relaxed and at ease – if you associate wearing shorts with chilling out by the pool then wearing them day to day might help make you feel just that little bit more zen. And showing off your legs can help with body confidence too. This summer Sweaty Betty launched their #wearthedamnshorts campaign which hoped to tackle women's fear of judgement around wearing shorts. Then there's the fact that shorts have got the go ahead from Milan Fashion Week's most elegant tastemakers, so it's win/win/win really.