A sneaker expert on the trends set to dominate in 2023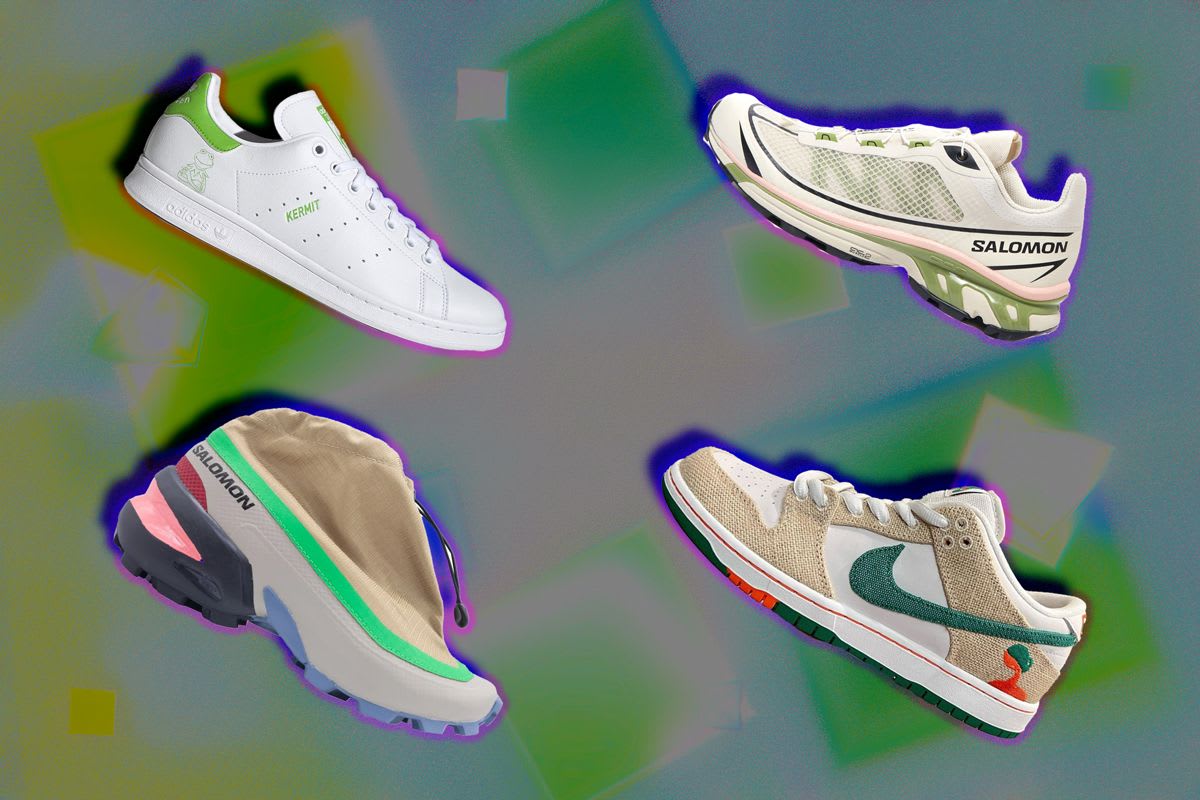 Check out Adam Cheung's footwear forecast for gorp, sustainable materials, and lots of anniversaries
image Team Woo
words Adam Cheung
A guy's how-to is a column where we hear from men who've lived it about how to tackle the tough things in life in the gentlest of ways. Today Adam Cheung, trainer expert, writer and founder of sneaker culture publication Typed Hype, gives us the lowdown on how men can put the right foot forward in 2023 and embrace the year's biggest footwear trends. 2022 was, hands down, one of the best years for sneakers. Highlights included Nike's Air Jordan 1 High Lost & Found and (after what seemed like an eternity) Concepts x Nike's SB Dunk Low Orange Lobster.
But enough with the reminiscing: now that it's officially the new year, it's time to explore the trainer landscape for the next twelve months. From under-the-radar brands you must keep an eye out for, to drops that you definitely can't be sleeping on, here's the sneaker guide for 2023.
Brands To Look Out For
2023 will be an absolutely massive year for Crocs. If, three years ago, you said that the Colorado-based footwear company would be one of the most popular labels in the game, it would have been unbelievable. Thanks to the coronavirus pandemic, however, the classic clog has quickly become one of the most sought-after silhouettes out there. In fact, as I write this, I've got a pair of Salehe Bembury's latest Pollex Clog colourways on. Expect even more brands to release their own foam clogs, and for the Crocs dominance to continue.
you are missing out on some content here because you rejected our cookies. want to change that?
New Balance might have had a big 2023, but just wait until you see what's in-store for the new year. There's big collabs on the horizon and even more premium pairs are expected to be revealed soon. The 1906 is coming back in full force, and the sixth generation 990 will make waves too. NB will also be placing a larger focus on its Green Leaf Standard. Unveiled back in April, the environmentally-friendly initiative aims to introduce more sustainable materials and manufacturing methods to its collections. I'm beyond excited to see this fully bloom - and so should you be.
As for Adidas, cutting ties with Ye has given it the opportunity to explore new pastures. The German giant has already revealed a ton of must-have models that are more than enough to fill the Yeezy-shaped hole. The majority of these are crafted from Primeblue and Primegreen, recycled materials made out of plastic bottles from the ocean and factory offcuts. Good for your wardrobe, good for the planet!
you are missing out on some content here because you rejected our cookies. want to change that?
Beyond these major players, more under-the-radar brands like Hoka, Merrell, and Salomon will be coming into the limelight in 2023. Responsible for some of the most rugged hiking footwear that you can buy right now, the ever-popular gorpcore trend has shifted the trio from mountain peaks to runway chic. Out of the three, Salomon is definitely the one to watch. Based in a tiny town called Annecy in south-eastern France, they've escaped their humble beginnings in order to reach high-fashion heights. Having already collaborated with Comme des Garçons and MM6 Maison Margiela, they're going to have a major 2023, for sure.
you are missing out on some content here because you rejected our cookies. want to change that?
Drops You Need To See
There's no doubt that the sneaker game is one of the most dynamic and fast-paced industries in fashion. Forget seasons, almost daily there's a new colourway or collaboration announcement that changes the fashion du jour as everyone knows it. And 2023 is no different. The year has barely begun, yet loads of drops that you won't want to miss have already been unveiled. This can be a little overwhelming, so I've highlighted five stand-out pairs from five different brands.
During Paris Fashion Week SS23, Copenhagen's Cecilie Bahnsen showcased her latest collection which featured seven new takes on various ASICS models. Of the range, the Cecilie Bahnsen x ASICS GEL-1090 was arguably the best of the bunch. Painted in a metallic silver colour scheme, the upper was decorated with an intricate floral arrangement that's actually made from upcycled materials. Rumour has it that only fifty will be released worldwide, so you'll need some pretty deep pockets (and far-reaching connections) if you want a pair.
you are missing out on some content here because you rejected our cookies. want to change that?
Shifting from the catwalk to the halfpipe, Nike is currently the world's most valuable sportswear brand and the most followed on Instagram, so there's no point even trying to escape the Swoosh. Three years on and the hype surrounding its skateboarding division is still next level. While hundreds of coveted Nike SB collabs will be announced between now and this time next year, sneaker experts are already thirsty for the Jarritos x Nike SB Dunk Low. Teaming up with the Mexican soft drink company, this is its latest crossover between sweet-treats and sneakers after 2020's Ben & Jerry's link-up, Chunky Dunky. Crafted from an undyed hemp material that's great for the planet, the prospect of seeing these in-hand (or on-foot) is beyond exciting.
you are missing out on some content here because you rejected our cookies. want to change that?
While a lot of things are still up in the air following Ye's exit, Adidas has a range of partnerships in the pipeline, including with the Instagram moodboard-turned-globally-recognised platform, JJJJound. They're teaming up with Adidas for the first time, and of course, they'll be putting a sleek spin on the Samba.
New Balance is the other of the big three, and their dreamy deconstructed aesthetic is coming to the 1906D very soon, with the New Balance 1906D Protection Pack. The brainchild of Chinese footwear designer Yue Wu, sneakerheads everywhere have been eyeing these up for months, and I don't blame them. Made from jagged suede and engineered mesh, the result is a truly one-of-a-kind shoe that's unlike anything else out there, yet feels within the (weirdest, darkest parts of) the New Balance universe.
And last, but not least, the Nike SB Air Jordan 4. In short, it's a skate-ready rework of the legendary basketball shoe. While Nike SB Air Jordan 1s have been reimagined before, the SB line has never touched Michael Jordan's fourth signature silhouette. Expected to take on an entirely new colour palette, this is, without a doubt, one of the most anticipated sneaker releases of 2023.
you are missing out on some content here because you rejected our cookies. want to change that?
Predicted Trends
So, that's specific shoes that will take over the scene, but trainers have trends too. What should everyone expect in 2023? Well, Gorpcore isn't going anywhere anytime soon. Hiking shoes have been all the rage over the past few months, and this ruggedstyle is set to continue well into the new year. As mentioned, Salomon is dominating the utilitarian space, but new-gen brands like Allbirds and On are catching up fast.
you are missing out on some content here because you rejected our cookies. want to change that?
Footwear labels will continue to experiment with innovative and sustainable materials across their lines. One of the ways they're doing this at the moment is to reuse materials. Recently, Nike revealed the ISPA Mindbody, which the cool kids are calling "apocalyptic chic." Made completely out of fabric scraps, the entire trainer is threaded together rather than held together with a glue, making it much easier to recycle. There'll be more of that in 2023, without a doubt.
Thought 2022 was huge for retro sneakers? 2023 is going to blow your mind. Not only does this year mark the 40th anniversary of the Air Pegasus, it's also the 50th birthday of the Blazer, so you can guarantee that Nike will be bringing these back in full force. Rumour has it that John McEnroe's legendary Mac Attack from the '80s will also be returning for the first time ever in its original colourways. A true icon within the vintage sneaker community, this alone is stoking excitement for the next few months.
On the other side of the spectrum, you'd better be ready for futuristic footwear. Nike has already revealed the Off-White x Nike Air Terra Forma. Said to be Virgil Abloh's last sneaker that he worked on with the Swoosh before his untimely passing in 2021, the all-original silhouette looks like something from an entirely different dimension. The Beaverton brand will also be taking the wraps off its very first NFT sneaker. Aptly dubbed the Cryptokicks iRL, it's designed by virtual sneaker collective RTFKT and is inspired by Tinker Hatfield's MAG from the Back To The Future films. Whether you like it or not, the metaverse is going to play a massive role in sneakers this year.
you are missing out on some content here because you rejected our cookies. want to change that?
The Final Word
Obviously, these are just (very informed, educated) guesses though - because everyone knows just how quickly things can change in the trainers world. But that's just part of what makes the sneaker game so exciting, right? With bold new colourways, collections, and collaborations dropping left, right, and centre, sneakers have always been the Wild West of footwear.