kiki grammatopoulus's spiky shoes plant seeds as you walk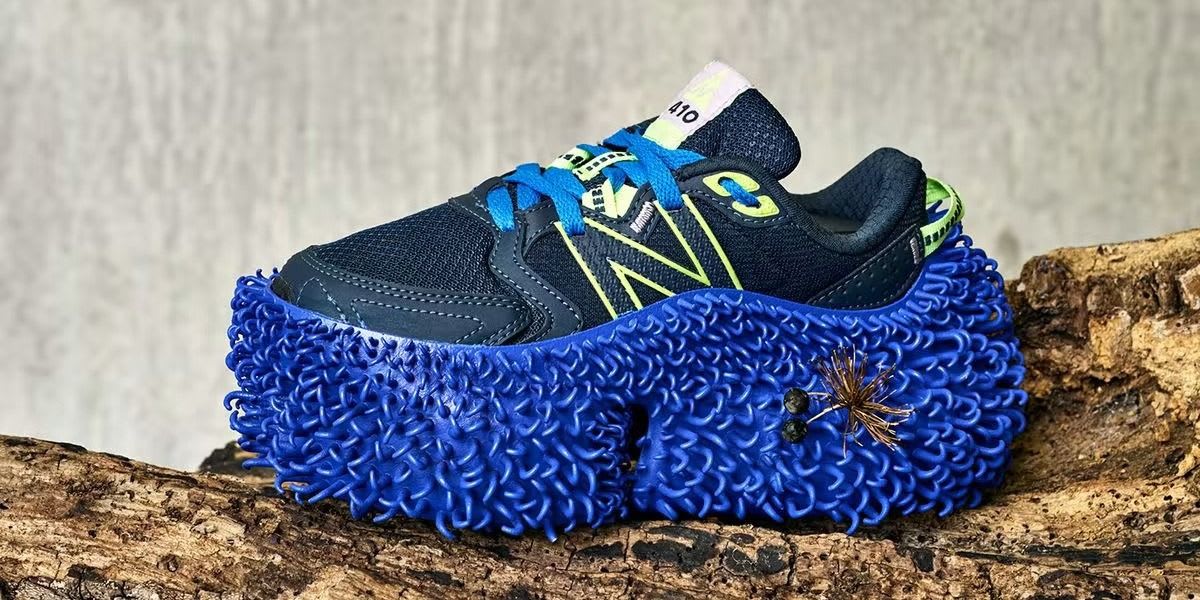 Plus pouring out a Guinness with Labrum London, Masha Popova serves grit and glamour and more feel good fashion news
To walk, run and dance in nature is one of life's great joys, but what if you could give something back to the great outdoors in return? With Kiki Grammatopoulus's spiky outsole creations, you can. The Central Saint Martins graduate's 'Rewild the Run' project lets the wearer plant seeds as they move. Your hot girl walks just got even better.
This week there's also a new campaign from Masha Popova serving grit and glamour, a dynamic Dion Lee wetsuit capsule and collabs from Labrum London x Guinness and Kylie Jenner x Bratz. This September, Kazna Asker will use her NEWGEN London Fashion Week slot to show her documentary about education in Sheffield. Elsewhere, Lewis Hamilton wore a vivid head-to-toe custom Burberry 'fit at the Belgian Grand Prix and TikToker @SubwaySessions' chaotic looks divided the internet. Here's all the feel good fashion news from this week you might have missed.
these seed planting shoes are a stylish solution to ecological growth
you are missing out on some content here because you rejected our cookies. want to change that?
In recent years, the sneaker space has been rapidly expanding its sustainable offerings, but while brands like Veja and Hoff have been weaving eco design into their conscious kicks, a new generation of innovators is coming out of London's fashion schools. But rather than coming from traditional fashion pathways, they're emerging from courses in material futures and biodesign, the new frontiers of conscious fashion. These graduates are not just using processes like upcycling or biodegradable materials, but imagining direct interactions between fashion and the environment that can actually benefit the planet.
Earlier this year, London College of Fashion graduate Annie Purdy shared her colourful trainers made from rubbish left behind on hiking trails, cleaning up Britain's countryside while encouraging exploration in nature. Now, recent Central Saint Martins' Material Futures grad Kiki Grammatopoulus is helping plant seeds in urban natural environments using vibrant spiky outsoles that mimic the natural process of epizoochory – the migration of seeds when they attach to animals and travel with them to be replanted. Kiki's aim is to increase biodiversity in urban natural environments.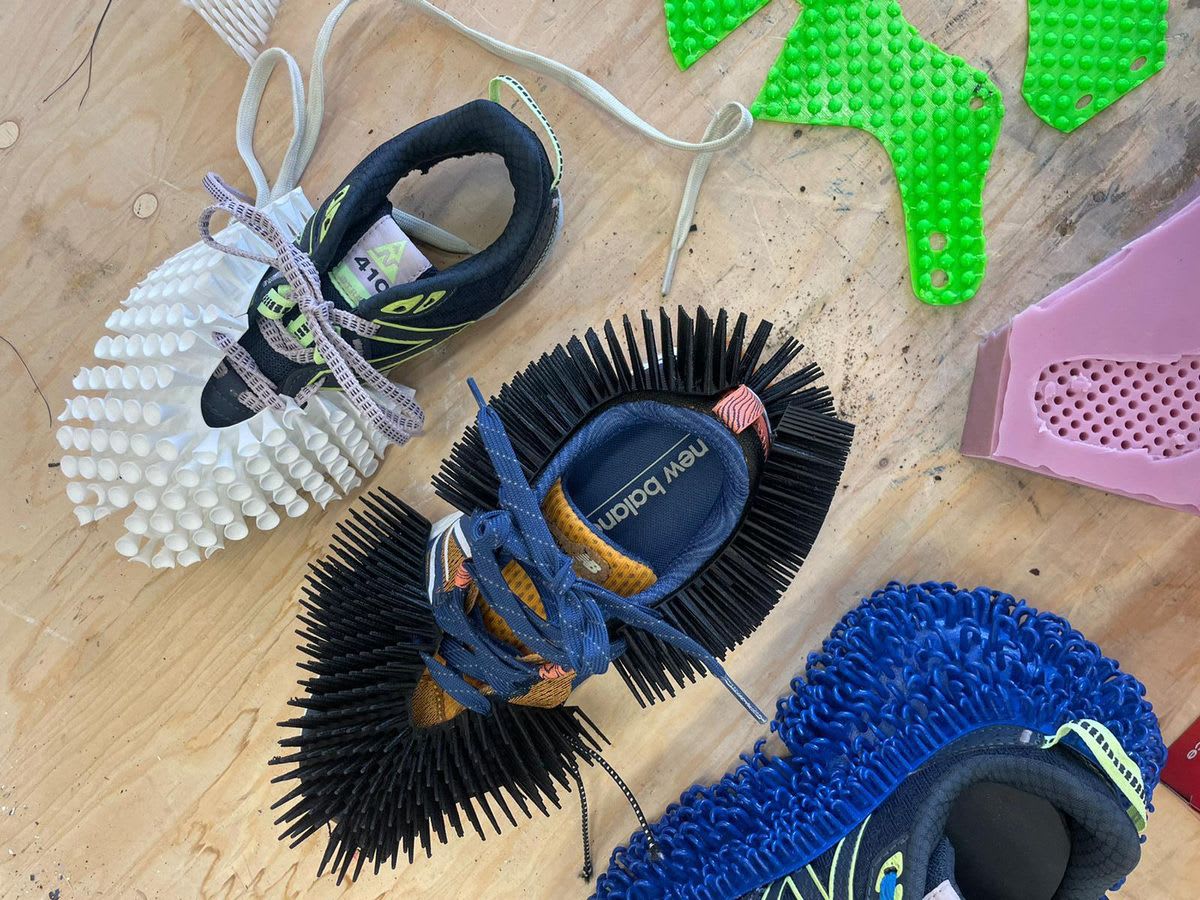 via Kiki Grammatopoulus
The project was initially displayed at Milan Design Week in April. "Footwear is our connection to the ground and our environment," Kiki said via Instagram. "With this project, I aim to democratise Urban Rewilding, allowing city dwellers to engage in the ecological growth of the local environment." The outsoles attach to the outside of your trainers and the small 3D print hooks collect seeds and burrs then redistribute them around the park on your morning walk or run. Kiki's soles are a way to coexist with nature in a way that helps rather than hinders biodiversity. Aesthetically, these chunky bright blue, black and white soles are a standout statement, the spikes mirroring Chet Lo's subversive, spiky knitwear. We all know walking is good for you, but now it can be good for your local park too.
Labrum London's Guinness collab says yes to the pub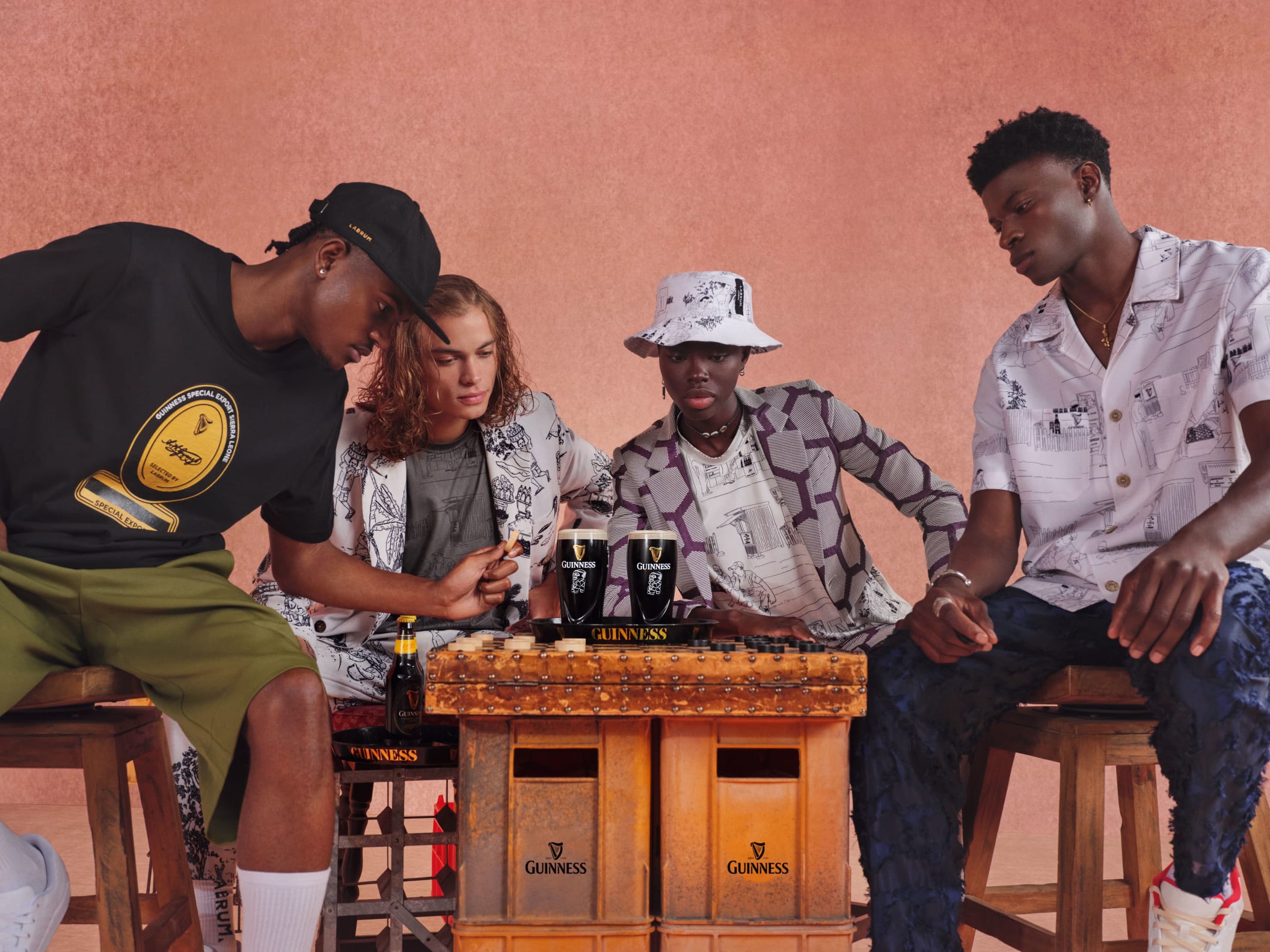 Courtesy of Labrum London
It's no secret that Guinness has been having a moment. The iconic Irish tipple has become the unexpected drink du jour among the fashion set – even Kim Kardashian was spotted holding a pint earlier this year at a St. Patrick's Day pub crawl (she's just like me fr.) And if that wasn't enough to launch the beverage into the pop culture/fashion stratosphere, Guinness has now partnered with Labrum London, this year's recipient of the Queen Elizabeth II Award for British Design. Marrying Guiness's Irish heritage with Labrum's West African roots, the cross-cultural collab celebrates the joyful communion the UK shares with the Sierra Leonean diaspora. The limited edition summer capsule collection features a co-created print depicting friends and family meeting around street kiosks to play games of draughts and sip Guinness. This graphic is imagined in Labrum's signature safari shirt with matching T-shirts, bucket hats, caps and socks. To accompany the capsule, the pair will host public workshops to unite their communities. The limited edition collection will be available from 7th August on labrumlondon.com. Cheers to that!
Lewis Hamilton is the Belgian Grand Prix's best dressed in Burberry
you are missing out on some content here because you rejected our cookies. want to change that?
Lewis Hamilton might have come forth at the Belgian Grand Prix this week, but his outfit deserved first place. Dressed head to toe in a custom look from Daniel Lee's new Burberry, the purple and blue check could have stopped a Formula 1 car in its tracks. The print was a key motif at Lee's Burberry debut back in February, putting a new spin on the classic Burberry check. The collection featured purple and blue check turtlenecks, jumpers, suits, skirts, framing classic British tailoring through a colourful new lens. It was modelled by a cast of UK fashion's favourite nepo babies, from Iris Law to Lennon Gallagher. Now, Hamilton is repping the brand abroad, proving once again that he is Formula 1's best dressed.
Masha Popova's AW23 campaign is serving grit and glamour
you are missing out on some content here because you rejected our cookies. want to change that?
Masha Popova will return to the runway at London Fashion Week this September. The Ukrainian designer, known for her Dua Lipa-approved butterfly tops, released her AW23 campaign this week on Instagram shot on the grey streets of London. Lensed by photographer Francesco Nazardo, the campaign captures Popova's bleached denim designs against a backdrop of industrial estates and cement lorries. Gathered denim dresses, flares, boots and micro minis bring the glamour to the grit and grey. Shop the collection here.
Kazna Asker will showcase her documentary about Sheffield at London Fashion Week
you are missing out on some content here because you rejected our cookies. want to change that?
Kazna Asker has been busy campaigning for teachers and better educational opportunities for people of colour and SEND children in her local Sheffield community. The designer has also been working on a documentary about her community and the work they do. So, when she got her first solo slot on the official London Fashion Week schedule as part of the British Fashion Council's NEWGEN scheme, she decided to keep this focus instead of showcasing her designs. Kazna will show her debut collection in February 2024, but she is on fashion hiatus until then, writing on Instagram "I think there is a disconnect between fashion and real people and I'm over the superficial views on 'community.' Everything I'm doing right now is focusing on teachers in Sheffield and their stories and working directly with people - but obviously that inspires everything fashion related, just let me figure it out." The documentary will be shown on 16 September as part of the official London Fashion Week schedule.
Kylie Jenner's Bratz collab flexes her passion for fashion
you are missing out on some content here because you rejected our cookies. want to change that?
While we've all been going crazy over a different doll, Bratz have been cooking up their first ever official celebrity collaboration with Kylie Jenner. And just last month, they shared an Insta post of a Bratz doll of Lana Del Rey working a Waffle House shift – iconic. The Kylie dolls live up to the brand's 'passion for fashion tagline' coming in some of the star's most famous red carpet looks, including the lilac Versace gown she wore to the 2019 Met Gala and the much-memed baseball cap bridal gown from the 2022 Met Gala. Barbie is out and Bratz is in.
Dion Lee's wetsuit capsule is for hot surfer girls only
you are missing out on some content here because you rejected our cookies. want to change that?
Don't tell Jonah Hill about Dion Lee's hot girl surfer collab. The it-girl fave have partnered with surf brand Haydenshapes on a wetsuit capsule that marries high performance surfwear that doubles up as sexy cut-out corsets and bodysuits. The 18-piece collection of high fashion aquatic wear brings style and surf together, adding yet another activity to fashion's current sport obsession. These body-sculpting pieces that feature Lee's signature cut-outs are as much for beach parties or relaxing on yachts as they are for surfers. Time to pray for sun and hit the beach.
TikTok's @SubwaySessions is dividing the internet
you are missing out on some content here because you rejected our cookies. want to change that?
This week, TikToker @SubwaySessions went viral for her chaotic 'fits recorded on her phone in a Lower East Side subway station. To some, her outfits were downright ugly, but for others they were innovative and unique. A somewhat scathing interview in The Cut questioned exactly why she has gone viral after only having her account for one month. The looks are an amalgamation of a Bella Hadid-esque weird girl aesthetic and the cluttercore style of early Blogspot fashion bloggers. Style icon or not, she had us questioning whether there's such a thing as a "bad" outfit and the way privilege is tied up in that judgement.