All the best film and tv coming to the UK in March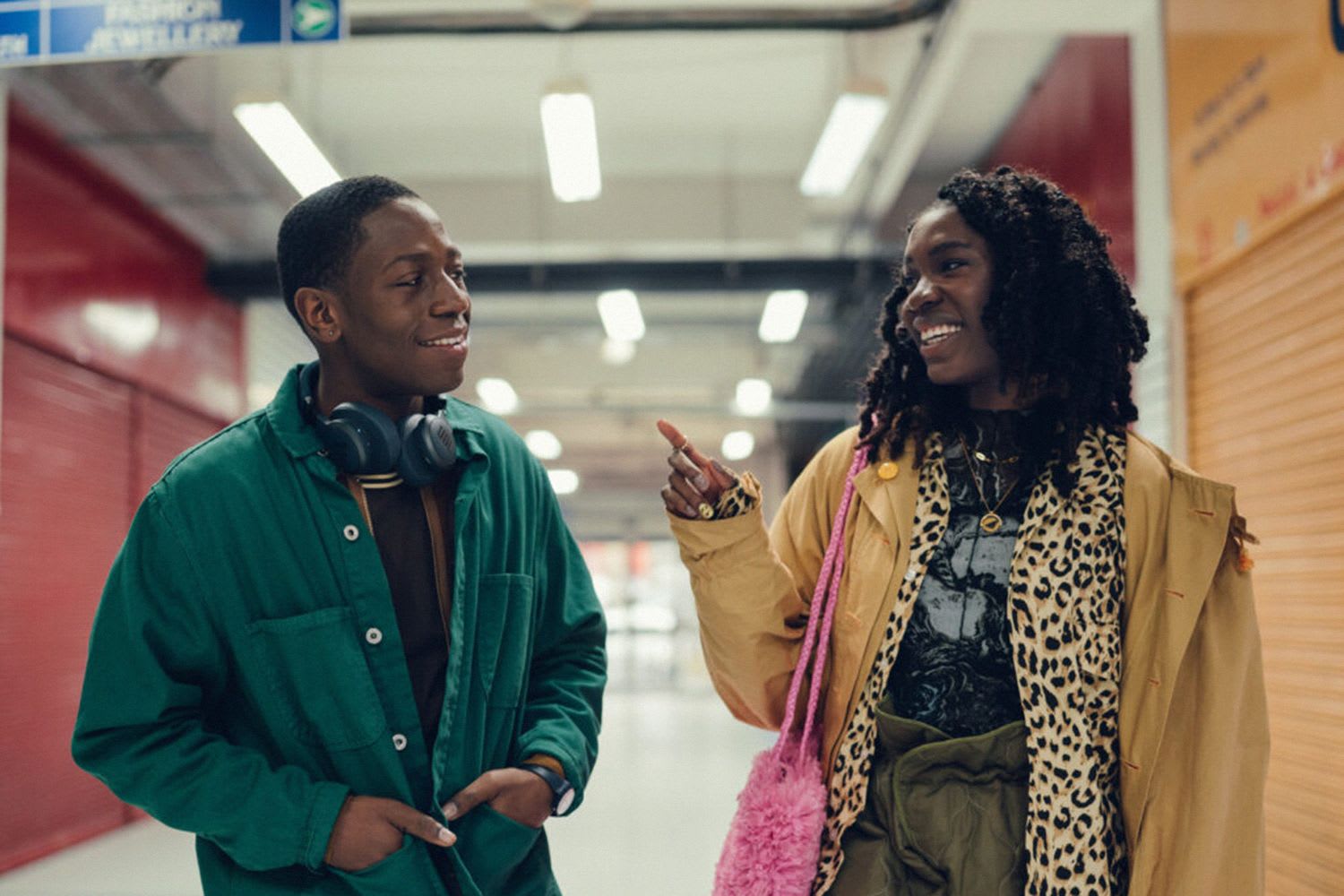 March watchlist? Completed it, mate
image Rye Lane
words Lucy O'Brien
It's the biggest time of the year for the film and TV industry. Awards season has seen the supremacy of Everything, Everywhere, All At Once as it continues to break records, while the rise of talent like Paul Mescal (Oscar-nominated for BAFTA-winning Aftersun) and Barry Koeghan from The Banshees of Inisherin have shined a long overdue spotlight on Irish creatives and cinema.
And with the Oscars creeping upon us, it's easy to get caught up in the entertainment offerings that are doing their awards season rounds, and forget that there are currently a whole new bout of productions ready to greet us as we head into March. Luckily for you, we've got you covered.
From returning Netflix faves (everyone's favourite stalker, Joe Goldberg, is up to his creepy shenanigans again in the second part of You) to new directorial debuts hitting the cinema, woo rounds up the best tv and film coming to a screen near you in March 2023. Warning, spoilers ahead!
Best new tv and film March 2023
New on Netflix March 2023
you are missing out on some content here because you rejected our cookies. want to change that?
You, Season 4, Part 2: Yep, he's back again, but this time, he doesn't seem to be the only deranged stalker at play. Joe's new frenemy, who shares those pesky murderous tendencies, seems to be targeting London's elite and leaving a trail that will frame Joe in the process. Navigating this threat and attempting to stay undetected in his crimes, Joe must decide how to best clean up this mess. We all know how he best handles that… (9 March)
Next In Fashion, Season 2: If the title didn't give it away, this series highlights the new generation of fashion creatives as they battle it out to win $200,000 and a deal with Rent the Runway. This year's hosts and guest judges include industry icons like Gigi Hadid, Emma Chamberlain and Donatella Versace. South Korean designer Minju Kim took the crown last season, and her creations haven't disappointed since. Needless to say, we're excited to see the killer 'fits this new batch of emerging talent has to offer. (3 March)
MH370: The Plane That Disappeared: Some of you might remember the infamous Malaysian flight, MH370, that tragically disappeared without a trace along with its 239 passengers in 2014. Nine years on, investigators, aviation experts, journalists and loved ones are still working to find out what happened. This docu-series delves into the moments that made one of today's most notorious modern mysteries. (8 March)
Money Shot: The Pornhub Story: Pornhub is a digital and sexual phenomenon that has had an undoubtedly impact on modern perceptions of sex, and has, of course, been involved in its fair share of controversy. In this documentary, industry experts and Pornhub employees trace the origins of the infamous site, the scandals that have led to calls for it's closure, and the impact it has had on pornstars. (15 March)
New in cinema March 2023
you are missing out on some content here because you rejected our cookies. want to change that?
Rye Lane: British Gen Z rom-com set in urban London? This feels like a new cult classic in the making. Two youngsters from Peckham, who are both reeling from painful break-ups, stumble across a meet-cute of their own that helps them in their healing process. What might have started out as a rebound may just spark into an unexpected connection. Always the way, right? (17 March)
Scream VI: That's right, the bitch is back. The iconic comedic, anti-horror horror franchise is returning for its sixth instalment, and we're ready. A masked killer embarks on a new bloody rampage, and some angsty teens must do their best to escape death once again. Best part is, the movie will star our fave goth-renaissance icon, Jenna Ortega, who you might remember in her record-shattering role in Netflix's revival of Wednesday Addams. (10 March)
Pearl: Decades before the 2022 slasher film X, a young woman, Pearl, dreams of stardom while isolated on her family's gloomy and loveless farm. Set in 1918, Pearl details the coming of age and making of X's iconic villain, as a woman destined for bigger things but restrained by her abusive parents send her on a damning psychopathic journey. (17 March)
Champions: In this English-language remake of a Spanish film of the same name, Woody Harrelson stars in this comedy sports revamp. When a basketball coach in legal trouble gets ordered to manage a team of young athletes with learning disabilities, he is far from enthusiastic. But upon taking the job, the coach realises the potential of the talented team, and their triumphs inspire a renewed adoration for the sport. (10 March)
New to tv March 2023
you are missing out on some content here because you rejected our cookies. want to change that?
School Spirits: Ever thought about what the afterlife could look like? Well, for teens in this new series, it means being perpetually stuck as a ghost haunting the corridors of their high school. Starring ex-Disney darling Peyton List, a student decides to investigate her disappearance while stuck in limbo on the other side. Spooky! (Paramount, 10 March)
Succession, Season 4: The intense corporate drama is back for a fourth and final season, and things are getting even more competitive, if that's even possible. The Roy children return to battle it out for the top job at their father's mega media firm, while the prospect of a new deal fosters further tension and family division as the team have to face what the future of the company will hold. (Sky / HBO, 26 March)
The Dry: Debuting in 2022, this family drama exploring the intimacies, struggles and realities of sobriety is now coming to ITV. When Shiv Sheridan returns to her family home in Ireland after years of partying in London, she wants to embark on a new sober lifestyle. But moving back home resurfaces old family issues and Shiv struggles to reconcile living with her family as a grown adult – all the while trying to resist reaching for a drink. (ITVX, 30 March)
New to streaming March 2023
you are missing out on some content here because you rejected our cookies. want to change that?
Daisy Jones and the Six: This highly-anticipated adaptation follows the story of a rock band in the 1970s, whose rise to fame and consequent dramatic split make them some of the most infamous celebrities on the globe. Based on the book of the same name by Taylor Jenkins Reid, fans of the original novel cannot wait to see the author's creative vision illustrated on screen in this 10-part miniseries. (Prime, 3 March)
Tetris: This cinematic re-imagining of the origin of the iconic gaming franchise is a long awaited exploration of a software that changed the video game industry for good. Starring Taron Egerton, Henk Rogers discovers TETRIS in 1988, and risks it all by travelling to the Soviet Union (amid heated Cold War tensions, bear in mind) to team up with Russian creatives to bring the game to the masses. (Apple TV, 31 March)
Boston Strangler: True-crime thriller and period drama? Say less. Based on a true story, this movie follows the journey of Loretta Mclaughlin and Jean Cole, who were the first reporters to connect a string of murders and break the story on the notorious serial killer, the so-called "Boston Strangler". Set in the 1960s, the two female reporters risk their own lives to report on the murders and keep women in the area informed, while battling against an industry known for its dismissal of female reporters. (Hulu, 29 March)
Things you might have missed in February 2023
you are missing out on some content here because you rejected our cookies. want to change that?
You, Season 4 pt 1: If you're running a little behind on the viral serial stalker saga, don't fear – the first half of the most recent season only aired last month, and is still available to watch before Part 2 releases on 9 March (see above). As Joe moves his disturbing escapades to London and attempts to reform his life, he ends up, rather unsurprisingly, falling deep into a new obsession.
Cocaine Bear: If you don't already know the film we're referring to, where the f have you been?! Elizabeth Banks' comedic drama Cocaine Bear made waves last month for its unique absurdity; the movie follows the rampage of a brown bear that ingests some gear. Believe it or not, the film is actually inspired by true events. Silly, or ingenious? You decide.
Black Panther: Wakanda Forever: It's no exaggeration to say that the second addition to the Black Panther franchise was nothing short of a cinematic event when it hit the theatres. The film was a beautiful tribute to the late lead actor, Chadwick Boseman, while continuing on the legacy of his pioneering role with a star-studded cast and mesmerising cinematography. Luckily for us, we can now stream the Academy-nominated movie from the comfort of our homes on Disney+.
Marcel The Shell With Shoes On: This animated feature is literally all about an (extremely adorable) animated shell named Marcel and his, you guessed it, cute little shoes. The creative concept started out as a series of YouTube shorts blending feel-good animated comedy with live action, but caught the attention of the Academy and was nominated for Best Animated Picture. Marcel was even seen gracing the red carpets of the BAFTAs last month – iconic.