These Teletubby boots are channelling true-thousands Y2K nostalgia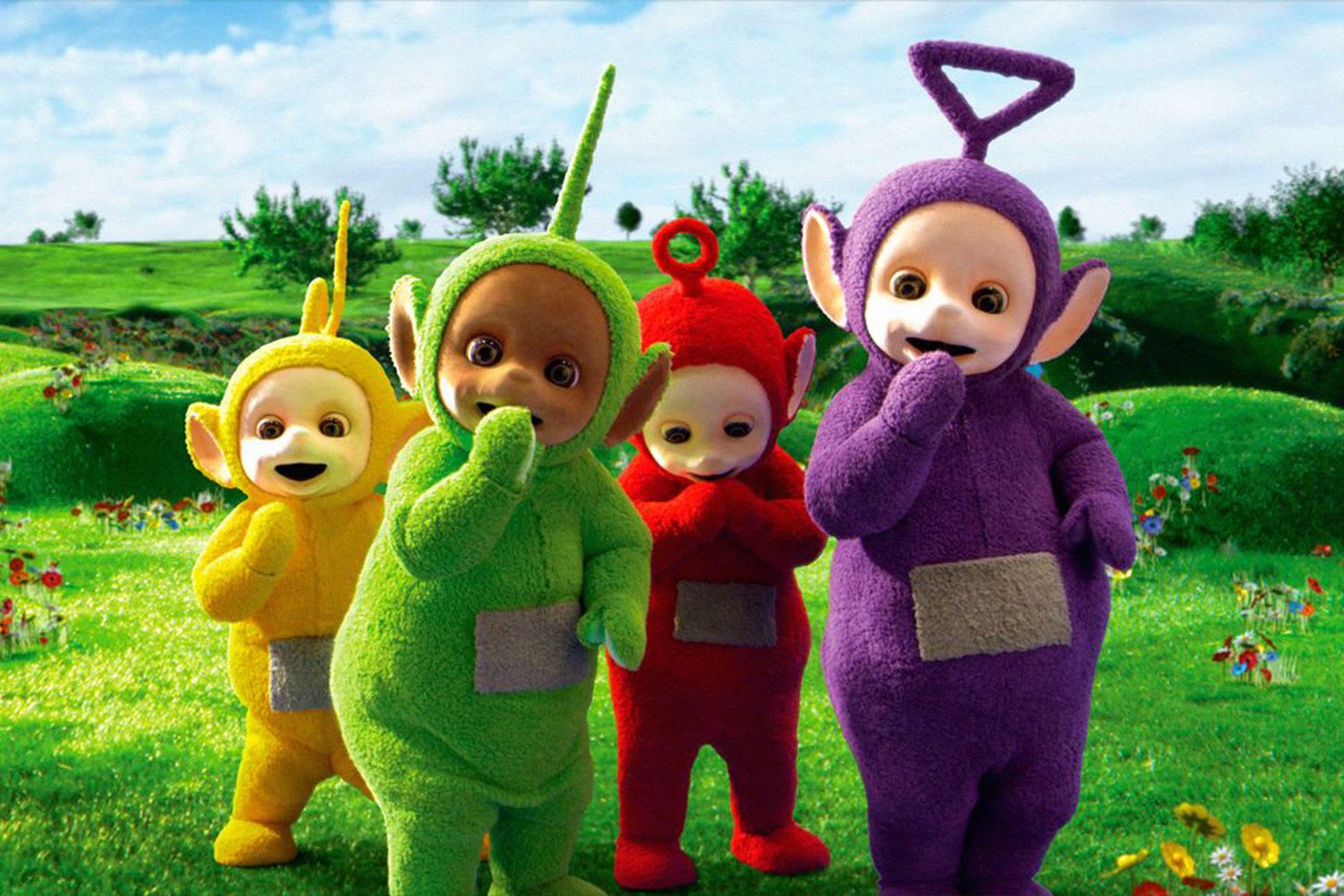 Plus Louis Vuitton's neon beach party, eBay's sneaker swap shop and more feel good fashion news from this week
Eh-oh! Why are we speaking in Teletubbies talk, you may ask? Well, because Christian Cowan's lime green Teletubby boots are the latest kooky accessory to whip the internet into a frenzy. Nightmarish or nostalgic? You decide. In other news, we have Louis Vuitton's sunny beach rave, eBay's sneaker swap shop, Coperni's new rental partnership, the British Fashion Council's plan to tackle the environmental impact of returns and more. Here's all the feel good fashion news from this week.
Christian Cowan's Teletubby boots are a nostalgic nightmare
you are missing out on some content here because you rejected our cookies. want to change that?
If you were a British toddler in the late-'90s or early-'00s, the Teletubbies are probably seared into some of your most formative memories. The BAFTA-winning (yes, really) BBC children's series originally aired from 1997 to 2001, providing hours of primary-coloured, baby-voiced entertainment, even if looking back, some of the episodes were actually quite nightmarish. But, haven't you always wondered what would happen if a CSM graduate chopped up your beloved Teletubbies childhood teddy and turned it into a pair of kitsch knee high stiletto boots? No? Well, now you can see what that would look like anyway. And, for a mere $2,500 they can even be yours to keep.
Christian Cowan's lime green Dipsy Teletubby boots have been causing a stir online this week. To some, they're instant fashion grail. While to others, they're viscerally repulsive. The drop was accompanied by an equally nightmarish campaign featuring giant Teletubbies – according to Google, Tinky-Winky is a towering 10-feet tall while the others average around 7 feet. Whether you see these kidcore boots as a perverse appropriation of your fondest childhood memories or a fun wink at Y2K nostalgia, fashion keeps going back to the toybox recently. See also Bill Nighy at the Oscars with his granddaughter's Sylvanian Families bunny. It turns out you don't need to splash out on a new wardrobe for spring. All the accessories you need are probably tucked away in the attic at your parents' house.
Microdosing summer with Louis Vuitton's SS23 beach rave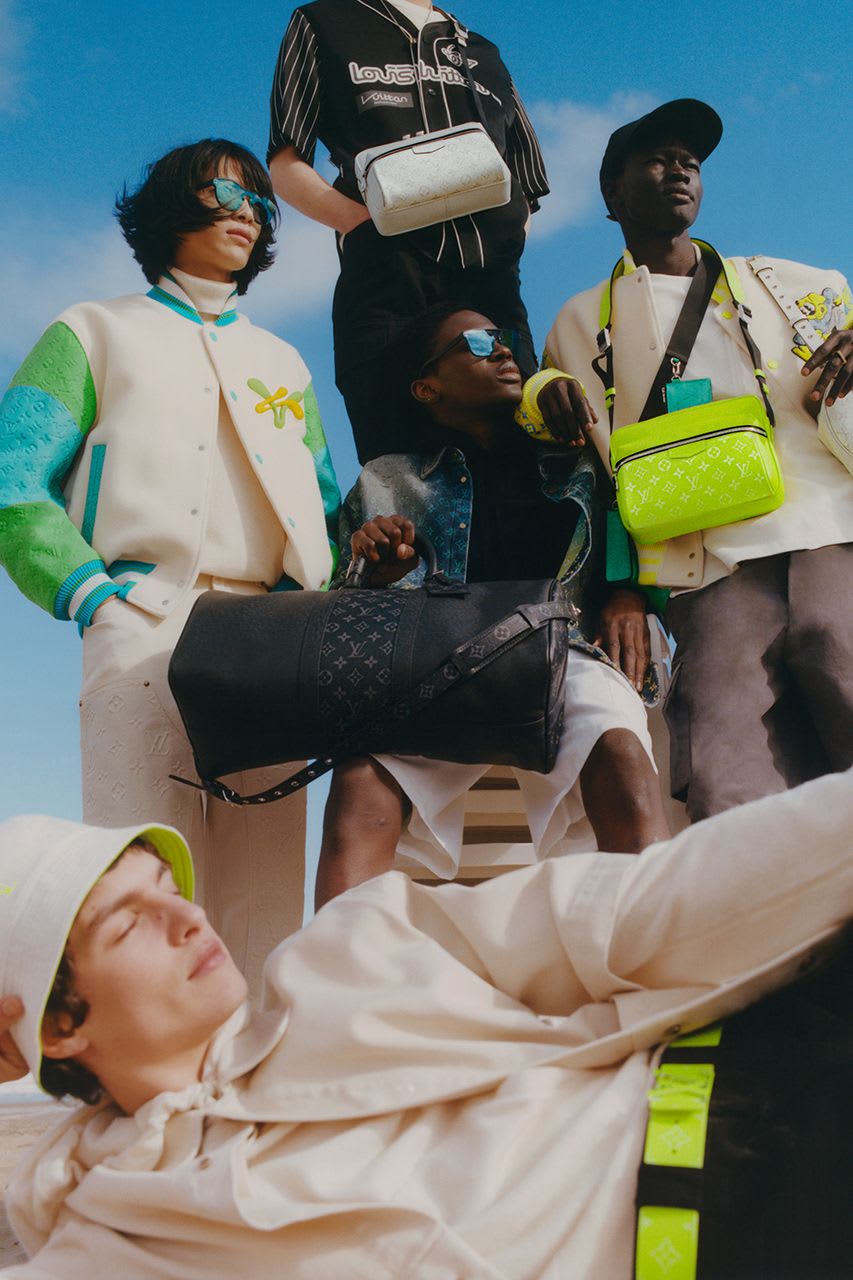 Image by Louis Vuitton
Oh, how we're dreaming of long, hot summer days hanging out at the beach with our friends. As if they read our minds, Louis Vuitton's latest SS23 Taigarama campaign is a celebration of sun, sand and streetwear. Neon accessories, lightweight shirts and sporty silhouettes hark back to '80s acid house raves while blue skies, deckchairs and volleyball nets fuel our summertime fantasies. The campaign shows models jumping for joy in a palette of Miami Green, neon yellow and optic white, carrying crossbody bags, backpacks and duffle bags ideal for stashing away beach day essentials. Bring on the summer!
Dreaming of a Coperni Swipe bag? Now you can rent one!
you are missing out on some content here because you rejected our cookies. want to change that?
Parisian label Coperni is known for its techy runway antics, dressing It-girls and their iconic Swipe bag. The certified cool girl brand has been making waves in recent seasons, not least because of that viral Bella Hadid spray-on dress moment. In the past, they've made their curved It-bag from solid gold and you can currently purchase a made-to-order dark grey stone bag with an incorporated meteorite, if you have a spare €40,000. If, however, you don't have that kind of money lying around, you'll be pleased to know that you can get a slice of Coperni's cool for a mere fraction of the price courtesy of the brand's partnership with rental platform Hurr. Whether it's the coveted Swipe bag you're after or a slinky going out-out dress, you can rent pieces from as little as £45. Ideal for any upcoming special events.
London Fashion Week leads when it comes to size diversity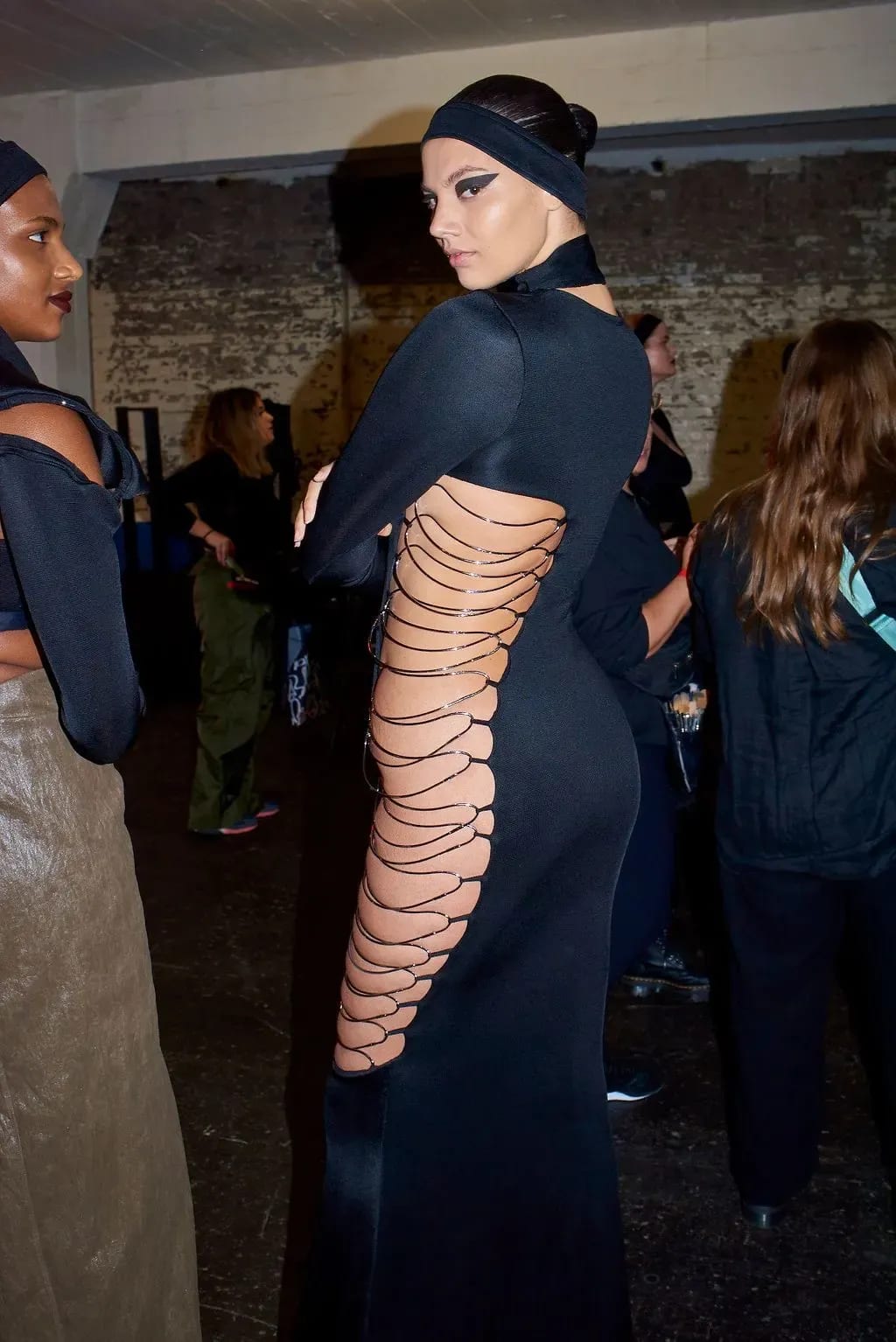 Karoline Vitto AW23 by Silvia Draz
It's no secret that emerging London designers are often leading the charge when it comes to creativity, diversity and sustainability. And this season young, London-based female designers were among the top brands when it came to body inclusivity at the AW23 shows, according to a report by Vogue Business. At Fashion East, Karoline Vitto's 25% of models were plus-size (UK size 18+) and 75% were mid-size (UK size 10-16) while for Sinead O'Dwyer, 38.1% of models were plus-size and 52.4% mid-size. And at Di Petsa, 10.9% of models were plus-size and 21.7% were mid-size. O'Dwyer's inclusive show opened London Fashion Week, putting size diversity, disability and pregnancy on the runway. Overall, the report showed fashion week still has a long way to go when it comes to size inclusivity, but it's uplifting to know that a new generation of London designers are willing and able to challenge the status quo.
The British Council set up a plan so fewer online returns go to landfill
you are missing out on some content here because you rejected our cookies. want to change that?
Have you ever wondered what happens when you return clothes you ordered online? Maybe those trousers don't quite fit or that sweater isn't really your style, after all. As we try to make our shopping habits more eco-friendly, it's increasingly important that brands have robust returns strategies to avoid products being sent to landfill. Around 30% of fashion ordered online is returned and, according to a 2022 study by the British Fashion Council (BFC), 23 million items of returned fashion were sent to landfill or incinerated in the UK last year. To help counteract this, the BFC has announced a 10-step plan to help reduce and manage returns more efficiently. The study found that detailed product descriptions, sizing calculators and 360-product views were seen as the most helpful solutions, followed by more diverse models photographed in the same garments and virtual try-on solutions. The project is still in its research phase and implementing it will take time, but it's a step in the right direction to reduce the environmental impact of online returns.
eBay's Swap 'Em Out pop-up wants your old sneakers
you are missing out on some content here because you rejected our cookies. want to change that?
Calling all sneakerheads! On Saturday 25th March you can swap your old or unwanted sneakers for a pair you really love at eBay's pop-up Swap 'Em Out Store in Soho. By swapping in a pair you no longer wear, you could walk away with a pair up to triple their value. The event will also host a sneaker cleaning service and authentication hub to extend the life of sneakers and make getting your next pair more affordable while proving that pre-loved is just as good as new. Rare and sought-after silhouettes like Nike x Off White Jordan 1 "Euro", Nike Jordan 4 Kaws and Salomon XT-6 Dover Street Market Silver are up for grabs. Meanwhile, all the funds from the event will go towards supporting the DEC Turkey and Syria Earthquake Appeal so you can look good and feel good at the same time. Reserve your spot here.
Digital fashion retailer DressX raise $15 million to expand its virtual wardrobe
you are missing out on some content here because you rejected our cookies. want to change that?
Would you buy an outfit that you can only wear online? Fashion tech company DressX wants your wardrobe to go digital and they've raised $15 million to expand their Metacloset of digital-only clothes, NFT fashion and augmented reality looks. These are virtual clothes you can "wear" online on dating apps, social media, video calls and more. It makes sense, considering how much of our lives happen online these days. In fact, a Barclaycard study even found that nearly 10% of all UK shoppers are buying clothes for the sole purpose of posting pictures online before returning them. So, if you think about it, virtual fashion is the more sustainable solution.