How Shrimps became an it girl staple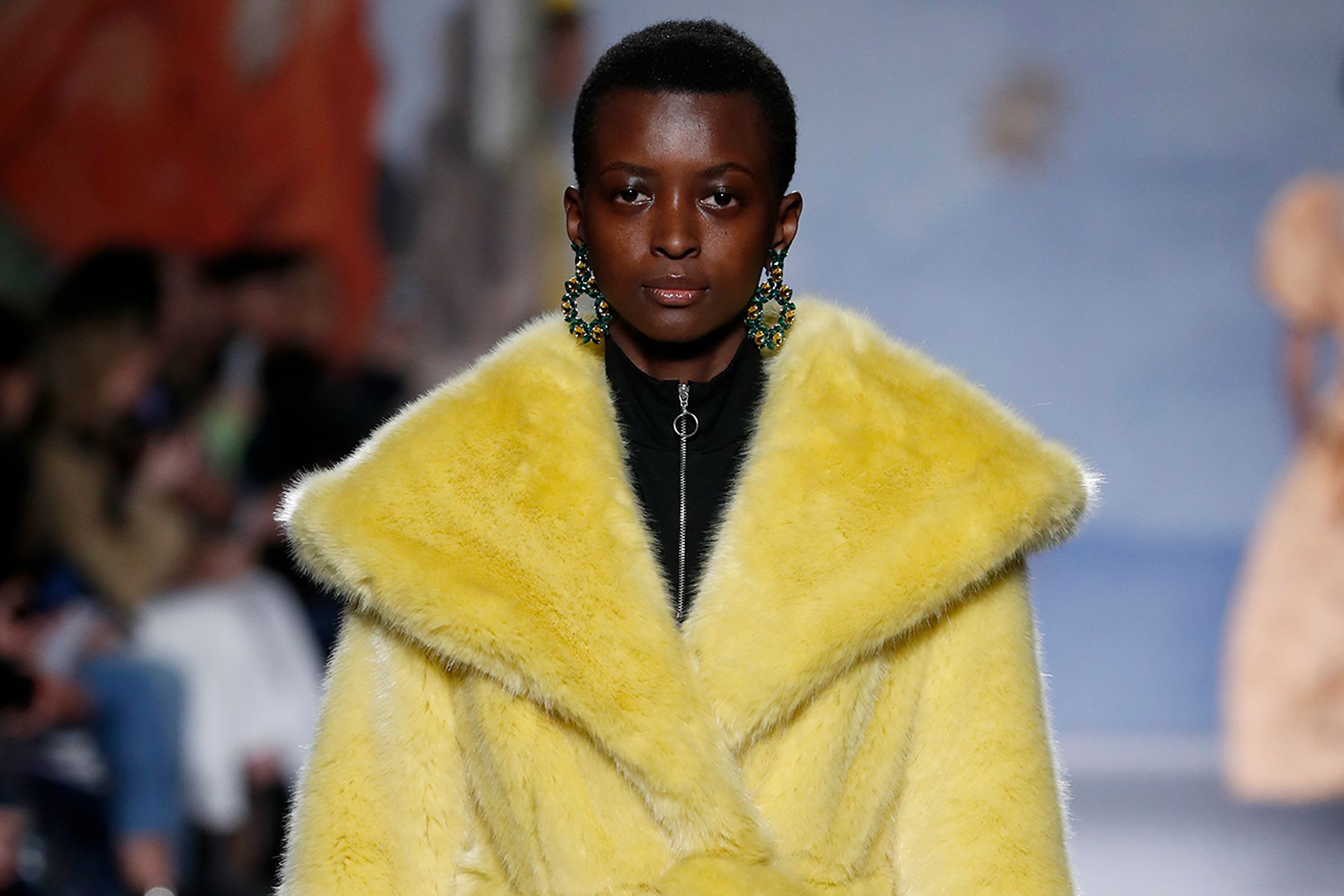 The London label's faux fur coats, beaded bags and organza dresses are designed for dreamers
image John Phillips/BFC / Getty
words Sophie Lou Wilson
It all started with a coat. When Hannah Weiland was studying textile design at London College of Fashion, she stumbled upon the softest faux fur she'd ever felt. It was one of those creative lightbulb moments and it would go on to change her life, not to mention the landscape of contemporary London fashion. Her idea was to create a colourful Breton-striped faux fur coat. The rest, as they say, is history.
Why is Shrimps so popular?
The Shrimps coat has been a mainstay of London street style since its conception in 2013, when 23-year-old Hannah set up the brand as a student side project. Beloved by the capital's it girls like Alexa Chung, Adwoa Aboah and Poppy Delevigne as well as musicians Sigrid and Jayda G, the coat is the brand's most recognisable piece though geometric bead bags, floral organza dresses and embroidered knitwear are also returning favourites.
As a student, Hannah was warned of the difficulties of starting her own brand, but her lucky break came when Net-a-Porter put in a huge order after seeing one of the initial faux fur coats. It reads like a fashion fairytale, but Hannah admits there was an element of being in the right place at the right time. She gained recognition for the Shrimps faux fur coat before major fashion houses caught onto the fabric's potential.
you are missing out on some content here because you rejected our cookies. want to change that?
The magic of the Shrimps faux fur coat
Using real fur had been controversial for some time, not least because of high-profile protests by animal rights charities. For Hannah, however, cruelty-free fashion was a no brainer. Growing up around animals, she could never imagine hurting them with her designs. As a fashion brand, Shrimps' commitment to remaining fur-free has won praise from PETA who have a notoriously contentious relationship with the fashion industry.
The faux fur that Shrimps' clothing uses is so realistic that upon receiving the first swatches, Hannah had to ring the manufacturer two or three times to make sure that they hadn't sent her real fur by mistake. Even after the first coats were released, people would tweet Shrimps saying they'd been tricked and the fur was real.
In the decade since Shrimps' faux fur hit the scene, the tension between cruelty-free fashion and plastic-free fashion has called into question the net environmental impact of fake fur. To counteract this, Shrimps only works with factories that craft faux fur out of recycled plastics and each garment, Hannah says, is "a recognisable piece of clothing that you save up for and keep forever" thus reducing the consumption of cheaper, throw-away fashion.
you are missing out on some content here because you rejected our cookies. want to change that?
Shrimps clothing beyond the faux fur
Faux fur aside, the brand's aesthetic is defined by its girlish charm. Think of the Shrimps dresses with flouncy organza and upbeat motifs designed to make your inner child squeal with delight. Many of the prints come from Hannah's own absent-minded doodles inspired by daydreams or her childhood teddy bear. Meanwhile, the name of the brand itself comes from Hannah's school nickname which she earned by being "small and pink."
Shrimps' dreamy pops of colour are inspired by the vibrant, contrasting palettes of Van Gogh and Matisse that Hannah studied during her art history degree. However, rich darks and creams in silk and lace add a deliciously gothic touch that would make Wednesday Addams proud.
Shrimps jackets with fur-trimmed elements and Peter Pan collars tap into the twee aesthetic championed by the likes of Zooey Deschanel and Margot from Wes Anderson's The Royal Tenenbaums. This wholesome mid-2010s aesthetic is making a comeback courtesy of TikTok's sped-up revival spiral that has us all reaching for nostalgia-driven clothes, music and culture that remind us of simpler times.
Shrimps does accessories too!
For the fashion girlies who want to add the brand to their cart but are not in the market for clothes, maybe try a Shrimps bag or some pearl earrings? Here are some of our favourite picks that stand the test of time and trend cycles: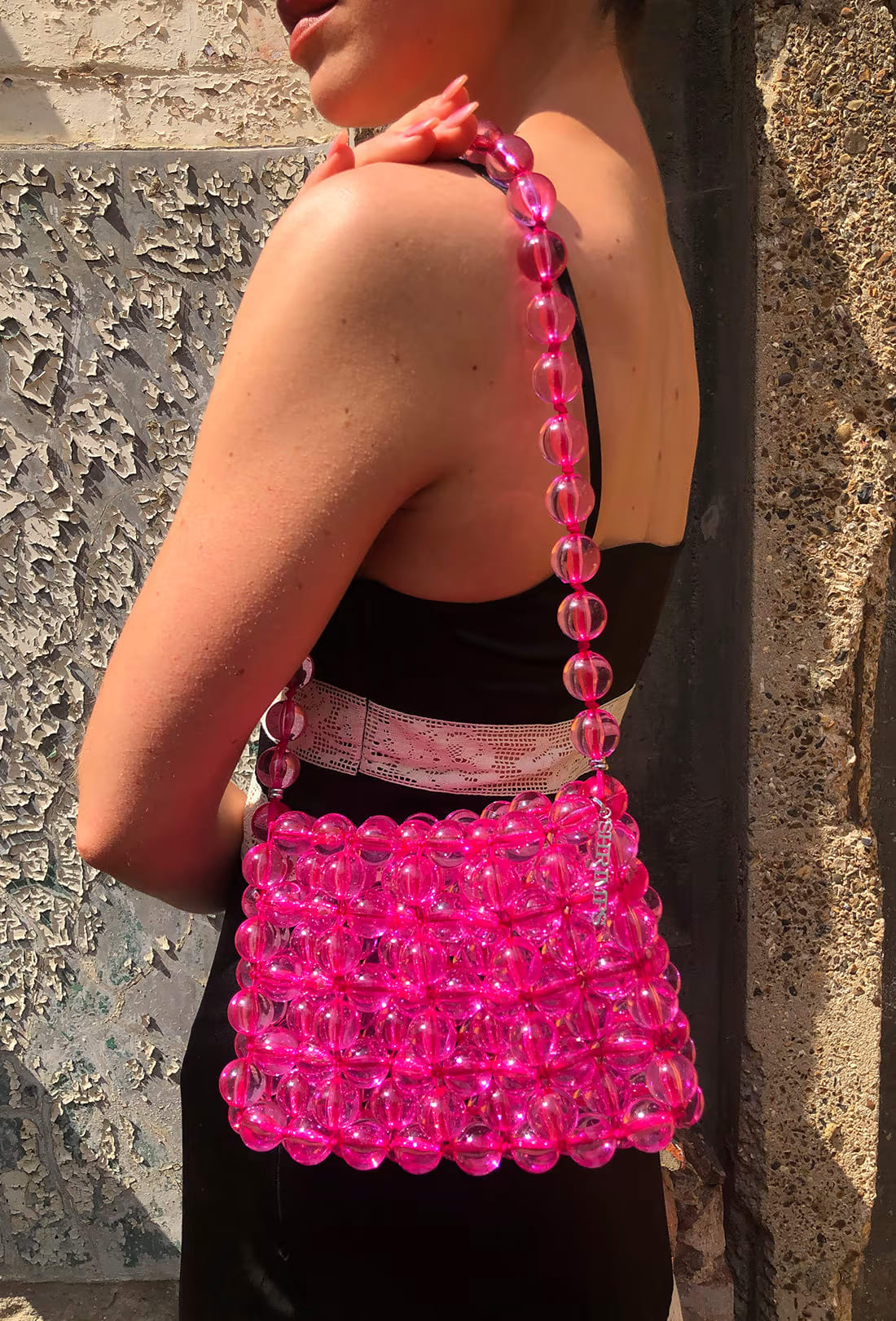 Shrimps Brooks bag
Let's be honest, Barbie pink is not going anywhere. This fuchsia pearl bag from Shrimps is hand beaded into a grid style with two handles so it's as functional as it is good looking.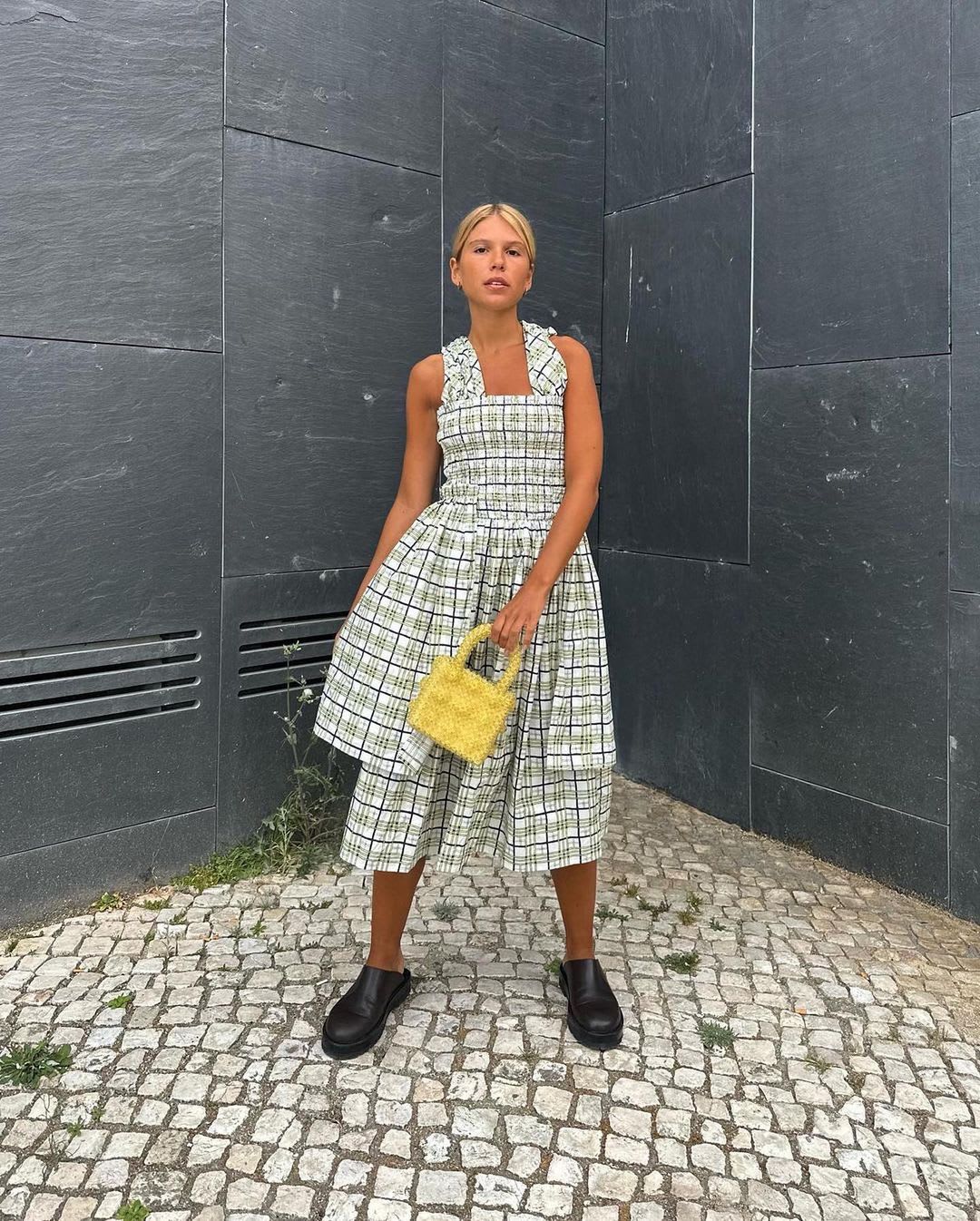 Shrimps Mini Antonia bag
This bite sized iteration is perfect for the days when you need a bag to double as a statement accessory. Crafted with blue geometric pearl-like beads in clusters, the Shrimps Antonia bag screams main character.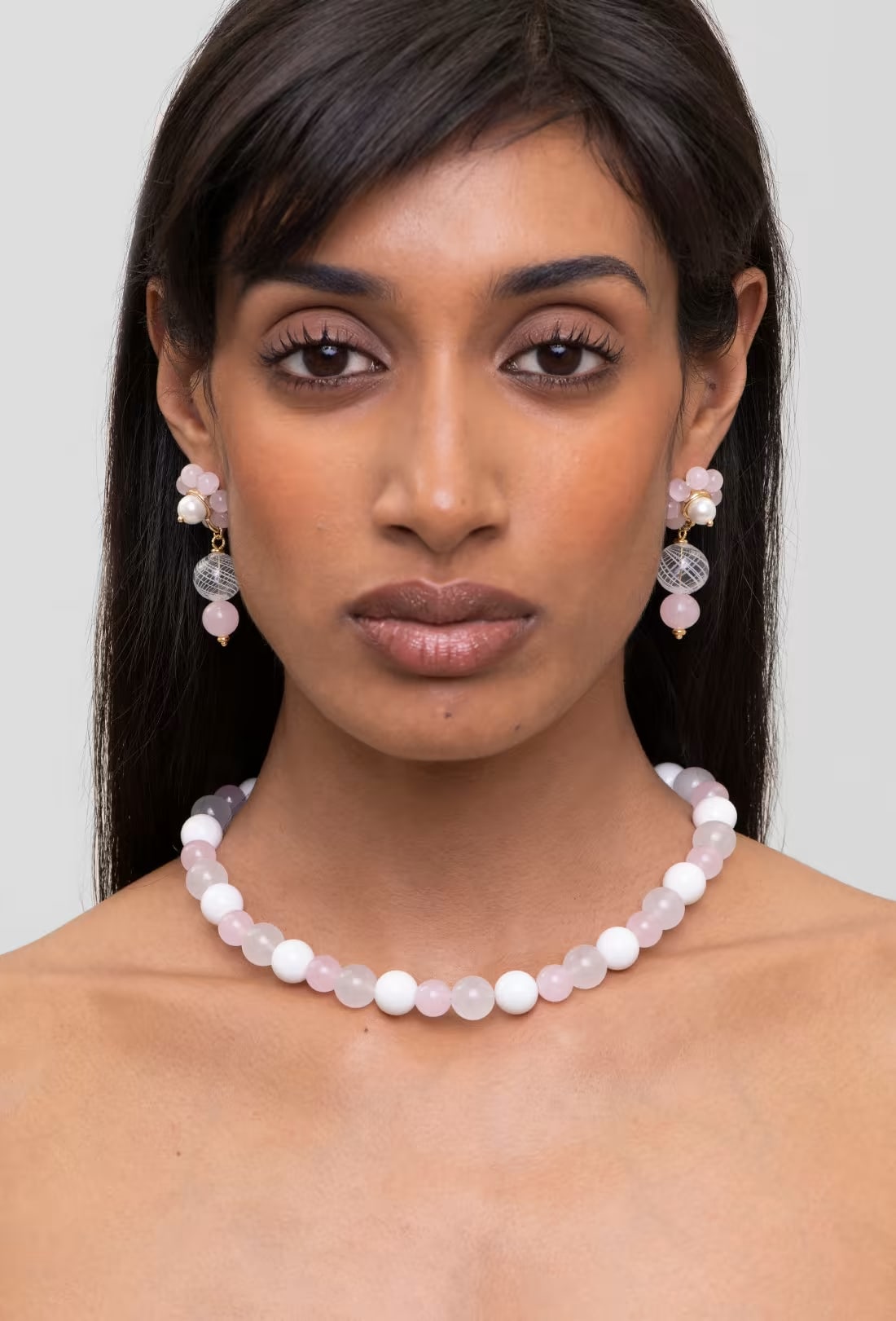 Shrimps Martina earrings
Crystals of jade and hollow glass are delicately moulded to create the flowers on these Shrimps earrings. If you're looking for some gentle glam, pair the gentle danglers with the Una necklace.
Where can you buy Shrimps?
The stars have aligned: you don't need need to go too far to find Shrimps' gorgeous clothing or the fun pearl accessories. Experience the lush textiles and playful designs on woo with our selection of the brand's staples, from the iconic fur-trimmed coat to knit balaclavas and handmade beaded mini bags. Discover more here.
Products are selected independently by our editors from the Woo online store, a carefully curated platform for feel good fashion, beauty, wellness and lifestyle, as well as externally. Discover more here.