Summer 2023 is the year of dreamers on TV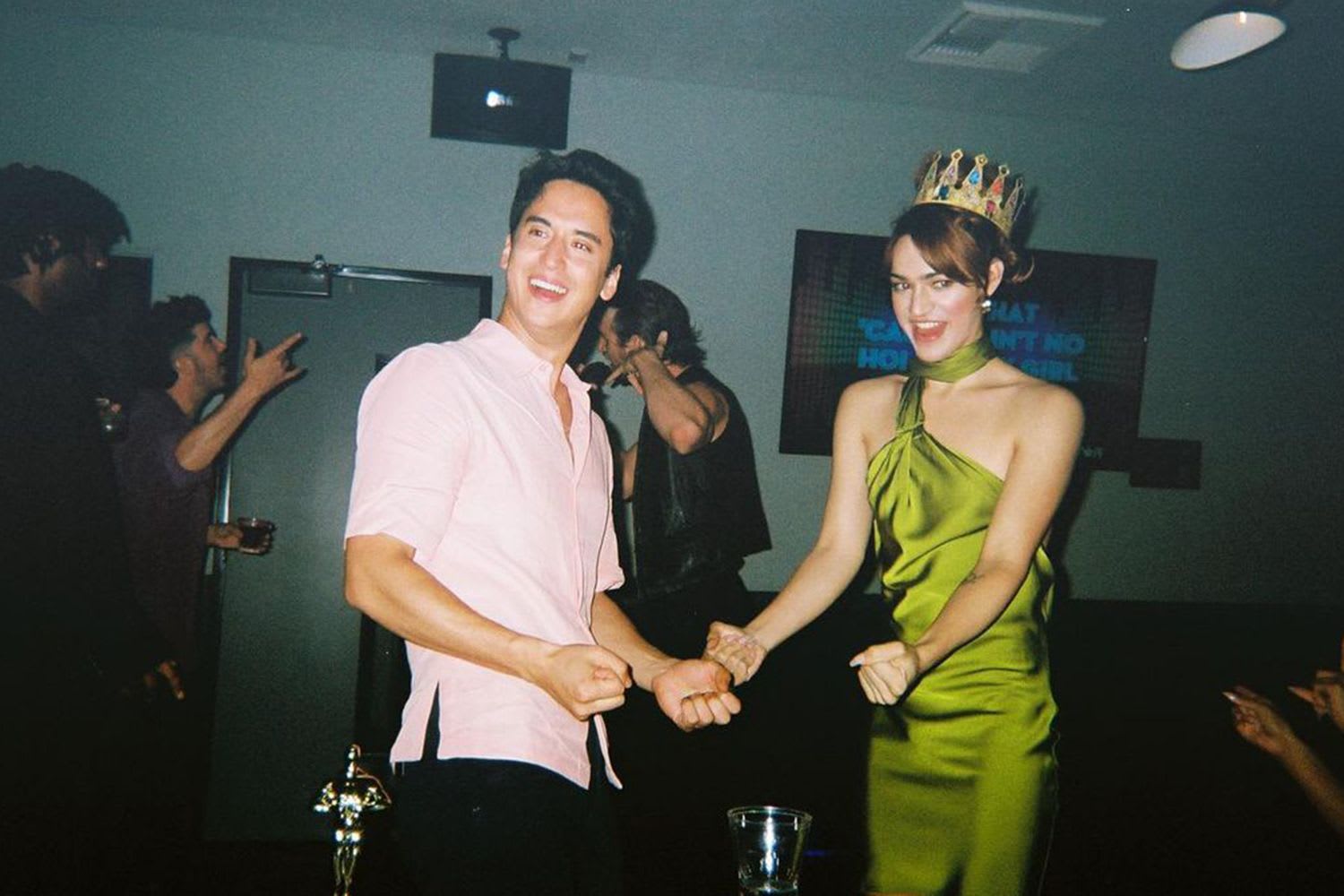 Glamorous, XO Kitty and Never Have I Ever help us believe that anything is possible
Five minutes into watching Glamorous, Netflix's Gen Z workplace dramedy, viewers have already witnessed a makeover, a YouTube channel in the making and a life changing meet-cute. Marco Mejia, a non-binary, queer makeup enthusiast and hopeful internet creator (played by IRL YouTuber Miss Benny) works behind the beauty counter at a New York City department store when his world changes forever: Madolyn Addison, former supermodel and founder of makeup brand Glamorous by Madolyn walks in.
Did we mention mother Kim Cattrall plays Addison? When 21-year-old Marco serves some cold hard truths to Addison about how her makeup fails to make young people believe that anything is possible, the beauty mogul impulsively hires him as her second assistant. Not kidding. And just like that, doe-eyed viewers are reassured that at least on TV, dreams really do come true.
The storyline of Glamorous is obviously too good to be true but when real life is such a drag, we want, nay need television to double up as over-romanticised, escapist fodder. The rising cost of living, climate crisis, hay fever, waking up for work and grieving sold out Taylor Swift shows are only a handful of the problems plaguing young people today. Even Barbie, the poster child of all things perfect, previously "life in plastic, it's fantastic", is having doubts about how great everything is in the upcoming Greta Gerwig movie.
The world deserves a frivolous break. Luckily, the pop culture gods of summer 2023 received the memo loud and clear because alongside scarring series like The Idol and Black Mirror, the TV slate has also brought some much needed rainbows and butterflies packaged up in cute, 30 minute episodes. XO Kitty, the saccharine, fairy dust encrusted spinoff of the To All The Boys franchise premiered at the end of May while the delirious final season of Never Have I Ever, featuring chaos queen Devi Vishwakumar, a serial dreamer and obsessive do-er, was released early in June.
Just like its predecessors, Glamorous, which debuted on June 22, opened to mixed reviews because well, not everyone believes in magic. The show is cut from the same cloth as The Bold Type and Ugly Betty except this time, instead of a cis femme main character, Glamorous features a queer universe of hot gay and bi people. The 10-part series follows Marco growing into his job and his sexuality, fumbling through both with half-baked ideas and glittery stilettos.
To say some of the storylines are a reach is an understatement. At one point, Marco saves the decades-old company by suggesting they try a Pride campaign to be more inclusive of a younger audience, an idea that's so deliciously cookie cutter and delusional, we're obsessed. In contrast to You or Glass Onion's eat-the-rich trope which underscores the disparity that prevents most IRL humans from living life with Marco's wild abandon, in shows like Glamorous, both Marco and his recently unemployed mother swiftly find jobs and go to bed happy. A satisfying win-win.
you are missing out on some content here because you rejected our cookies. want to change that?
In XO Kitty, To All The Boys actor Anna Cathcart returns to play Katherine Song Covey (or just Kitty) in a make-believe world where there's an honest blend of Korean and American culture, a lack of labels and an abundance of cringe-cute twists and turns. After establishing herself as cupid in To All The Boys, Kitty is now ready to wear the main character gloves and find love for herself.
At 16, Kitty convinces her father to let her attend the prestigious Korean Independent School of Seoul (abbreviated to KISS, of course) for a year of study abroad. This is the same school where her long distance boyfriend Dae (Choi Min-yeong) studies and in a wild coincidence, is also where her late mother spent a year of her life. Remember, this is a world where everything always works out in the end.
Throughout the whirlwind series, Kitty falls in and out of love with her best friend(s), discovers the tree under which her mother took a picture 20 years ago, untangles a love triangle involving the principal at her school, finds her sense of style and comes to terms with her own undefined sexuality. If it feels like there's a lot going on, it's because there is. XO Kitty is a classic example of the anything-is-possible type of TV show.
While there's romance and other elements of what it's like to be a teenager, the series highlights a generation determined to reject what's been passed down to them and instead mould a life that fits their beliefs. This sentiment also shapes Devi Vishwakumar's life in Never Have I Ever. Obliviously selfish, the over-achieving valedictorian refuses to settle, which is both annoying and inspiring.
you are missing out on some content here because you rejected our cookies. want to change that?
After Devi is waitlisted by Princeton, her dream school, she obsessively calls the admissions department to find a way in — definitely not recommended in the real world. And when she finally makes it, there is no legacy donation or name dropping at play, just a girl who lets her ambition drive her and well, a fictional universe where aspirations are enough to make things happen.
In the final episode, when the never-say-never protagonist gets together with her on-again, off-again beau Ben Gross (Jaren Lewison), the couple ride off into the sunset on an electric scooter. Uncomplicated, cathartic and twee. This is the 2023 version of live, love, laugh and we're here for it.
Although their worlds are so different, Glamorous, XO Kitty and Never Have I Ever help us escape into a soft era where daydreaming translates into manifestation. The starry-eyed protagonists aim big with no repercussions and, if they miss, they just get up and do it again. Whether their aim is saving a multi-million dollar makeup brand while exploring a love triangle, reconnecting with their dead mother's culture all alone in a foreign country or getting into an Ivy League university; the ambition in these shows isn't limited by very real 2023 worries like money or mental health issues that prevent the rest of us from taking a leap.
You know that rare moment when a grand but brilliant idea strikes you in the middle of the night and your palms tingle from the excitement? These shows are full of them. The difference is the characters aren't held back by things like being sensible. And it's refreshing. Despite some of the OTT storylines, watching young adults on screen be brazen and true to themselves gives us viewers a little taste of that untethered optimism.
At the very least, these can leave us hopeful, giving us enough encouragement to try that one thing that felt too extravagant offline. Even if it's just going for a dance class or posting that very extra TikTok saved in your drafts. At a time when we're taught to be overly cautious, measuring every decision and its consequences, Devi, Kitty and Marco are the inspiration we need to go after what we want.