first comes love, then comes marriage: how brides and babies took over fashion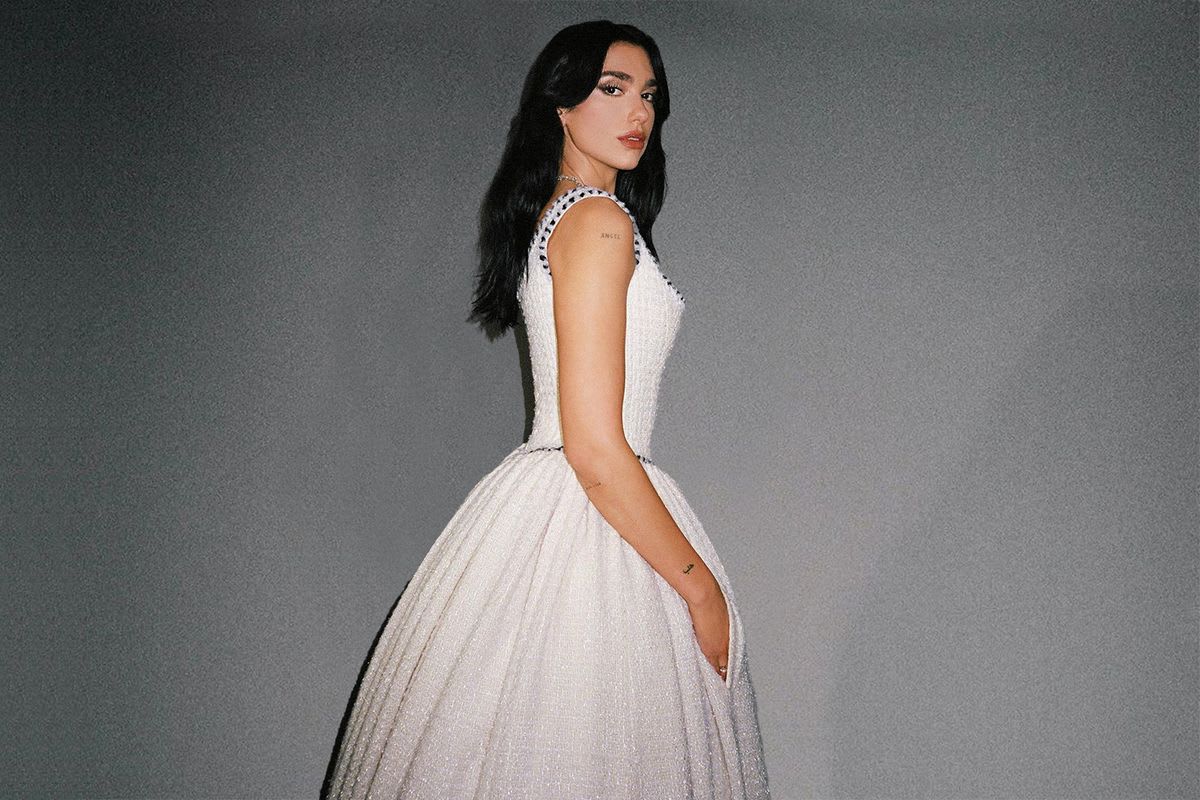 Traditional family aesthetics are taking the fashion world by storm. Are we all just craving comfort, or does it point to a wider social shift?
image dualipa via Instagram
words Sophie Lou Wilson
Since Rihanna's first pregnancy sent fashion into baby fever mode in early 2022, babies, brides and mothers keep cropping up on the runway, red carpet and beyond. Traditional family aesthetics have seeped into fashion and culture, often via celebrities and designers we'd least expect it from. In recent seasons, Sinead O'Dwyer, Di Petsa, Marine Serre, Collina Strada and Susan Fang have turned their shows into a family affair, with baby bumps, babies and children making their way onto the runway.
But that's not the only way fashion is bringing it back to the family. Bridal fashion is having its moment too. Bridal wear was one of the most notable trends at this year's Met Gala as celebs from Dua Lipa to Rihanna jostled to become the ultimate Chanel bride. Karl Lagerfeld once said, "I don't recommend me for wedding dresses – they all get a divorce," but that didn't stop him creating some of the most iconic bridal couture runway moments of all time.
you are missing out on some content here because you rejected our cookies. want to change that?
Rihanna arrived at the Met Gala in a gigantic Valentino couture wedding dress with a cape made from 500 appliqué camellia petals. Elle Fanning rocked up in a white lace gown by Andreas Kronthaler for Vivienne Westwood accessorised with a flower crown and a bouquet. Halle Bailey, Bad Bunny, Maya Hawke and Ice Spice also opted for bridal styles. But it was Dua Lipa who stole the show in an archival wedding dress originally worn on the runway by OG supermodel Claudia Schiffer at the close of Chanel AW92 couture show.
you are missing out on some content here because you rejected our cookies. want to change that?
The Met Gala isn't the only place where celebrities have dressed up in bridal gowns in recent times. Michelle Yeoh collected her historic Oscar for Everything Everywhere All At Once in a feathered white Dior couture gown that took over 200 hours to make. Then this month, Halle Bailey stepped out on the blue carpet at London's The Little Mermaid premiere in a custom white dress from Miss Sohee. In March, Vivienne Westwood's granddaughter closed the Andreas Kronthaler for Vivienne Westwood runway show in a bridal white lace corset playsuit with a bouquet in hand in a moving tribute to her late grandmother.
However, it's not like brides on the runway are anything new. It's been tradition since the mid-20th century for designers to close their couture shows with a bride. The wedding dress is the apex of couture – the luxury of the luxury, with a price tag to match. Couture wedding dresses are often the most intricate, time-consuming looks with hundreds of painstaking hours going into hand embroidery. It's no wonder they can sell for tens or hundreds of thousands. To close a show with a luxury bridal look is like ending a film with a happily ever after. It reinforces the status quo, highlighting the value society places on marriage.
Today, the couture bride is not as ubiquitous as she once was. In the past, the closing look would include veils and bouquets. Brides were sometimes accompanied by flower girls. Now, the last look is still the most expensive and extravagant, but it's not always so explicitly bridal. Likewise, when celebrities wear wedding dresses on the red carpet, they don't always make them look specifically bridal. The dresses are taken out of their matrimonial context and often put in a scenario where the wearer is celebrating her career achievements in some way.
Emma Stone rewore her actual wedding afterparty dress to the Met Gala in 2022. Meanwhile, when Emily Ratajkowski got married, she opted for an orange suit instead of a white dress, but later wore a wedding dress from Oscar de la Renta's bridal collection to the 2020 Critics Choice Awards. In 2019, Priyanka Chopra Jonas turned heads in a frothy, tiered wedding dress on the red carpet at Cannes and the same year, Lady Gaga wore a Dior couture wedding dress to the 2019 SAG Awards.
The wedding dress trend suggests that maybe your wedding day doesn't have to be the best and most important day of your life. If you don't want to get married, why shouldn't you still get to buy your dream dress? Marriage rates continue to fall at a steady rate. According to the Office for National Statistics, the proportion of adults who are married or in a civil partnership fell from 58.4% in 1991 to 46.9% in 2021. So perhaps fashion's obsession with matrimonial aesthetics is less to do with a collective desire to get married and more to do with a decentring of marriage as the only occasion where you can dress up in all white and feel beautiful.
Additionally, the number of women choosing to marry themselves, a practice known as sologamy, has been on the rise over the past decade. Self-marrying isn't legally binding, but rather an act of self-love. It typically involves wearing a lavish white dress, having a photoshoot, buying a cake and inviting loved ones to celebrate. For some, it's an act of rebellion against the importance society puts on the institution of marriage. For others, it's simply a commitment to look after themselves first. Either way, the white wedding dress is often a central part of this experience.
The wedding dress trend has arrived at a time when mothers and babies are also very much a part of the fashion zeitgeist. Even if we don't aspire to have a traditional nuclear family, there can be comfort and nostalgia in the idea and aesthetics of it. Several recent trends, from coquettecore to inflatable fashion have been about returning to a sense of comfort. We've all been through a collectively traumatising event – the pandemic – so there's no wonder we're fantasising about security and stability.
you are missing out on some content here because you rejected our cookies. want to change that?
Motherhood might have been very much in fashion since Rihanna's first pregnancy 'fits, but this year, it's become apparent that most of us don't necessarily want to have our own babies. The UK birth rate has been declining steadily since 2010, falling to just 10.4 births per 1,000 population in 2021. Instead, we want to be a baby. A nepo baby, more specifically, dressed head to toe in designer labels we're too young to be able to pronounce. Earlier this month, images emerged from Rihanna's son RZA's first birthday party where he's wearing Dior shades and a spiky black and red top. Imagine already being a style prodigy at just one-year-old.
If Rihanna can't be our actual mum, that won't stop us calling her mother. Mothers keep on mothering as celebrity style icons and pop stars become our parasocial maternal guides. We're less interested in motherhood for ourselves and more interested in being mothered by others. Sartorially, this is manifesting in childlike, nostalgic designs – think JW Anderson's frog Wellipets, Marc Jacobs' Heaven teddy bear bags and Barbiecore pink being absolutely everywhere. It contrasts with the mature, glam bridal gowns on the red carpet, but reflects the same fantasy of a comforting family life.
So, maybe we don't all want to be brides and parents, but we want what they represent. After all, self-parenting can be as simple as treating yourself to new clothes. The bridal and mothering trends can be a reclamation of conservative norms on our own terms. There's no singular way to be a bride or a mother anymore. So, get dressed up. Wear that over the top white dress. Buy yourself a bouquet of flowers. The best day of your life doesn't have to be your wedding day. It could happen when you least expect it.
shop the bridal wear trend