Welcome to the era of the farmbro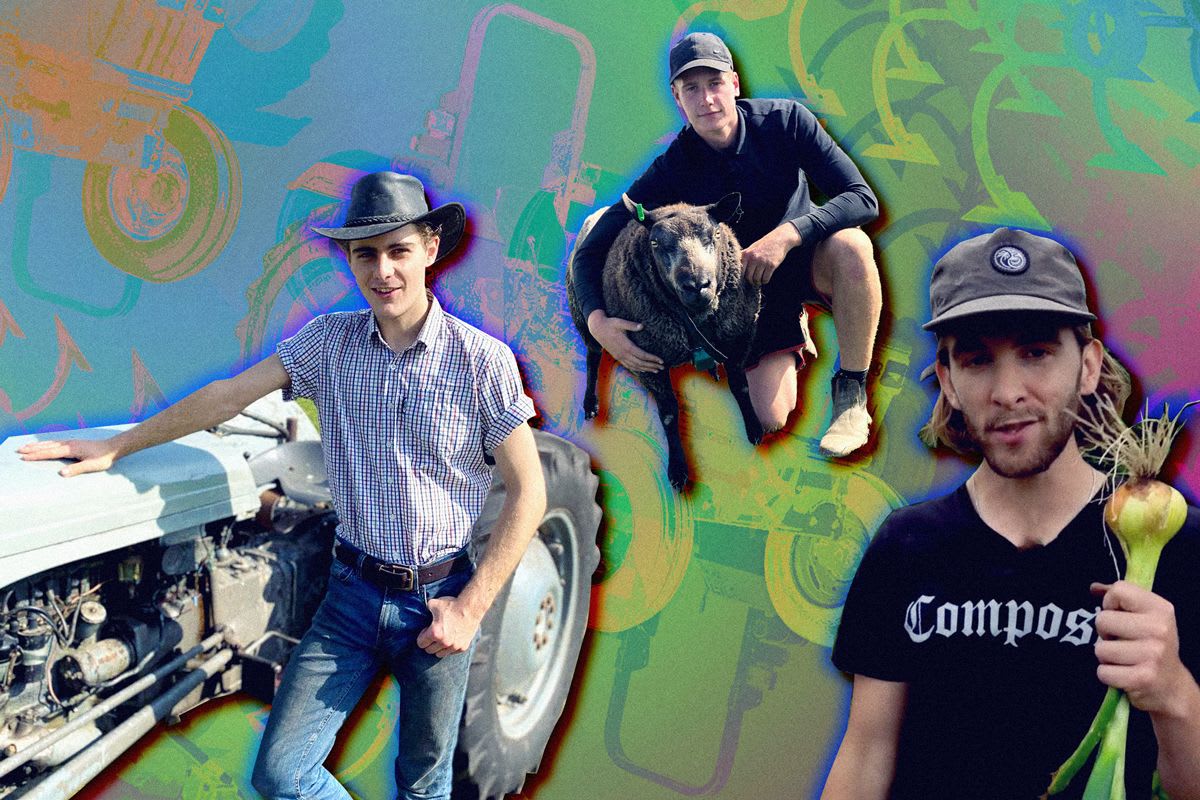 Why are young male farmers getting so much rizz? An investigation
image Team Woo
words Lucy O'Brien
The hashtag #ukfarming has, wait for it, 366.3 million views on TikTok. But even the deepest of searches for this term won't provide you picturesque views of the British countryside but instead, an array of young male farmers going about their daily agricultural duties. And people are absolutely obsessed with them.
Introducing farmbros: the tweed and capped-out young men reinventing an admiration for agriculture many thought was lost somewhere a bit before the Industrial Revolution. Gone are the days pining after that ever-elusive city boy aesthetic, the farmbro has dethroned him. But what is it about this new Gen Z archetype that elicits so much rizz?
There's Julius Roberts, a cult foodie-favourite sharing recipes made from home-grown and locally farmed produce, who currently attracts a humble 4m TikTok followers. Then there's @Tom_agri, who wastes no time showing off his impressive tractor collection to over 85,000 TikTok fans. @JacksPatch is another notable mention, whose tips and tricks for maintaining a decent vegetable and herb garden has awarded him a following of just over 30,000.
But the most notorious of all the bros and perhaps the pioneer of the viral farm boy aesthetic is 23-year-old, Buckinghamshire-based Will Young. Better known to most as Farmer Will, the fifth-generation farmer has amassed 1.1 million followers on TikTok, a platform where he shares both comic and informative videos on what life is like living and working on his family farm. And now, the viral influencer is taking the farmbro to new heights, exchanging the English countryside for a personalised water bottle and a South African villa as he jets off to join the cast of Love Island season nine.
you are missing out on some content here because you rejected our cookies. want to change that?
Known on the platform as the 'hot farmer', Young has been dubbed the face of a generation of young men in agricultural careers that, until now, seemed to be very much out of sight, out of mind. Farming has never really been a topic to capture or excite the popular imagination, rather an industry that we know goes on in the more remote and rural corners of the country. But the Gen Z farmbros of the UK are bringing relatability back to what many may feel is a rather obscure part of British life. Dirty clothes, farm slang, shaggy hair, being active, interacting with animals – it's all part of our fascination with and, for many, attraction to these earthly souls.
you are missing out on some content here because you rejected our cookies. want to change that?
"Love cows," reads one response to @tom_agri's above TikTok video, who insists whoever he dates simply must share his adoration for the animal. "The. Best. Animal. Ever.," reads another. What started out as a wholesome trend sharing the day-to-day realities of life in the rural countryside has now, by the looks of it, translated into an unprecedented amount of online rizz.
That's not to say these candid insights into the intricacies of farm life have been welcomed by all. In fact, just days before his Love Island announcement, Will Young received considerable criticism from animal rights charity, the People for the Ethical Treatment of Animals (PETA) for a video he posted of him aiding the delivery of a pregnant sheep. The graphic, uncensored nature of the TikTok caused shock and dismay to many viewers, leading PETA to publicly call it out for being inappropriate. In an interview with the Financial Times, however, the future Love Islander responded to the complaints by explaining: "I'd never have got the camera out for a situation I wasn't in control of."
While the event caused much discussion into what we should and shouldn't be able to post online, Young and the rest of the farmbros out there continue to grow in following and popularity. Perhaps it derives from our love of animals, or maybe we merely enjoy seeing young people more connected to nature, but love or hate the farmbro, it looks like our fascination with their kind is here to stay. Will these farmer boys pioneer a renewed appreciation for agriculture? A farming renaissance as it were? Well, it sure is looking like it.
Spring beauty
Our spring makeup, grooming, haircare and skincare picks