avatar's jamie flatters has been on a quest for self-love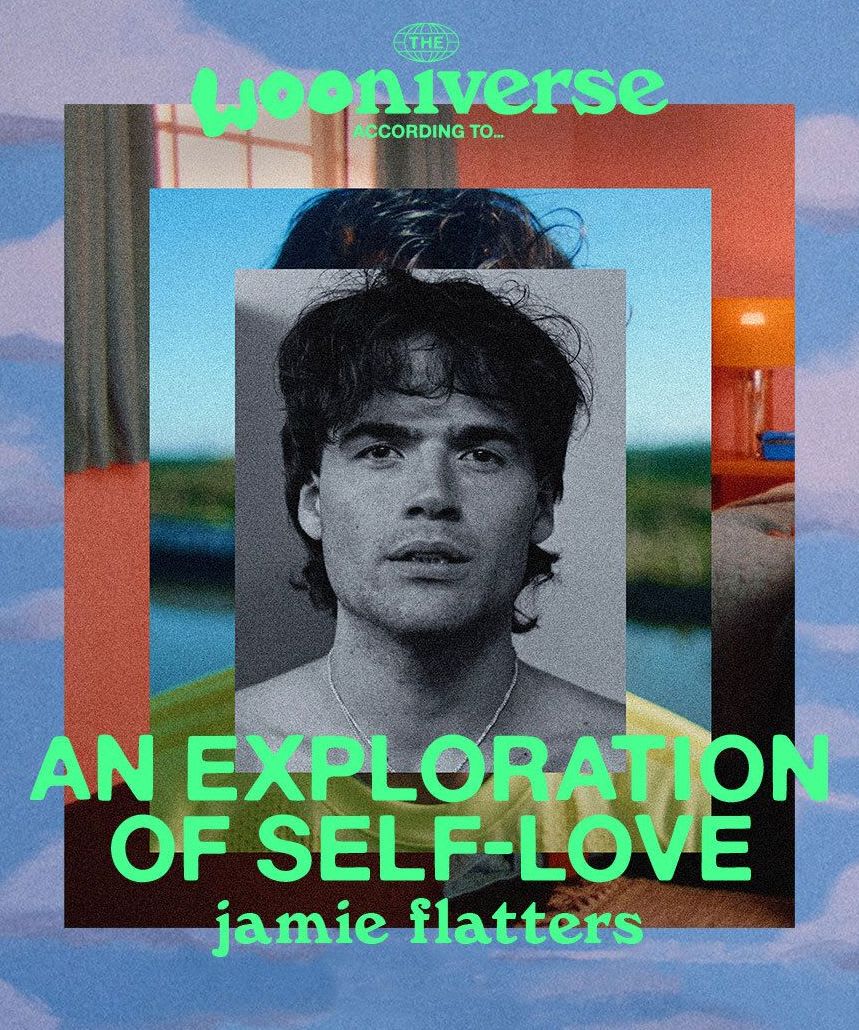 Now, he's ready to share what he's found out about his relationship with himself
This article is part of THE WOONIVERSE ACCORDING TO... Jamie Flatters.
"I was never massively into the idea of drama school. I always felt like acting something that was so close to my chest that I never wanted a teacher to observe me and then try and tell me what it was. I think to be a certain type of actor, you need the audacity to know what you're doing, and to be in the moment with it."
That's Jamie Flatters, the 22-year-old star of Avatar: The Way of Water. He landed the role at 16 years old. It saw him move from the family home in Clapham to Los Angeles: he was leaving Lambeth Academy (now known as The Elms Academy) and heading for Hollywood, literally. Just over five years later, the film is out, a third Avatar film has been filmed, and now Jamie is speaking to us from his bedroom in his family home in Southwest London. He still lives there when he's in London.
Surprised an actor in a starring role in the third highest-grossing film of all time, can't afford to live alone in the city? Same, but when asked why he wasn't living somewhere else, he simply said: "I wish I could man, it's expensive as hell. It would be a luxury for sure. I might see if some friends want to move out or something soon." Jamie seems to have two distinct tones of voice. The one where he's talking casually, as in these instances. He speaks in an off-hand manner, with a slightly raspy tone. Then there's the Jamie one where he's talking about his craft, or more accurately crafts.
This Jamie is quick to go deep and introspective. There's a stronger, bolder voice. Sentences start slow, and build into a pacy and fervent stream of precise and complex thoughts. In these moments it's clear to see his commitment and dedication to the work he produces. Jamie has seen acting as a way to enjoy the world since he was little.
you are missing out on some content here because you rejected our cookies. want to change that?
"My favourite part of being in school was recreation, being able to go out and play. I was never into sports - football just seemed a bit too normal - but I loved making things up: playing army games and pretending there was a mad battle on. I wanted the whole playground to be at the risk of life and death." He says, citing this as his earliest acting experience, he would have been four or so. By the time he was 13, this had become a fully-fledged obsession, a life mission. Jamie would spend time pondering why he was doing the things he did every day, he was wondering about what his legacy might be.
Not many 13-year-olds think that way. "I think having dreams that extend beyond your day to day almost becomes your axiom. The dream keeps you positive despite a lot of pessimism or self-doubt. It allows you to know that there's more than your inner circle and friendship group" he says, reflecting on how he might have felt slightly different to his friends at the time, but suggesting there are advantages to being wired in such a way. It isn't to say any one way of being 13 is better than the other, Jamie probably missed out on some good memories and moments. Though he's still best mates with people from that time though, of course. "There's two people in that group who are closer to me than probably anyone will be. You just get to know each other more than most people will ever be able to later in life," he says.
You could say Jamie had to grow up quickly. "I had to in order to deal with what could have been turbulent terrain, not having been grounded in a city like Los Angeles," he says. There are positives and negatives to this, as with anything. One benefit to having done so is it leaves Jamie in the unique position of being very self-aware for someone who would typically have only left university a few years ago. Sure, journaling a lot and hypnotherapy help too. One of the places of self-exploration that has been on his mind recently, is that self-love. He's even directed, written, and starred in a series of short videos on the topic for woo.
This collaboration with woo, along with a short called Hypno in which he stars came at a good time for Jamie. "I'm going through a quiet period with acting at the moment" he says with humility and modesty. "When not acting, writing and directing are things I like to spend my time doing. I loved working with woo on this series because I got to step outside of the box of just acting," he says.
you are missing out on some content here because you rejected our cookies. want to change that?
Self-love with Jamie Flatters is a three-part series investigating the notion of what it self-love is. The idea came to Jamie through his time spent being introspective, thinking about himself. He found self-love to be an interesting concept, but then noticed there was quite a lot of "click-baity" content around the idea on social media, and wanted to dive deeper. But there was another motivation: "I was struggling to identify with self-love. If I ever asked myself if I loved myself, I'd have said no but also that not loving yourself was a good thing," Jamie says.
Probed, he says this is because he finds fear is a big motivator "if you are never accepting the person you are today, then you're able to bring in the idea of who you could be", he explains. "You can probably become a better person if you actually listen to the voice that says: something can be improved here." So whilst other people may find motivation in self-compassion, for Jamie, he's found the opposite. "I'm somebody who needs to be strict with myself," he says. "I've massively benefited from not letting myself do good things. I think people associate self-love with doing good things, treating yourself right." The truth, Jamie believes, is more complicated.
All of these thoughts left Jamie wanting to investigate self-love. "[I wanted] to find out whether I could love myself – if a certain philosophy could be reached." Jamie's subsequent investigation takes us on a trippy journey through Eastern philosophy (heavily informed by writer Alan Watts, Jamie says) and self-introspection via surreal visuals, lots of Jamie speaking to camera and some slightly meta uses of the camera. Split into three episodes, all posing different questions, it's philosophical and introspective, but also full of accessibility and humour.
"I arrived at this idea of being able to love yourself if you're taking multiple versions of who you are," he explains. I wanted the image of the film to be very scattered and to jump around a lot. As if I myself was multiple different personalities in a bunch of different situations. But also making sure the message and questions weren't being lost within this weird transcendental journey."
Jamie creating this as a guy is also interesting. To be so able to disclose emotionally on camera about issues you're personally thinking about, as a version of yourself (as opposed to a blue thing from another planet) is a vulnerable thing to do. Jamie says "the current climate is equally balanced in terms of the lessening of prejudice around men disclosing emotion. I only know what I know, but maybe I wouldn't have made a film like this if there was a stronger stigma around it."
Either way, acting in Avatar is very much just the beginning for Jamie. There are other writing, directing, producing projects in the works too. Hypno is written by trained hypnotherapist Michele Occelli and will see the pair tap into the world of hypnotherapy through an immersive colourful film experience, aiming to offer the audience visual and aural hypnosis like no other.
The film aims to introduce new audiences to the wellness practice, better providing wellness tools for viewers to physically decompress from the stresses of the outside world. This is all while he waits for another large acting gig to come his way. "Acting is my main love, it just really helps having something else to do. Mentally, just staying in the moment and having a creative task constantly at hand, and not drifting off into negativity or being blindingly optimistic is great."
Good for Jamie! But has Jamie's opinion on self-love changed? "Without talking too abstractly... I'd say that I was too focussed beforehand on what it meant to love yourself, instead of defining what we mean by 'self'. It's easier to say we love ourselves if we look at a wide stretch of time and say we love what our future self could be and are accepting our previous self, our mistakes. Loving the journey is easier than loving yourself in that specific moment of time." It's pretty abstract, but you get the idea. If not, perhaps watch the films and see what you learn. Besides, self-love isn't about others, is it? It's about you.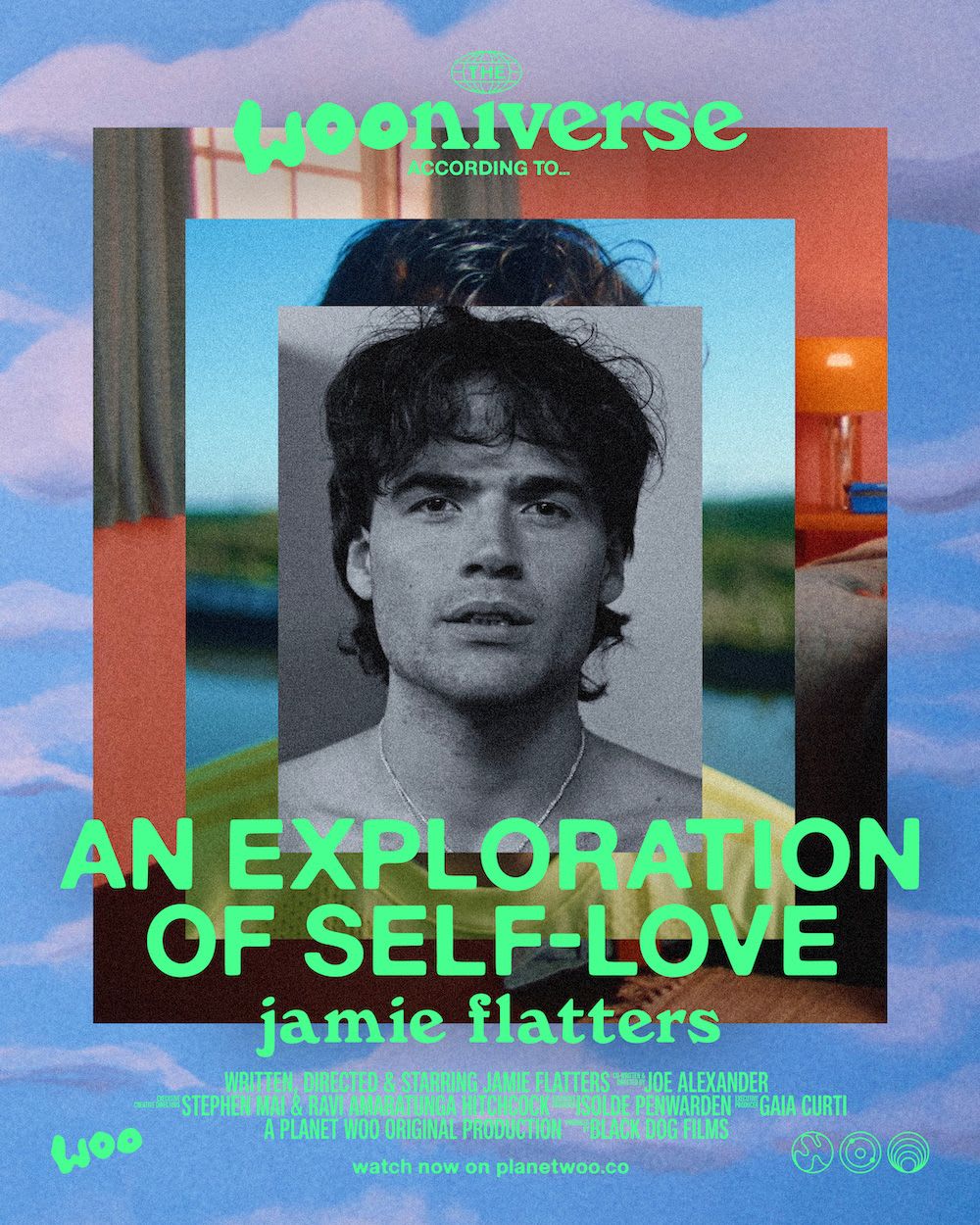 Welcome to THE WOONIVERSE ACCORDING TO… Jamie Flatters. In this liminal space, we provide an individual a chance to reflect through creativity how to harness their own power to make a positive change in the real world around them. This time around sees Jamie and some of our writers reflect on the idea of self-love and what it means to them. There's even a relaxing hypnotherapy session if you're struggling yourself.