The best new films and tv coming to the UK this February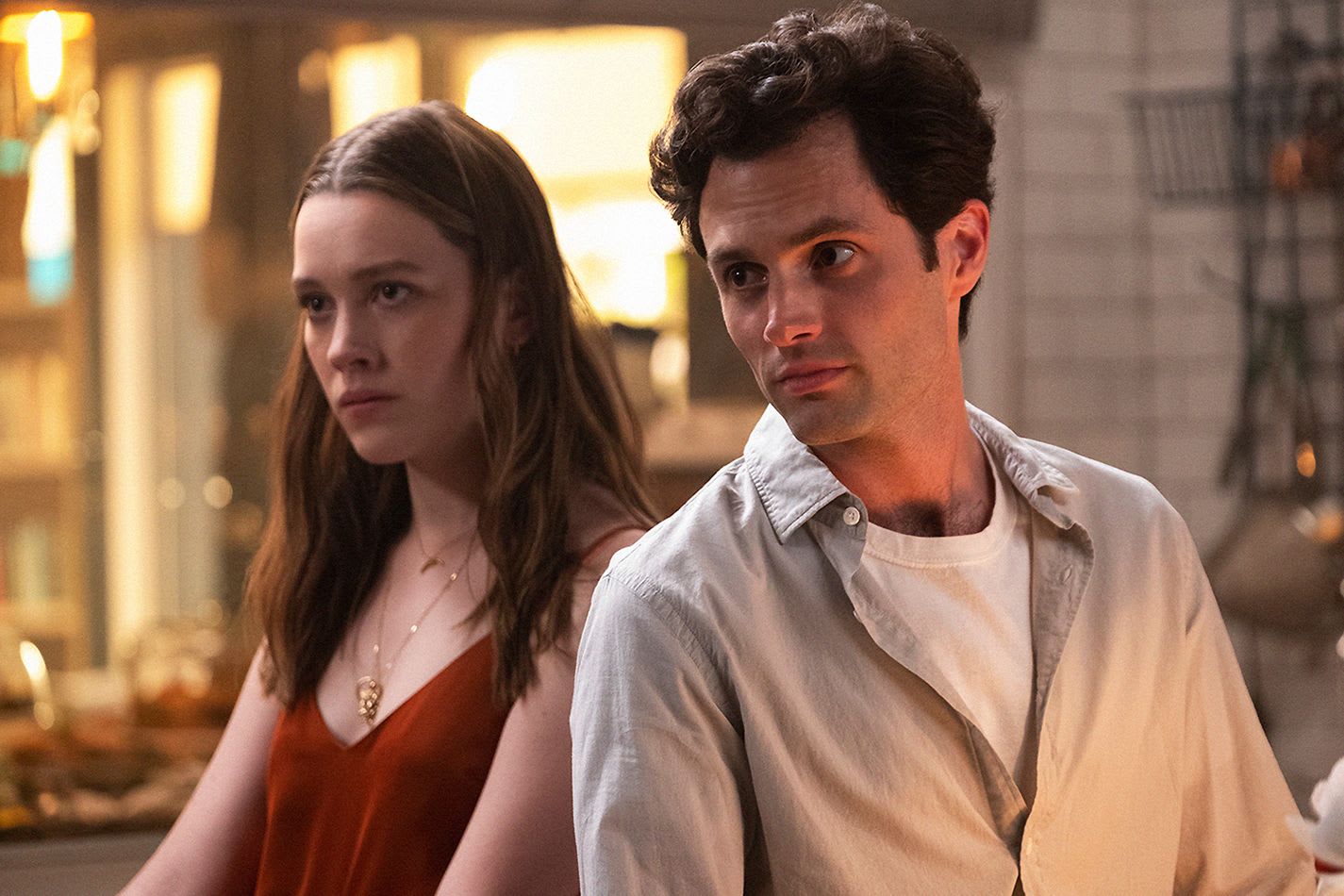 We sorted your February watchlist so you don't have to
image You / Netflix
words Lucy O'Brien
You made it through January! Give yourself a pat on the back and, of course, be sure to take a well earned rest. The days are ever so slowly becoming longer and lighter, and the promise of Spring is on the horizon. But we still have February to take on, a month notorious for its chilly weather and general lack of exciting events. What you need are some new binge-worthy, thought provoking cinematic experiences to keep you feeling inspired and get those creative juices flowing.
Awards Season is well and truly underway, and if there's one good thing about February is that it's generally a pretty good time for the arts and entertainment industries. We've got the Oscars, Brits, and the BAFTAs to look forward to, so it's safe to say film and TV is certainly a strong contender for shaking off those winter blues.
Best new film and TV December 2023
But what new show or film is poised to become our next obsession? From streaming to Netflix to movies to watch on the big screen, here's our roundup of the best films and TV that February has to offer and where to catch them…
New on Netflix February 2023
you are missing out on some content here because you rejected our cookies. want to change that?
The Exchange: New girlboss movie alert! Inspired by real life events, two women take on the patriarchal, cut-throat stock exchange market of Kuwait in the 1980s. Set on transforming the industry, the pair have to tear down what is essentially one big boys' club along the way. (February 8)
You Season 4 Part 1: Hello, you. Everyone's (rather alarmingly) favourite serial stalker and murderer is back, this time his creepy ventures and attempts to outrun his past take him to London. As Joe pledges to bury his disturbing past and start a new chapter, his attempted road to redemption takes an unexpected turn as he stumbles upon a new obsession. (9 February)
Your Place or Mine: A new Reese Witherspoon rom-com? Accompanied by none other than Aston Kutcher as the love interest? Who could say no? The pair, who are best friends, see each other in different lights as they arrange to swap homes for a week. As each gets a deeper glimpse into the other's world, they begin to unlock feelings that they never knew they had. Did somebody say, cult classic? (10 February)
Outer Banks Season 3: For those of you who have that extremely frustrating cliffhanger from the previous season in living their heads rent-free ever since, get excited – you will finally be released from the chokehold it has on you. Surfer dudes, beach waves and the iconic shaggy swimwear aesthetic is returning to your screens for another season of thrill seeking adolescence served with a side of life-threatening danger. We're in! (23 February)
New films in February 2023 to watch in cinemas
TW: mentions of sexual assault
you are missing out on some content here because you rejected our cookies. want to change that?
Magic Mike's Last Dance: Channing Tatum and his crew are back for one final hoorah in the last instalment of the iconic male stripper franchise. This time, Tatum's character is allured to London by a wealthy socialite, clueless that she is working on a very different agenda of her own. Nevermind the plot, we'll be tuning in for another dose of feel-good, sexy and liberating representations of stripping. (10 February)
Women Talking: Nominated for Best Picture at this year's Oscars, this Academy favourite will finally make its way to the big screen. Based on the 2018 novel of the same name by Miriam Toews, the film follows a group of women in a devoutly religious community. When they discover that the men around them have been secretly drugging and raping them in their sleep, they must reevaluate everything they know and decide how to respond. The powerful narrative has been lauded for its brave illustration of a sexual abuse scandal that took place between 2005-2009 in Manitoba, an insular Mennonite colony in Bolivia. (10 February)
Marcel The Shell With Shoes On: If the title didn't say it all, this animated picture is literally all about a (extremely adorable) animated shell named Marcel and his, you guessed it, cute little shoes. The creative concept started out as a series of YouTube shorts blending feel-good animated comedy with live action, but has now caught the attention of the Academy and has been nominated for Best Animated Picture. You can't help but route for the little guy! (17 February)
Cocaine Bear: Okay, hear us out. Love it or hate it, Cocaine Bear has got a lot of people talking – not least because it is directed by Hollywood A-lister, Elizabeth Banks. For those that don;t know, the comedy essentially follows a black bear and its consequent rampage after consuming cocaine. We're intrigued to see where this one goes… (24 February)
New on TV February 2023
you are missing out on some content here because you rejected our cookies. want to change that?
Funny Woman: Directed by Oliver Parker, Funny Woman follows the story of Barbara Parker, Miss Blackpool 1964. Deciding the glitz and glamour of pageantry isn't all it looks up to be, the local celeb heads to the bright lights of London, keen to pursue a career in showbiz. But when she lands a role in a popular new sitcom, she discovers the intricacies and difficulties that come with the fame she'd always dreamed of. (Sky, 9 February)
The Gold: True-crime, Money Heist and Swindlers fans, this show is one for you. Back in the 1980s, six armed men broke into a security depot near Heathrow airport, and stumbled across a gold bullion worth £26 million, which would be equivalent to over £93 million in 2021 – yes, you read that right. This series tells the story of what was, at the time of its occurrence, the biggest crime of its kind in global history. The gold robbery skyrocketed the consequent boom in money laundering, and wealth from the event still lingers in our markets today as the majority of the gold was never recovered. Oh how we love a scandal. (BBC1 / iPlayer, 12 February)
New to streaming February 2023
you are missing out on some content here because you rejected our cookies. want to change that?
Black Panther: Wakanda Forever: Grossing over $180 million over the weekend of its release, the second addition to the Black Panther franchise was a cinematic event when it hit the theatres. And despite the absence of Chadwick Boseman, the film did not disappoint, and was a beautiful tribute to the late actor. Luckily for us, we can now stream the Academy-nominated movie from the comfort of our homes. (Disney +, out now)
Sharper: Julianne Moore and Sebastian Stan star in this neo-noir thriller set in the New York City gambling scene. Obsessed with greed, lust and wealth, characters compete in a high-stakes game of ambition and jealousy. But who will come out on top? (Apple TV+, 10 February)
The Consultant: A workplace drama - but not as you've seen it before. This sinister, comedic thriller sees a new consultant hired to help improve an app-based gaming company called AppWire. But after the new hire arrives, employees are faced with extreme tasks and challenges that put their lives at risk. (Prime Video, 24 February)
Things you might have missed in January 2023
you are missing out on some content here because you rejected our cookies. want to change that?
M3GAN: If you happened to miss this AI-thriller, where have you been? M3GAN, an AI doll intended to be a child's best friend and every parent's dream, becomes sentient - and more violent and manipulative than anyone could have foreseen. A villain who would have even Wednesday Addams quaking in her boots, M3GAN is a true scene-stealer. (In select cinemas)
Love Island Season 9: That's right, the bitch is back. This year's sexy escapades are giving plenty of firepit challenges, cringey slo-mo runs and stunning Maya Jama looks all through February. (ITV)
Extraordinary: This show is slowly, but surely, getting the hype it deserves. Set in a fantasy world where everyone over the age of 18 is gifted a superpower, it follows the seemingly powerless 25-year-old Jen, who is anxiously pining after a special skill of her own. Tired of waiting anxiously in this purgatory-like state, Jen sets out to discover her maybe-superpower... (Disney +)