The Maya Jama-approved designer making sustainable crochetwear sexy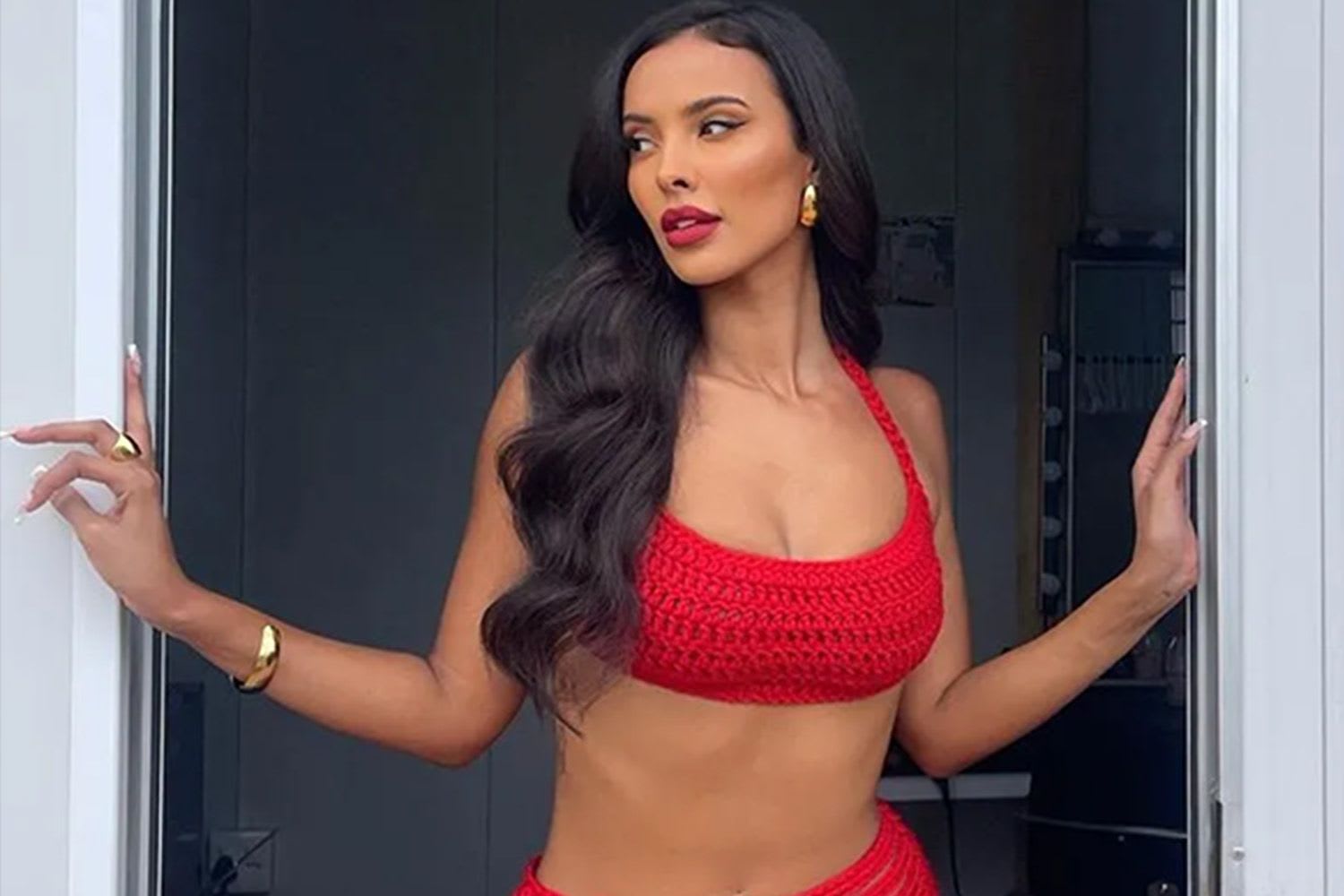 How this small, independent designer created Maya Jama's first outfit as the new host of Love Island
image Instagram via @crolage
words Sophie Lou Wilson
In 2021, Sierra Ndagire posted a tweet in support of Maya Jama hosting Love Island. Two years later, not only did her wish come true, but she got to create the presenter's first outfit of the series. The cherry red crochet co-ord from the 25-year-old's brand Crolage, was a bombshell look, proving that crochet can go beyond its usual cutesy, twee aesthetic and look sexy as hell too.
Despite the fact that islanders spend most of their time on the show in hardly any clothes at all, the fashion on Love Island is often a heated topic of conversation. In recent years, fast fashion partnerships with both the show and its participants have drawn reality TV's role in promoting brands with a poor social and environmental impact into sharper focus.
To counteract this, Love Island partnered with eBay in 2022 in a mission to change the way viewers think about and shop for clothes. The inclusion of an independent made-to-order brand like Crolage, especially in such a high-profile context as Jama's presenting debut, feels in line with this new commitment to making more conscious fashion choices.
you are missing out on some content here because you rejected our cookies. want to change that?
Ndagire only started her brand of brightly coloured made-to-order crochet in January 2022, but Jama isn't the first celebrity she's worked with. The British-Ugandan designer has also dressed Hailee Steinfeld, Summer Walker and last year's Love Island contestant Indiyah Pollack. She hopes that, going forward, more islanders will choose to promote independent businesses once they've left the villa instead of wearing and partnering with the same fast fashion brands.
Love Island's shift towards more mindful consumption has been a landmark moment for bringing discussions about sustainable fashion into the mainstream. Ndagire would like to see them educate consumers more on why pre-loved fashion is better for the environment. Her own brand is committed to zero waste and recyclable packaging.
Following the success of her Maya Jama two-piece, woo caught up with the designer to discuss how crochet makes her feel good, Love Island fashion and how her vibrant, body-skimming designs are making crochet sexy.
You only set up your crochet brand, Crolage, last year, but you've already dressed Maya Jama on Love Island. How did that come about?
Her stylist contacted me. I was on holiday in Berlin at the time and they needed the item the next day because they had a fitting. I couldn't do it in time for the fitting because I got back at midnight the next day, but then I stayed up all night making the outfit so I could deliver it to them right before they left. They were leaving the same day and she didn't get a chance to fit so I didn't think they'd use it, but they did.
That sounds stressful. How did you manage the stress of having to make an outfit so quickly?
I enjoy what I do so much that whatever sacrifice I have to make, whether it's a sleepless night or whatever, I feel like it's all part of the process. I think that's the beauty of it. I'm like, okay, cool. That's a challenge. I'm gonna do it because I know what I want.
How did you de-stress and unwind when you were done?
I just slept. I had just come back from a holiday as well so I needed to rest for a bit so I just took the time to rest.
What impact has Maya Jama wearing your design on Love Island had for you?
I definitely got more clicks. My sales increased by 300%. They're still on the high, but I think what's more important is that it opened me up to a new level of clientele. People trust what Maya Jama wears. If a certain celebrity wears something, you trust it a tiny bit more. She's one of those people who's quite fashionable and trustworthy so it's increased people's trust in my business and my work.
How do you think Love Island can help support independent brands on and off the show?
Take more time to research more small brands because there are so many out there. Showcase them a bit more rather than working with the bigger well-known brands. Find more people that are doing something smaller and sustainable and go for that. Also, wear less fast fashion because as much as the show has the eBay partnership, sometimes when individuals come out of the villa they just wear more fast fashion again. I think they should continue working with more sustainable brands outside the show.
you are missing out on some content here because you rejected our cookies. want to change that?
Why did you decide to set up your own brand?
I had done crochet before, but it was always quite a relaxing thing for me. It was more of a hobby when it started. It was just a creative outlet, but I always wanted to start a fashion business. And I thought the best way to do it is to make stuff yourself. It's quite sustainable so why not?
Why do you like doing it? What makes you feel good about crochet?
There's so much repetitive motion. You're doing something you don't have to completely pay attention to, but you're paying attention at the same time. Your mind goes blank and it stops you from overthinking. There's so much going on around us and it actually stops you for a bit, especially before bed. I sometimes do it before bed because it's a good way to wind down rather than me being on my phone. It helps me sleep better.
Crochet is often associated with more of a twee, granny-inspired aesthetic, but your designs make it sexy. Why did you want to disrupt these preconceptions?
I think it goes with my personality. I like to see things from a different angle. Most of the time when I have a conversation, I'll try to see it from a different angle. I apply that in everything I do so I tend to come up with something a tiny bit different by looking at it from a direction that it hasn't been looked at before.
Where do you get your inspiration?
I'm Ugandan British and I spent a couple of years in Uganda. There's so much texture there, so many different things, different fruits, different plants. It's just quite colourful. Having experienced both my British culture and my Ugandan culture, it's merged into loads of different experiences that have led me to where I am right now in terms of inspiration.
Your business is slow fashion and made to order. How else do you make your designs more eco-conscious?
I do a zero waste thing where if there's any yarn left over from a piece I've made, I save it because it will come in handy at some point rather than throwing it away. I also make sure all the packaging I use is recyclable. A few things are out of my control, but anywhere I feel like I can make a tiny change I do it because a lot of tiny changes are what make you better over time. I want to look at other materials that could be sustainable. I've seen a couple of fabric manufacturers that use recycled plastic to make their fabrics. That's something I'm really interested in. It would be cool to use something like plastic bottles turned into yarn. With growth, you can access more new fabrics and more sustainable alternatives.