What to do in Glasgow: buckfast, queer bookshops and vegan eats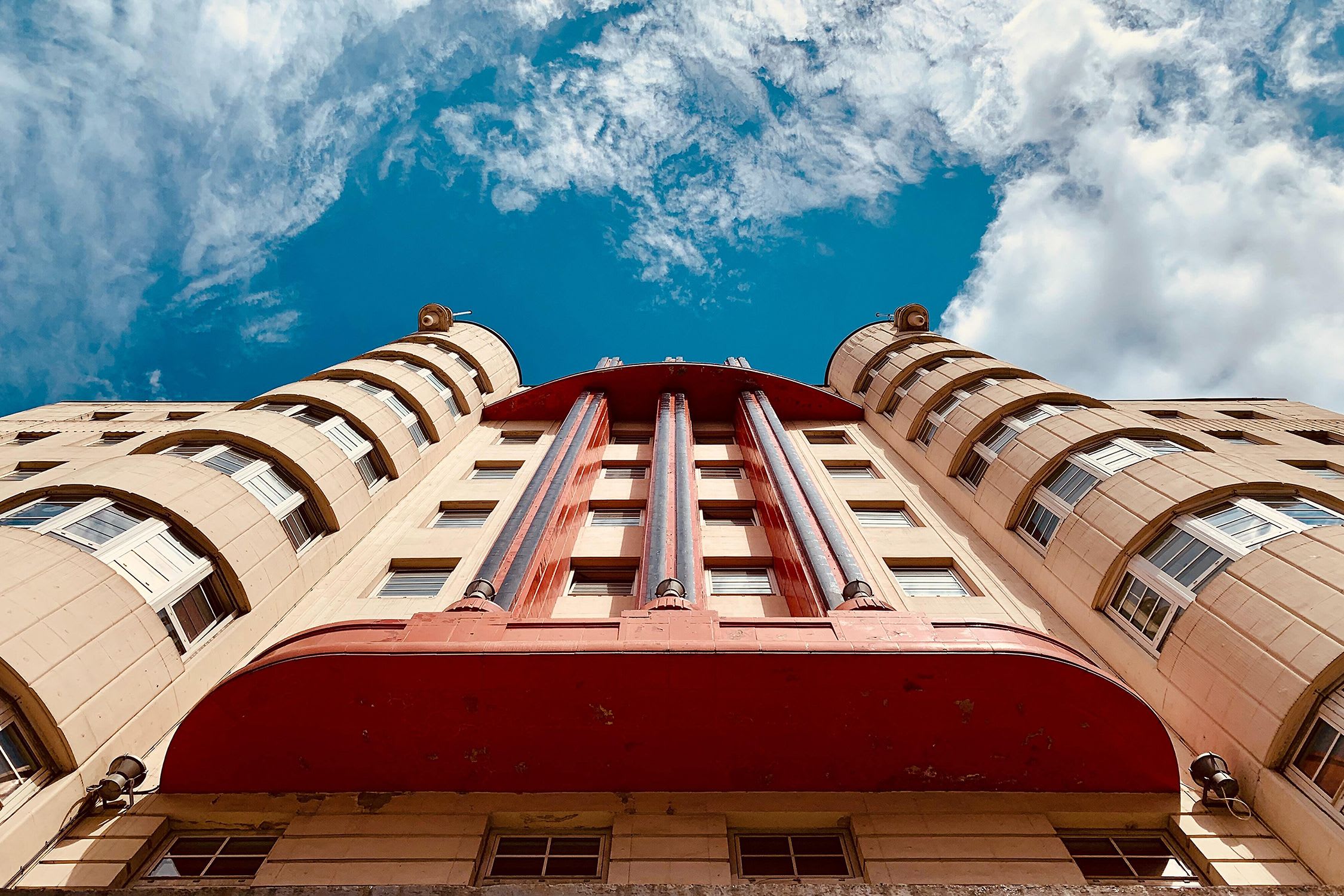 Here's our picks of what to do in Glasgow that will give you something to write home about
image Chris Reid on Unsplash
words Megan Wallace
Your no-nonsense travel guide to Glasgow.
Glasgow may not be Scotland's capital but, for whatever reason, it seems to be the major Scottish touchstone for everyone else in the UK. Seriously, if you say you're Scottish, people in London will immediately start telling you how "lit" Glasgow is (not the word I would choose). Then, you have to sit through their wistful monologue about some friend who moved up there to live with his girlfriend, where he rents a two-bed that's basically a palace because it's all soooo cheap. And did they mention how friiiiendly everyone is? Don't trust anything this person says. Instead, listen to me, an actual Scottish person, about what to see in Glasgow.
Things Glasgow has going for it: it's Scotland's biggest city (1,689,000 inhabitants in the metro area) and it houses pretty much the entirety of Scotland's creative scene apart from a smattering of artists who live in Edinburgh's Leith and Tilda Swinton, who is hidden away somewhere in the Highlands. It's also supposedly the fourth best city in the UK for vegan food. Just ignore the terrible weather and you'll be grand.
And, while I'm actually from Dundee, I'm here to give you the insider tour of Glasgow and all it has to offer - because there's a lot going on! Here's what I got up to in 48 hours in the city.
What to see in Glasgow
Trains to Glasgow
The Edinburgh to Glasgow train does give me trauma flashbacks (way too many of my tender queer exes lived in Scotland's second city) but the good news is it only takes between 50 minutes and an hour and a half, depending on which journey you opt for. Staying with family in Edinburgh, this is how I end up making my way. But there are plenty of other trains to Glasgow (and boats, and buses).
For those travelling from other parts of the UK, the journey can be long. From London, it takes about 5 hours if you opt for the direct line from Euston to Glasgow Central Station. For our Welsh compatriots, it takes a minimum of six hours to travel from Cardiff to Glasgow and, on the shortest routes, requires a change at Crewe. If you're based in Northern Ireland, you can grab the 2 hours and 22 minute ferry from Belfast to Cairnryan in Dumfries and Galloway, then the 2 hour and 20 minute Scottish Citylink coach which will finally land you in Glasgow.
Hotels in Glasgow
I'm going to be straight with you: I don't have any fancy recommendations of hotels in Glasgow because I stayed in an AirBnB. Obviously, if you're Scottish or have read anything about the country's rental market, you'll know that holiday let AirBnBs are the bane of everyone's existence in Edinburgh and are contributing to the rental crisis in the capital. However, I'm on holiday, so I don't want to think about that. Also, it's Glasgow, so I think it's technically fine and I'm opting for convenience and the "living like a local" experience.
Anyway, the place I opted for was a basement flat in a pretty stately-looking sandstone building overlooking Kelvingrove Park in the aptly named Park District. Pretty cute, with some nice, understated furniture and gigantic green house plants. So far, so millennial but I'm happy to not have to contend with some art student's unhinged cluttercore sublet.
If you're also in the AirBnB game I'd recommend a red stone tenement in the West End for that picture-postcard Glasgow experience. Otherwise, Govanhill and Dennistoun are where actual young people live - so there are plenty of ~quirky~ holiday lets you can stay in there and probably a few people you knew at uni kicking about.
On the other hand, if you're more into hotels and happen to have lots of cash (sugar babies of the world, unite) then there's no beating Kimpton Blythswood Square Hotel: a five star spa retreat and the only AA-accredited hotel in the city.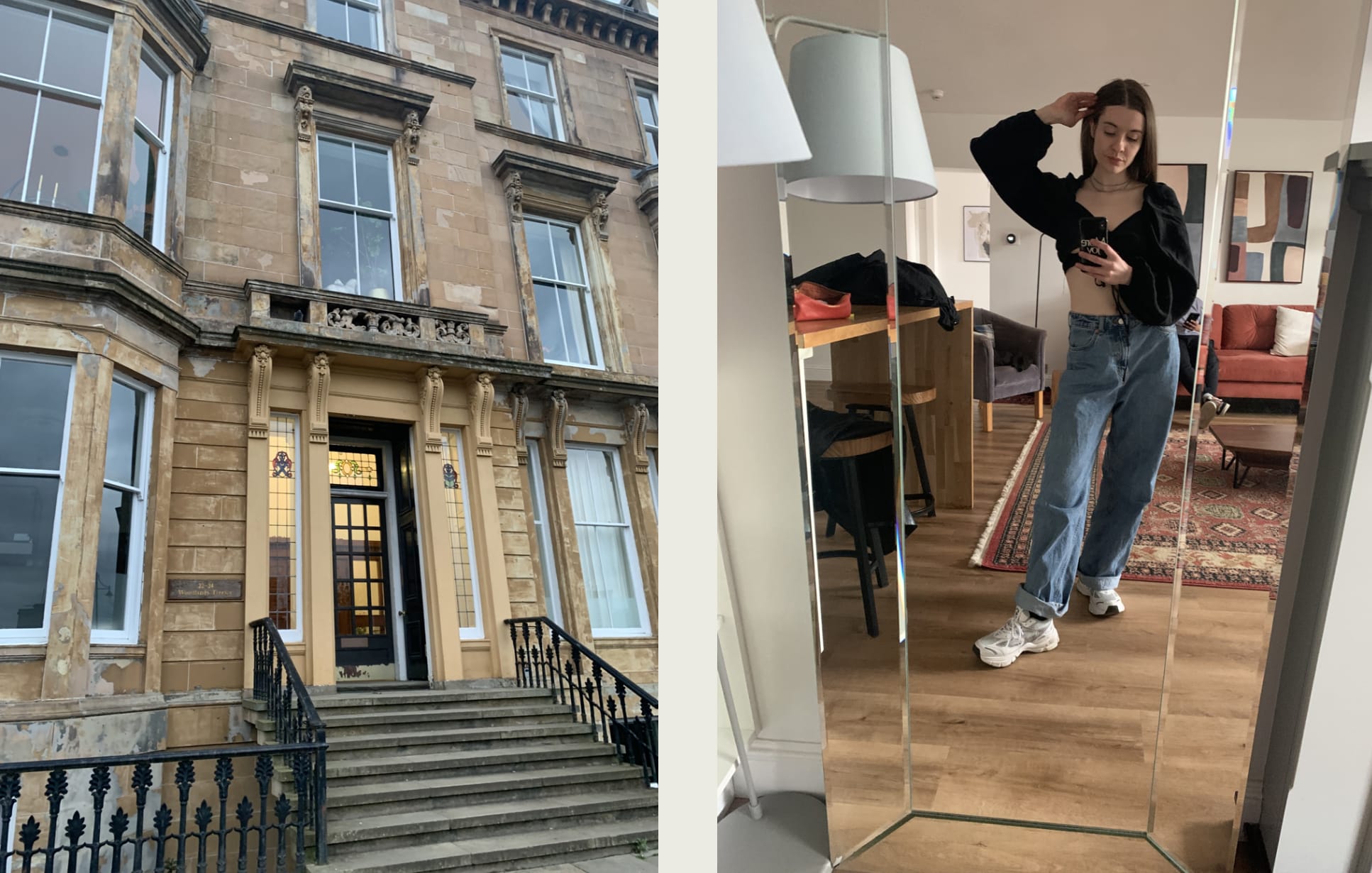 Restaurants in Glasgow
Before we get onto the best restaurants to eat at in Glasgow, there's something you should know. People make Glasgow - and those people drink Buckfast. Yes, this tonic wine is technically made by monks in Devon but as you will probably know, the beverage is notorious in Scotland. Routinely villainised in the press and associated with classist caricatures of the country's youth, it's now a bit of gimmick for cheugy tourists to enjoy in the form of buckfast negronis, normally sitting on a cocktail menu alongside a gin and Irn Bru combo.
A word to the wise: enjoy Irn Bru how God intended (with your Sauchiehall St McDonald's order) to get the authentic Scottish experience. With Buckie, however, it's best to exercise caution unless you've tried it before: it is nicknamed "wreck-the-hoose juice" after all. It tastes a bit like Calpol or Ribena and although it isn't strong, alcohol-wise, it's absolutely rammed with caffeine to make you feel like you can do just about anything. Make sure you have a friend with you to remind you that you absolutely cannot do anything and that you should actually drink some water.
Now we've got that out of the way, here's another thing that Glasgow's great at apart from drinks that rot your insides: vegan food. Because I have a passion for my home country's uniquely stodgy, beautifully beige cuisine, I'm going to endeavour to show you the best traditionally Scottish vegan fare I could find.
In Scotland, pies are a huge deal - and when I say "pies" I don't mean anything Greggs has ever touched. In small, regional bakers across the nation you can find pastries made from a juicy shortcrust pastry and filled with meat or (my fave) macaroni - these make the best hangover food. Sadly, shortcrust pastry is far from vegan - it isn't even vegetarian - but if you're team vegan and in central Glasgow you need to head to Rose & Grants in the Trongate. This cosy cafe does a huge range of meat and dairy-free options - including Scotch and macaroni pies, normally served with baked beans, as they should be. And then there's my absolute favourite thing in this world: a full Scottish breakfast, like an English breakfast but with potato scones, black pudding and lorn (flat) sausage. Rose & Grants is also pretty good on this front, so gets a double stamp of approval for me.
Otherwise, other good vegan options include the Centre for Contemporary Art's Saramago cafe: the food is all ethically sourced, the menu's seasonal and there's even a cute terrace. Pretty much every live music spot worth mentioning is also a vegan gastropub and this includes Mono, Hug & Pint, Stereo and the Flying Duck, if you fancy a side of vegan macaroni and chips alongside your gig. And to top it all off, you've also got Ranjit's Kitchen (okay, it's mostly veggie, not vegan) which is all about creating authentic, non-westernised Panjabi food - you can find it in the Southside.
Believe me when I say that this is barely scratching the surface: it would take way more than two days to check out Glasgow's vegan food scene and do it any justice.
you are missing out on some content here because you rejected our cookies. want to change that?
What to do in Glasgow
Now I've been fed and watered, it's time to find what to do in Glasgow. So, first-up, what is nearby my temporary AirBnB home? Well, there's Kelvingrove Art Gallery and Museum which is free to enter and is housed within a stunning baroque-style building. Admittedly, I've never been a huge fan of the collection but probably my favourite thing to do in Glasgow is swing by the building for the museum's daily organ recital, which takes place on Monday to Saturday at 1pm and Sunday at 3pm. It takes place in the grandiose central hall, and it feels like the whole room is alive with the notes from the absolutely ginormous organ pipes, played by locals.
Another of the best things Glasgow has to offer is the Category Is Books independent bookshop, the only LGBTQIA+ bookshop in Scotland and run by an adorable married couple. It's rammed full with writing about queer identity, trans liberation and the worlds of kink and poly. Brightly decorated inside, there's also plenty of zines to choose from as well as a pay-it-forward scheme for low income book fans. The surrounding area in Glasgow Southside has lots of cute cafes and boutiques.
If you spend any time in Glasgow, you'll realise that one creative presence is completely inescapable: Charles Rennie Mackintosh. The art deco artist and architect is basically the Glaswegian Gaudí - with Glasgow being the only place in the world where you can see quite so many architectural works by him in the same place. Some might recommend the Mackintosh House at The Hunterian Art Gallery, which features a re-assembly of what the inside of his house looked like, or The Lighthouse (aka Scotland's Centre for Design and Architecture), which offers panoramic views across the city on Mitchell Lane. However, my favourite Mackintosh attraction in Glasgow is the Willow Tea which features stunning art deco interiors.
If you're more into contemporary art, check out the Tramway in Pollokshields - it's one of the largest single galleries in Europe and is across from The Hidden Gardens, an urban greenscape that's all about creating a safe natural oasis right in the middle of the city.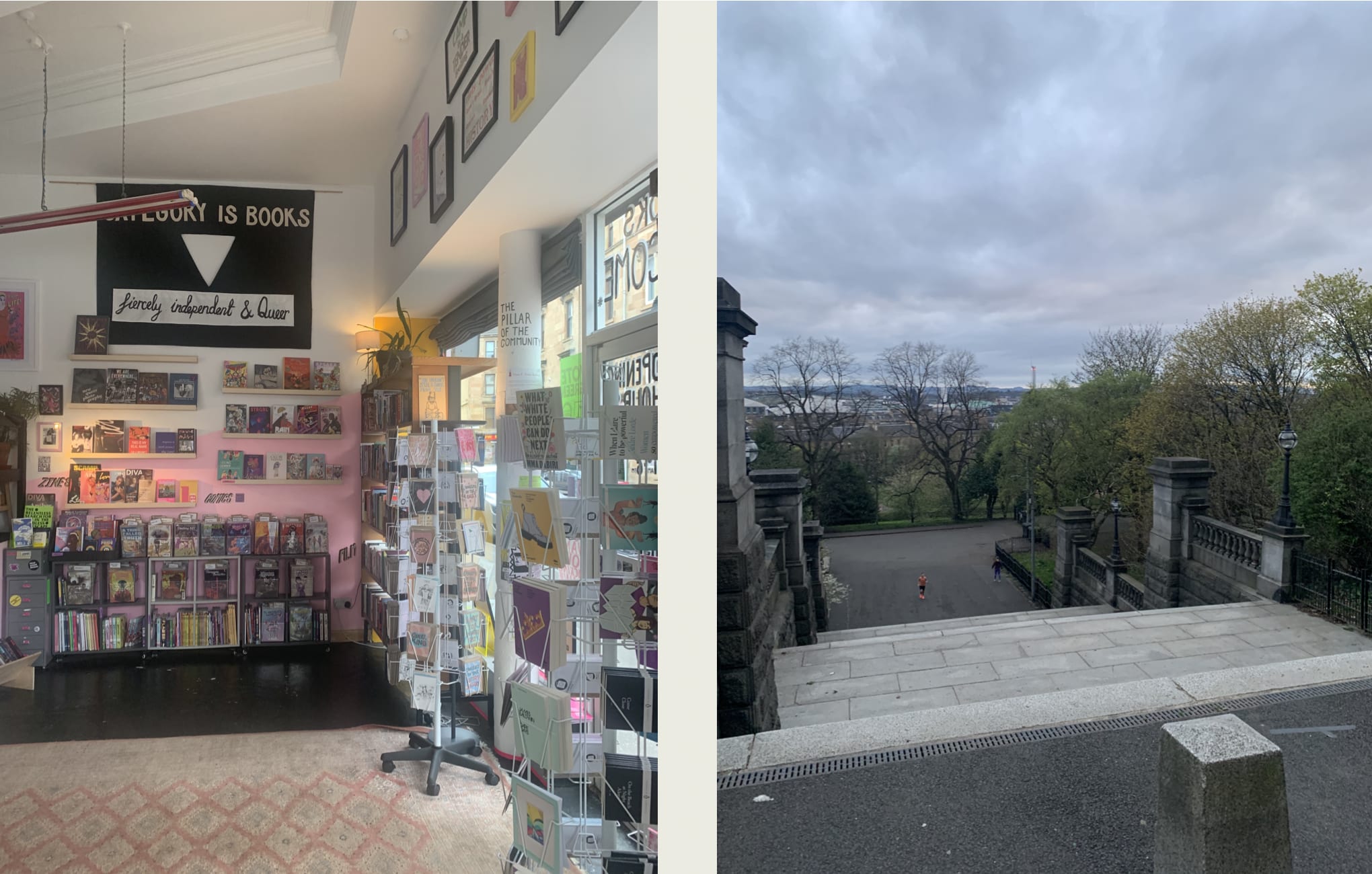 The best clubs in Glasgow
While you probably don't know this, your taste in clubs in Glasgow says a huge amount about you. How to tell if a London creative agency type hasn't been to Scotland for the past ten years? When they hear you're going to Glasgow, they will tell you to go to Subclub: a hot box where big room techno plays in a tiny, sweaty underground hole. Yes, we're all for lo-fi nightlife (like Edinburgh's Sneaky Petes, where this writer once worked) but not this. Never this. Glaswegians whose opinions I respect go to SWG3 (a drafty warehouse where I battled to get Sophie tickets in 2015), La Cheetah Club and Berkley Suite. But it's important to note that with licensing being super strict in Glasgow, it's not the ideal place to party - sorry to tell you.
However, it is by far the best place in Scotland for LGBTQIA+ venues. To start, there's the oddly grandiose (it has a mezzanine) Polo Lounge in Merchant City, which is kind of like G-A-Y if it was transported into the premises of what seems like a converted bank. The gin and tonics are overpriced, the music is '90s to 2000s pop (there are only so many times you can hear "It's Britney, bitch") but for some reason the space is decorated with full-blown leather sofas.
On the other hand, the city has a major win for the more esoteric girls, gays and theys: Bonjour. To give you some context, Bonjour is a queer club and community space in Saltmarket focussed on underrepresented groups in the LBGTQIA+ community: people of colour, trans and non-binary people and queer women. It's also a queer workers'-owned co-op.
So, that's all to say that I've wanted to go to Bonjour basically since it first opened in summer 2021, both for reasons of queer solidarity but also because its hot pink and cheetah print decor is perfect IG Story fodder. It didn't disappoint when I finally turned up on this trip! Upon entry, not only did I bump into someone hot I vaguely knew, the clique-y and attractive-but-slightly-unfriendly energy of the clientele made me automatically realise I was somewhere Cool, with a capital C. It's tiny, yes, but it's also the centre of Glasgow's most exciting performance art and drag scene - head here if you want to see what's really going on in the city.
You can donate to help support Bonjour here.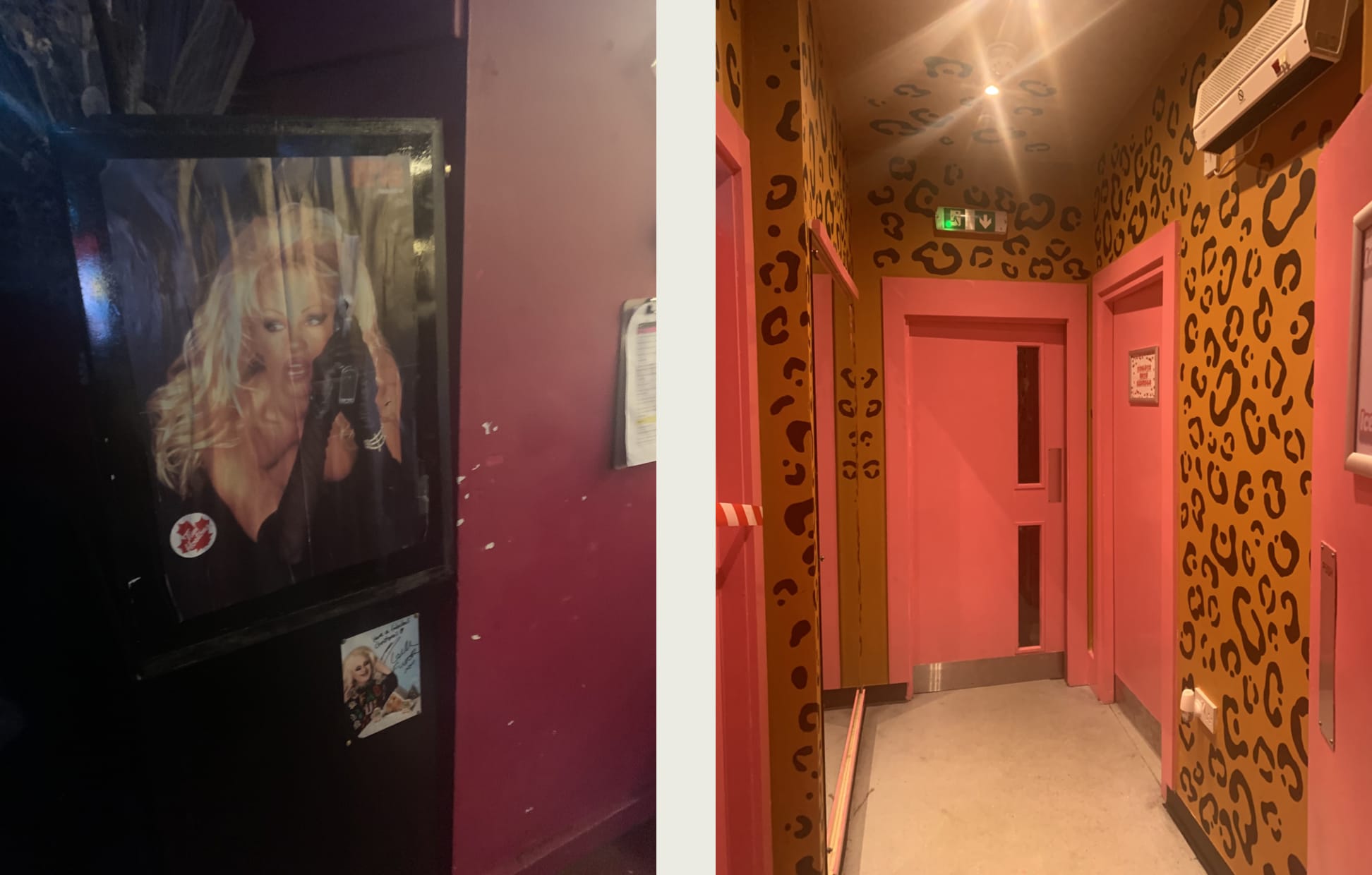 Best charity shops in Glasgow
Looking for the best charity shops in Glasgow? Well, here you go: there are actually two Vogue-approved thrifting havens in the city. These are Glad Rags Glasgow on Pollokshaws Road at The Glad Cafe and the Shelter on Great Western Road. Glad Rags is best known for its kilo sales and has a cute selection of vinyl, which feels fitting given that profits go to the Glad Foundation, which runs free and affordable music workshops for people of all ages and abilities.
If you're the type of hardcore thrifter who would give Charity Shop Sue a run for her money, then you might want to hop on the train to Edinburgh. The Scottish capital is home to Stockbridge, an area of the city nestled right next to the leafy Water of Leith waterway and is absolutely rammed with charity shops including with more niche second-hand wares like bridalwear.