What's your sneaker style clique?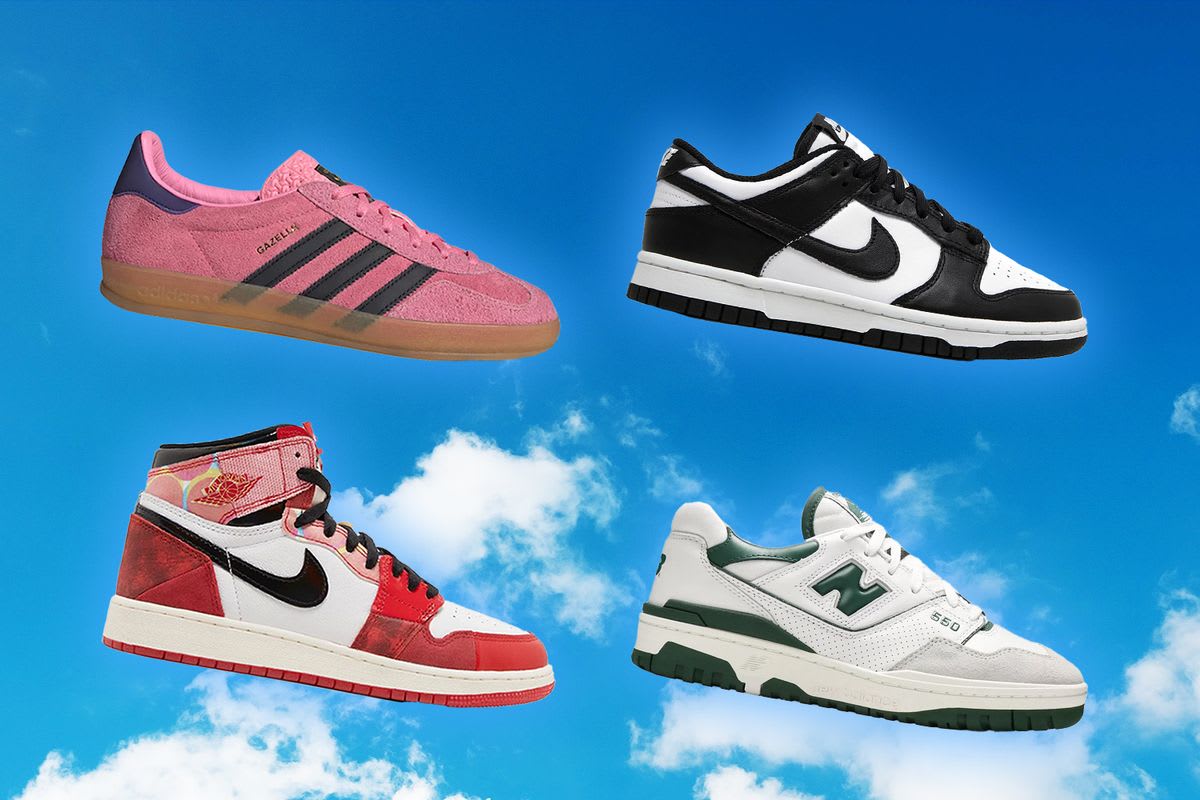 Are you a hardcore hypebeast? Or a normcore stan? Introducing the sneaker style cliques to know now
Sneakers! We pretty much all wear them. They're comfy, versatile, democratic. What's not to love? Yet sneaker culture itself can sometimes feel like a bit of a mystery. Sneaker heads go feral over coveted drops, endless collabs, limited edition Nike and a vast resale ecosystem, but it can be hard to know where to start. We've broken it down into four key sneaker style cliques so you can figure out whether you worship the cult of Sambas or belong with the classic Nike silhouettes.
From sports stars and hip hop artists to influencers and off duty models, sneakers have seeped into every aspect of culture. To tell the story of iconic styles like Nike Air Force 1s or adidas Sambas is to tell the story of culture at large.
Sneaker drops might be constant, but for the average person, engaging with sneaker culture is less about collecting hundreds of pairs of unboxed trainers and more about investing in a pair you'll wear with everything for years to come. Whether you're looking for new or pre-loved kicks, choosing the right pair of sneakers is a mindful investment in your personal style.
When it comes to sneaker style cliques, there are always a few key mainstays. You've got the collectors who look out for limited edition drops, those who prefer to stick with the classics, and the normcore stans who opt for nostalgic '90s dad sneakers. But the sneaker landscape is constantly shifting even as the classic shapes stay in rotation. Here, we break it down into a few different style cliques based around culture-defining kicks like Nike Dunks, Adidas Sambas and New Balance 555s.
If you like to keep things simple and reduce decision fatigue then this is the sneaker style clique for you. The Dunk Low is one of Nike's most coveted silhouettes. Its simplistic design, colour blocking and versatility make it a mainstay in any sneaker fan's wardrobe. It's also a great starting point if you're not sure which style to go for. The Jordan 1 Low and Air Force 1 are similarly understated. These shoes span subcultures worldwide and have done for decades. Today, they're beloved by the likes of Kendall Jenner, Hayley Bieber and Travis Scott, whose 2020 collab now goes for £1,500 a pair. But if your style is more toned down, you can't go far wrong with these iconic Nike shapes. Durably designed to be worn for years, these shoes are so verstatile that all you need to do is decide on the colour.
For hardcore sneaker heads, it's all about the special editions. Take the Jordan 1 Spider-man, for example, released this year to celebrate Spider-Man: Across the Spider-Verse. It's a spin on the Air Jordan 1 High 'Chicago', the OG colourway of the 1985 silhouette that's worn by Spider-Man in the films. For collectors, the story behind a sneaker is important too. The history of the Air Jordan 1 High Lucky Green goes all the way back to the NBA Playoffs in 1986 when Michael Jordan made 63 points against the Boston Celtics. The Celtics play in white and green and that's where the colour scheme comes from. But it's not only all about the heritage sportswear giants. East London-based sneaker label notwoways is for the IYKYK sneaker heads. Engineered to withstand unpredictable British elements, this silhouette is a gorpcore staple. So, whether you want to collect limited edition Air Jordans or give your money to a newer brand, these kicks will be worth the investment.
The adidas Samba has become a celeb street style mainstay. Why? Well, first of all, you can wear them with pretty much anything, dressed up or dressed down. And with the likes of Frank Ocean and Bella Hadid co-signing them, the Samba is unlikely to lose its momentum any time soon. Collabs with Grace Wales Bonner have also played a part in their ubiquitous rise and wearers are increasingly customising their pairs so they stand out from the sea of Sambas stomping down pavements the world over. At first glance, it's hard to tell the difference between the Samba and the Gazelle. Both employ the classic corrugated three stripes embroidered onto the sides, but the soles and heel patches differentiate them. Sometimes a fashion shoe isn't a loud statement piece, but rather a casual sneaker that you can wear with everything so you can let your outfit do the talking while harking back to the shoe's subcultural legacy. If you've ever found yourself Googling "Bella Hadid street style" for outfit inspiration, then you need a pair of Sambas or Gazelles in your wardrobe.
Everyone's favourite dad sneaker, the New Balance 550 silhouette has become the ultimate normcore sneaker. Released in 1989, today it evokes nostalgic, no fuss personal style. Style with denim shorts, white Nike socks, a polo shirt and baseball cap to channel your dad in the '90s. It's become an unlikely celeb street style staple, too, worn by everyone from Jack Harlow to Emily Ratajkowski. With Google Trends showing a sharp upwards in searches of New Balance sneakers, this trend is set to continue, perhaps even knocking the Samba off the celebrity street style throne. You belong in this sneaker style clique if, on the outside, it doesn't seem like you care, but deep down you care, like, a lot. The New Balance sneaker is a timeless symbol of laidback, effortless style.
Products are selected independently by our editors from the woo online store, a carefully curated platform for feel good fashion, beauty, wellness and lifestyle, as well as externally. Items on sale are subject to change pending stock availability. Discover more here.