Self-aware penguins, four-day weeks, banned short haul flights and more great news from this week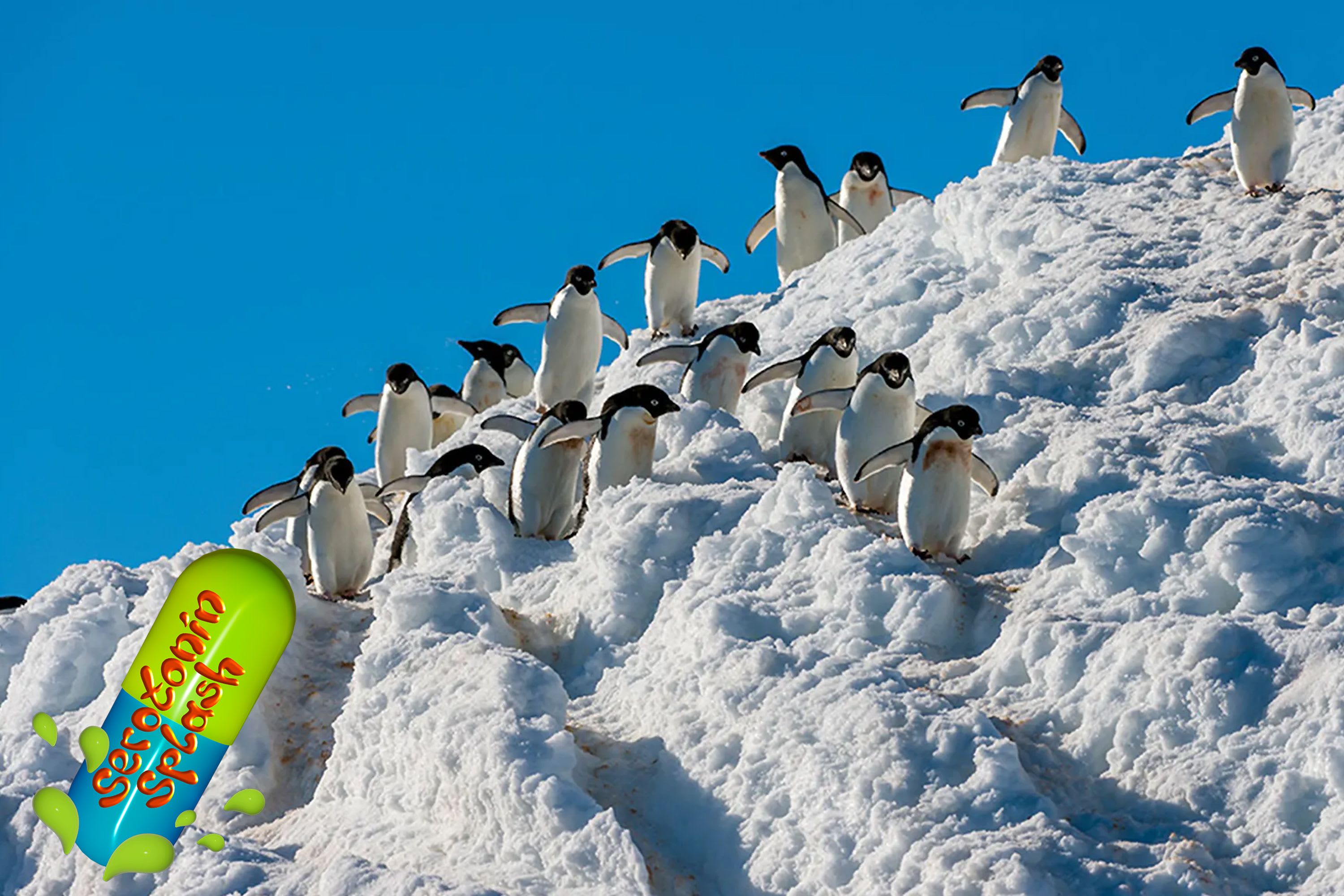 Just a bunch of great news to end the week on...
image Wolfgang Kaehler / Contributor
words Rhys Thomas
Friday once more! You made it, pat on the back, gloves on, hat on, let's go into the weekend! Here's some nice heartwarming news to help you in the cold xox
you are missing out on some content here because you rejected our cookies. want to change that?
The World Health Organisation has announced a new strategy to keep kids safe online. The report recommends implementing school-based educational programmes, but also includes modules on help seeking.
The trial into a four day week has found that having an extra day off per week without decreasing salary increases wellbeing, productivity and sustainability. So workers, companies, and the planet all win!
Deck them halls, science has officially said that getting into the festive spirit, and even just seeing some Christmas decorations can put a little spring in our step. It's both to do with looking forward to festive szn, but also because of nostalgia.
A study from The University of Bath has discovered that playing an instrument can help our brains in a variety of ways. From feeling less depressed to recognise sounds and shapes better (through temporal processing). The overarching findings are we can be happier, and make more sense of the world.
Highly emotional people are better off having cats as pets than dogs, as they offer better support for them, according to a new study. Perhaps cat therapy could become a thing in the same way dog therapy is. We're waiting to hear from the cats on their thoughts, though.
France has banned short haul flights between cities that can be reached by train in 2.5 hours or less. The move is designed to lower carbon footprint and other pollutants that air travel causes.
Humans are 'surprisingly' poor at picking up cues of aggression in dogs, study says. The short of it is we just think dogs are always really good vibes and are less likely to assume they have any bad intentions or are feeling angry or aggressive.
you are missing out on some content here because you rejected our cookies. want to change that?
An experimental HIV vaccine has produced effective antibodies in 35/36 people, a 97% success rate. It's not quite clear just yet that it will offer protection, but it is a good indicator of new breakthroughs in the space.
Construction work has begun on the world's biggest telescope. It'll cost well over a billion, but it should be so advanced that it can look deep into the universe, maybe find aliens, and test some of Einstein's theories. It's due to be complete in 2028.
A Hackney based packaging company has won a £1m prize for developing a 'plastic' made of seaweed. Notpla, as in not pla-stic, was founded two people when they were studying at Imperial College London, and the Royal College of Art respectively.
Leprosy is a bacteria which we commonly associate with the heavily debilitating disease it can cause. However, it's been found that the specific bacteria can help with liver regeneration, and even keep it functioning properly almost in the way stem cells do.
Iran's attorney general has announced that parliament and the judiciary system are reviewing the headscarf law in the country following the ongoing protests.
Central Cee is having a bit of a viral moment for turning up to the Fashion Awards red carpet in all of the drip. Decathlon tracksuit, the works. Keeping it real.
Off/white is bringing the festivities with a new series of home goods designed with the holidays in mind. There's a chessboard, card set, dies, candles, and more. A good stocking filler for your hype-bae.
Apple Music said "okay wrapped, we see you, but how about… Karaoke!" The feature, called Apple Music Sing, is going to be made available by the end of the year and not only will it allow you to see words like a karaoke. It'll also let you turn down the vocals on millions of songs, so you can really sing over it.
Billie Eilish is headlining Reading and Leeds Festival in 2023. Other people at the festival include Sam Fender, Bicep, Wet Leg, Central Cee, Steve Lacy, MUNA and many more. That should warm you up!
Adelaide penguins show self awareness. They can look into a mirror and realise it's a reflection and not a different penguin. We're not sure how many mirrors you get where penguins live, but good for them. Clever pingu.
Cuttlefish are able to pass the marshmallow test. It's a famous psychological test of self-control. The test on cuttlefish was to see if they could learn to skip a meal in order to be treated with something more delicious later on, and they did it. Secure the goods, cuttlefish.
The tapir is a really rare species of animal which is related to both horses and rhinoceroses, and a Malayan tapir has been born at Chester Zoo. There's less than three thousand left in the wild. The little calf is called Nessa. Her coat is really pretty.