Stop Scrolling: Black History Month Edition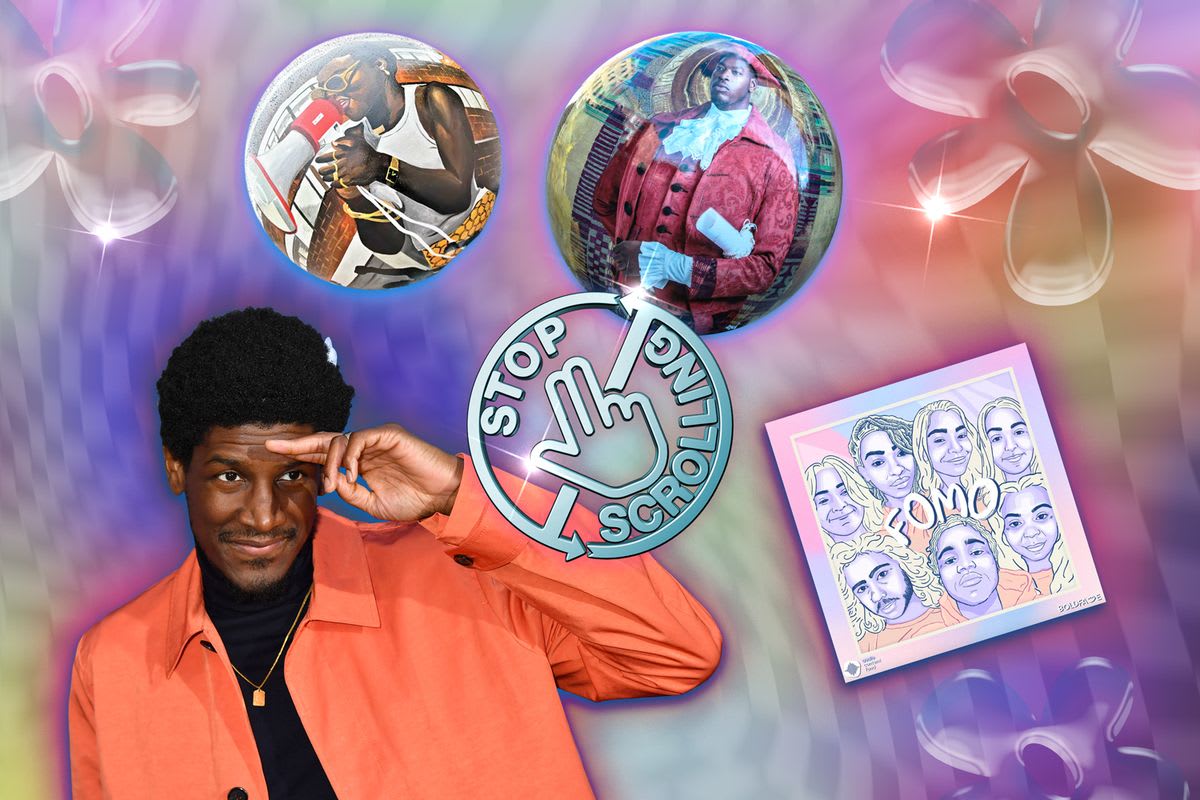 Woo's cultural tonic for the endless cycle of doomscrolling
image Team Woo
words Ranyechi Udemezue
Doomscrolling can take you into a grim place, being linked to both physical and mental health - a recent study said that of those with "severely problematic" news consumption, 74% reported experiencing mental health problems and 61% reported physical problems.
Our antidote for this sorrow, the endless blast of short-form nonversation and headlines about the end of the world, is to help you escape the news cycle and embrace what the great big world has to offer you. We know you're busy and there's a lot to digest, so each week we'll bring you a roundup of carefully curated reads, exhibitions, big-screen events and album drops to check out.
EXPLORE A TRAIL OF BLACK HISTORY THROUGH ART
Giant art sculptures have been placed across London throughout October for Black History Month! The art trail has been organised by education charity The World Reimagined to encourage learning during Black History Month across the capital. There are four different trails dotted around the city, starting at either Camden, Southwark, Hackney or The City of London.
With 100 globes in total, they each highlight a contribution of Black people to Britain. Named the 'Journey of Discovery', why not take your pals on the trail and take a deep dive into Black history, which is often hidden and glossed over?
The art trails can be found in London throughout the month of October.
LISTEN TO ENDS & BEGINS BY LABRINTH
One for the Euphoria stans. Anticipating your next portion of electronica music meshed with gospel? Soon, you'll be able to look no further than ENDS & BEGINS, Labrinth's third studio album after Imagination & the Misfit Kid. Supported by two amazing singles, 'Lift Off' and 'Kill for Your Love', the album is also set to include the melodic 'I've Never Felt So Alone' - a refrain in HBO's Euphoria which we've been dying to add to our playlists ever since. Consisting of 12 tracks written and produced by Labrinth, this one is sure to be a soul-stirrer.
Labrinth's album ENDS & BEGINS out soon and available to pre-save now.
you are missing out on some content here because you rejected our cookies. want to change that?
RE-INTRODUCE YOURSELF TO BRITISH HISTORY WITH THE FOMO PODCAST
The perfect educational podcast that you'll want to listen to in one sitting! Six episodes, six different eras of British history to uncover and six witty hosts who'll have you laughing one moment and deep in reflection the next. Historians also feature across FOMO, bringing uncensored perspectives on issues that we aren't taught on the national curriculum.
Questions about colonialism, The Troubles and LGBTQIA+ history that may have plagued your mind before are all answered, leaving space for new opinions and investigations to form. After listening, there is a list of further resources which can be used as tools to continue the journey towards learning a more nuanced, very real, version of British history.
You can listen to the FOMO podcast on Spotify now.
you are missing out on some content here because you rejected our cookies. want to change that?
DISCOVER YOUR NEW SUPERHERO FAVE
Until Black Panther: Wakanda Forever comes out, here's one for the blockbuster fans. Highly anticipated by DC Comics enthusiasts, Black Adam will provide a healthy dose of escapism this October! The first ever feature to explore Black Adam's character, it's time to delve into a brand new villain origin story. Move over Loki and The Joker, a new anti-hero has joined the roster of villains who become the main character. Almost 5,000 years after he was gifted with the almighty powers of the ancient gods and rapidly imprisoned, Black Adam is freed, awakening from a long slumber and ready to reveal his take on justice to the modern world.
The movie stars a Hollywood and fantasy film favourite, Black Nova Scotian-Samoan actor Dwayne Johnson, alongside up-and-comers like non-binary actor Quintessa Swindell and is the perfect watch for a fun stress-free night with friends.
Black Adam is in UK cinemas now.
you are missing out on some content here because you rejected our cookies. want to change that?
READ TRAVIS ALABANZA'S REFLECTIONS ON GENDER AND IDENTITY
None of the Above: Reflections on Life Beyond the Binary features seven phrases that others have directed toward author and performer Travis Alabanza about their gender identity. Each phrase has stuck with them in some capacity, and Alabanza explores the different qualities of the words used, whether covertly micro-aggressive, deliberately offensive or celebratory. In a world that forces us into boxes, this memoir is a powerful exploration of a life lived authentically.
None of the Above by Travis Alabanza is out now via Canongate Books.
Get main character energy
Fashion, care and homeware bits that give protagonist vibes