Welcome to Sinead Gorey's strip club in the wild west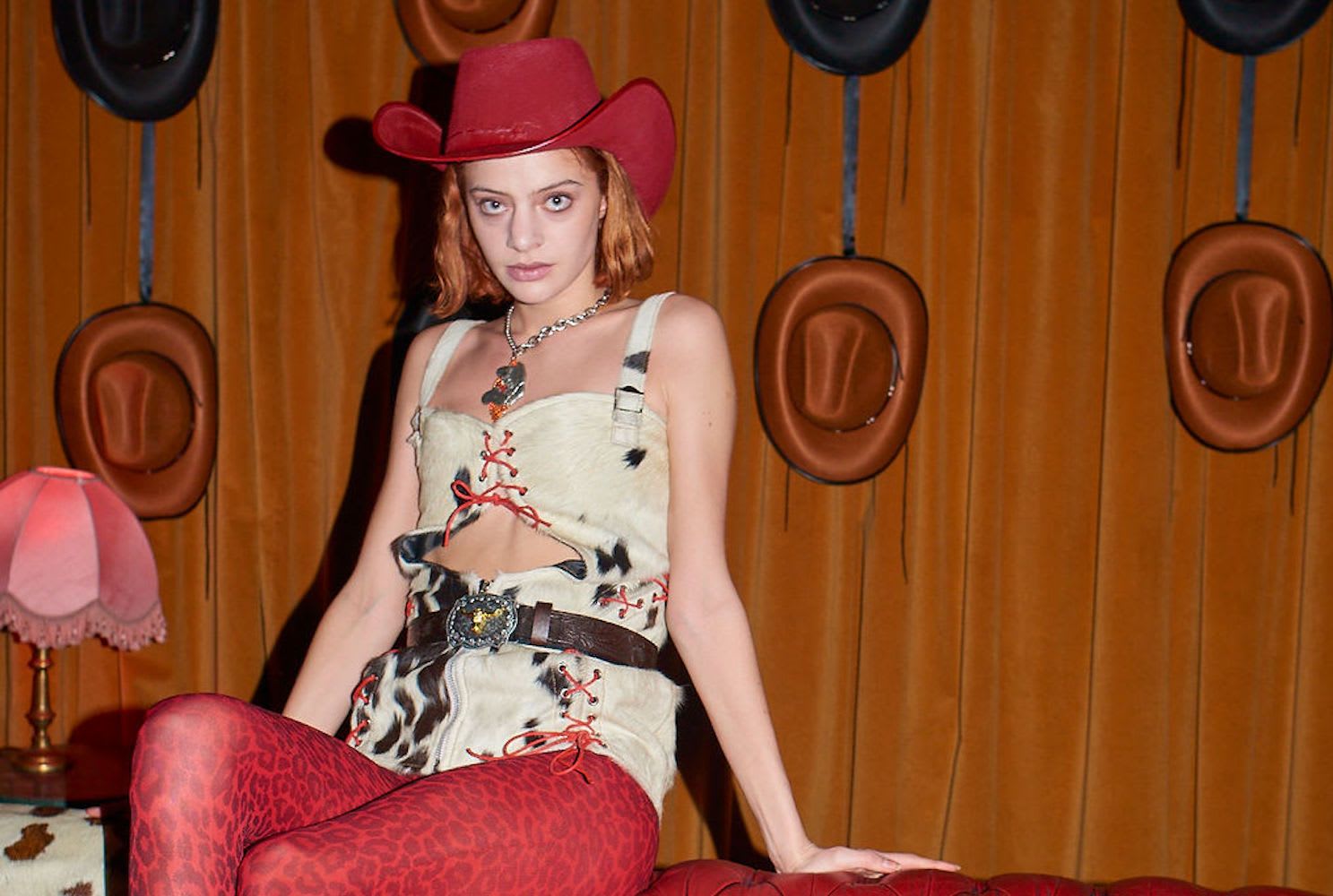 We caught up with the designer to talk about her AW23 presentation, a raucous hoedown throwdown in the UK's first bitcoin strip club
image Silvia Draz
words Sophie Lou Wilson
Sometimes the fashion show format can feel a bit stale. London is a city that's known for its emerging fashion talent and vibrant nightlife, but on the runway, models strut rather than dance. There are few designers putting on London Fashion Week presentations quite like the one Sinead Gorey organised for Autumn/Winter 2023. A voyage through the wild west, models danced on cowhide covered platforms, grinded against rodeo bulls or played card games with cowboys under dim, pink lighting as Jolene blasted from the speakers at 23 Paul Street, the UK's first bitcoin strip club.
But what less could be expected from the designer whose first presentation while she was at uni was an illegal rave that got shut down by the police? This time, the whole affair was a bit more above board, but the presentation still had a sleazy, early hours sheen that's as seedy as it is glamorous. "We wanted to create this saloon bar where the girls are running the bar," Gorey told woo. "They're dancing and having fun. The party girl is who I'm designing for."
Image by Silvia Draz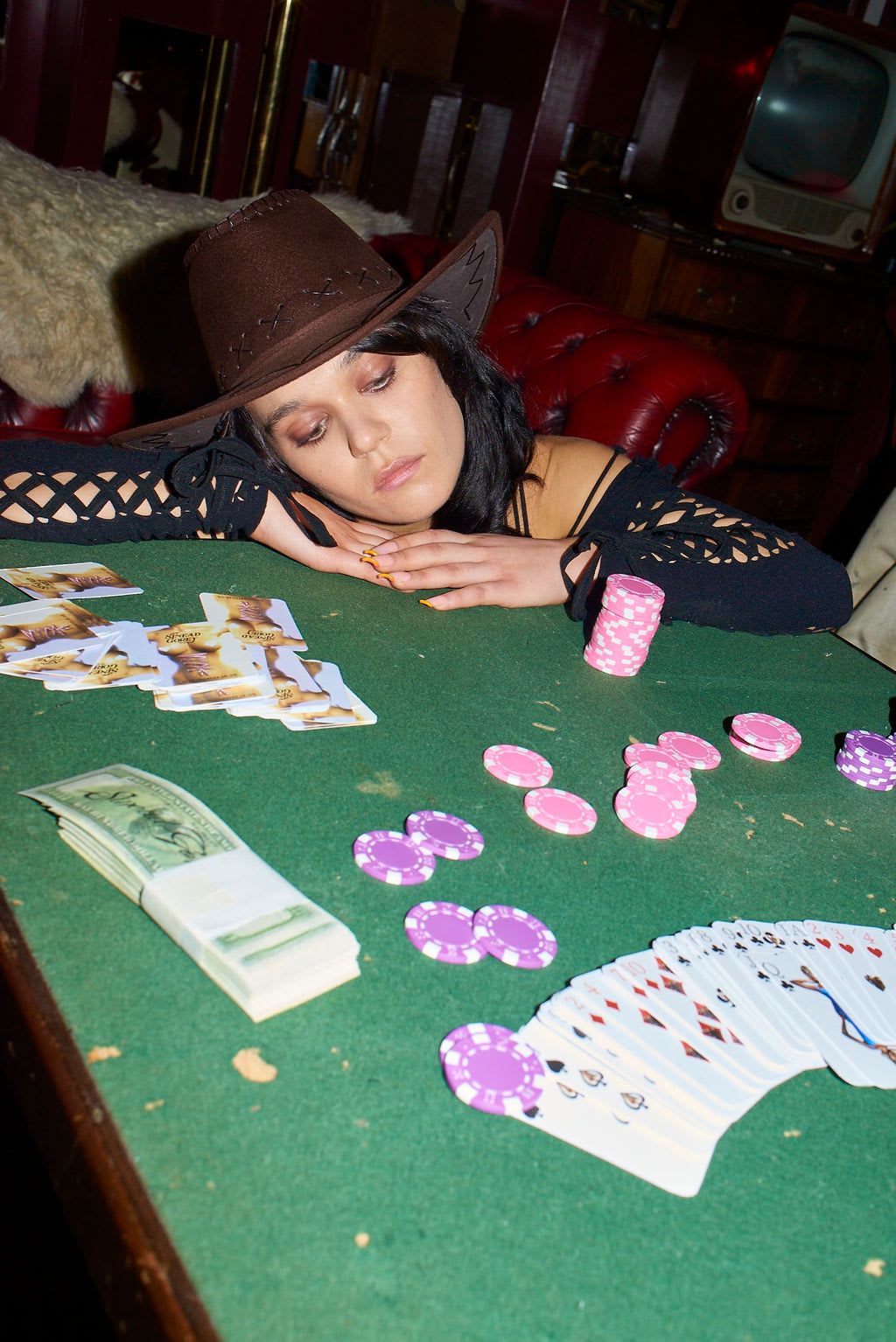 Image by Silvia Draz
Models boogied in fishnet bodysuits, tasselled dresses and laced up leather trousers. Cheeky body print tops, hot pants and lace leggings added an extra dose of sleaze while cow-hides were bleached and dyed and no outfit was complete without a cowboy hat. It was Y2K meets Americana with Gorey's distinctive feel for party wear woven throughout.
Inspired by the raves she used to go to every weekend and using the archetypal party girl as muse, when she's making a collection, Gorey puts comfort first. Fabrics are stretchy and breathable, designed to be danced in 'til dawn. Yet while the raver was still very much present this season, fur trimmed coats and knee-high boots added some grown-up sophistication. After all, even the most dedicated party girls have to venture out during the day from time to time.
To celebrate her Autumn/Winter presentation at London Fashion Week, woo caught up with the designer to chat about her western themed new collection, rave fashion, her idea of a great night out and what makes her feel good.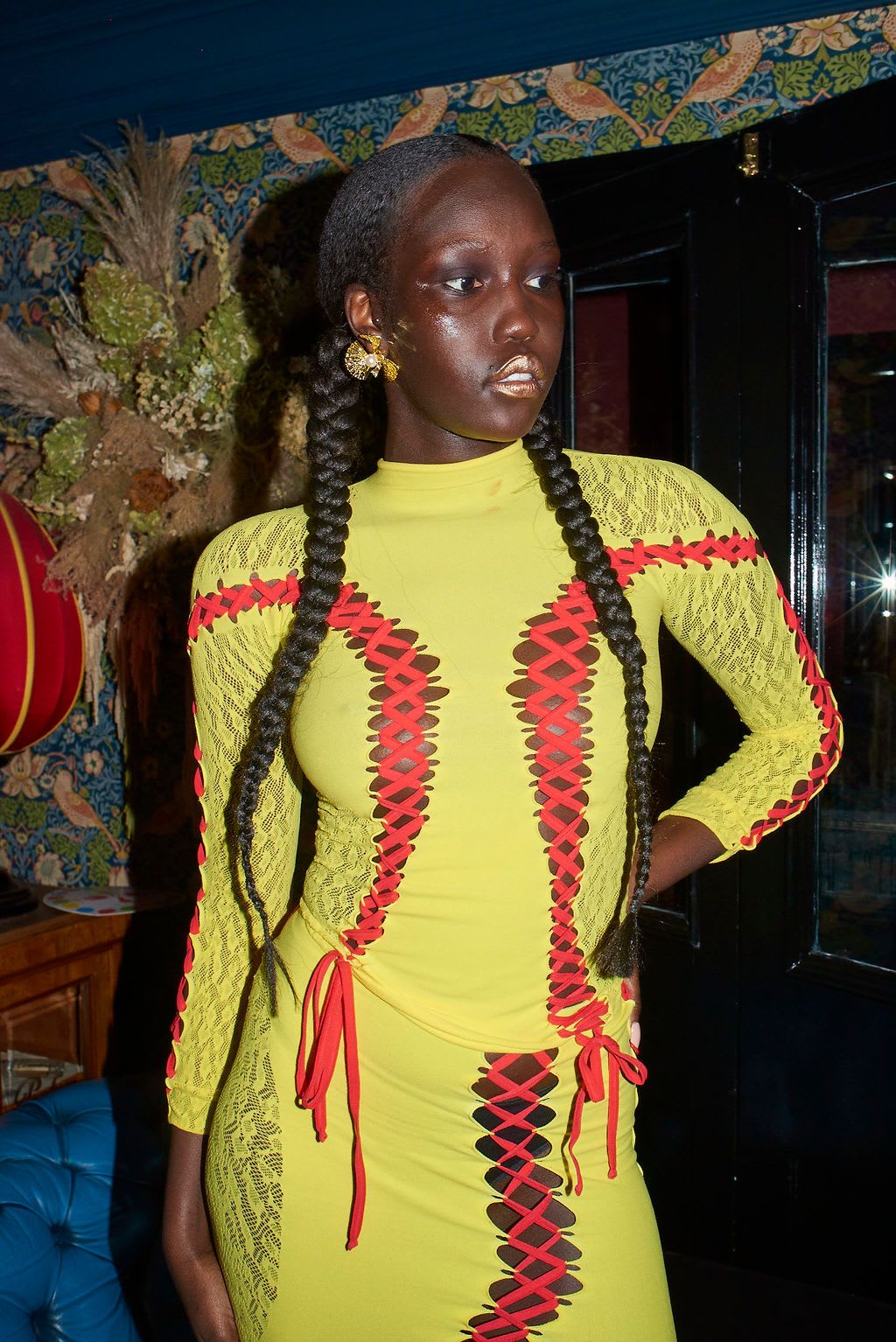 Image by Silvia Draz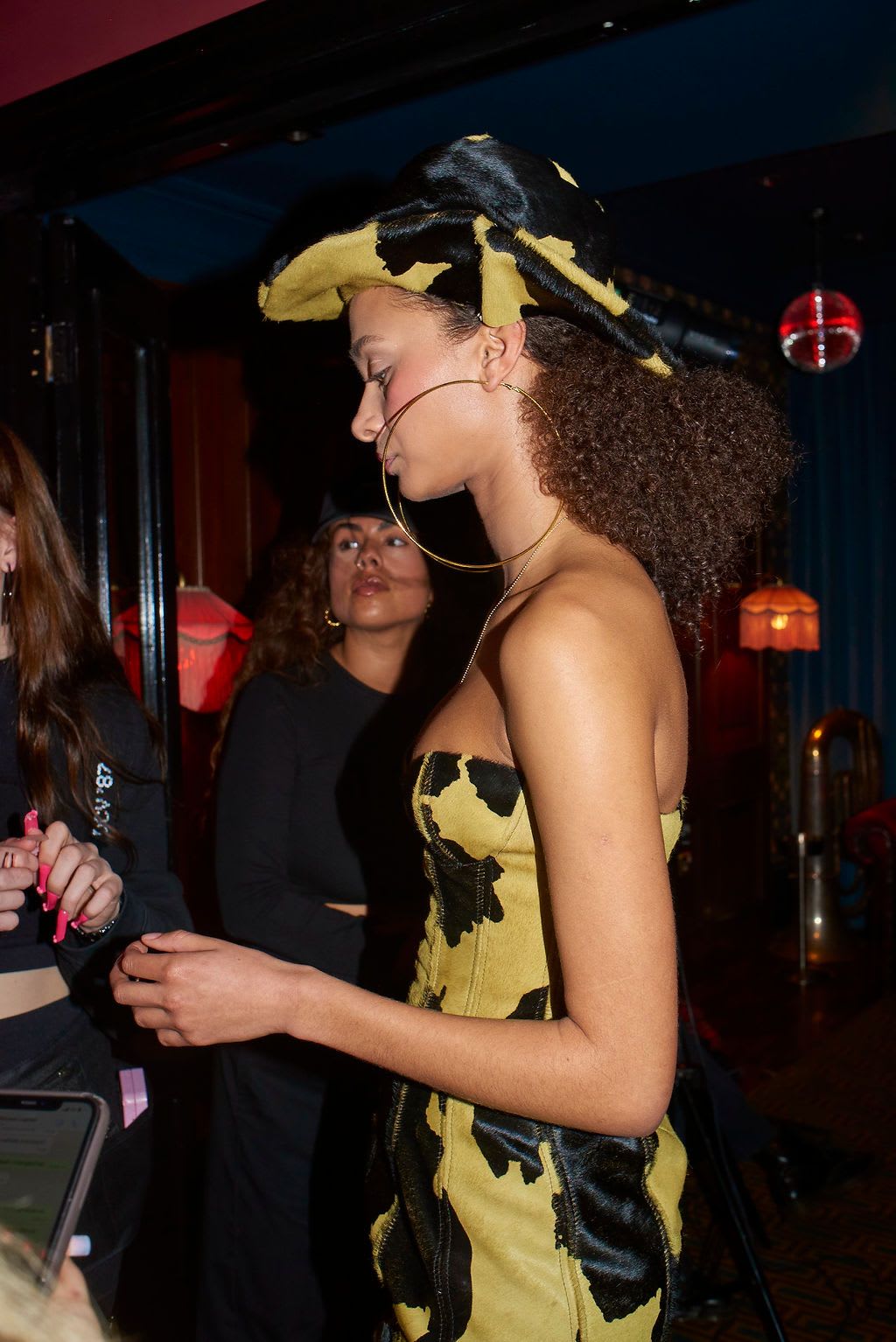 Image by Silvia Draz
Hi Sinead. What inspired your Autumn/Winter 23 collection?
For this season, we continued the party girl aesthetic. When I found out I had this presentation, I was thinking how I could make it super fun. I was watching loads of films. I watched Coyote Ugly. That film really inspired the presentation. The girls are dancing and having fun. We created this whole Sinead saloon bar. The collection is wild west inspired. We used a lot of cowhide, distressed leather, metal stars and eyelets, while keeping our core silhouettes and patterns that we use every season – the fitted silhouettes, the cut-outs, the seamless knits.
I'm going to a rave tonight? What should I wear?
Something comfortable, I would say. I've made a mistake so many times, wearing kitten heel boots or cowboy boots to a rave. The amount of times I've gone home early because my feet are just in agony. So comfortable shoes and a comfortable outfit. I feel like that's the main aim of the game.
What do you want people to feel when they wear your clothes?
Empowered, hot and sexy. Our clothes are flattering. That's the comment I get a lot from people who buy our clothes because the majority of fabrics we use are stretch fabrics so they're fitting. If it's not a stretch fabric, we use chunky zips. It always fits really well. I feel like there's nothing worse than wearing something and feeling frumpy and feeling like it's not flattering on you. We try and make sure that each garment is flattering for any size, from size six to size 16. All the way through.
Rave culture is a big theme in your work. Why did you choose this subculture as your main source of inspiration?
When I was growing up, this was what I did every weekend. From the age of 16 to about 20, I was going to squat raves every weekend. That's how I met the majority of my friends. I was at uni at the time. I didn't really know anything else. It just made sense to be inspired by this culture. There's so much depth to it. I wouldn't say I took it literally in terms of what people wore to raves. It was more like the rave environment. A lot of the raves were psytrance drum 'n' bass raves so they had a lot of this crazy stretch decor. It was like stretch lycra cut-out pieces that they used to stretch across the ceiling and around the walls. A lot of the early work I did was using this as inspiration. I was always using lycra, cut-outs, experimental pattern cutting techniques. That was the vibe of the silhouette. I took that from the rave, but always kept that party girl muse as who I was designing for.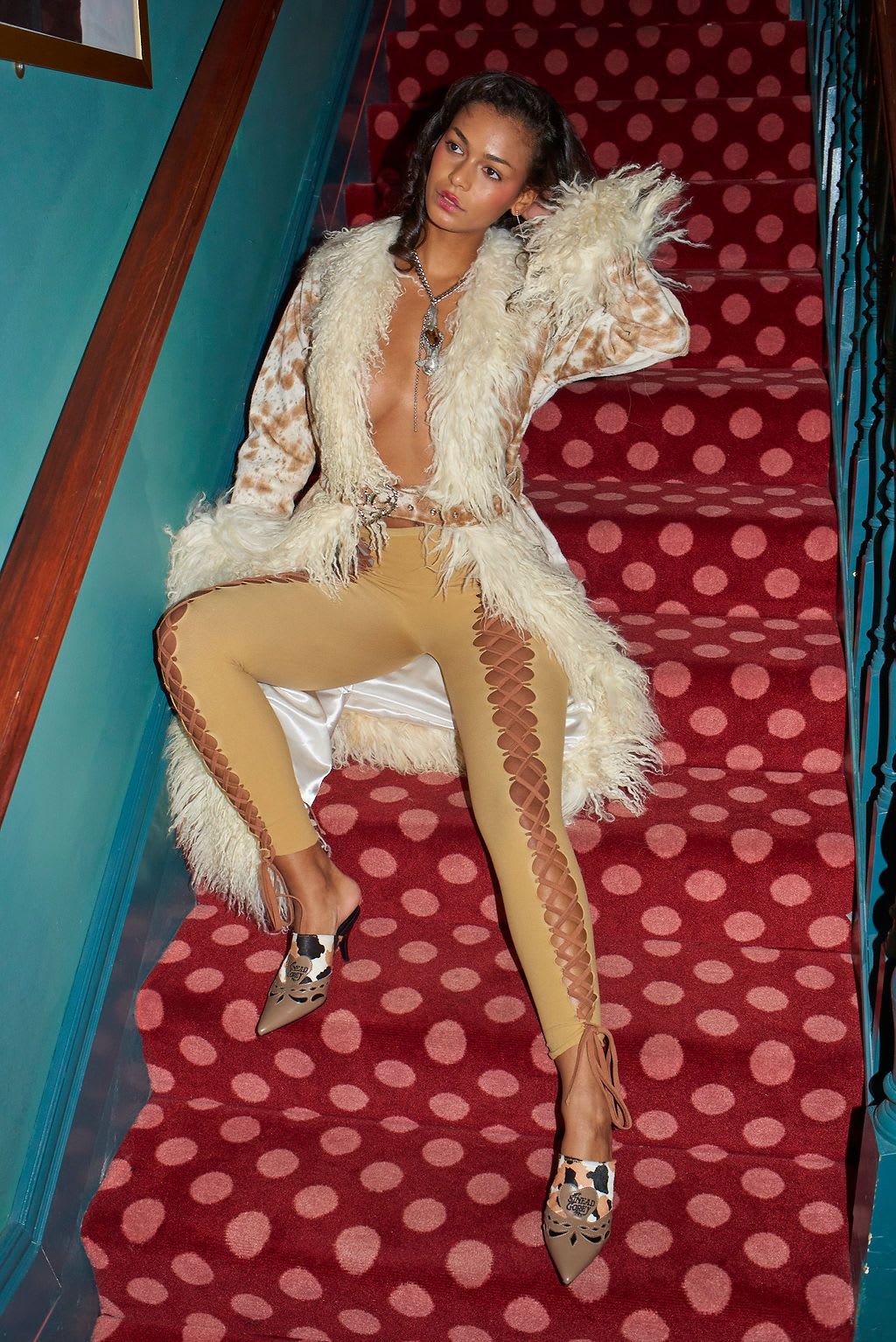 Image by Silvia Draz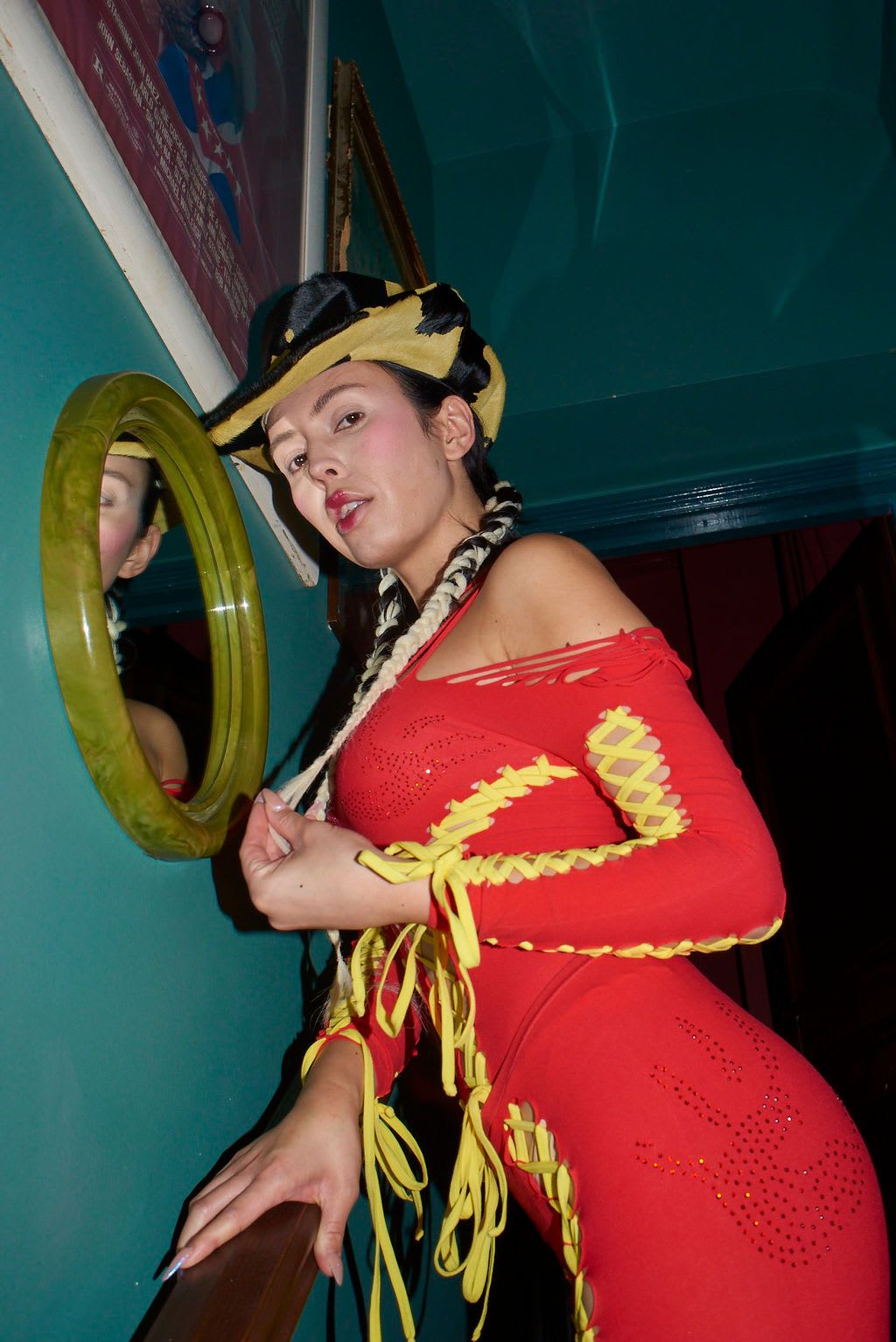 Image by Silvia Draz
Studies show that raving can benefit young people's mental health. How has it benefited your mental health?
Obviously with rave, there's a big drug culture involved so the next day you're not going to feel great, but I feel like that escapism of going out socialising, dancing and just forgetting about any issues you may have had that week is so important for anyone, especially teenagers, because there's not a lot for teenagers to do nowadays. It's super, super important to have that expression and that escape on the weekend.
Talk us through your ideal night out.
It would start in a pub and then eventually end up at house party. That's my current vibe. Or going to a drum 'n' bass rave or a bashment rave.
You've said your dream job used to be a podium dancer at Amnesia night club in Ibiza.
Basically, when I was younger, before I wanted to be a fashion designer, I was a dancer. I did dance from the age of five up until I was 16 then I got bored of it and got interested in other things. I trained in jazz, ballet, modern, all your classics. My parents were and still are huge ravers and they would go to Ibiza every single summer for closing or opening parties. They always said to me, "Sinead, you would absolutely die." Their favourite club was Amnesia and still is to this day. They still go every summer. They're pretty nuts. They always said to me, "Sinead, this would be your dream job," so when I was younger, I used to always say when I'm older, I want to be a podium dancer at Amnesia in Ibiza and that was my thing, but then, obviously, I grew out of it. Thank god.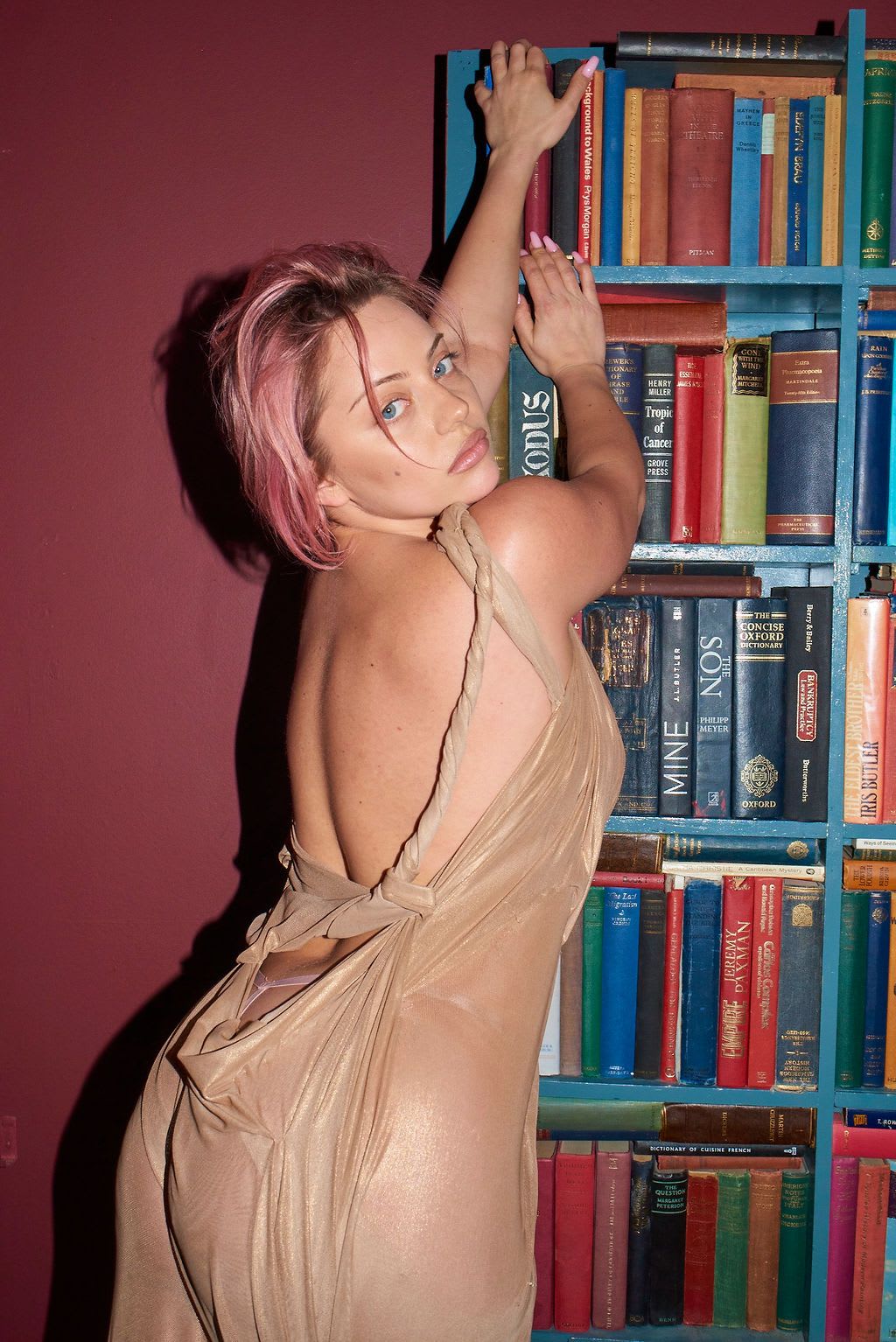 Image by Silvia Draz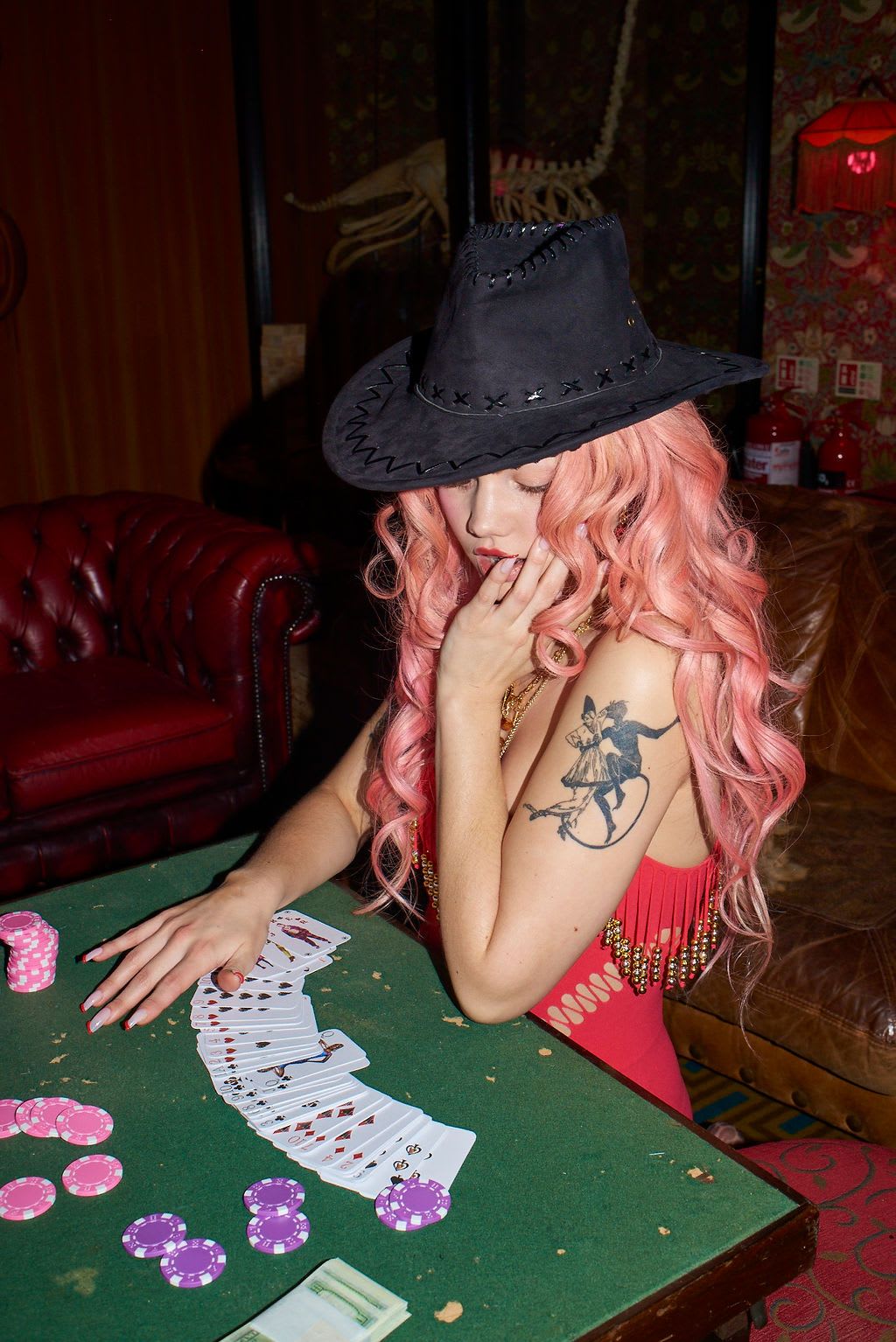 Image by Silvia Draz
Do you think being trained in dance has helped you as a designer? Did it give you a better understanding of how the body moves?
Maybe. In dance, you're wearing leotards or tights and everything stretches so I don't know if that has subconsciously inspired the fabrications I use for all of my designs. They're mainly stretchy fabrics. They're easy to wear. They're comfortable. The designs are made for how the body moves on a night out. Obviously, you want to be able to dance and sweat. If you're wearing something that's uncomfortable, that's just not going to work so maybe it has influenced me.
Other than raving and going out, what else makes you feel good?
I'm really into doing wholesome stuff at the moment. My life is pretty hectic so I really appreciate little things like cooking a nice dinner, going for a walk, going to the pub, going down to my mum's and seeing my dogs. That's what I really love doing on my weekends. My weekends are so important to me and I don't like to work on them because I'm so hectic Monday to Friday. Saturday and Sunday is my chill time.
What advice would you give to someone who wants to set up their own fashion brand?
I would say go with what you know and go with your gut. Be inspired by something that's true to you, something that you know a lot about, something that's inspired your life. Not something that you're faking. You can tell in people's work when they're being inspired by things that, obviously, they haven't experienced. Be super genuine to yourself and look inwards for inspiration.
What's the best advice you've ever been given?
Not to take your work too seriously. My uni tutor always used to say, it's just fashion. You're not saving lives. It's literally just fashion. That's the best bit of advice I've got because if it's got to the end of the day, and my to do list isn't finished and there's still things to be done, I'm not going to stay up all night to do it. I've realised there's only a certain amount of hours in the day. No one's gonna die here. It's just fashion. Obviously, I take my work seriously, but there comes a time and a place to not take work so seriously and just go with it.