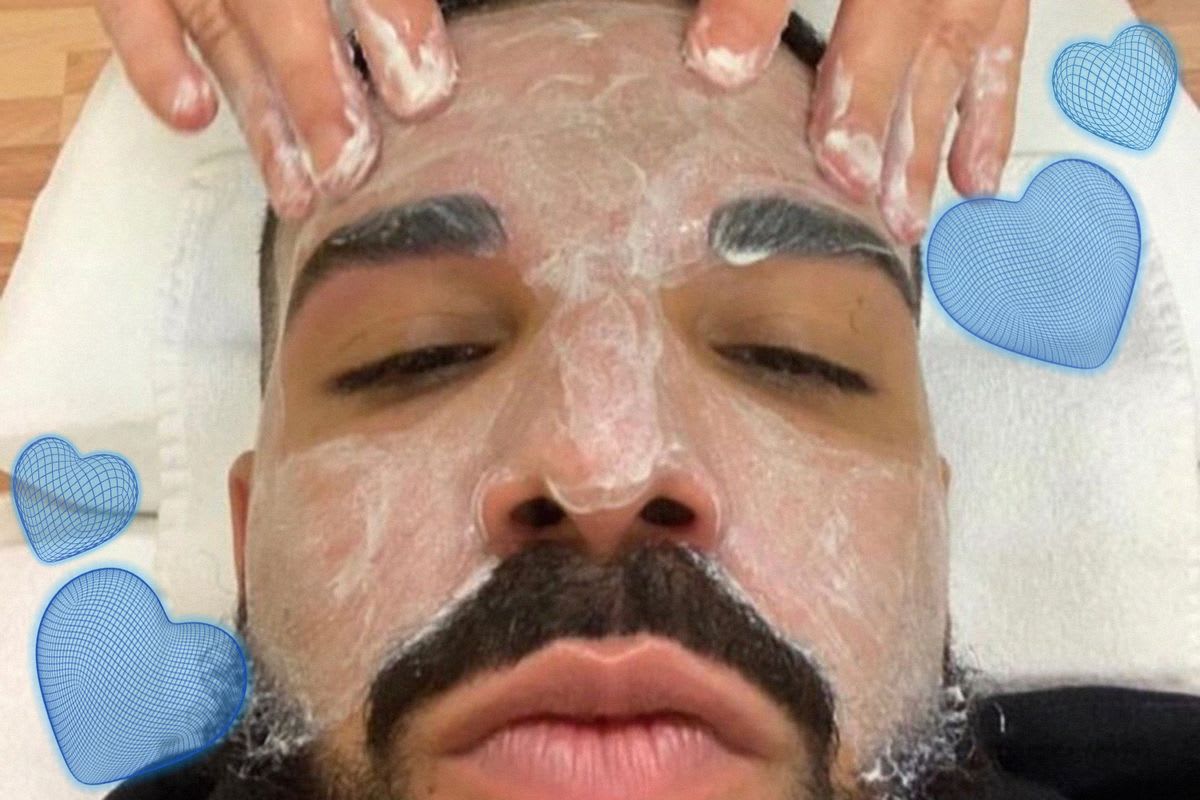 Therapists explain what self love means and how to integrate more of it in your life, and we curate a list of self-love must-haves
image @champagnepapi via Instagram
words Megan Wallace
Here's a mandate for loving yourself. This week we're encouraging men to get into the habit of dosing up some self love. Whether that's admiring their own beauty, exploring what feels good to them and why or finding out why they have crumbs in their beds, this is a week of self exploration, because you can't love anybody else if you don't love yourself...
Feeling good can be a difficult business. We live in a world of constant social media comparison, Zac Efron looking hench and Jacob Elordi sporting a jawline that could cut glass. It's easy to feel inadequate and to not appreciate all the wonderful and unique bits that make each of us unique. Not to sound too Disney Channel but, guess what? Every one of us is great - we just need a little bit of help remembering.
That's where we come in. In order to discover more, we called up Tom Cowan, a BACP-accreditted therapist and MNCS accredited counsellor, Kesley Cage.
What is self-love?
So, for starters, what do we mean when we talk about self-love? Well, here's what therapist Tom Cowan says: "The kind of self love men need right now is metta, or loving kindness," he explains. Metta, he says, is a Buddhist concept which he describes as, "like the open-hearted kindness you easily feel at the sight of a puppy." In order to harness the power of this, you quite simply this need to focus on yourself, "Instead of directing this energy outward, you send it back to your own heart centre. Feel the glow."
Timing is important, too. Don't just fall back on self love tactics when you're feeling down, use them when you're feeling normal or better than normal. "The secret is to practice when you're feeling ok and establish the neural pathway. Don't wait until the black cloud comes over. Start now!"
Why do some men struggle with self love?
Some men, in particular, have trouble loving themselves - which counsellor Kesley Cage believes can be traced back to trauma responses. "Self love is a radical, revolutionary act, especially for men because for hundreds and thousands of years men have been sent to war, forced to work in poor conditions, and struggled with male-on-male violence; in a word - trauma," he says.
"Our wild animal cousins easily shake off trauma, the fear and survival response, however human beings often get stuck in it, but love is the opposite of fear," Cage adds. "Love is what we need to return to a natural balance, however we live in a culture that frequently places more value on our conformity to hierarchies, and obedience to those in power, than on what we innately and naturally feel is healthy, creative and kind."
Ultimately, self love is also about being more grounded. "I think that self love, or self-warmth as I prefer to call it, is crucial to our wellbeing, and for our collective healing as a species; through connecting to ourselves with love again, it's possible to reclaim inner power and create a better life, and a better world."
What are some self love rituals to try at home?
It isn't just a case of flicking a switch and suddenly loving yourself. Here are some ideas of how to start feeling warm and cosy within yourself. "Just do anything that relaxes and connects you with your heart and gives you a warm, inner glow, and do these things often," he says.
Don't know where to start? There are plenty of options. "It might be beautifully preparing yourself a delicious meal, going for a leisurely walk in nature, gazing at the moon in awe, watching a sunset, having a bath with some candles or connecting with loved ones and friends who stand alongside you and lift you up, instead of taunt you or put you down."
Tom Cowan and Kesley Cage are members of Therapy Finders. Now you have the expert advice, we've pulled together a list of items to help you take care of yourself and show yourself a bit of love.
All products are selected independently by our editors from the woo online store, a carefully curated platform for feel good fashion, beauty, wellness and lifestyle. Discover more here.