Why Martin Parr is the offbeat role model young UK photographers need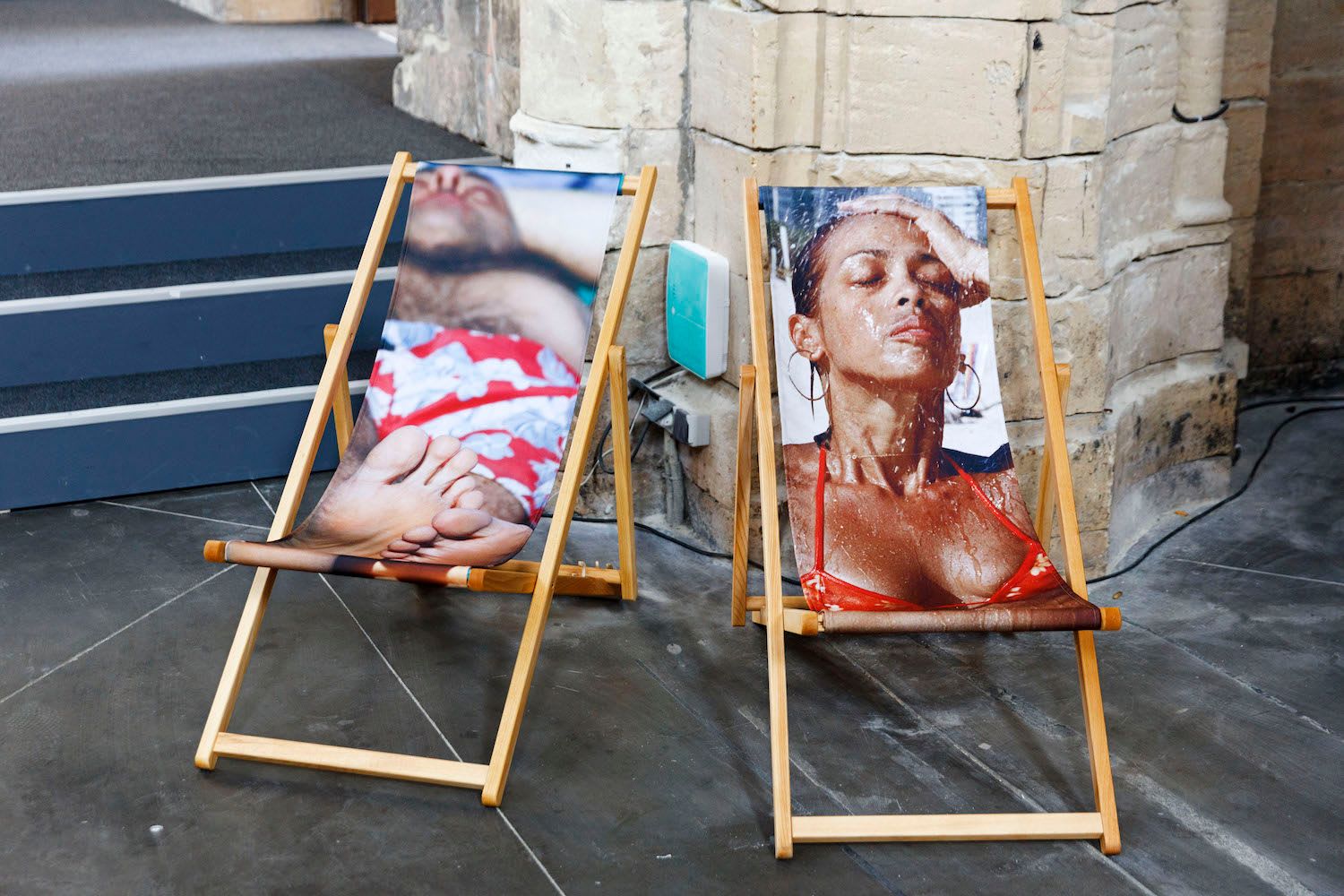 For woo's fortnightly arts column, Gilda Bruno meets the legendary image-maker to discuss his new Photo London show
Welcome to Stop Scrolling, where each fortnight arts and culture writer Gilda Bruno will be bringing you a roundup of carefully curated exhibitions, art fairs and photo books to check out, as well as exclusive conversations with some of today's most exciting emerging artists.
This week, Bruno travels to Bristol to spend the day with legendary British photographer Martin Parr. They discuss his decades-long documentation of UK life and ongoing fascination with the beach, as well as providing peek into his latest exhibition, showing as part of Photo London
No-one has captured the reality of UK life quite like Martin Parr. The septuagenarian's images of lobster-red sunburn on the beach, gawking tourists, garish foods and unselfconscious children eviscerate Britain's prim and proper public image while gleefully undermining the notion that documentary photography has to be boring. This distinctive aesthetic has seen him release 40 solo photo books and appear in 80 different exhibitions worldwide, including a major retrospective at the Barbican and the touring exhibition ParrWorld.
But it's not all style and no substance, his work has touched on important issues, too. 'The Non-Conformists', among his first major projects, explored the harmonising role of religion for fading agricultural communities in the 1970s. Then, his 'Cost of Living' series documented a bloating middle class during the Thatcherite years, pointing to what life was like for the haves while - just out of frame - the have nots were locked in bitter trade disputes with the Conservative government. He's also keen to give back, opening the Martin Parr Foundation in 2014 (christening its Bristol premises in 2017) to support emerging, established and overlooked photographers making work focussed on Britain and Ireland.
It makes sense that Parr would want to nurture the next photographic generation. He's always had a keen awareness of the power of documentary photography, the ways it can capture the idiosyncrasies of what it means to be human and highlight so many different - yet equally valid - ways of living. Now, when our lives feel increasingly atomised due to the habit of social media self-documentation and the cult of individualism, the kind of panoramic view provided by Parr's work feels particularly pertinent.
That's why it seems so fitting that Parr has been named Master of Photography at this year's Photo London, an accolade celebrating his prolific and influential output, and is the subject of a new show as part of the cultural festival. Taking place at Somerset House, 'Martin Parr: Recent Works' is a showcase of images documenting a changing Britain, one where the impulse for escapism and community is unwavering - perhaps even more intense - as the political landscape becomes more strained.
Below, woo columnist Gilda Bruno spends the day with Parr at his foundation to speak about the beginnings of his artistic career, his dedication to documenting UK life, and the making of this new exhibition.
The clock strikes 11 when I arrive at Paintworks, Bristol's creative quarter, where the Martin Parr Foundation has been based since 2017. The brick-and-glass building hosts the archive of the quintessential British documentary photographer and sits opposite the Royal Photographic Society (among the oldest photography organisations in the world) in a fitting nod to his biography. It was through his grandfather George Parr, "a keen photographer and Royal Photographic Society fellow", that a teenage Parr first caught a glimpse of the possibilities offered by the medium.
And since his earliest encounter with photography, it was as if Parr always knew that there was only one path for him to follow. If the over 100 photo books published by Parr over the last few decades, countless solo shows and his contributions to the permanent collections of the Tate Modern, Centre Pompidou and MoMA were not enough to sustain such a premonition, the storm of teenagers rallying around the entrance of his foundation this morning, testing out cameras as I walk into the space, confirms that the pioneering image-maker was right all the way.
Once inside, I notice that the door to Parr's office is wide open. Through it flows comings and goings of people; the "dream team" behind the photographer's printed matter business, his encyclopaedic archive and the foundation's exhibition programme.
Waiting on the couch is the photographer himself, who welcomes me warmly with a funny, awkward half-smile. "Take your coat off and make yourself at home," Parr says. "Cup of tea? Coffee?" he offers. Above our heads, a gaudy banner showing an image of a whipped cream-filled, sugar sprinkles-coated eclair taken from Parr's 'Common Sense' series reads, "real food zone". Whether it's postcards, prints, souvenir pictures or newspaper clippings, everything has its own place in the photographer's office.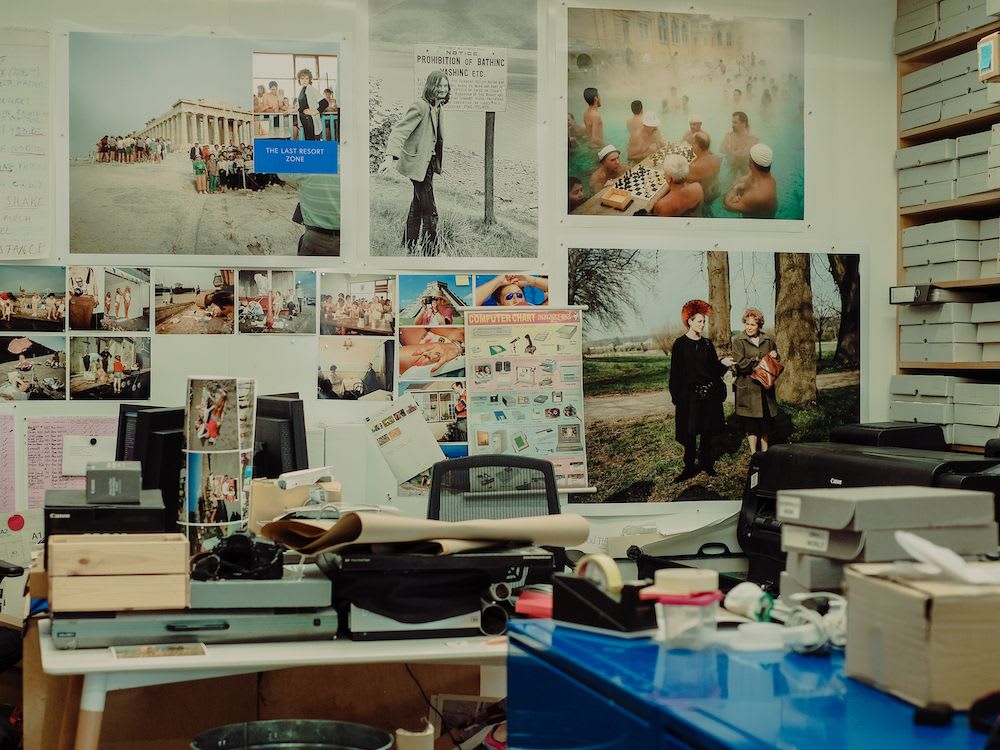 Photo by Gilda Bruno
The first stop on our tour brings us straight into the heart of Parr's photographic practice. Hiding behind a sliding door next to the front of the foundation is Parr's meticulously catalogued archive. Here, stored at mild, air-conditioned temperature, lay piles and piles of boxes of photographic negatives shot all over the world. As Parr pulls the handles of a tall set of drawers positioned near the centre of the room, some of his most iconic shots emerge on large-scale, glossy collector prints. Guiding me back into his office, Parr takes the time to introduce me to the young collaborators responsible for the everyday running of the foundation.
Roaming through the different stations of the dynamic headquarters, it feels as if time has stopped - as in one of his striking, brightly lit photographs. A shrine to all things Parr, the foundation has an atmosphere that's strangely homely and familiar, in no small part thanks to the curious memorabilia plastering its walls and its busy wooden shelves. After all, nothing has ever spoken to Parr more than the bizarre minutiae of everyday life. Thinking about it, that must be why - having sparked controversy, laughter and amusement in equal measure - his work continues to resonate with so many people.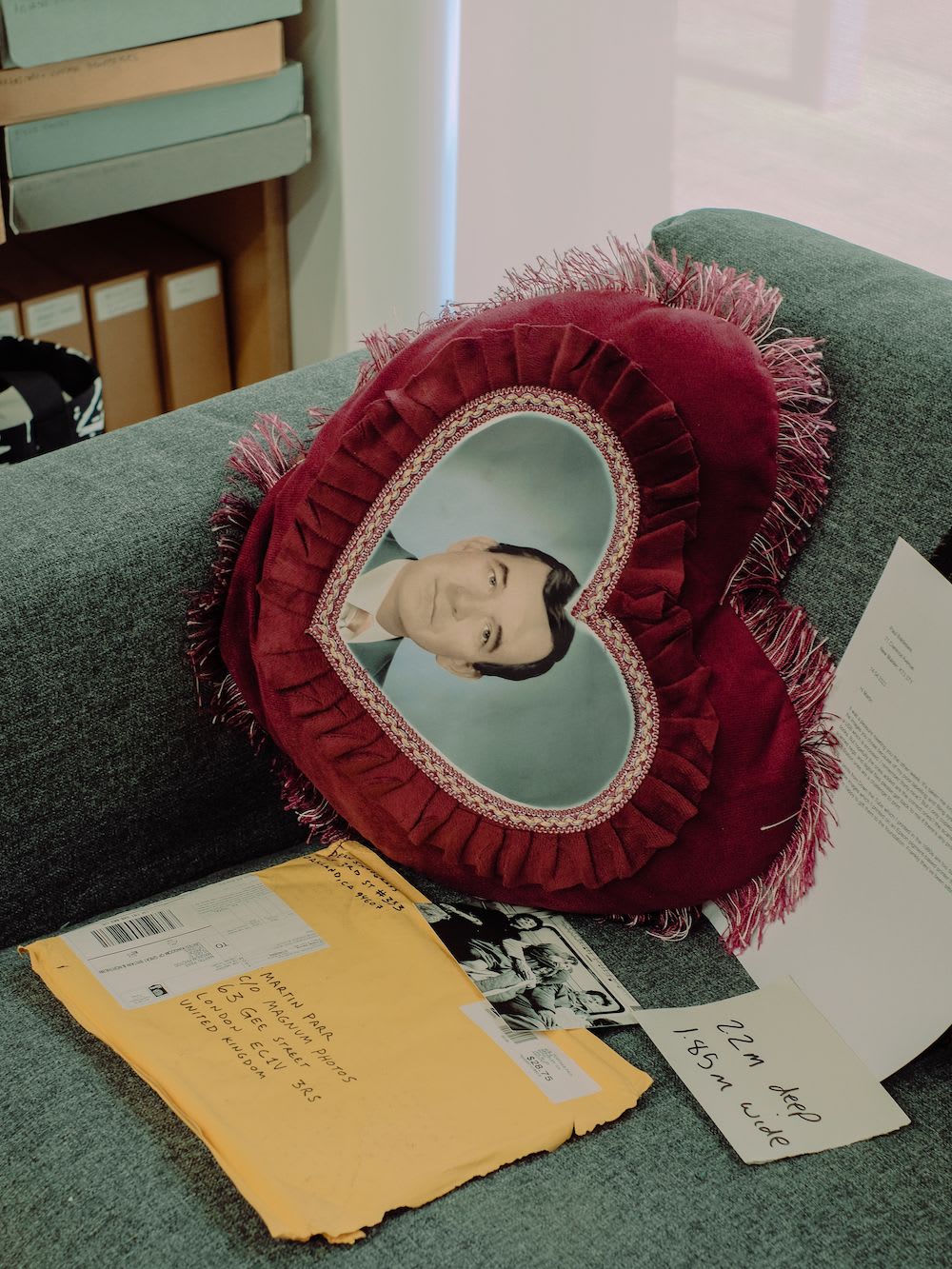 Photo by Gilda Bruno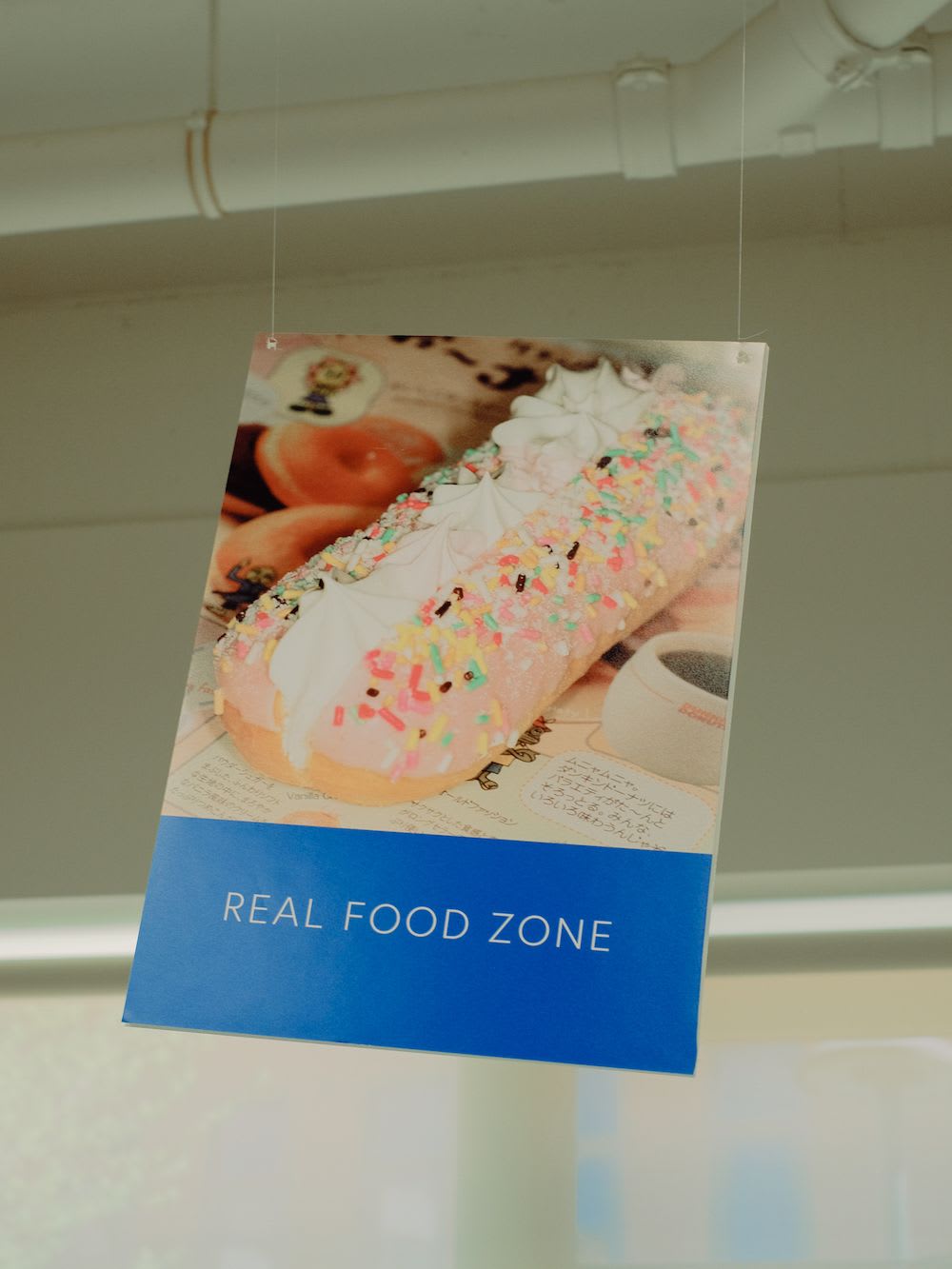 Photo by Gilda Bruno
Photo by Gilda Bruno
What were you like as a child?
Martin Parr: I don't have great memories from my childhood but I remember that we lived in Chessington, Surrey, and I used to keep a natural history museum in the cellar of our house: I loved collecting bugs, bird pellets and all sorts of things. The most formative aspect of those years was staying at my grandparents' place up in Yorkshire where my grandfather, a very keen amateur photographer, would lend me a camera and have me try my hand at it. We would spend days shooting, processing film and making prints. By the age of 13, I decided I wanted to be a photographer. That was it, there was no looking back. Because I had failed both my History and English A Level, I then went to Manchester Polytechnic, the only college that would take me at the time. In the end, it turned out to be a great boon considering how things in my life have unfolded since. Had I gone elsewhere, I don't know if I would be sitting here now. It is weird to think about that, isn't it?
Was there a specific moment that convinced you this was what you wanted to do professionally?
Martin Parr: I can't pin it down to one moment in particular. Photography was something I had always been interested in, so when my grandfather introduced me to it more closely, I basically just fell in love with it. I knew it was the right thing for me to do. And that was 55 years ago now – it is crazy how time flies.
Your documentation of British life began in Hebden Bridge, West Yorkshire, where you relocated in 1973. What could be found in Yorkshire that wasn't elsewhere in England?
Martin Parr: When I went up north, I was really struck by the sense of community and how friendly people were; that was not the case in suburban Surrey, which was very isolating. In Hebden Bridge, one of the things I wanted to do was engage with locals and "catch up", if you like, on the lost sense of community that was there in Calvary, near Bradford, where my grandparents used to live. That was part of why I moved there. So then, together with a painter, a potter and a bike mechanic, we started the Albert Street workshop [an artistic hub in the town]. As you went in on the right-hand side, you would see my wall of prints, which was changing all the time. More than anything, it was a great way of showing the work I had taken in the Hebden Bridge area – including 'The Non-Conformists', my five-year-long documentation of the people gathering around its non-conformist chapels – to those who lived there.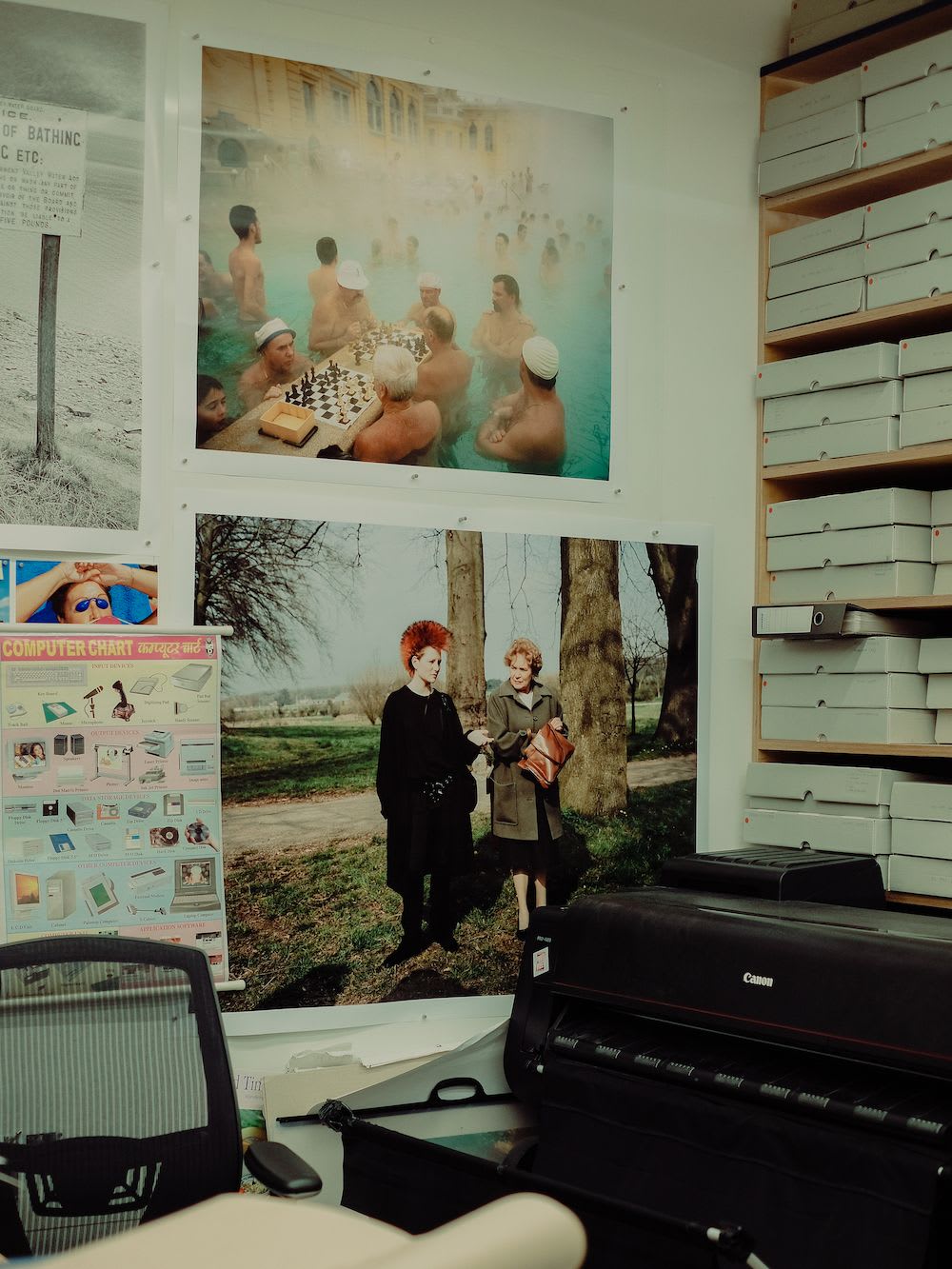 Photo by Gilda Bruno
'The Non-Conformists' was your first major project and is lensed in black and white. You have talked about your black and white work as "a celebration", as opposed to your colour photography, which is more of "a critique". What prompted this shift?
Martin Parr: Two of the things that influenced me most at the time – we are talking about the late 1970s, early 1980s – were seeing Sally Auclaire's 1980 book The New Color Photography, and knowing that William Eggleston and other American colour photographers were getting museum shows in the US. Until then, colour photography had never been seen as an art form; it was considered commercial and, therefore, unprofessional. Those photographers proved that colour could be serious. In the UK, a guy called Peter Mitchell did an exhibition at York's Impressions Gallery – the second photo gallery to open in Britain – in 1979, showcasing some of his colour work. And then this new medium format camera, the Plaubell, was introduced. Changing format, going colour… it all made sense. Experimenting with it felt like the right thing to do. Susie, my wife, had a job as a speech therapist in Liverpool, so we bought a house on the promenade, between where the ferry lands and New Brighton. Suddenly New Brighton was just down the road, and that is what I ended up photographing in colour over a three-year period.
That leads onto 'The Last Resort', the project that began your photographic exploration of life at the beach. What initiated your love affair with British beaches?
Martin Parr: As I said, my fascination with the beach stemmed from the lack of it in my childhood. As for British beaches in particular, I guess what attracted me to them was their slight shabbiness, something I always found very interesting. You still have a few middle-class seaside resorts like St. Ives and Southwold, but most of them are pretty down at heel. Their heyday was the 1950s and 60s, and now that people are taking foreign holidays, seaside towns like New Brighton – where 'The Last Resort' is set – are definitely not as crazy as they used to be. I love the contrast between families intent on making the most of their downtime and leisure, and the scruffy backdrop against which they come to life. Ultimately, that is what 'The Last Resort' was all about.
How did you go about photographing the many faces lensed in it?
Martin Parr: Ah! I just went there, got my camera and walked around. Scousers are pretty friendly, so it wasn't an issue at all. At that time, you could photograph kids on the beach without it being a problem. Things have changed quite dramatically over the last 40 years, for reasons we understand.
Another project of yours, 'The Cost of Living', focuses on the widening divide between working-class Britain and the country's middle classes during Thatcherism. What made you want to document this layer of British society?
Martin Parr: Well, it struck me that, if you looked at documentary photographers from that era, they were either interested in people that were very rich or very poor. I thought that the middle classes had been overlooked from a documentary perspective and told myself, "I am middle class, I know how they live, I must show it from within". Back then we were living in Liverpool, one of the least middle-class cities in the UK, so we moved to Bristol and have been here ever since. I guess we will be leaving Bristol in our coffins. To go back to 'The Cost of Living', what appealed to me was the idea of photographing the things I did myself, like going to the National Childbirth Trust coffee mornings, dinner parties and such. Of course, like in all of my colour work, the series carries satirical undertones, whereas my monochromatic photographs celebrate life for what it is, or used to be. You could argue that the stuff I criticise are things I am "guilty" of myself.
Photo by Gilda Bruno
You said that your relationship with the UK is a "love and hate" one. What do you cherish about it? What would you happily live without?
Martin Parr: I suppose I value its quirkiness and contradictions. Things like Brexit make me very cross, but at some point, although we all know how terrible it is, we have to accept it.
Congratulations on being chosen as Photo London's 2023 Master of Photography! Two new series of yours will be shown at the fair, 'Recent Works' and 'Beach Therapy'. Tell us about these projects.
Martin Parr: 'Recent Works' expands the breadth of my documentation of the United Kingdom, which comprises multiple chapters. Recently, I have done a lot of work on the establishment, including a new project on Oxford University. The show includes a series of images about the City of London and an insider look at the Livery companies. On the other hand, 'Beach Therapy' is a body of work I developed when I first got my telephoto lens, which is not normally employed by any documentary or art photographers. I tried to play around with it and the vegetation in front of the beaches, exploring different compositions where people blended in with the natural landscape. In this series, I look at the beach as my own "human laboratory", testing contrasting approaches to photography, ideas and techniques. As you will see in the installation on view at Photo London, where the shots are presented in dialogue with each other, I did that many times over. The result is, at least in my opinion, quite fascinating.
Since 2017, you have your own foundation here at Paintworks, Bristol's creative quarter. The Martin Parr Foundation acts as a "talent incubator" for a new generation of image-makers. How did this idea come about?
Martin Parr: I think British documentary photography is very underrated, under-supported, and not appreciated. How can we change things? By collecting British documentary photographers, showing them here, and having all of their books and works in the same place so that we can become a research centre for British photography. As well as that, the foundation is a way of looking after my own archive, which is quite substantial, and it will carry on after my demise: we have set it up to make sure it is going to be funded. Through it, we want to give photographers who have never had a big show before a platform where to exhibit their work. We have just inaugurated Sebastian Bruno's The Dynamic, which is a great show. He comes from Argentina but the project was shot in Wales. We love supporting international photographers who work in the UK and I find him and his practice very energetic.
You have been shooting for the past 50-something years. What do you hope your photographs will leave to those who come across them in the future?
Martin Parr: No matter how many years have gone since I first started, I keep on shooting the same thing. I am going to Venice tonight, where I will be giving a lecture tomorrow, but the rest of the time, you will find me walking around with my camera. I have done a book about mass tourism, called Small World , and I have always been intrigued by Venice, the clash between the huge river of tourists that go there and how the fragile fabric of the city survives such an invasion. I am going to Glastonbury again this year, and Green Man.
I guess my legacy will be here, at the foundation. It will be my archive and the many photo books I have made, edited and collected. As for my photographs, all one should do is look at them. Hopefully, they are interesting and well-composed, and you can read into them whatever you will. I don't tell people what to think or how to respond to these images; I am just happy to have the ability to show them.
Martin Parr: Recent Works, Photo London's 2023 Master of Photography exhibition, opens at Somerset House, London, between May 11 and May 14
Cover image: Les Rencontres de la Photographie, Arles, France, 2015 © Martin Parr / Magnum Photos / Rocket Gallery
Llandudno, Wales, 2013 © Martin Parr / Magnum Photos / Rocket Gallery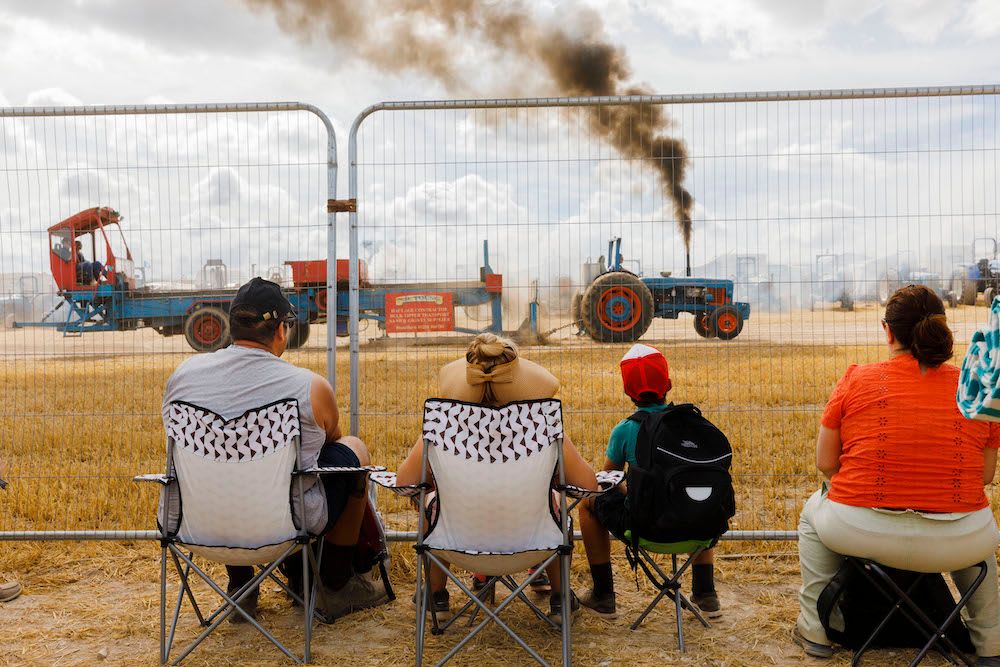 Great Dorset Steam Fair, Dorset, England, 2022 © Martin Parr / Magnum Photos / Rocket Gallery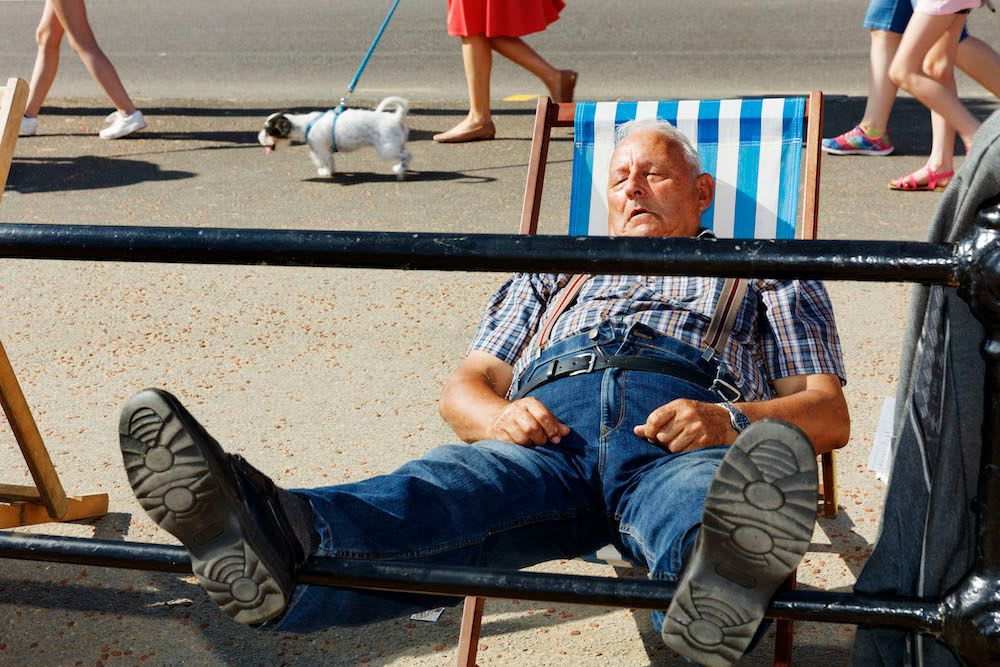 Scarborough, North Yorkshire, England, 2016 © Martin Parr / Magnum Photos / Rocket Gallery