Masculinity is under the microscope in this surreal photo series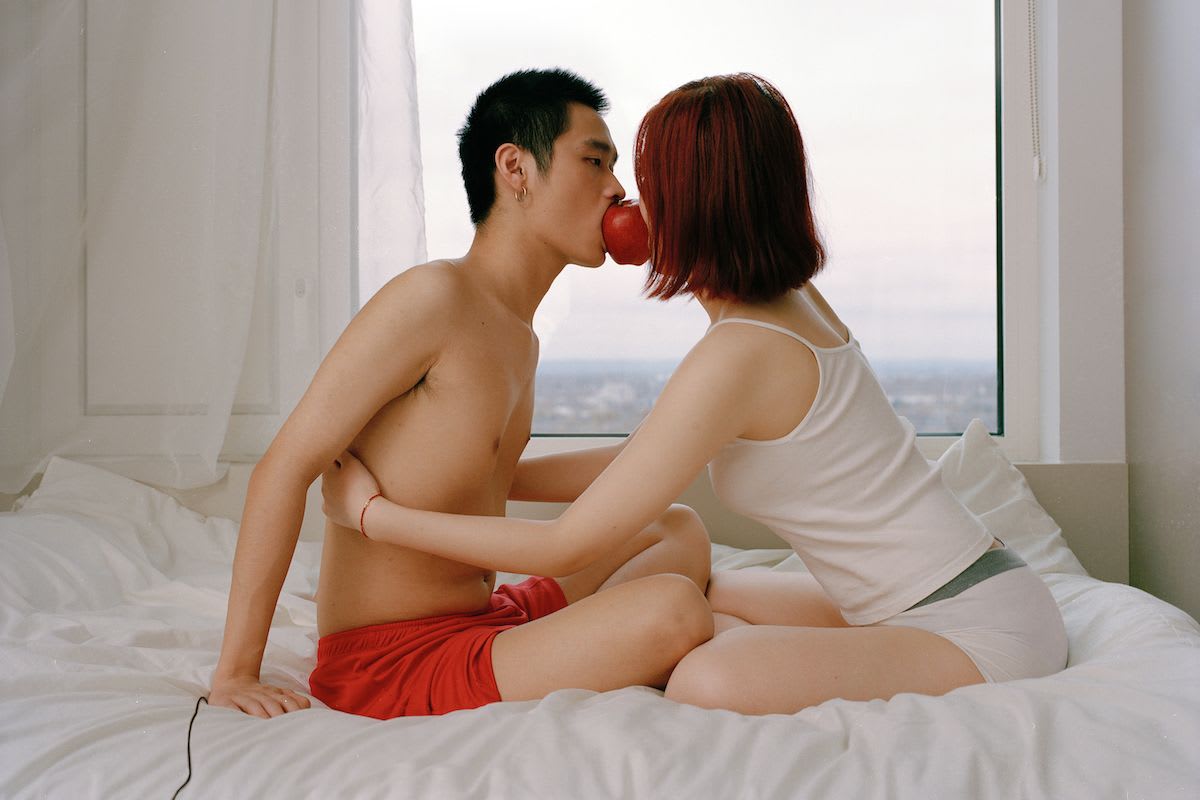 Photographer Ziyu Wang explores his autobiographical project, 'Go Get 'Em Boy', for woo's fortnightly culture column
image Ziyu Wang, Wedding Rehearsal, 'Go Get 'Em Boy'
words Gilda Bruno
Welcome to Stop Scrolling, where each fortnight arts and culture writer Gilda Bruno will be bringing you a roundup of carefully curated exhibitions, art fairs and photo books to check out, as well as exclusive conversations with some of today's most exciting emerging artists.
This week, Bruno talks to Chinese-born, London-based photographer Ziyu Wang about his debut monograph Go Get 'Em Boy: a visually enticing exploration of China's gender-based stereotypes which seeks to disrupt outdated understandings of masculinity to make way for the artist's own experience of queerness.
Ziyu Wang wants everyone to think of his practice "as a rebellious child, submissive in appearance but exuding destructive power": a statement that, when taking a quick glance at the thought-provoking self-portraits featured in his debut monograph, Go Get 'Em Boy, couldn't be more accurate.
"The other day, we were having a meal," Wang writes in the introduction to his self-published book. "My dad asked me, 'why do you eat so little? You eat like a girl, boys need to wolf down their meals.'" Wanting to impress his father, the following morning the London-based photographer "ate lots and lots", bursting at the seams. His dad looked happy, he says, adding that "it was the first time he ever took me to the bus and said to me, 'go get 'em boy'".
A visual parody of the many masks Wang is forced to wear on in order to satisfy his family's expectations of him as a young Chinese man, the series turns the spotlight onto the chameleonic visual artist. From a government official to a muscle-obsessed gym bro, he he wryly inhabits different male stereotypes as he undertakes a form of gender play or, even, drag - trying on and expanding the different gender roles which supposedly signify "healthy" masculinity.
We talk to Wang about his coming out journey, using art as a means of reappropriating his relationship with manhood, queerness and sexuality, and how this series rebels against heteronormative understandings of the male experience.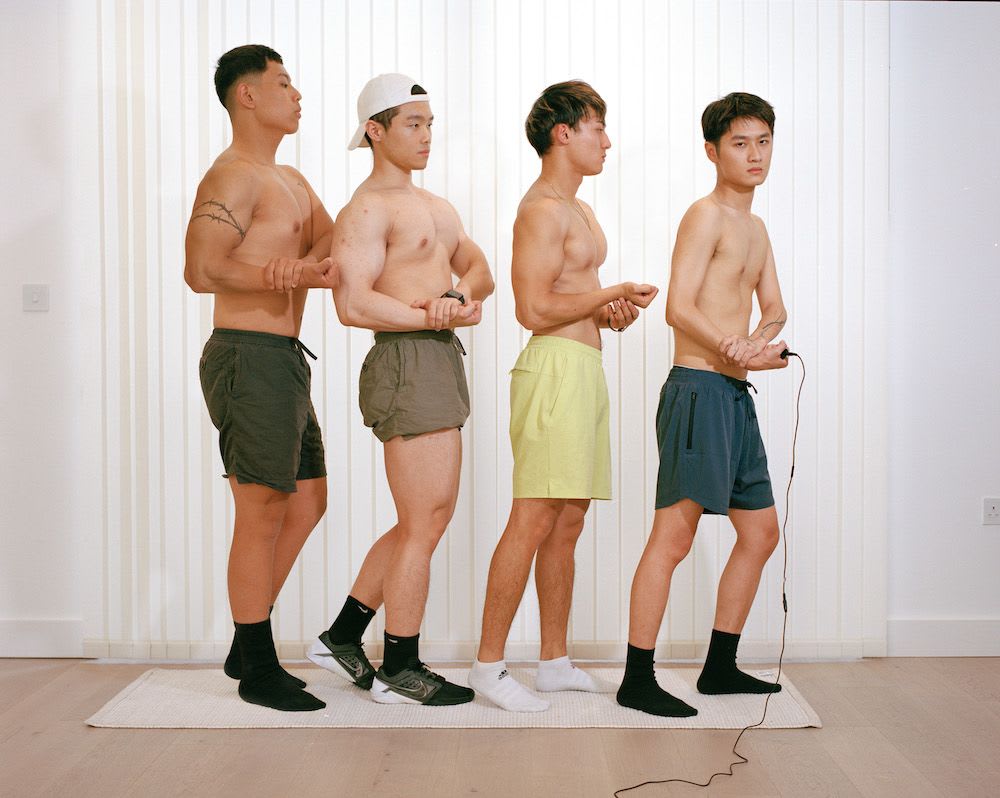 Ziyu Wang, Lads, 'Go Get 'Em Boy'
What was your Chinese upbringing like and how does it compare to the life you are now living in London?
Ziyu Wang: When I was a child, my father would ask me how many wives I would get and if I could share them with him. My mother, who is dedicated to our family in accordance with the expectations of a patriarchal society, has recently started pushing me to look for a girlfriend. Chinese men are meant to be loud, strong, bold, and confident, whereas gentleness and indecisiveness are regarded as feminine traits. As an introverted person, I grew up hiding my quietness and vulnerability, which made my childhood a hard journey. This extremely traditional, conservative environment prevented me from coming out to my parents for years. Moving to London gave me the freedom to express myself: I found the courage to communicate my sexuality with those close to me, both on the internet and offline, without experiencing any fear.
You hold a BFA and an MA in photography: what draws you to photography as a medium?
Ziyu Wang: I first discovered photography when I began to browse the internet. As a teenager, I would upload retouched selfies of myself on social media: besides being an easy way to connect with my peers, it also led me to learn more about the communicative nature of photography – something I have been interested in ever since. As I experimented with the photographic medium, I became fascinated with the narrative and playful aspects of it; I loved the idea of combining visuals with performance to tell my own story transcending the constraints of language, and was blown away by how photography could "propagate" exponentially thanks to its viral potential.
Your photography is characterised by a surreal, parody-like aesthetic. What inspires your visual craft?
Ziyu Wang: One of my greatest inspirations is Hans Eijkelboom's project With My Family (1978), where the Dutch photographer poses as the father of different families alongside [real] mothers and their children. What I like about that series is his ability to subtly shift identities and insert humour into a family context. More than anything, that body of work proves how reality can be fictionalised in photography. Judith Butler's book Gender Trouble: Feminism and the Subversion of Identity (1990) is another big influence for me; their conceptualisation of "gender parody" persuaded me to capture gay Asian men in the role of "Alpha" males, thus challenging the patriarchy and the preconceptions deriving from it. Last but not least, Yushi Li's self-portraits interspersed with nude men gave me the motivation to approach photography in a similar way.
In Go Get 'Em Boy, notions of patriarchy, dominance and toxic masculinity become the focus of a visual story that sees you reinterpret gender-based preconceptions in an ironic, captivating way. What prompted you to develop this series?
Ziyu Wang: As a gay man growing up in China, identity has always been a major topic of concern for me. The thought that more children could be subjected to the pressure of becoming the "perfect man" was what led me to start Go Get 'Em Boy. The series explores queer identity, the Chinese localisation of hegemonic masculinity and its controlling nature through self-portraits shot in a male-dominated world. In each one of these images, I take on the role of the person my father would like me to be: a high-ranking official, a married man with children, a physically strong, masculine individual… in other words, I turn into what patriarchal China wants from all of its male citizens.
How did this project allow you to reappropriate your own experience of manhood, queerness and sexuality against other people's expectations?
Ziyu Wang: Go Get 'Em Boy was an important part of my coming out process because, although many people knew I was queer, my parents, who live in a small town in China, had no idea that I was gay. In the project, I depicted myself as an ostensibly "good boy" who does whatever his father wants him to do while also visualising elements of my own queer self-perception, which convey my rebellion to the viewer. The goal was to deal with such a heavy subject in a humorous and highly entertaining way.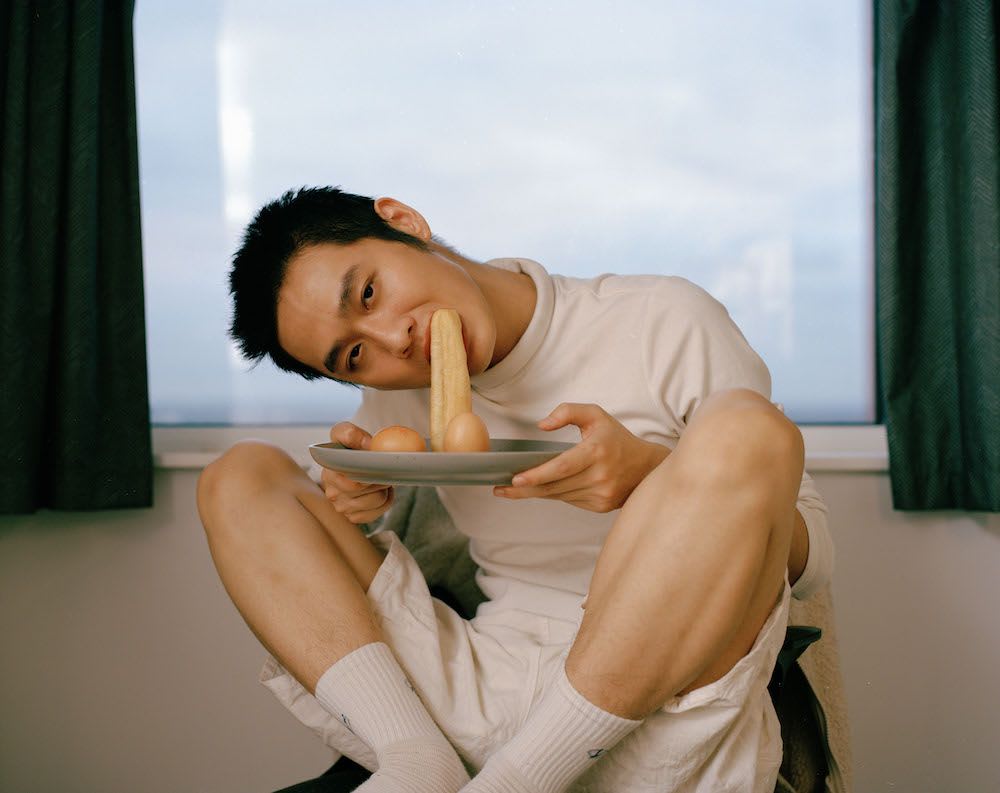 Ziyu Wang, 100% Straight, 'Go Get 'Em Boy'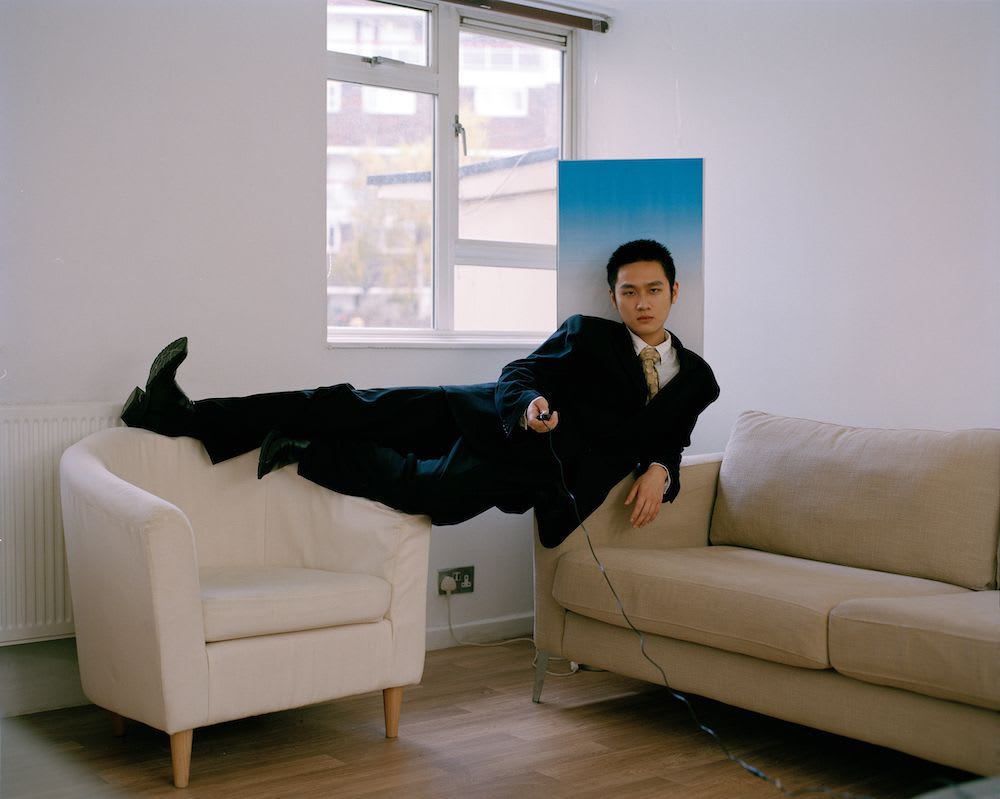 Ziyu Wang, Government Official, 'Go Get 'Em Boy'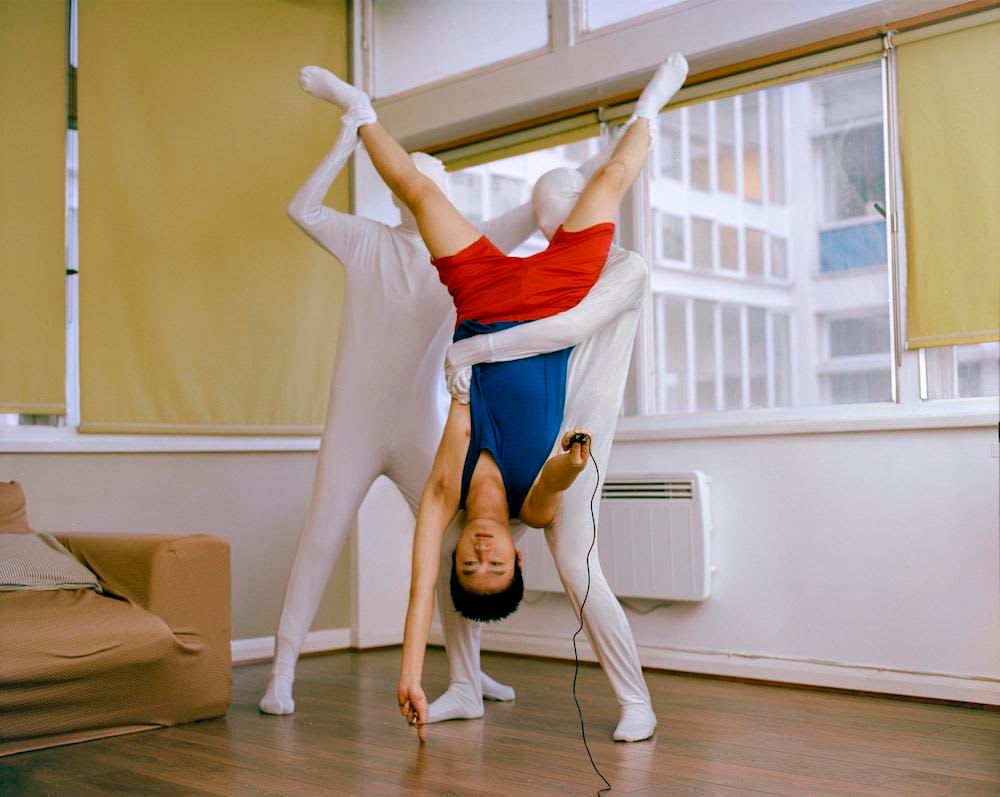 Ziyu Wang, Handstand, 'Go Get 'Em Boy'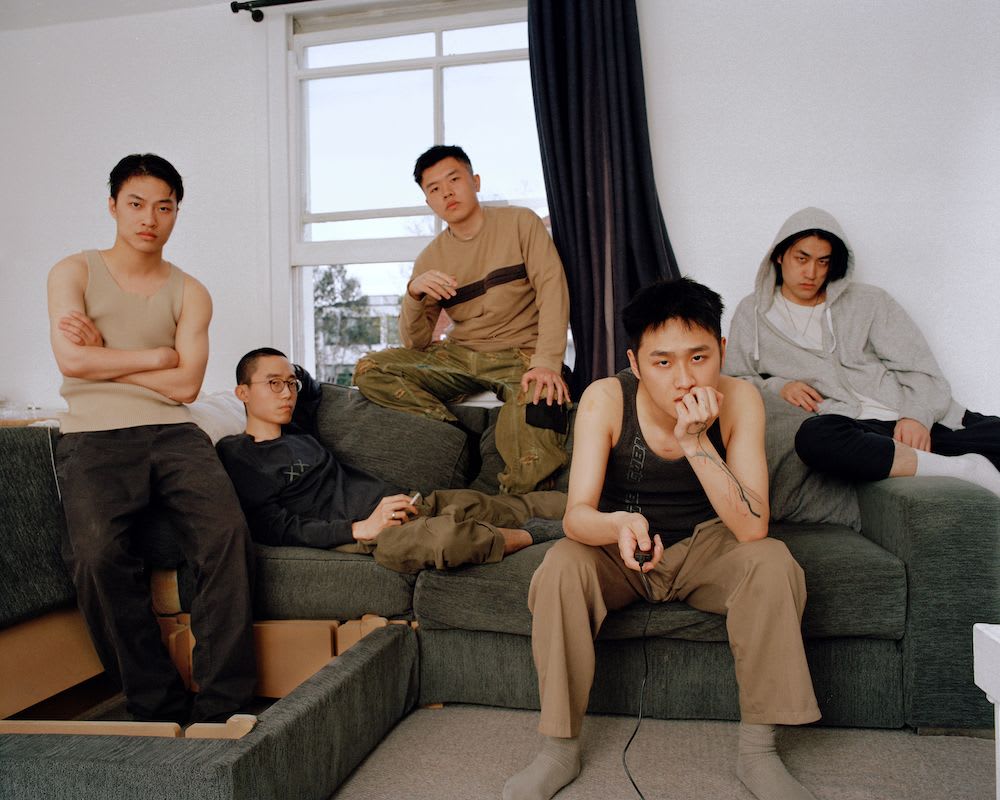 Ziyu Wang, With My Buddies, 'Go Get 'Em Boy'
Scroll for an extra dose of art and culture news, curated for you by woo
Google calendars at the ready: these are the exhibitions, design events and book launches you're going to want to check out in the coming weeks…
Bad Taste: confronting the role of industrial food in the climate crisis, open call for artists and activists, Greenpeace UK, London, UK
you are missing out on some content here because you rejected our cookies. want to change that?
Calling all creatives working at the intersection of art and environmental activism! Bad Taste, Greenpeace UK's latest initiative, is on the lookout for projects addressing the detrimental impact that the industrial food system is having on the climate emergency.
With a focus on "strategies that create change, and interventions in places of public, political and corporate structural power", the open call prompts participants to conceptualise imaginative ways of exposing the harm that the UK government, large-scale agribusiness and major food brands are currently doing to people, climate and nature. Especially directed at artists and activists who self-identify as Black, Indigenous, people of colour and (or) working class, Bad Taste leverages creative thinking to denounce the pitfalls of meat and dairy consumption while simultaneously promoting unconventional solutions to the climate crisis.
Open through January 15, the initiative also encourages submissions by people with disabilities or neurodivergent-identifying individuals. Out of all proposals, three ideas will be rewarded with grants of £10,000, a separate production budget and a box of ash from burnt Amazon rainforest to incorporate into the project. All projects must take place in the UK.
Gideon Mendel, Fire/Flood, Soho Photography Quarter, The Photographers' Gallery, London, UK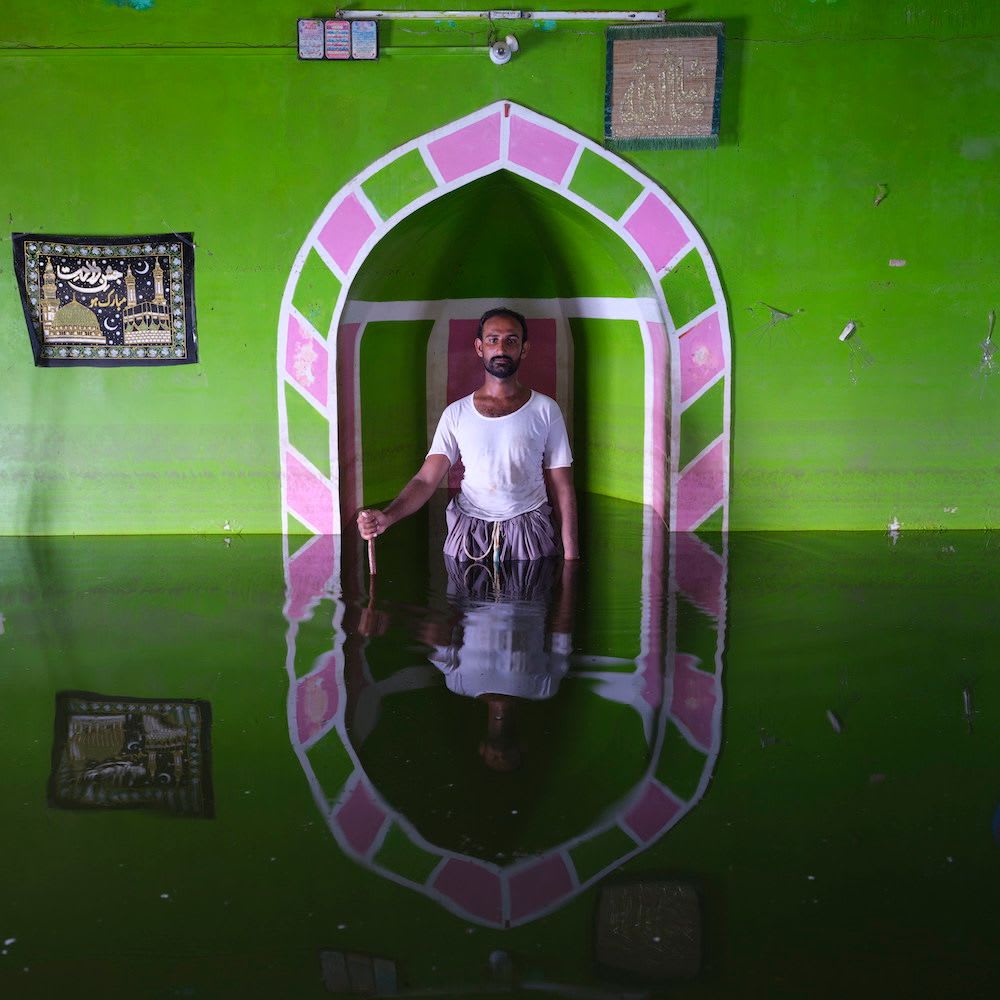 Amjad Ali Laghari, Goth Bawal Khan village, Sindh Province, Pakistan, September 2022. From the series Drowning World © Gideon Mendel
The Photographer's Gallery is back with yet another free open-air exhibition, the second one hosted in their new permanent outdoor space, Soho Photography Quarter. Running in Ramillies Place through May 31, Gideon Mendel's Fire/Flood documents the devastation caused by climate change-induced floods and wildfires erupting all over the world today.
Comprising two portrait series lensed by Mendel in locations like Nigeria and Pakistan as well as Proof and Portents, a recent moving image commission filmed by the South African artist, this public showcase transports pedestrians from London to the heart of the climate crisis.
Reflecting on the goal behind the exhibition, the photographer says he hopes his works will not foster fear and paralysis, but rather inspire collective climate action. "My subjects are not disempowered victims in the photographic encounter," Mendel explains. "Despite the personal catastrophe that they face, their direct gaze at the camera invites us to engage with what has happened to them." The result is an experience which, uniting the global population in the face of the environmental emergency, "transcends geographical, cultural and economic divides".
Emma Hardy, Permissions, 10 14 Gallery, London, UK
you are missing out on some content here because you rejected our cookies. want to change that?
Open at 10 14 Gallery until January 27, Permissions is the new solo show of London-based photographer Emma Hardy. Offering visitors a sneak peek inside her eponymous new book, which came out last November, the exhibition brings together a candid, sun-lit selection of photographs standing for Hardy's personal experience of motherhood, childhood, love, yearning and leaving home. All part of the visual artist's decade-spanning photographic archive, the scenes portrayed in Permissions speak of her ability to immortalise the beautiful minutiae of life like few others.
Zooming in on her children's coming-of-age journey, Hardy translates the beauty of her everyday interactions with them into stills that chronicle the countless peculiarities of the human experience. Documenting their growth through the lens of an evolving mother-child relationship, the photographer creates a compelling, tender document of life that attests to Hardy's unparalleled emotional and aesthetic sensibility.
The Voices of A Tempest by A—Z's Anne Duffau, Somerset House Studios, London, UK
you are missing out on some content here because you rejected our cookies. want to change that?
Programmed by Anne Duffau's exploratory creative production platform A---Z, The Voices of A Tempest is a new free exhibition on show at Somerset House Studios' Gallery 31 until March 19. A showcase for some of the most innovative, thought-provoking talents on the emerging art scene, the event was conceptualised as a response to the intellectual research of poet and politician Aimé Césaire.
Taking Césaire's book Une Tempête (1969) – a reinterpretation of Shakespeare's The Tempest (1611) and a critique of colonialism – as its starting point, the exhibition taps into the possibilities of the contemporary art landscape "to invoke fictional activism through storytelling". Throughout The Voices of A Tempest, which also offers a three-part public programme, viewers are invited to reconsider the boundaries and rules of the world as we know it, immersing themselves in a new, previously unexplored dimension.
French artist and poet Tarek Lakhrissi's short film Out of The Blue revisits the sci-fi alien invasion trope as a means of handing over the reins to an empowered queer community. Multidisciplinary duo Michael and Chiyan Ho turn to a music video by Hongkongese Cantopop singer Paula Tsui to expose censorship "via an eerie, blurry karaoke-style version" of the clip. And Derby Day, an exclusive analogue short film, soundscape and installation by creative collective Babe World and Italian-born, London-based artist utopian_realism (Alessandro Moroni), looks at the creative scene through the lens of intersectionality, "defying and reclaiming this space whilst also conjuring a threshold into new potentials".
Agnė Jokšė, Anastasia Sosunova, Dance As You Wrestle, Cell Project Space, London, UK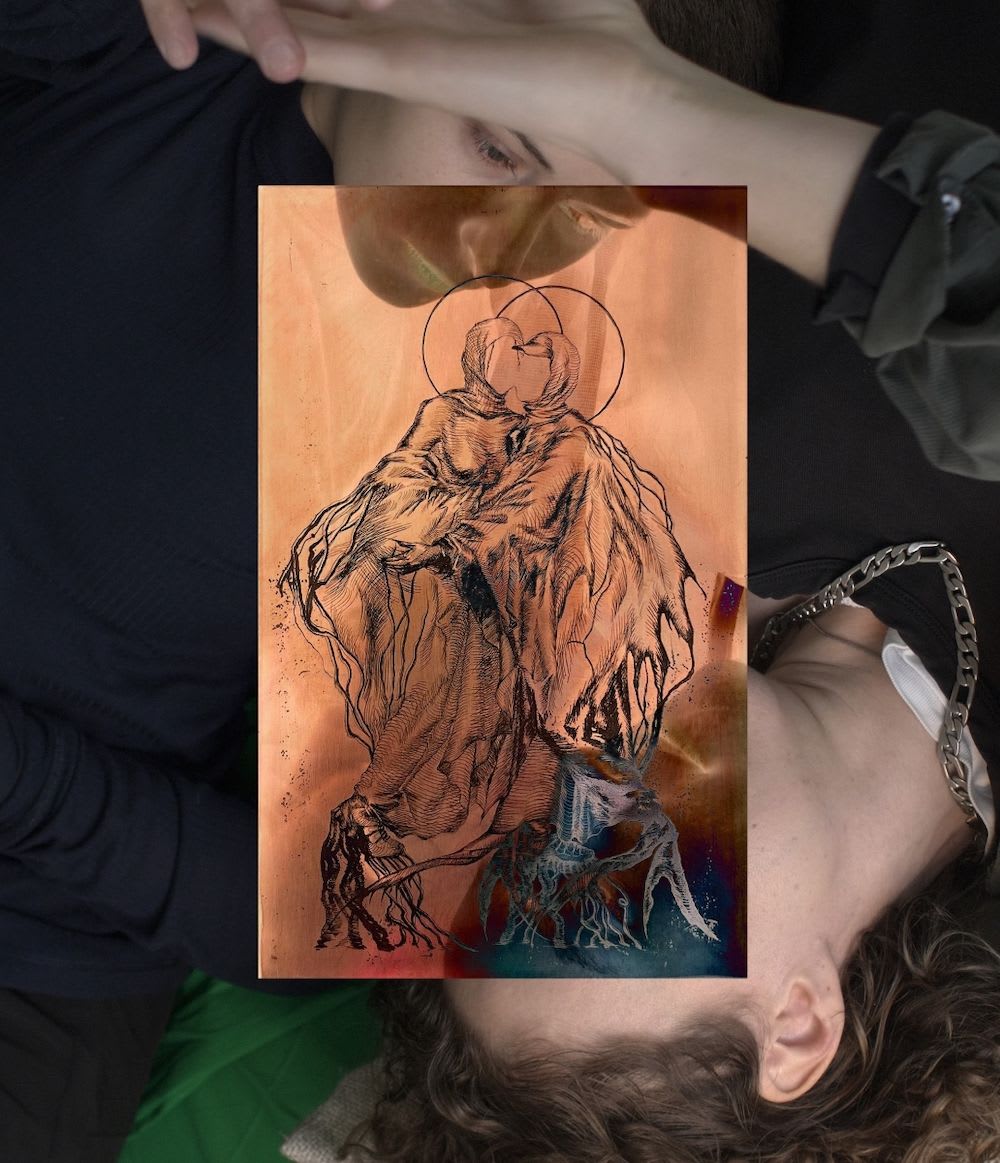 Agnė Jokšė and Anastasia Sosunova, 'Second Sequence' (2022). Courtesy of the artists
Borrowing its title from Joanna Zylinska's book The End of Man: A Feminist Counter-Apocalypse (2018), Dance As You Wrestle marks the first major exhibition of works by Lithuanian artists Agnė Jokšė and Anastasia Sosunova in the United Kingdom. Inspired by the "apocalypses" that characterise the present day, the show draws on everything from manga to the Orthodox church and Lithuanian reality TV to provide viewers with a multifaceted exploration of the challenges of contemporary life.
Curated by Adomas Narkevičius and on display through February 26 at Cell Project Space, Dance As You Wrestle leverages different artistic mediums to tackle the complexity of our everyday experience, dealing with religion, minority politics, homophobia, identity, and family from a post-Soviet perspective.
Riverboom, Riverboom 2002-2022, Greatest Hits: Coming Home, L'Appartement, Espace Images Vevey, Vevey, CH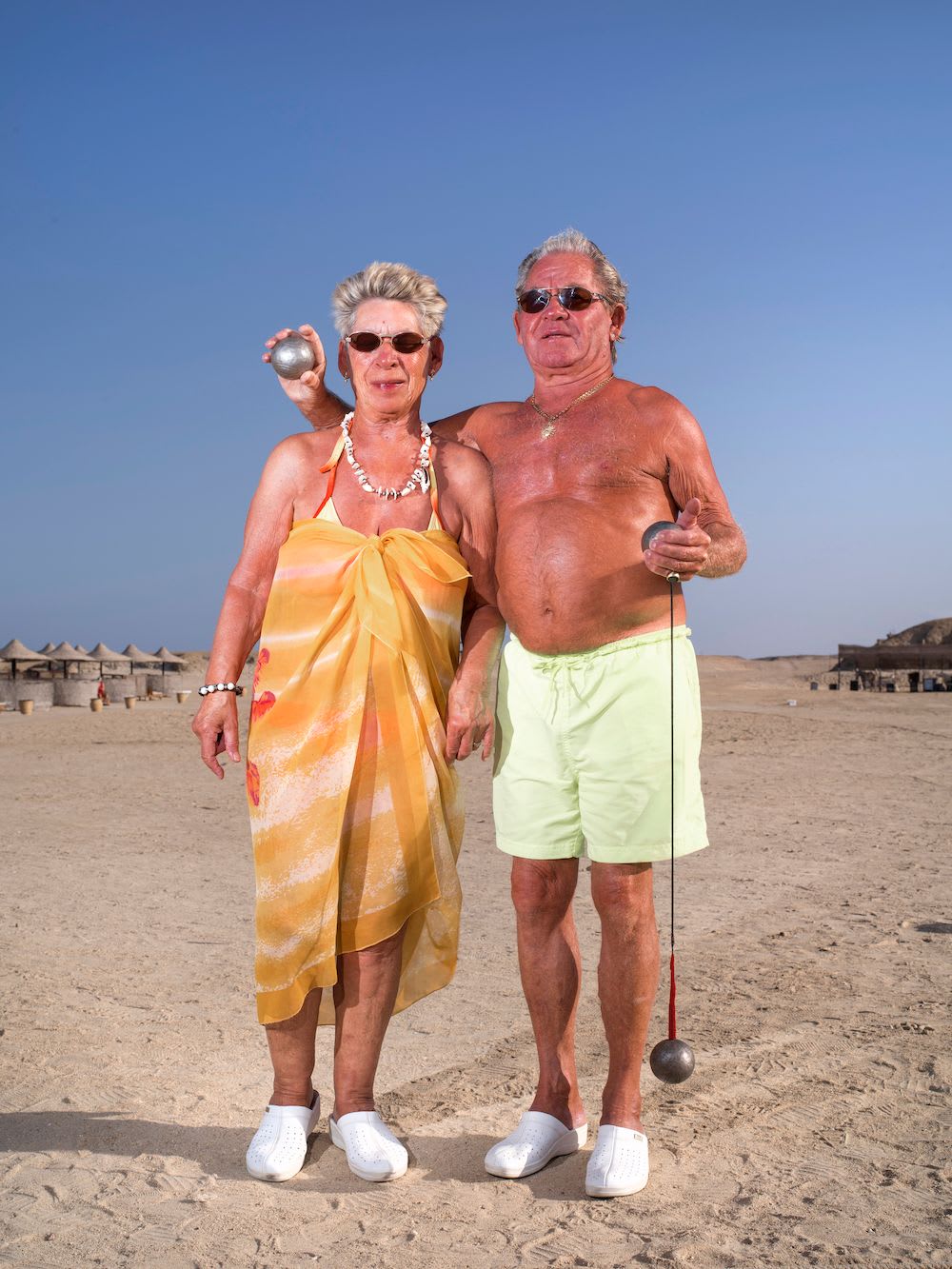 Riverboom 2002-2022, Greatest Hits: Coming Home. Courtesy of the artists
Open until Feburary 19, Riverboom 2002-2022, Greatest Hits: Coming Home is the latest show from Italian-Swiss creative collective Riverboom. Taking over L'Appartement – a venue for contemporary photography run by Images Vevey – the show retraces the artistic achievements of Riverboomers Claude Baechtold, Edoardo Delille, Gabriele Galimberti, Serge Michel, Alexandre Tzonis, and Paolo Woods as the group reaches its 20-year milestone.