Introducing: the feel good winter sale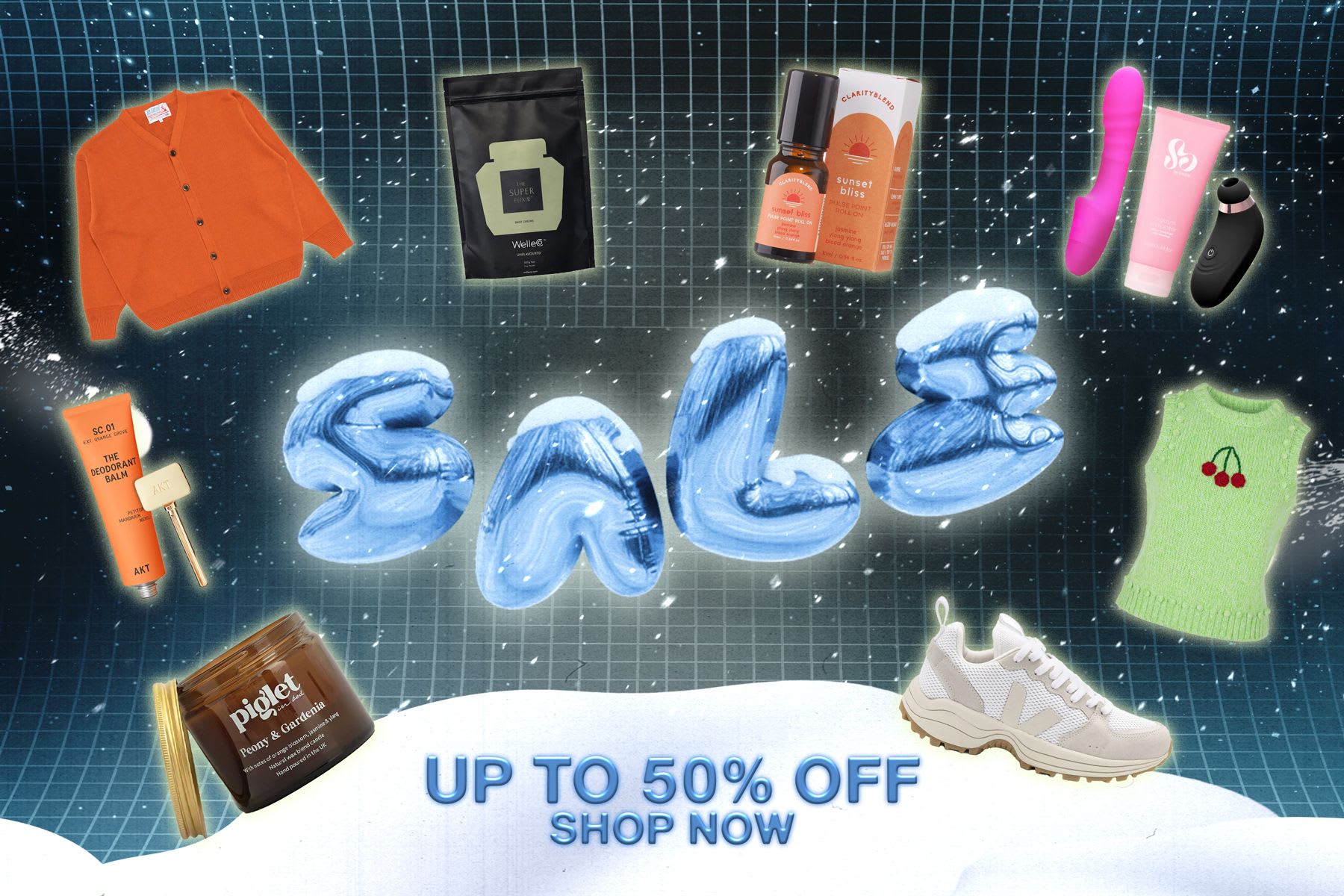 Uplifting skincare, fashion and wellness to make you feel good this winter
image Team Woo
words Team Woo
Whether you're joining a gym or doing dry Jan, a new year is an opportunity to get your shit together. And when the post-Christmas blues kick in, a little treat can go a long way. Welcome to our feel good sale, your self-care antidote to dull winter days.
Perhaps you need some fresh activewear for those new year's resolutions or a cosy and conscious knit for snuggling up in. Maybe you'd prefer a fun new sex toy for when you're feeling yourself and/or someone else. Get up to 50% off selected brands across fashion, beauty and wellness with free delivery on all orders over £25. Keep your eye out for new deals dropping daily and have a browse, feel good, no purchase necessary.
So Divine
On these long, cold winter nights, if you're not going out you might as well be getting off. Explore what turns you on with So Divine's accessible, inclusive range of sex toys. They're designed for everybody, regardless of anatomy, sexuality or experience so there's sure to be something for you. Each toy is made from luxurious, body-safe materials and they come in all shapes and sizes for all body shapes and preferences. Good vibes only in 2023.
Sylk
If you want to give your winter wardrobe an update with pieces that no one else will have, you can't go wrong with vintage. Sylk's hand-curated designer garms are centred on timeless, classic, minimal designs that you can wear over and over again. These elegant unisex styles are designed to last.
The Sports Edit
Make the most of that new year's gym membership. The Sports Edit offers a range of supplements, activewear and workout accessories to make your new year's resolutions more enjoyable. The multi brand movement believes in the power of sweat to a healthier, happier you. They scour the globe to bring you the best of the best when it comes to health and fitness. So, what are you waiting for?
AKT London
We all want to smell good, but aerosol deodorants aren't exactly the best for the environment. AKT London has come up with a solution: a 100% plastic-free, recyclable natural deodorant balm. Founded by West End performers, the deodorant is designed to keep you fresh even while dancing under hot stage lights. Their tubes are made of portable, durable and recyclable aluminium to stop more plastic from entering the environment.
Junkbox Apparel
It's tempting to spend the winter months hibernating indoors, but getting up and out can do wonders for your wellbeing. Perhaps you have a resolution to take up a new outdoorsy hobby or you're just looking for some comfy wardrobe staples that are made to last. Crafted for skate, surf, snow, hiking and everything in between, Junkbox Apparel is eco-friendly and organic, created using recycled materials. From hats and sweats to backpacks and jewellery, their collections are dedicated to adventure and the outdoors.
The Ragged Priest
Rooted in British subculture, The Ragged Priest's unapologetic grunge aesthetic centres cult classic denim, ripped kits and emerging trends with a twist. Whether you're on the hunt for a statement faux leather coat for your winter walks, a bold oversized sweater for cosy WFH home days or comfy cargo pants to wear with whatever whenever, they've got you covered. Inject your winter wardrobe with a burst of edgy style and attitude so you can be your best, most expressive self all season long.
Arctic Fox & Co
Arctic Fox & Co is a minimal, sustainable accessories brand blending Japanese and Scandinavian design. Inspired by a trip to Iceland and the simplistic beauty and functionality of their design culture (combined with effective solutions against the biting cold), Arctic Fox & Co provides chic staples that never fail to keep the wearer warm and cosy in the coldest of all weathers.
Clarity Blend is on a mission to make aromatherapy accessible to all with 100% natural and pure essential oil products. Created by Veronika and Dimitar Vasilev, Clarity Blend was born out of a need to reconnect with ourselves and nature and stop the cycle of stress, insomnia and anxiety that demanding lifestyles can create. Inspired by the aromatic meadows of the Bulgarian countryside where the founders grew up, they set about creating essential oils that were natural, non-toxic and sustainable and, after carefully researching plants and studying with clinical aromatherapists, Clarity Blends was born.
Elsie & Fred
Elsie and Fred is a new generation clothing brand independently owned by siblings Natalie, Leanne and Ryan Haynes, hailing from Coventry, England. More than a simple fashion brand, Elsie and Fred strongly encourage individuality and expression through their clothing, and, beyond being a retailer, they aim to be a destination that is transparent and open, and doesn't shy away from the topics or concerns that affect their community. Rather than the standard corporate jargon, their sustainability and responsibility page breaks down their manufacturing processes, introducing the people that run and work at the factory where their clothes are made, and honestly addressing their limitations and where they hope to do better.
Feather Pendants
Feather Pendants is a conceptual gender-fluid jewellery brand with a deeply rooted ethos of never-ending improvement. Designed in Hatton Gardens, i.e. London's historic jewellery district, Feather Pendants pieces explore creative and conceptual boundaries while also providing classic styles with tasteful twists.
LAPP THE BRAND
Founded by model Leomie Anderson in 2016, LAPP was created to embody the 21st-century woman in both their style and substance. Inspired by Leomie's outspoken stance on women's issues and the pressure that young girls face in today's society, LAPP is about empowering women and promoting confidence, positivity and unity through fashion.
OTIS BATTERBEE
Otis Batterbee creates beauty tools and accessories that are vegan, cruelty-free and good for you and the planet. Bringing nearly 20 years of experience to the table, Battersbee began his line with a range of vividly patterned, non-leather makeup bags that was snapped up by the buyers at Liberty and sold out six months of stock in just one week.
OTTI
OTTI creates intelligent outdoor activewear through considered design and attention to detail. By making clothing that is seasonless and environmentally responsible, OTTI aims to provide you with products that are built to last and encourage conscious ownership while connecting you with the outdoors. With a mission to give old fabrics new life, OTTI works with recycled, biodegradable and deadstock materials sourced from family-run mills.
PIGLET IN BED
Born in West Sussex in 2017, Piglet in Bed is a lifestyle brand that celebrates life in the slow lane with their gorgeous bedding and more. Made for living, their collection is composed of 100% sustainable linen products and a carefully curated selection of homeware.
Skinnydip London
Gen Z favourite Skinnydip London started in 2011, born from the idea that mobile phone cases could be stylish accessories. Known for their colourful, tongue-in-cheek designs, over the years Skinnydip has grown into a clothing, homeware and lifestyle brand known for their collaborations with the likes of Disney, SpongeBob Squarepants and The Simpsons, and ambassadors including Julia Michaels, Amelia Liana and Zara Martin.
Wavey Casa
Female-owned homeware brand Wavey Casa was born out of lockdown ennui. Founded by Darcy Lettmann in the depths of 2020, Wavey Casa was designed to relieve the monotony of being stuck in our homes by injecting a hefty dose of tongue-in-cheek fun into your humble abode.
WooWoo
British-made, vegan & natural intimate care brand WooWoo is here to put taboos around intimate health and pleasure to bed. WooWoo's all-female team felt that current ideas of feminine care didn't provide space to be honest and open. Which is why they launched a line of bold, fearless and expertly developed all-natural intimate products. From their products to their communication and their team, WooWoo's mantra is "it needs to be fun" – like talking to a raucous, oversharing, and infinitely honest and knowledgeable older sister.
Adidas
Adidas is a brand synonymous with being active. Sport plays an increasingly important role in more and more people's lives, on and off the field of play. It is central to every culture and society and is core to our health and happiness. And why shouldn't you look good while doing it?
Anatome
Inspired by apothecaries, anatomē's formulas are designed to bring balance to everyday life. With invigorating botanical extracts and scientifically-proven ingredients chosen for their positive effects on sleep, diet, skincare and health, anatomē supplements harness the best that nature and science have to offer.
Bala
Bala is best known for their Bala Bangles – the functional fitness equipment designed to change the way you move. A brand focused on helping you build muscle, burn fat and up your resistance, Bala got its head start on Shark Tank, and has been going from strength to strength ever since. Sleek, comfortable and oh-so-cool, these LA-designed weighted bands add a constant but comfortable resistance to any workout, to help you amplify your results.
BAVE
Founded by friends Reece and Joe while looking to take their bathing rituals to a new level, BAVE is a 100% vegan & cruelty-free line of essential oil-infused personal care products.
Beyond Yoga
LA-based Beyond Yoga celebrates the female form in all its shapes and sizes, knitting self-love into their entire collection. Their luxuriously soft fabrics and flattering designs beg to be worn long after your well-deserved savasana. That's why you won't just find your typical black leggings and crop tops - instead, the brand celebrates colour and playfulness, so you might choose a star-print crop top or pastel ombre leggings.
BLANC
Love art, but bored of the same old designs everywhere you look? BLANC is an East London-based small business focused on bringing community and diversity into art. Co-founded by a Hackney-based young couple, Michael and Libby in 2021, BLANC is all about restoring a personal connection between the customer and the brand.
Cara & the Sky
Cara & The Sky is an independent, female-founded British brand born from a desire to inspire positivity and bring unique, sustainable knitwear to the free-spirited.
DAME.
DAME. have reimagined period products, creating comfortable, sustainable alternatives. They're toxin-free, carbon negative, and stylish so you'll happily keep them in plain sight. Now the best choice for your body is the best choice for our planet.
Drop Out Sports
Drop Out Sports is a sustainable line of menswear made wholly from organic cotton, which has been knitted and handmade in England. The brand is proud to be producing everything in the UK, with all fabrics made from 100% organic cotton at a small British mill, knitted on repurposed vintage Camber machines. After many months of trials on these machines, they were finally able to achieve the authenticity and desired quality for our heavy-weight jersey, and with that, the first Drop Out Sports pieces were created.
Electric & Rose
Hailing from Venice Beach, Electric & Rose is named after two iconic streets in the heart of our Venice Beach neighbourhood - so naturally, you can expect eclectic California vibes in its wearable lifestyle pieces. Designed and handmade in LA, they're known for their tie-dye styles inspired by founder Erin's love of shibori, a Japanese manual resist dyeing technique that produces patterns on fabric.
FP Movement
FP Movement is a collection of performance-ready activewear and beyond-the-gym staples designed with daily life in mind. It celebrates motion with a passion, and gives you luxury performance fabrics, such as seamless leggings made to stretch and breathe. Style and substance come together in this collection - expect seamless all-in-ones, adorable tennis shorts and crop tops so good you'll wear them outside of the gym, too.
Garbstore
With fabric, fit and function at its heart, London-based brand Couverture & The Garbstore combines elements from Japanese, British and French design, looking to blend traditional and utilitarian styles with progressive and contemporary fabrics. Drawing inspiration from vintage workwear and military design, Garbstore's products are produced in limited-run quantities and made to last using premium materials and finishings, with a focus on functionality and durability. Since its inception in 2008, the brand has collaborated with an array of global partners, including Reebok, Brain Dead, Nanamica and Porter Yoshida & Co to name a few. Discover Couverture & The Garbstore here on woo.
HOFF
With a core around sustainability and colourful patterns, HOFF trainers blur the lines between quality, fashion-forward designs and fair prices. They feature unique designs and details, with leather, suede and textile panels, vibrant colour patches, and striking prints on the soles. Never boring, and unexpectedly beautiful, HOFF sneakers are designed to bring some joy and colour to your life - whether it's the city style in pastel hues, the tribe silhouette in neutral tones or a classic black pair of trainers to wear with everything.
Lilybod
Hailed for creating pieces that fit in all the right places, Lilybod is the Australian activewear brand made for your modern lifestyle. The Insta-famous Lilybod leggings combine bold prints, geometric designs and flattering cuts in technical fabrics that refuse to sacrifice style.
Mallows Beauty
A vegan, cruelty-free brand designed to make you glow inside out, Mallows Beauty is the ultimate destination for self-love for those who like to keep it 100% real: real skin, real bodies and real results. Aiming to do away with false promises and making you feel bad by promising to 'fix' imperfections, Mallows Beauty offers treatments for your skin, body and mind, with positive, uplifting messages.
Out of the Ordinary
Out of the Ordinary is a female-founded, independent fashion brand championing transparent manufacturing. Originally from the UK, designer snd OOTO founder Corrie Davie started out selling small collections while she was travelling Australia, at Melbourne Markets, then while on the road through India and Bali, and European festivals. OOTO grew into a festival mainstay developing a dedicated fan base, thanks in large part to a family of tailors in India OOTO has worked with since the beginning, whose business has since tripled in size.
OYO Skincare
OYO is an intimate skincare brand founded by sisters Leonie and Lisa Gisin in 2021. The brand creates natural, effective and sustainable products for pubic hair and skin while promoting self-love and body-positivity – because we shouldn't be suffering our bikini line woes in silence.
P.E Nation
P.E Nation is a brand name synonymous with great designs and quality activewear. Fresh, functional and all with a tomboy twist, P.E Nation's retro-inspired pieces were made for sweaty HIIT sessions, CrossFit - or living that urban lifestyle. The female-founded brand launched in Australia in 2016 by founders Pip Edwards and Claire Tregoning, and has gone from strength to strength ever since, with celebrity endorsements and collaborations aplenty. But who could be surprised, when the designs are both cool, unique and functional?
Pawnshop
Founded in 2020, Pawnshop is an independent fine jewellery brand specialising in 100% certified recycled sterling silver, gold, and vintage jewellery.
Peachy Den
Peachy Den is a female-led fashion brand, designing clothes for women who dress for themselves. Designed for daily life and all its natural shifts, Peachy Den celebrates the intersection between slinky sensuality and plush comfort. Peachy Den items are made from fabrics that prioritise movement and comfort while being flattering for all body types – because body confidence should not come at the expense of feeling comfortable.
Popmask
Popmask is a female-founded and run business created in 2012 when founder Louisa Booth wanted to find a softer, kinder alternative to harsh, traditional hair ties for herself and her daughters, and came up with her simple stretch designs. Since then, Louisa and her team (which includes her family) have made it their passion to design and develop exciting, practical and fun everyday products to help you through the ups and downs in life.
Puori
Clean, natural and third-party tested, Puori breaks the mould when it comes to supplementation. The brand launched in 2009, with the intention of creating a fish oil supplement without the gross aftertaste; enter Puori 03 - the brand's iconic Omega 3 supplement. Now, of course, the brand has a larger offering, but they all have one thing in common: they're created with purely natural ingredients
Sculpd
Discover Sculpd's range of home craft kits for beginners and DIY creators. The brand is bringing the joy of crafts into people's homes, without the need to visit a studio. That could be with one of their pottery kits, which includes everything you need to make a vase or plant pot, or a canvas painting kit which includes everything you could need to create stunning artwork for your home.
Seol + Gold
Established in 2016, Seol + Gold is a brand that blends luxury with fun, for jewellery that you'll love and will last. Their designs are all about stacking and layering, which is why they've created products that are affordable; so you can buy a whole look rather than just one or two pieces.
Shrimps
Shrimps is a female-founded, cruelty-free fashion brand. Launched in 2013 by Hannah Weiland, Shrimps initially captured the world's attention with vibrant faux fur outerwear, introducing the material to the luxury sphere and leading the conversation on cruelty-free fashion. Since then, Shrimps has grown to include a full ready-to-wear offering and is renowned for its joy-suffused prints and hand-made accessories.
Spiritual Gangster
Modern-meets-ancient American label Spiritual Gangster started with a t-shirt, and has expanded into a range of yoga, activewear and loungewear. Inspired by yogis, athletes, artists and musicians worldwide, and founded by yoga teachers, Spiritual Gangster's collection is designed for everyone - whether they're looking to lounge at home or practise their downward dogs.
SURI
SURI is reinventing the electric toothbrush. The brand believes our daily rituals should be in harmony with the planet, and is tackling the mass of toothbrushes that end up in landfill or our oceans. The brand's brush uses recyclable plant-based heads and bristles - its slim aluminium body is designed to be taken apart and repaired, all while delivering a dentist-approved clean.
San Wellness
Sān Wellness is a Black female-owned, vegan, gluten, GMO and cruelty-free, science-backed, whole-body wellness brand. Specialising in nutritionist-backed, vegan food supplements, formulated for women of African Heritage and developed using African Superplants, Sān Wellness creates self-healing essentials that promote physical, mental and spiritual wellbeing from the inside out.
Teapsy
Teapsy makes tea drinking fun, thanks to their cute branding and delicious flavours. The brand, from Jakub and Martyna, was created with a view to reshaping the tea industry and bringing something new to this traditional drink. Teas are vegan and eco-friendly, and come in a range of enticing flavours – from Pink Rodeo, made with caramel, rhubarb and raspberries to Picnic, which is hibiscus, lemongrass and strawberry – and are designed to bring a lift to your daily tea break.
The English Difference
The English Difference Knitwear Collection fuses vintage sportswear elements with traditional knitting techniques for a modern take on knitwear. Made in the heart of the Midlands, the brand encapsulates the defining aspects of British culture with old-school manufacturing at its epicentre. Made from fine Italian cotton yarn, the garments are made on loop wheel machines, a technique usually associated with vintage sweatshirting. The result is a distinctive new hybrid of sportswear-inspired knitwear - shoppers can expect bright, boldly coloured knitwear and accessories that are designed to stand out. Whether it's a clock colour cardigan, striped beanie hat or merino wool vest, everything from this collection is built to last.
The Upside
The Upside Sport is made to elevate your performance (and you'll look good in the process). This sophisticated, fashion-forward brand has a celebrity following as long as your arm and a refined style that looks just as good at brunch, as it does at bootcamp. With its technical fabrication and premium designs, it's the unique activewear you've been looking for. Swap plain black leggings for leopard-print styles, or switch your sports jumpers for cosy, oversized styles that look equally good with jeans.
Tresor
Tresor is an independent British jewellery brand creating high quality yet affordable jewellery. With chunky, edgy and slightly odd designs, Tresor's stainless steel products are water-safe and durable.
Varley
Varley is a performance fashion and wellness brand for the modern woman. Drawing inspiration from London and LA, they create collections that are highly technical in nature with an elevated, yet understated aesthetic. Each collection is designed for how we move and live and they create products that women will come back to time and time again - so you can expect stunning pleated tennis skirts, gilets designed for extra warmth, incredibly soft high-waisted leggings and easy-to-wear pullovers. Everything looks great, and makes a style statement - so much so, that it's cute enough for everyday wear, too.
Veja
On a mission to create ultra-cool trainers with eco-conscious innovations as standard, discover Veja. It's a brand that oozes minimalistic, street-style appeal, utilising wild rubber sourced from the Amazonian rainforest and 100% organic cotton grown by farmer's associations in Brazil and Peru in its wearable styles. The easy-to-wear, simple styles are instantly recognisable, and if you're yet to get on the Veja trainers hype, now's your chance.
VUSH
You've probably heard of VUSH. An inclusive wellness brand changing the conversation around sexual wellness, they're giving health and wellbeing a well-deserved makeover. With a range of products that's empowering high-quality, fun to use and aesthetically beautiful, VUSH is for anyone who's ever felt shame about their body, and all those who prioritise wellness and self-care above all else.
Welleco
Co-founded by supermodel Elle Macpherson and Andrea Horwood, WelleCo elixirs are dietary supplements designed by leading nutritional doctors using carefully formulated ingredients derived from whole foods. So you can expect super elixirs in various flavours (to suit your personal tastes), designed to increase your daily dose of whole foods, vitamins, minerals and probiotics – in other words, to give your body the boost it needs and help enhance energy, improve gut health and boost your immune system. Of course, as a brand designed with everything in mind, products are vegan, gluten-free and contain no added sugar.
Products are selected independently by our editors from the woo online store, a carefully curated platform for feel good fashion, beauty, wellness and lifestyle, as well as externally. Items on sale are subject to change pending stock availability. Discover more here.