See a dazzling rainbow over the world's largest waterfall, Iguazú Falls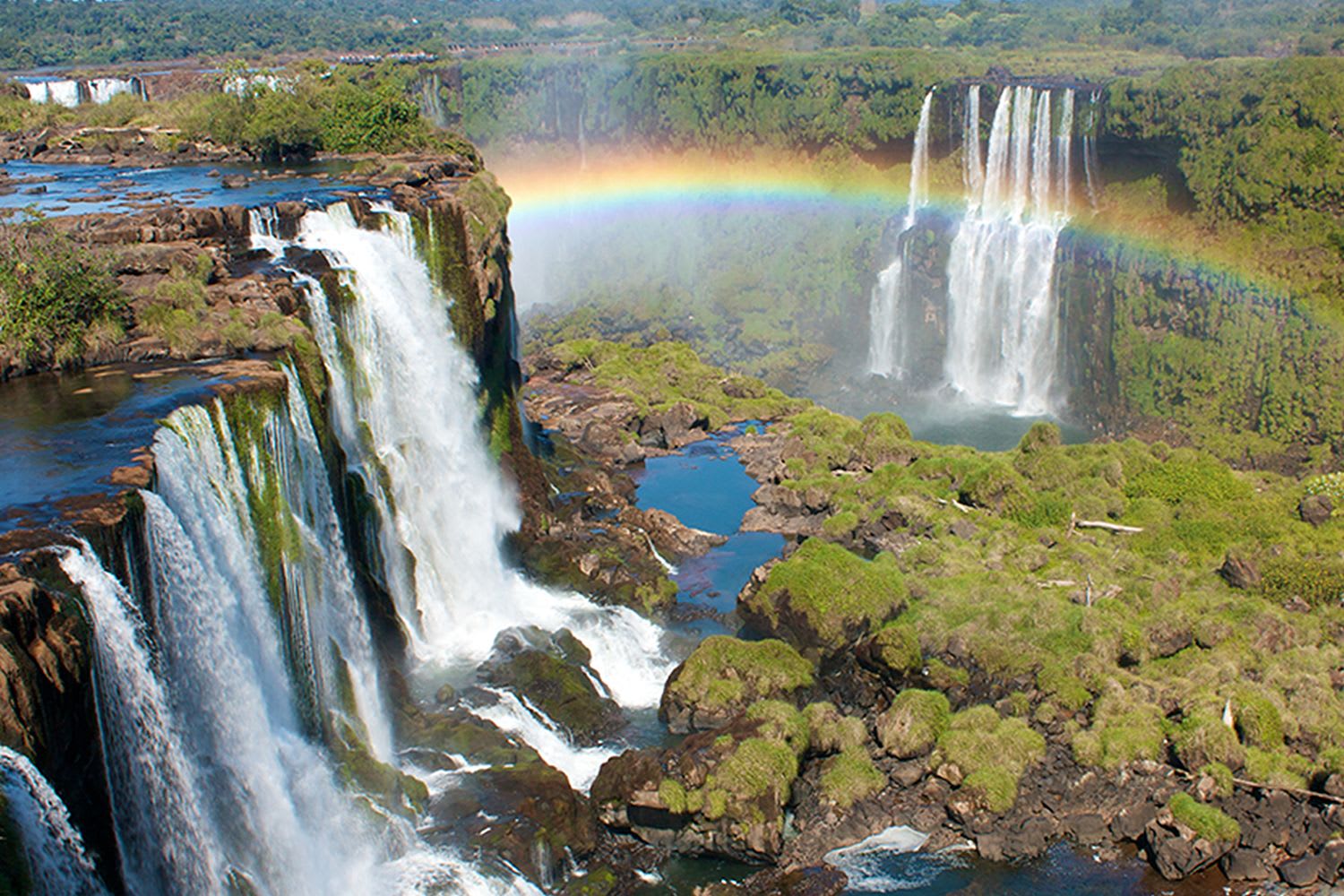 The crashing waters sit on the border of Argentina and Brazil
image Fabiano Rebeque / Getty
words Lucy O'Brien
Welcome to Wanderlust Wonders: each week we'll be cleansing your feed with a feel-good snapshot of somewhere beautiful, both in and out of this world.
Today, we're taking you to Iguazú Falls, which sits on the border of Argentina and Brazil.
What am I looking at?
On the border of these two South American countries sits a beautiful natural landscape: the waterfalls, hills and cliffs of Iguazu Falls. The steep ridges of the Falls separates the Iguazu River into upper and lower regions, which together make up the largest waterfall system in our world. This natural wonder resides on the border of the Argentine province, Misiones, and the Brazilian state of Paraná, and is often seen with overarching rainbows due to the heavy rainfall.
Tell me more…
This panoramic snapshot is more than just pleasing to the eye. For locals, the scenic environment also has a historical and spiritual significance. According to legend, an unnamed deity had plans to marry a beautiful local woman named Naipí, but instead she fled to be with her mortal lover, named Tarobá, in a canoe. In retaliation and filled with rage, the deity was believed to have sliced the river in half, condemning the lovers to an eternal fall and creating the staircase-like jagged waterfalls we know today. Dark but also kind of epic, right?
Is what I'm seeing under threat, and how can we prevent this?
Like any natural environment, mass tourism isn't always this body of water's greatest friend. There is also significant threat to the falls' ecosystem due to periodically low levels of water when dams enter their seasonal operations in the Iguazú River. The falls are shared by the Iguazú National Park (Argentina) and Iguaçu National Park (Brazil), and the pair have been named official UNESCO World Heritage Sites since the 1980s. The status continues to give the landscape a level of much needed protection; as the largest waterfall ecosystem on the planet, the surrounding rainforests are home to over 2,000 species of vascular plants and countless tropical animals - all of whom depend on the falls's waterways for life.
In an effort to conserve the abundance of life at the falls, the Argentinian park has prohibited helicopter tourism due to high air pollution and risk to interference with life, but the Brazilian park still offers this as an attraction. Thankfully, both countries make a conscious effort to regulate visitor numbers and keep emissions low as they enter the parks: Argentine access is provided by its rainforest ecological train, which can discreetly transport up to 150 passengers at a time to the top of the falls. Meanwhile, Brazilian authorities are aiming to create a more sustainable travel system, by providing large, free and low emission double-decker buses to its tourists and therefore discouraging travelling independently.
The best views from the grid
you are missing out on some content here because you rejected our cookies. want to change that?
you are missing out on some content here because you rejected our cookies. want to change that?
you are missing out on some content here because you rejected our cookies. want to change that?