How good is Erling Haaland? Let us count the ways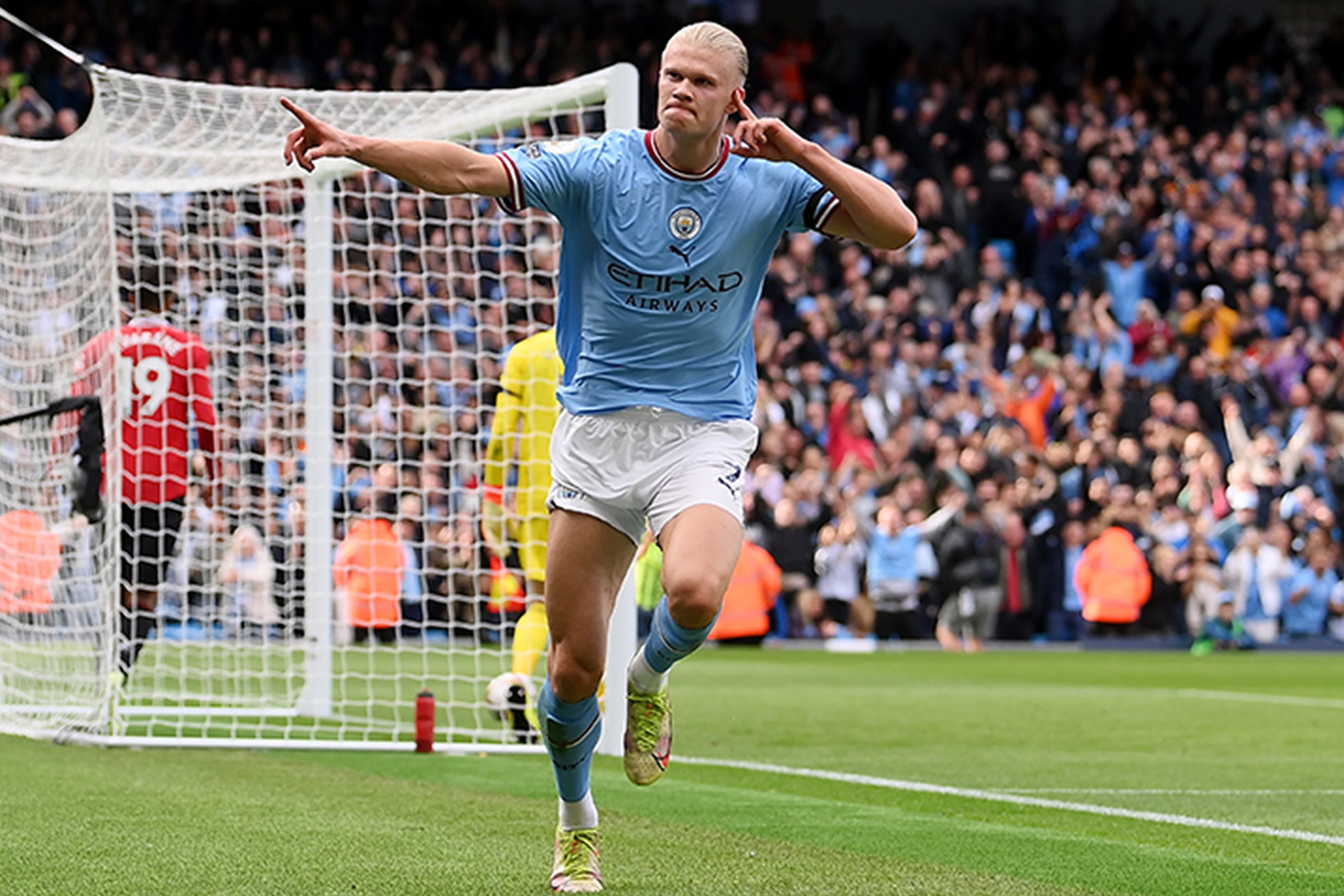 Following his hat-trick against Manchester United at the weekend, here's your lowdown on the record-breaking Manchester City striker
image Laurence Griffiths / Getty
words Rhys Thomas
Just in case you don't know his story yet, Erling Braut Haaland was born in Leeds on July 21, 2000. We love a northern legend, yes, but sadly he's as much of a Loiner as Kim Cattrall is a Liverpudlian and spent the majority of his childhood in Norway. Growing up, his mother was a national champion in the Heptathlon and his father was a professional footballer. Something of a nepo baby (but we'll let him off) Erling Haaland is also a professional footballer and he just so happens to be one of the best in the world.
Currently signed to Manchester City as a striker, he makes people who have been watching football since before he was born, shudder in fear. Football magazine Mundial describes him (respectfully and regularly) as "terrifying". Twitter and other social media platforms are full of people losing their absolute minds over how good he is. Machine, robot, and other beyond-human comparisons get thrown around a lot.
you are missing out on some content here because you rejected our cookies. want to change that?
But just how good is the 22-year-old, really? The modern Lionel Messi versus Cristiano Ronaldo debate is already Haaland versus French superstar Killian Mbappé, but is Haaland something bigger? Are we watching history in real time? Is he, possibly, the best player of all time? The numbers suggest he could be.
Erling Haaland's success, in numbers
Not to just rattle off a bullet point list of his achievements but, tbh, you've got to read this to believe it. In a recent game against Manchester United, Haaland managed a hat-trick and two assists (five goal contributions) while also breaking numerous records. He became the first player in Premier League history to score hat-tricks in three consecutive home matches, and the fastest player to get three hat-tricks in the league after doing so in eight games (the second fastest is Michael Owen who took 48 games).
And those five goal contributions we mentioned? They're the most involvements a player has ever had in the Manchester derby. The three goals also further cemented his position as the highest goal scorer in all of Europe this season too, five goals ahead of Barcelona's Robert Lewandowski.
We're not the only ones taking notice. That performance also earned him a perfect score from ​​L'Équipe, a French sports newspaper who are notoriously brutal with their player ratings. It's the 14th perfect score ever, and they've been rating players since 1988. It is quite frankly a ridiculously impressive set of accolades, and that's only the latest weekend in Haaland's career.
How does he compare to other footballers?
Don't believe us? Let's look at Haaland's greatest hits. According to the football information site Transfermarkt, in the 217 professional football games Haaland has played in for club and country, Haaland has scored 173 goals. This is an average of 0.8 goals per game. Messi averages 0.78, Ronaldo averages 0.71. Notably, on average, strikers peak at the age of 25, Haaland is just 22. At 22, ESPN reported that both Ronaldo and Messi had over a hundred fewer goals than Haaland.
you are missing out on some content here because you rejected our cookies. want to change that?
Signs of development are very much still present. This season Erling Haaland joined Manchester City. He has played 11 games for the club, and scored 17 times. The average there is 1.5 goals per game. In the Premier League specifically it's 14 goals in eight games, an average of 1.75 goals per game. For context, only five teams have scored more goals in the Premier League than Haaland on his own, this season.
Is there a physical reason Haaland is just so good?
How about we take this number-crunching a step further? Physically, Haaland is far taller than most players. The average professional football player is 5"11, and forwards (the position Haaland plays) tend to be shorter. But he's 6"5, which also makes him the tallest player in Manchester City's entire team. Height isn't necessarily an advantage, Messi is 5"7. But Haaland's general athleticism allows him to use his height to his full potential, it is a factor that has been responsible for some of his more impossible goals. Like the below, which he scored against his former club, Borussia Dortmund.
you are missing out on some content here because you rejected our cookies. want to change that?
A new world great?
And finally, do the numbers back up the hypothesis that he could be the best player of all time? Now it's time to step out of big data mode and get to thinking. The "best player" label is subjective, and likely always will be. Some people think 'best' is more to do with skill, others will say passing is more important than merely scoring. If we instead asked 'is he the best goal scorer of all time?' The answer, if he keeps up the averages, is that yes, he probably will be.
No pressure, Haaland!
Activewear for the winter
Bad weather, good workouts...