Everything you need to know about Glastonbury's Healing Field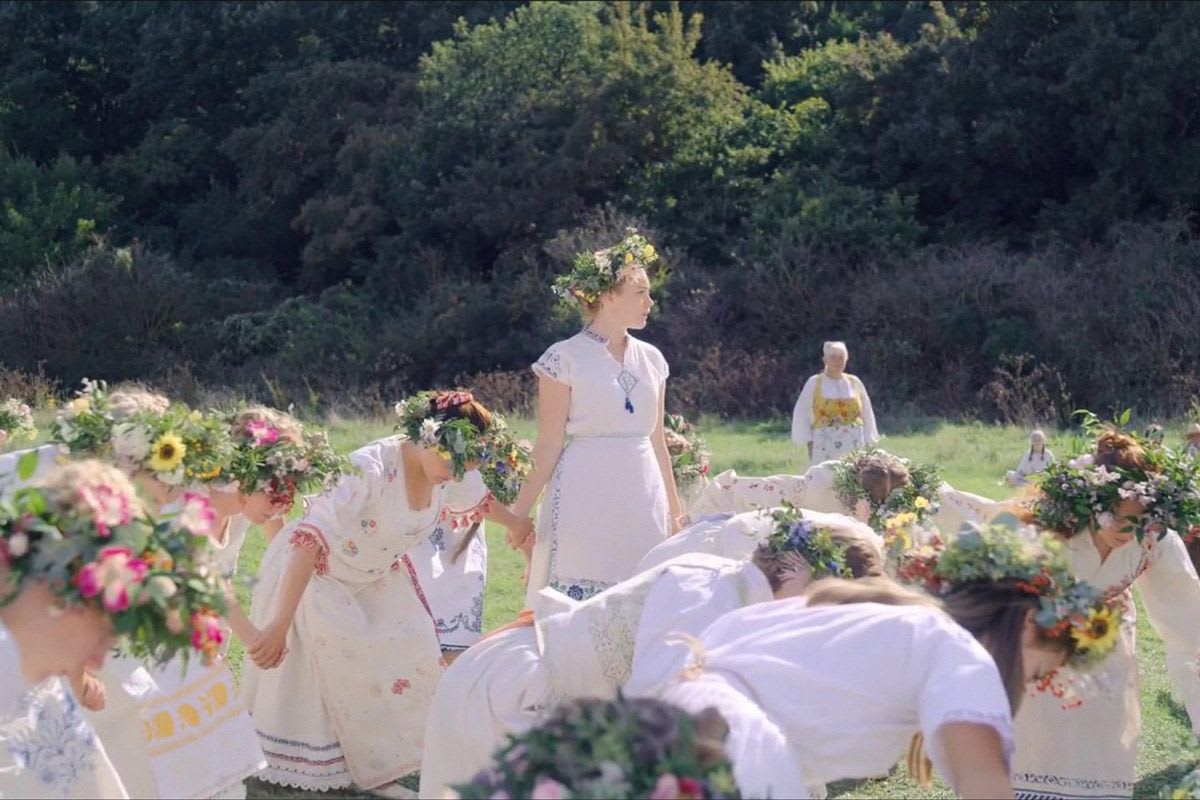 We sat down with the founder of Glastonbury's main stage for wellness to learn about the iconic part of the festival
image Midsommar, 2019, A24
words Rhys Thomas
Glastonbury, yes, it's time. Worthy Farm is about to open its doors again to roughly 210,000 people who will ascend onto that sweet Somerset soil and then proceed not to be quiet about having been at Glastonbury for maybe the entire summer (and who can blame them!) This year the festival line-up includes the likes of Lana Del Rey, Elton John, Lil Nas X, Fred Again, Lizzo, Aitch, Lewis Capaldi, Central Cee, and many (like, literally hundreds) more.
But of course, Glastonbury isn't just a festival. It's an ethereal wonderful spiritual place where all sorts of weird secrets lay and wonderful things happen (perhaps helped by the fact that Glastonbury is situated on mystical ley lines). And, while less of a secret than say The Underground Piano Bar (good luck finding this one!) the Green Fields might be one of the most unique places to spend some time at the festival, and specifically within them, the Healing Field.
While festivals may be associated with fun and general feral activity, the journey home a hazy, heavy-eyed and long winding road of comedowns and festival blues and memories, places like the Healing Field can actually leave some people feeling more energised leaving Glastonbury than they did when they arrived.
Intrigued? Of course. When it comes to the Healing Field (and the Green Fields generally) there are few people better to speak to than Glennie Kindred, a visual artist, author and founder of the Healing Field
How did the Healing Field begin?
Glennie: This derived from my involvement in the Norfolk fairs back in the early 1970s. Those were the fairs which all the festivals going on nowadays grew out of. A lot of people who were involved started migrating from Norfolk to Somerset and particularly Glastonbury. I was sort of pulled into that migration, and ending up in Glastonbury came by chance really.
The earliest Green Fields, which the Healing Field are now inside, happened back in 1983 or so. It was just some space way at the back of the festival site where we'd sit around a totem pole. Then I made a sort of garden there, with benches so people could sit and relax. People liked it, it was so different from the rest of the festival, and so in 1985 Michael (Eavis, the founder of Glastonbury who's been running it since 1970 when it was simply a 1,500-strong attendance who paid £1 each for tickets) gave us three fields at the top of the top of the site instead of one. I started running a healing area on that site, just because that's what I wanted to do. I'd been doing healing at Womad (an international arts festival founded in 1980 by former Genesis singer Peter Gabriel) and other public places beforehand. For the first healing area I was given five tickets for my team - there's now hundreds of volunteers - and a budget of £25 (just over £100 in today's money). I gave all of that to homoeopaths that year, and the rest of us just did whatever we could. There's some trees still there which we planted in those first years, almost 40 years ago.
There was no stone circle back then (while people may think it's an ancient pagan monument similar to Stonehenge, Glastonbury's stone circle was actually installed in 1992), nor a roadway connecting the Green Fields to the rest of the festival. In the early years, people had to go through car parks to get to us. It didn't start to take off properly until 1987 when Michael gave us an entire area, the Green Fields, and now you have Green Futures, the Greenpeace field, the Tipi Field and more, alongside the Healing Field. I ran the Healing Fields for a few years until I had babies but have been every year since.
How would you describe the Healing Field now?
Glennie: Well it's a bit easier to find us, there's a beautiful hazelwood tunnel you walk up. It's especially busy on Wednesday and Thursday before the main stages get going, but even on the muddiest years, our grass stays green. There's also no litter, we all take pride and put rubbish in the bin.
There's a very different atmosphere in the Healing Field compared with the rest of the festival. When I set it up, my overarching vision of it was to create a place where people could come and feel a sense of being in a healing place. And that isn't just about healers, but just to make a place where you could just relax, rest and take time out from the rest of the festival, which is always so mega busy and stimulating.
Today there's five gardens, one for each of the elements (earth, air, fire, water), and the spirit. And of course, there's the healers and a lot of workshops too, different ones in each section. For example, earth has massages and midwives, earthy healers if you like. The water garden, which is always awesomely beautiful with lots of water that everybody flocks to when it's hot, has the shiatsu people. The air garden is more dedicated to more spiritual groups. Fire has a big music circle, lots of gongs and sound healing.
What sorts of workshops and healing go on?
Glennie: There's quite a bit happening. Tai Chi, Qigong and yoga all happen in the morning, outside or in the big marquees depending on the weather. There's laughter workshops, sound healing, all kinds of massages, tarot, singing, live music, meditation, crystals, midwives talking about natural birth, herbal medicine, aromatherapy, the gardens, so much more. All of the healers are highly qualified and accredited. Back in the first year I was doing reflexology and footbaths and I had no qualifications. But it was a different world then.
When is the Healing Field open?
Glennie: We have the ceremony on Wednesday, around 4pm. It starts in the fire circle and we parade around into each of the other elemental circles. Each of those circles has a garden where we stand and have a song. It's very upbeat. The Healing Field closes late Sunday afternoon.
Glennie: Massages, which makes sense given you're walking around a festival all weekend and carrying bags and camping on the ground, but esoteric healers and tarot are popular and increasingly so. There are a fair few children too, it's a very safe place to bring children. My children went all through their lives and are still friends with people they would meet there every year now. You have all different generations at the Healing Field, people in their eighties even. It's like a family up there, people remember each other and look out for each other.
How does it feel to have played a part in creating this unique area of Glastonbury?
Glennie: It feels like arriving home every year to go there, and it's been such a huge part of my life. It's a lovely feeling.
What do you think the importance of keeping these sorts of healing based or spiritual ideas of a festival is?
Glennie: I am always heartened to see within all festivals there are healing areas, or healers working. There are so many festivals these days and it seems the influence of the Green Fields and the healing area continues to ripple out. I guess that's because it touches people's hearts and people's sense of what feels good. It's all about feel good, isn't it? All festivals are about feel good.
I find these spaces allow you to feel strong and healthy and good in your body self. Not drug induced, it's a different kind of high. And maybe they don't call them healing areas elsewhere because maybe that's too 'woo woo' you know, but they are there.
Glennie: Wellness to me is a place in the heart, because if your heart is well, if you're feeling peaceful and full of love and kindness, that's being well. And that spreads out from you, and it comes back to you. I think being in nature too, that makes us feel well. There's an energy that comes off the plants, and especially off the trees that touches us without us being able to put a finger on it. And camping close to the ground too. Festivals provide all of that. Festivals also give you an experience of community, you make new friends, share things with strangers. It's a fantastic environment to be in. Even when the conditions are hard and it's raining.
What are your favourite things to do in the Healing Field?
Glennie: The laughing workshops are always my favourite, you can't believe how much you laugh at nothing. You're just laughing because everyone's laughing, and you can't stop, you really just end up laughing so much. They're an absolute food, so they're great. But there's lots of lovely workshops going on. I love to go to the music space in the earth area, the music there is just superb. You can sit on a bench and take it all in. Everything in the earth garden is edible or medicinal, too.
I also always go to have a massage and see a nutritionist to check on my diet. I try to see various healers that maybe I wouldn't get the chance to where I live. Finally, I love the gong. It's very very powerful. And you don't need any drugs or stimulants for that, you get high without them.