Florence Pugh wants her characters to eat, dogs can be right or left pawed, and more great news from this week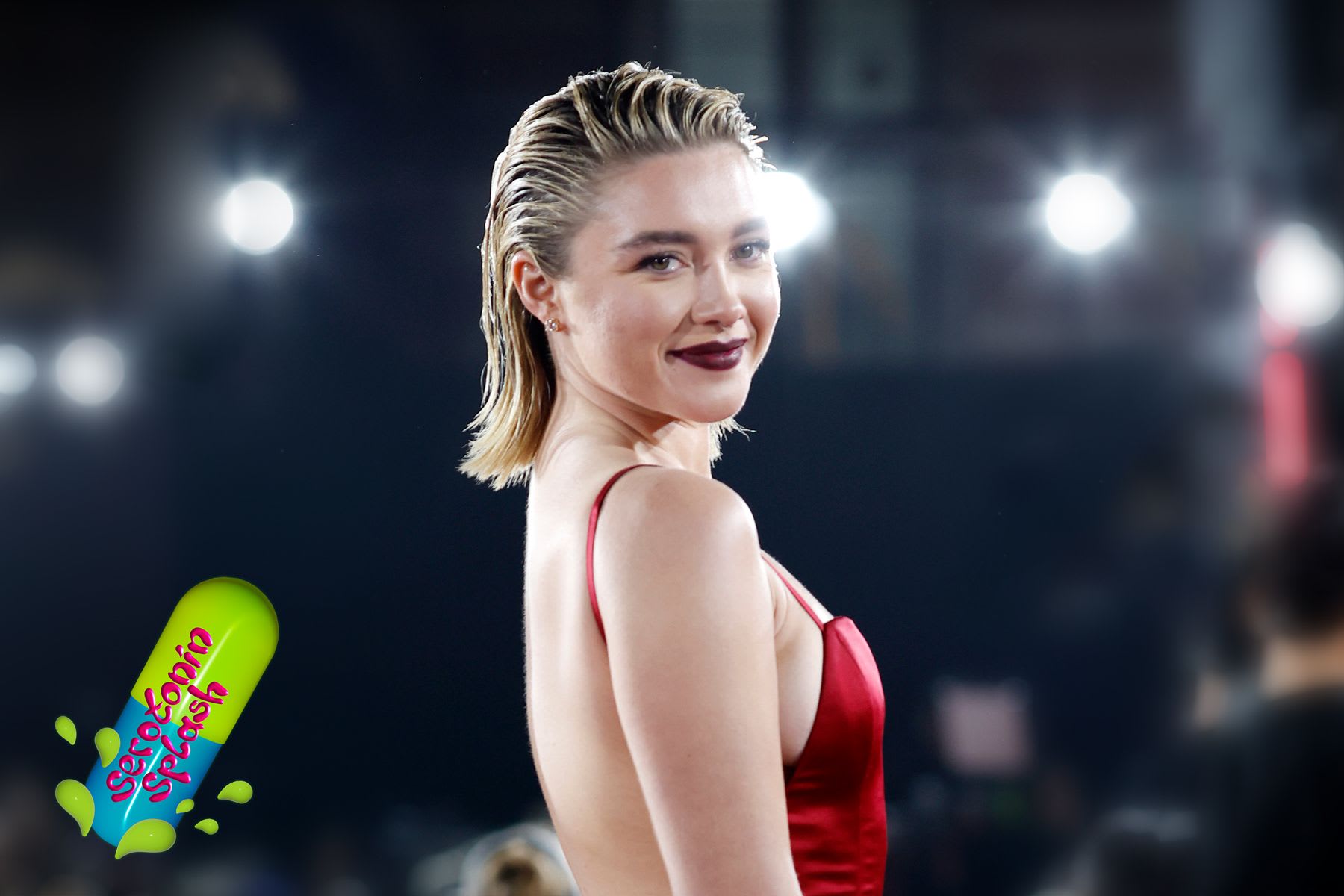 Just a bunch of good news to end your week on...
image John Phillips/BFC / Getty
words Rhys Thomas and Lucy O'Brien
you are missing out on some content here because you rejected our cookies. want to change that?
People news
Florence Pugh has said that she aims to underline misogynistic and/or unrealistic approaches to the mental and physical aspects of characters she will play. She told Vogue "I'm never losing weight to look fantastic for a role," Pugh says. "It's more like: How would this character have lived? What would she be eating?"
Finn Wolfhard has released a song under the name Ziggy Katz, the fictional musician he plays in the new A24 production When You Finish Saving the World, which premieres January 20, 2022. The song is called Pieces of Gold, and you can listen here.
Keith Lee is a MMA fighter who first took to TikTok in order to overcome his social anxiety and fear of public speaking. Recently, he has started posting restaurant reviews on there, focusing on small restaurants that are financially fighting for survival themselves. One restaurant called Frankensons grew its following from 2000 to 70,000 in a day after the video, and had a huge queue. Nice one, Keith.
What have you always wanted to be since you were a little you? A dancer? A singer? Actual Jennifer Coolidge? All solid options. But what did eternal legend Jennifer Cooldige herself want to be? Well, she wanted to be a dolphin. She said so at the Golden Globes!
you are missing out on some content here because you rejected our cookies. want to change that?
Culture news
Sometimes it feels like the only thing that can push us through those January blues is slowly but surely discovering what the summer party season has in store for us. Luckily for us, the 2023 Coachella lineup has been announced! Some notable mentions go to headliners Frank Ocean, Rosalia, Gorillaz, Ashnikko, Fisher and Burna Boy.
So it seems we are all in our feels recently, what with the sad pop music renaissance and all, and 2023 will be no different. Gracie Abrams just announced that her debut album, Good Riddance, will drop on 24 February, and we're counting down the days. The first song from the album, titled Where do we go now?, dropped today! Happy Friday indeed. Emotional hotties, your 2023 anthem is on its way.
Swifties, rise up. In what might look like the most unlikely of collabs, our bestie Taylor Swift debuted the first live performance of her ~absolute banger~ of a single, Anti-Hero at a 1975 gig in London. Screams and shock filled the O2 Arena as she delivered an ethereal, heartfelt acoustic rendition of the ballad, and it's safe to say the surprise appearance will now be living in our heads rent free. Quite the opening act, Matty!
If you thought we couldn't love Rihanna anymore, you were wrong. Everyone's fave R&B singer has just released a teaser of her Superbowl halftime show, and people are losing their minds. Set to make her (extremely) long-awaited live comeback at the infamous Superbowl performance on 12 February, this new teaser reminds us that we are, in fact, not ready for this cultural moment.
Serial dater and chicken-nugget enthusiast Amelia Dimoldenberg hosted the red carpet at the Golden Globes, and the result was the Amelia x Andrew Garfield interaction we didn't know we needed. The pair are seen to have an endearingly awkward flirt, talking about the compatibility of their astrological signs. Do we see a chicken shop date on the horizon?
Community fans will finally get the cinematic ending to the seven-season long comedy series that they've been waiting for. Announcing it on Jimmy Kimmel Live, Joe McHale confirmed that the series will have a film to round off the franchise, which will begin filming in June later this year.
you are missing out on some content here because you rejected our cookies. want to change that?
Science / climate news
The UN has decided that the ozone layer is on track to recover by 2066. A hole was first discovered, or at least suggested to exist, back in 1985. The idea of recovery within the next 43 years is possible provided we keep up measures to protect the upper stratosphere.
A macrocyclic compound is a form of supramolecule. They're really stable molecules. But anyway, this particular one is called P6AS at the moment, and it's showing signs of being able to snare (or trap) a huge variety of drugs molecules and change their state, in order to prevent overdoses. It's a bit complex, but basically: a new drug could potentially reverse overdoses from a large variety of drugs that currently don't have a reversal agent or antidote.
Researchers at the University of Cambridge have developed a solar-powered system that can convert CO2 and plastics into syngas, which is used in sustainable fuel, and glycolic acid. Apparently if they change the element which causes the reaction, they can make other fuels also. So it's using clean energy sources to recycle into sustainable fuel, super cool!
In the Brazilian Amazon, there's a controversial network of dams, reservoirs, and power stations called Belo Monte. It's a hydroelectric project which began operation in 2016. Scientists are trying to research how harmful the dam is to the environment, to make a case for its removal (they suspect it is the cause for millions of fish dying, and the biodiversity in the area being disrupted). Indigenous people have decided to start helping the scientists with their work.
Researchers including some associated with Universidad de San Carlos in Guatemala have discovered a 2,000-year-old Mayan settlement underneath a Guatemalan rainforest – and it's absolutely massive. Roughly 1,000 urban areas are within it, stretching over an area of about 1,700 square kilometres, which means it's bigger than London!
NASA's James Webb Space Telescope has discovered a planet for the first time, and coincidentally, it happens to be more-or-less the same size as our planet. The detail allows us to see this is a rocky planet and doesn't have a thick methane-heavy atmosphere like Saturn. The hope is we'll be able to see many more planets through the telescope soon. This one is over fifty trillion miles away.
you are missing out on some content here because you rejected our cookies. want to change that?
Health and wellness news
Scientists have developed something called cyborg cells. They're a sort of hybrid cell which is capable of functioning exactly as natural cells do, but they also borrow the durability and resilience of synthetic cells. The combination means it might be possible to accelerate research in areas where cells dying or not working properly has held science back.
In a study on mice, the University of Groningen has shown signs of being able to recover forgotten memories days later, and they have two methods of doing so. One is by activating select brain cells, and the other is using a drug typically used to treat respiratory and lung issues like asthma and chronic bronchitis. It's specifically counteracting memory loss due to sleep deprivation, apparently. So lost memories could still exist inside us, we just don't know how to access them yet.
In huge news for people with type one diabetes, the NHS has given the greenlight to using artificial pancreases to help treat the condition. It works by placing a sensor in the skin to measure glucose levels, and then AI is used to administer the correct amount of insulin into the body. People with type one diabetes are unable to produce their own insulin. This means doses can be immediate, accurate, and convenient.
A study at Ohio State University has found that performing acts of kindness can help to reduce depression. Essentially the study split people into two groups, one group did cognitive behavioural therapy (CBT) and the other was asked to do a few kind things for others a few days a week. The latter group showed the largest improvement within ten weeks. Of course, further study would be needed to see how effective the treatment is for depression in a holistic sense.
In the UK, all new homes now have to be built with the infrastructure and connections required to achieve a Gigabit internet connection. The costs will be capped at £2000 a home, so it won't cost the developers too much, and it means anyone who moves into a new home will have a form of internet connection in place!
Animal news
you are missing out on some content here because you rejected our cookies. want to change that?
You've always wondered, haven't you. Are dogs right or left pawed? Roughly 90% of humans are right handed. Men are three times more likely to be left handed than women are. We didn't realise animals had a dominant hand until recently, but we now know. Female dogs tend to be right pawed, male dogs tend to prefer their left.
Lar gibbons have been observed singing in harmony with each other (both in terms of the notes and the rhythm) which is something, again, we only really thought humans did and one type of lemur in Madagascar knew how to do. Apparently Gibbons use it as a form of social bond, as well as marking territory (which suggests they make their own songs!).
The tyrannosaurus rex was knocking about with its little arms and big giant teeth 65 million years ago. But we can always learn more about things, and new research published in the Journal of Comparative Neurology has discovered that the T-Rex might have been as intelligent as a baboon, which would have made them the primates of their time based on what we currently know.
Anole lizards in three different Puerto Rico cities have independently evolved in ways that are helping them adapt to and survive living alongside humans and urban environments. The genetic mutations are slightly different across the three groups of lizards, and include changes to immune function, limb, and skin development.