Kim K taps British music girlies and Ice Spice for SKIMS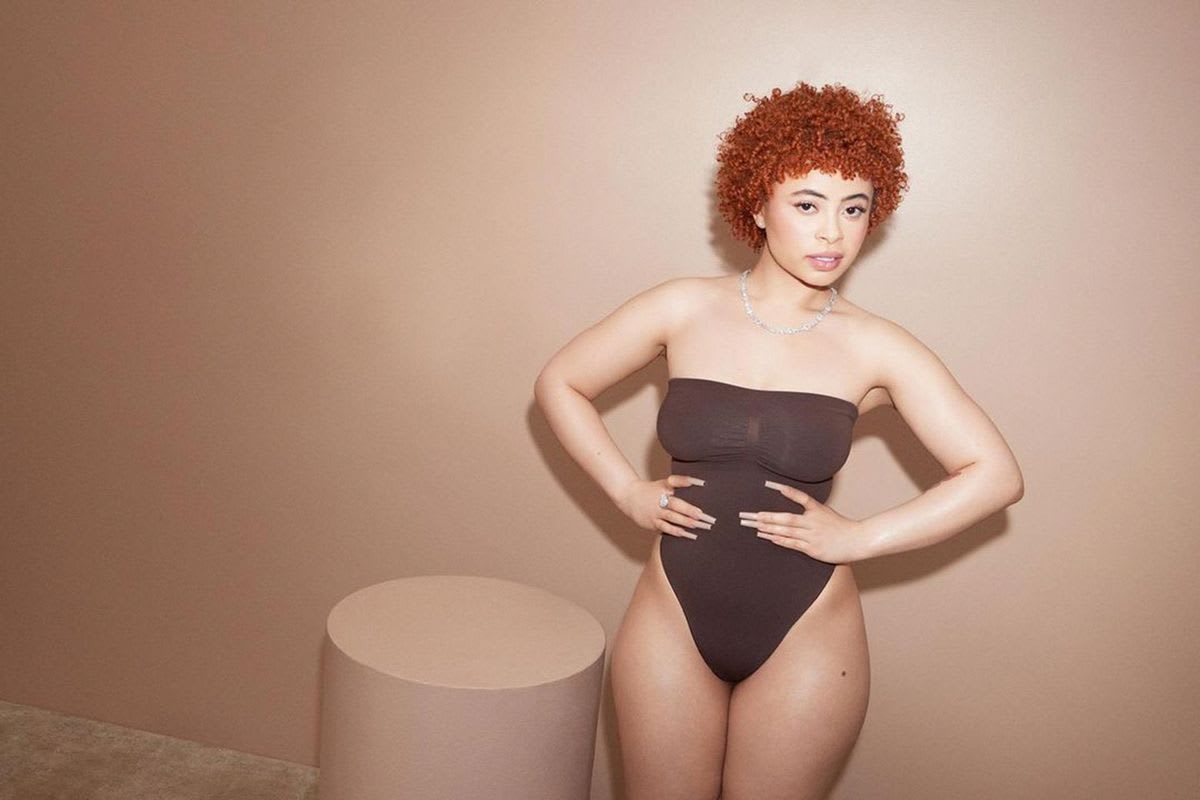 Plus announcing the Woolmark Prize finalists, Pharrell's colourful adidas Originals, a Vivienne Westwood corset exhibition and so much more
This is not a drill! There's just three days to go until the Met Gala, aka the Super Bowl of Fashion. Right now, your head is probably filled up with ideas about who's going to wear what and how you're going to pull off an all-nighter to see the celebs as they arrive, but there's still plenty of fashion news from this week to hear about first. Today, we're bringing you PinkPantheress, Ice Spice and Raye in the latest SKIMS campaign, the young, conscious fashion brands who make up the finalists of this year's Woolmark Prize, Pharrell's new dopamine-boosting adidas Originals and SO much more! Here's all the feel good fashion news from this week you might have missed.
PinkPantheress, Ice Spice, Raye and Nessa Barrett team up for SKIMS
you are missing out on some content here because you rejected our cookies. want to change that?
We have a feeling Kim K's Spotify Wrapped is going to look very similar to ours this year. Last month, SZA was announced as the new face of her shapewear brand, SKIMS. Now, PinkPantheress, Raye, Ice Spice and Nessa Barrett show off the Everyday Sculpt Collection in a new campaign. Shot by renowned Italian artist Vanessa Beecroft, the understated imagery showcases a new range of lightweight, neutral bralettes, thongs, bodysuits and more. Because even viral superstars need comfy undies. Check out the collection here.
Robyn Lynch, Paolina Russo and A.Roege Hove are among the 2023 Woolmark Prize finalists
you are missing out on some content here because you rejected our cookies. want to change that?
The International Woolmark Prize is one of the most sought after awards for emerging fashion talent. After all, winners are in good company. During the 1950s, a young Yves Saint Laurent and Karl Lagerfeld won earlier iterations of the award while Giorgio Armani, Donna Karen and Ralph Lauren are also among past winners. Meanwhile, more recent recipients include rising stars Saul Nash, Matty Bovan and Richard Malone. The 2023 roster of finalists was announced earlier this week with a short film starring British musician Loyle Carner alongside artist Joan Jonas and actress Taylour Paige to showcase the shortlisted designers' work.
This year's eight finalists, announced earlier this week, are Robyn Lynch, Paolina Russo, A.Roege Hove, Bluemarble, Lagos Space Programme, Marco Rambaldi and Rhude. These designers will showcase the beauty, versatility and eco-credentials of Australian Merino wool with fully traceable garments that add transparency to the supply chain. The winner will receive AU$200,000 (£105,000)vand the opportunity to have their collections stocked by global leading retailers.
Pharrell's new adidas Sambas welcome spring in style
you are missing out on some content here because you rejected our cookies. want to change that?
While we wait patiently for Pharrell's debut Louis Vuitton Men's collection to show in Paris this June, fashion's fave it-boy has been busy cooking up a colourful new collection of adidas Sambas. The collab pre-launches this weekend exclusively at Something In The Water Festival in Virginia Beach. The lilac, orange, red, yellow and pink colourways arrive just in time for spring. And, made using ECCO leather's water-saving tanning technology, the new Sambas save 20 litres of water per hide. The collection will be released globally on 6 May on the adidas Confirmed app and Pharrell's own brand, Humanrace.
Strap in for Vivienne Westwood's corset exhibition
you are missing out on some content here because you rejected our cookies. want to change that?
Coquette girlies rise up! It's time to strap in for Vivienne Westwood's corset exhibition. The late designer's iconic fine art print corsets are on many a fashion wishlist, but if you're still saving up your pennies to make the splurge, check out the new exhibition in the meantime. 'Vivienne Westwood Corsets: 1987 to Present Day' tracks the history of Westwood's subversive corsets, situating them in the context of historical dress, culture and fine art. It shows how she transformed a traditionally restrictive garment into a symbol of empowerment. A collection of limited edition corset inspired jewellery has been made to accompany the show, available to buy online and in Vivienne Westwood boutiques. The exhibition is showing on 8- 14 May at the Conduit St. Vivienne Westwood boutique as part of London Craft Week.
Kim K's luxe date with Choupette
you are missing out on some content here because you rejected our cookies. want to change that?
A vibe shift has been brewing and consequently, rumours are circulating that the Kardashians won't be invited to this year's Met Gala. Well, this week, Kim put those rumours to bed – literally – as she snuggled up with Karl Lagerfeld's pet cat Choupette. Yes, that's the cat Lagerfeld left £1.3 million to in his will. Kim also shared a photo of her looking at a wall of the designer's archival sketches. Given that last year, she wore the Marilyn Monroe dress to the Met, it will be hard for Kim to outdo herself, but with access to Lagerfeld's vast archive for brands like Chanel, Chloe and Fendi, she can give it a try.
Valentino teams up with 1 Granary and launches vintage swap shops
you are missing out on some content here because you rejected our cookies. want to change that?
Valentino's secondhand initiative, Valentino Vintage has taken over vintage stores in London, Paris, Seoul, Milan, Tokyo, New York and LA. Customers can bring their preloved Valentino pieces to the store and swap them for a new design. In London, Valentino teamed up with Rellik, the iconic designer vintage store which opened in Kensington in 1999. Valentino has also partnered with 1 Granary to provide global fashion students with archival Valentino pieces to inspire their own design process.
Matthieu Blazy proves he's just like us with a Kate Moss fanzine
you are missing out on some content here because you rejected our cookies. want to change that?
Bottega Veneta's Matthieu Blazy might be a magician when it comes to leather, but his latest project proves that deep down he's just like us. "Kate Moss was my first Google search," he said speaking of the fanzine dedicated to the supermodel that he released this week. "She's the first photo to be printed on the family printer. She was my first." Kate Moss continues to be endlessly captivating – the #katemoss hashtag has a staggering 1.4B views on TikTok where fans share '90s runway montages and rare interview clips. Blazy's fanzine features scans from his own personal archive of Moss's most iconic adverts, paparazzi pics, magazine covers and a sketch Blazy recreated of one of her British Vogue covers. It's an ode to teenage obsession and Blazy hopes it will evoke a "childlike sense of wonder." You can pick up a copy for free at your nearest Bottega Veneta store.