can I kick it? CSM and Dr Martens team up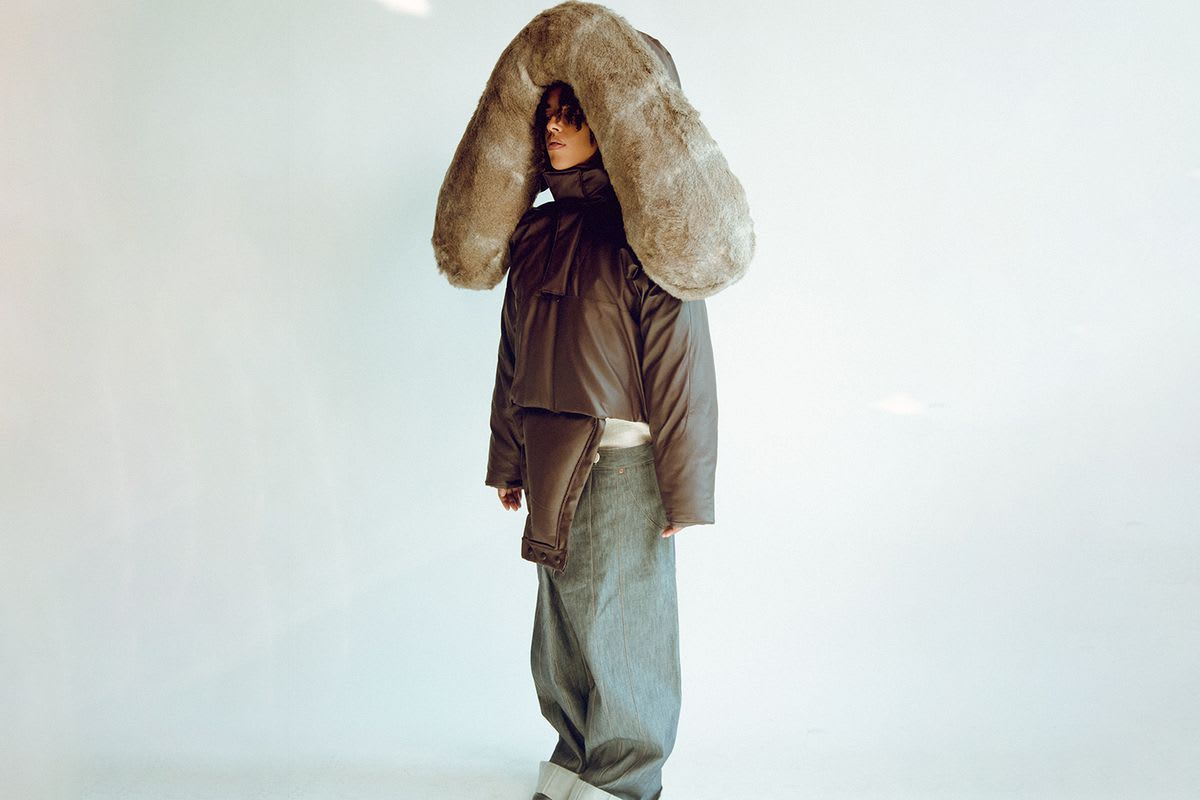 Plus Kendall Jenner's in her horse girl era, Sustainable Fashion Week returns and more feel good fashion news
image Images courtesy of Dr Martens
words Sophie Lou Wilson
you are missing out on some content here because you rejected our cookies. want to change that?
In terms of student fashion collabs, there's surely no better match than Central Saint Martins and Dr Martens – aka the two coolest ~Martins you know. The world famous fashion MA course has teamed up with the iconic British footwear brand to create a series of avant-garde boots made for stomping. As part of the collab, students reimagined the famous 1460 boot that first hit the street in 1960 to quickly became a symbol of subculture, creativity and self-expression. The results are as wild as you might imagine. From deconstructed Docs to pairs covered in lace or customised with zig zag wiring, imaginations run riot. Toes are squared off and velvet laces are woven through leather while one pair even features a giant clownish point extending from the toe.
Nine participants from the MA course were selected by the judges earlier this month – Atli Alfredsson, Joyce Bao, Druv Bandil, Yanya Cheng, Alvaro Martinez, Valeria Pulici, Maximilian Raynor, Traiceline Pratt and Finlay Vincent Roberts – and the four winners will be announced next February. Each winning student will have prototypes of their designs produced by Dr Martens and showcased with a look from their final collection at their graduate show or installation as part of London Fashion Week, as well as being awarded a £5,000 bursary to help develop ideas during the final term of their MA course. Hear more about the project here.
Sustainable Fashion Week to return this September
you are missing out on some content here because you rejected our cookies. want to change that?
The UK's original Sustainable Fashion Week is set to return this September with two weeks of workshops, markets, debates, film screenings and more. This season will celebrate every pre-loved, secondhand, handed down, reworked and reworn. The schedule of community programmes taking place across London, Manchester, Cardiff, Bristol, Brighton, Bradford, Plymouth and Frome include sewing workshops, zero-waste pattern cutting and clothes swaps. Sustainable Fashion Week founder Amelia Twine said via press release, "We see a sustainable fashion system as one that is low impact, based on a culture of exchange and fuelled by collective action. We hope to see new models of fashion emerge, where we swap, share, fix and reuse items to keep garments out of landfill and remain in circulation."
With fashion industries around the world waking up to their toxic impact on the environment, designers are increasingly looking for ways to produce collections more consciously. Last season, Copenhagen Fashion Week introduced 18 sustainability targets for any designer that wants to be on the official schedule, including ensuring at least half of the collection is made from materials that are certified, upcycled or recycled. In London, young designers like Ahluwalia, Ancuta Sarca and Conner Ives work primarily with upcycled and recycled materials while the BFC have mapped out Minimum and Bronze standards for sustainability for their NEWGEN participants in line with the UN's 2030 Agenda for Sustainable Development Goals. The next Sustainable Fashion Week will take place from 25 September to 8 October. Explore the schedule here.
Kendall Jenner is back in her horse girl era for Stella McCartney
you are missing out on some content here because you rejected our cookies. want to change that?
What is it about nepo models and loving horses? Like rich girls at school, rich girls in fashion love to flex their equestrian hobby. Bella Hadid recently wiped most of her Instagram posts and shared a series of snaps and vids of her with her beloved equine friends. Now, Kendall Jenner, who used to dream of becoming a professional horseback rider, has headed back to her equestrian roots for Stella McCartney's AW23 campaign. Shot by Harley Weir amid France's sprawling Camargue Salt Flats, the model is at ease surrounded by white horses, contorting her body into yoga poses or lying naked atop a white horse except for over the knee cow print boots and a matching handbag. "I knew this season's Stella girl had to love horses as much as I do," says the famously fur-free designer of her latest collection. "Kendall has been riding since she was a kid, just like me, and has her own ranch; you can see how at ease she is around these sensitive creatures and them with her." See the full campaign here.
Jog on! Our Legacy x Satisfy is the ultimate running collab
you are missing out on some content here because you rejected our cookies. want to change that?
We can't all look like TikTok running influencers when we run, but with Satisfy's Our Legacy WORK SHOP collab, we can at least look a little bit more stylish. Everyone knows the first step to becoming a runner is splashing out on a new workout wardrobe, right? Sleek and chic with optimising techy features, with this collection, you can run good, look good and feel good. Landing at Dover Street Market today, the capsule features windbreakers and shorts in water repellant salt treated ripstop and Satisfy's AuraLite four-way stretch running tops in muscle tee and short sleeve form. The collection also includes a limited series of the REPOSSESSED MARATHON tees and vintage marathon tops up-cycled with Our Legacy WORK SHOP reflective prints and Satisfy finishing. The right running wear can make training for that half marathon that little bit easier. Well, it will still be hard, but at least you'll look cool while doing it. The collection is available now on Our Legacy and Satisfy's official sites as well as in-store at Dover Street Market London, Ginza, New York and Los Angeles.