Clifford Prince King on capturing the legacy of his queer, Black ancestors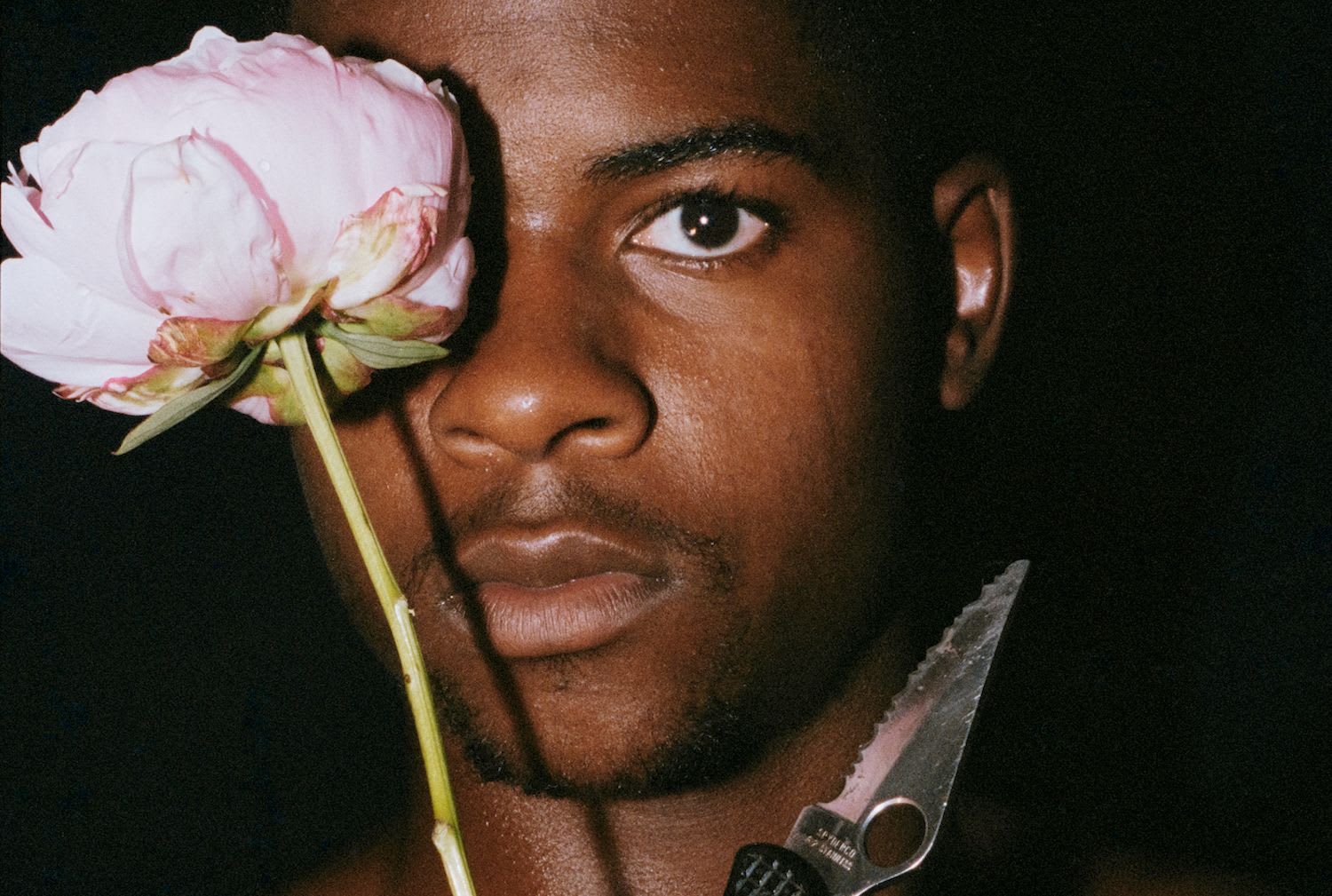 As a new group show explores his archive of love and intimacy, the LA-based artist discusses his "euphoric" portrayals of gay Blackness
image Clifford Prince King
words Gilda Bruno
Welcome to Stop Scrolling, where each fortnight arts and culture writer Gilda Bruno will be bringing you a roundup of carefully curated exhibitions, art fairs and photo books to check out, as well as exclusive conversations with some of today's most exciting emerging artists.
Ahead of the opening of the group show 'Love Songs: Photography and Intimacy' – which launches at the International Center of Photography, New York, on June 2 – this week, Bruno speaks with LA-based, self-taught visual artist Clifford Prince King to dive into his photographic "celebration of love, freedom and queerness".
For Tucson-born photographer and director Clifford Prince King, photography has served as a way to get closer to community. "Because I am quite a shy person, the camera has always been a sort of vessel for me, an excuse to approach people within a particular environment," he tells me over Zoom during an afternoon break from his latest artist residency. A self-taught visual artist, King relocated from his Arizona hometown to Portland, Oregon, straight after graduating high school before eventually settling in Los Angeles, where he is now based. "From my late teens onwards, photography encouraged me to think more outwardly," King says, reflecting on how, having moved cities to connect with the Black young creatives thriving in Portland, "taking pictures served as my way into that space", he adds.
It doesn't take more than a quick glance at his images to be instantly absorbed by the intensity of emotions reverberating through them. "Capturing someone's energy within a given setting to prove how even a bare bedroom can become a stage has always fascinated me," he says. This statement echoes the warm, golden hour-graced atmosphere immortalised in the artist's years-spanning, diaristic documentation of his chosen family: the queer, Black friends, lovers and chance encounters that have served as the protagonists of King's solo shows from 2018 till today, and now inhabit the spreads of his poignant debut monograph, Orange Grove, which was released in 2022. Developed during his beginnings in Los Angeles, "the book chronicles my journey of pursuing a direction that I had always wanted to follow but never thought was possible," he says. "Being openly gay, having people come over and hooking up with them all felt very freeing at the time, and I just wanted to savour it." A daydream turned into reality, Orange Grove shows queer, Black men as they navigate lust, intimacy and affection in the safety and comfort of their homes.
Conceived by King as a time capsule embodying his path to self-acceptance, "the volume is a collection of moments I strived to keep close for as long as I could," he explains. "Like in a box of some sorts, Orange Grove granted me a space where to store all the most precious, fleeting memories I have made along the way." As Love Songs: Photography and Intimacy – which opens at New York's International Center of Photography on June 2 – spotlights some of the artist's most emblematic images on desire and connection alongside works by prolific photographers Nobuyoshi Araki, Nan Goldin, Hervé Guibert, Collier Schorr, and more, we speak to him about the layers coming together in his practice, the importance of letting go, and what the future holds for his "euphoric", empowering exploration of queer Blackness.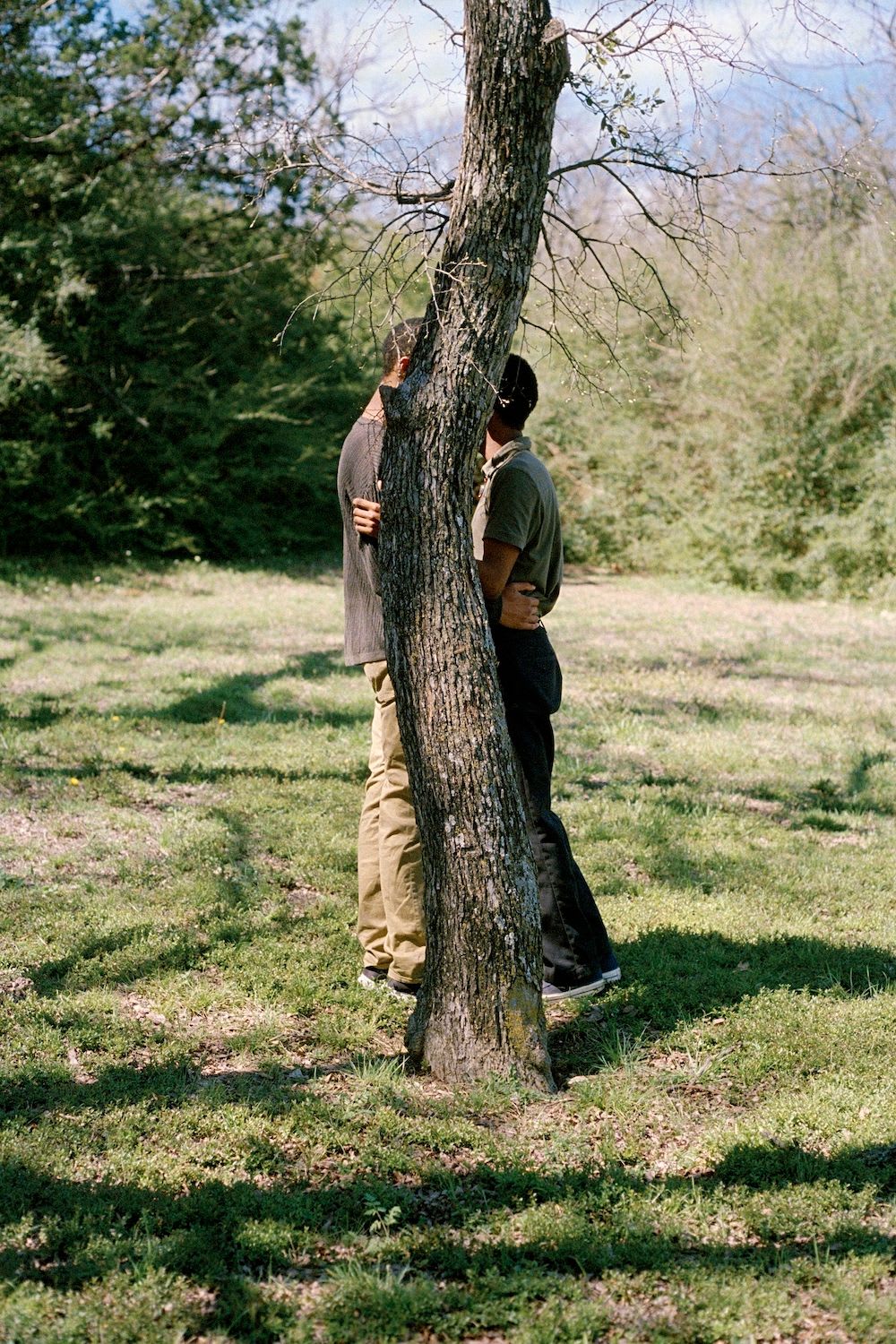 Clifford Prince King, Como Park, 2019. © Clifford Prince King, Courtesy STARS Gallery, Los Angeles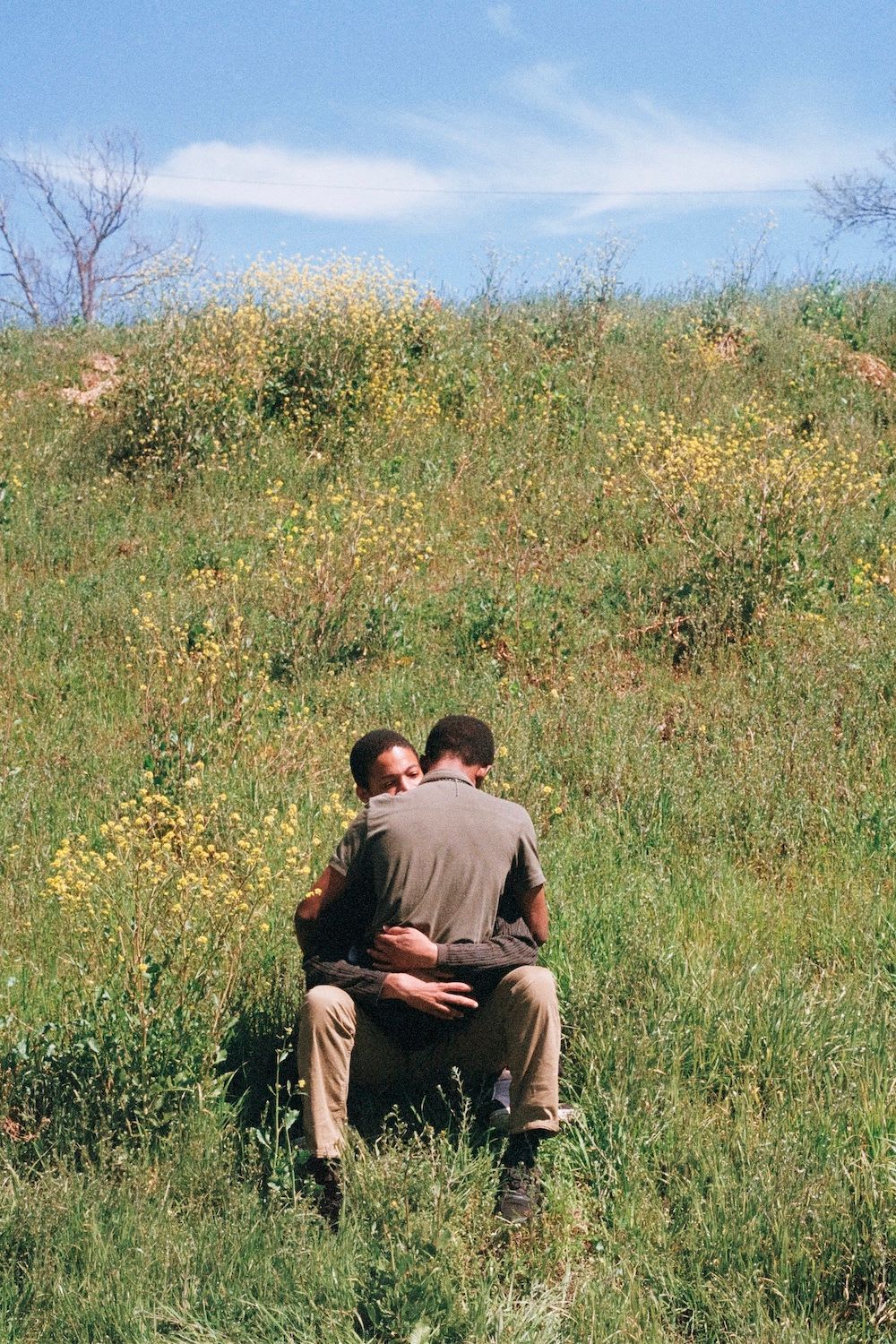 Clifford Prince King, Lovers in a Field, 2019. © Clifford Prince King, Courtesy STARS Gallery, Los Angeles
Many of your images depict people that are part of your personal sphere. How do you make them part of your photographic journey while nurturing the bond that keeps you close together?
Clifford Prince King: Throughout your life, you meet people that inspire you and lift you up. My photographs envision a space that is fulfilling, both visually and emotionally. The domestic settings where they are shot give the subjects complete agency over the feelings experienced in that specific environment. Because it takes time to build trust, I mainly stick to photographing friends. Even when I get an idea for a picture, I try not to put too much pressure on a certain setup because, ultimately, it is the ease between me and those in front of the camera that makes the difference. To me, home is a place where everyone should feel free to be themselves, and I really want it to feel that way both for myself and others. Usually, it is easier for queer folks to meet at a club or at parties late at night, and that is why bringing that community to a place of solace through my photography makes a nice change.
Part of your work references other image-makers, creatives and intellectuals. I think of 'Ethan', an image you took based off a still from Gordon Parks' film The Learning Tree; 'Conditions', which draws on the cover of Essex Hemphill's 1986 poetry book of the same title; and Looking for Langston, your reinterpretation of a bedroom scene from Isaac Julien's 1989 eponymous film. Nods to figures that have shaped Black history appear in your works 'MLK' and 'Track Star', where we see posters of Martin Luther King and Jesse Owens, respectively. What prompts you to work in this referential way?
King: There is so much to unpack in films, art and literature from the past. Including hints [to other works in my pieces] is a way for me to expand the impact those have in relation to the reality of the Black queer community. When we browse on Tumblr or Instagram, we are constantly absorbing information. Putting those references within my work opens up a world that my followers, and often even myself, didn't necessarily know about before: I only watched The Learning Tree a few years ago for the first time, but I instantly had the idea of recreating the scene of the boy with the straw in his mouth laying next to an anthill. I did the same with Essex Hemphill's book and Marlon Riggs' 1989 experimental documentary Tongues Untied because those people are, essentially, Black gay ancestors who didn't survive the Aids epidemic. To me, it is like a baton passing; I have the responsibility to validate them and preserve their legacy.
As for the posters of Martin Luther King and Jesse Owens, I included those because being Black is one element, but being queer on top of that adds another layer to your personhood. There is a lot of anti-gayness within the Black community and so I thought that having those references on the walls could bring these two worlds together. Because the same people that are fighting for their rights following in the footsteps of Martin Luther King can still be the ones you fall out with when discussing your sexual liberation and preferences. Besides wanting to spark that conversation, I also think that posters like those ones make my pictures feel timeless. When composing my images, I never include many indicators of what year they are set in; I want my photos to exist in multiple time frames because, although the world is changing, certain things always stay the same.
Some of your photographs are on display as part of 'Love Songs: Photography and Intimacy', a new exhibition on view at the International Center of Photography. In a world where racial and homophobic aggressions continue to be the order of the day, what do love, intimacy and connection mean to you?
King: With a lot of my photos, it is just me creating the euphoric universe that I have wanted to live in my whole life. Most of the visual references black folks have either come from traumatic films with hyper-masculine characters in them or are pretty sad. We need more nuanced, positive and inspiring portrayals of blackness. You see lots of photographs of hetero couples in parks, on the dock, or at Disney, and they all feel very romantic. In my work, I put Black gay men in those same spaces to celebrate them, their connection and happiness. This collection is a big celebration of love, freedom and queerness, and I want people to feel warm while looking at it, like you would feel in a hug.
you are missing out on some content here because you rejected our cookies. want to change that?
In 2018, you were diagnosed with HIV. Since then, you have been raising awareness of the reality of such condition to support those who might be going through the same thing. What are some of the biggest misconceptions around HIV and how are you demystifying them?
King: Probably the lifestyle that people with HIV have and how it is contracted. It is easy to assume that someone was out there in the street, having sex with lots of people. Still, the ways in which one can get it vary so much. As conversations around it are becoming more normalised, I feel almost alleviated. I am vocal about it because it contributes to that normalisation. After all, everyone has some kind of condition which is not necessarily on display all the time. Yet, when it comes to sexually transmitted diseases, there is this heaviness to it. Today I feel great, all I have to do is take a pill every day. I want to be hopeful about it, and I want that to make other people dealing with the same condition hopeful in return. Whether through my photography or simply with my everyday activism, I want to show people that there can also be a healthy, loving and successful side to the life of those living with HIV.
Your short film 'Kiss of Life' voices the stories of four people who coexist with HIV. What have you learned while working on this project?
King: What was really special for me was having the opportunity to work with and get to know Michael, the older man. I met him through his friend and former lover, who is his same age, around the time that I was diagnosed. Back then, all I needed was an older gay person to talk to me and make me feel comforted, loved and supported. Michael received his diagnosis in his mid-twenties and it was quite tough, but he is still here. I find so much inspiration and meaning in communicating with older people. A lot of my peers who are also queer tend to forget that those are the people thanks to whom we are able to do what we are doing today, to enjoy the freedom we have today. It is all because of their trials, tribulations and endured struggles.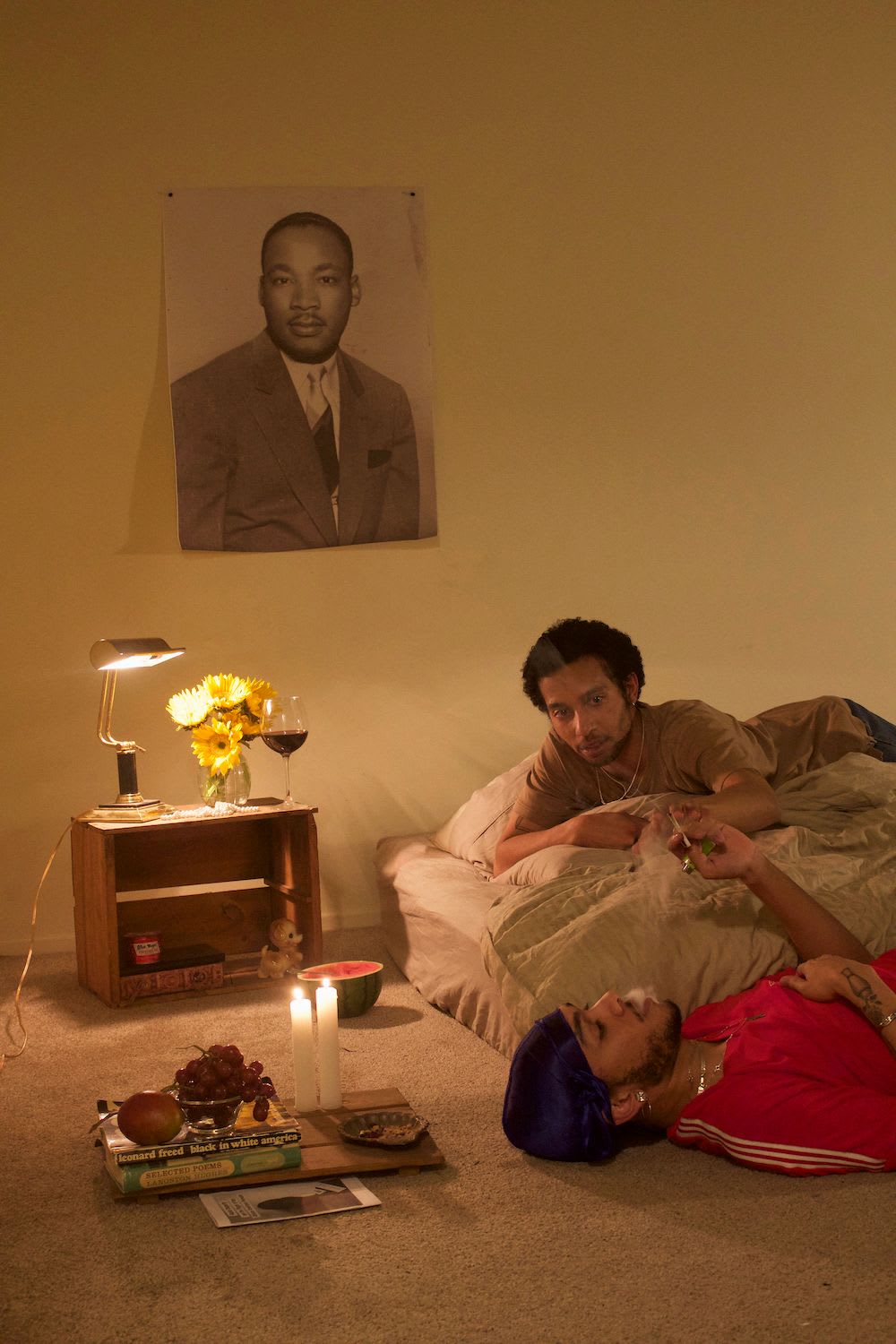 Clifford Prince King, MLK, 2019. © Clifford Prince King, Courtesy STARS Gallery, Los Angeles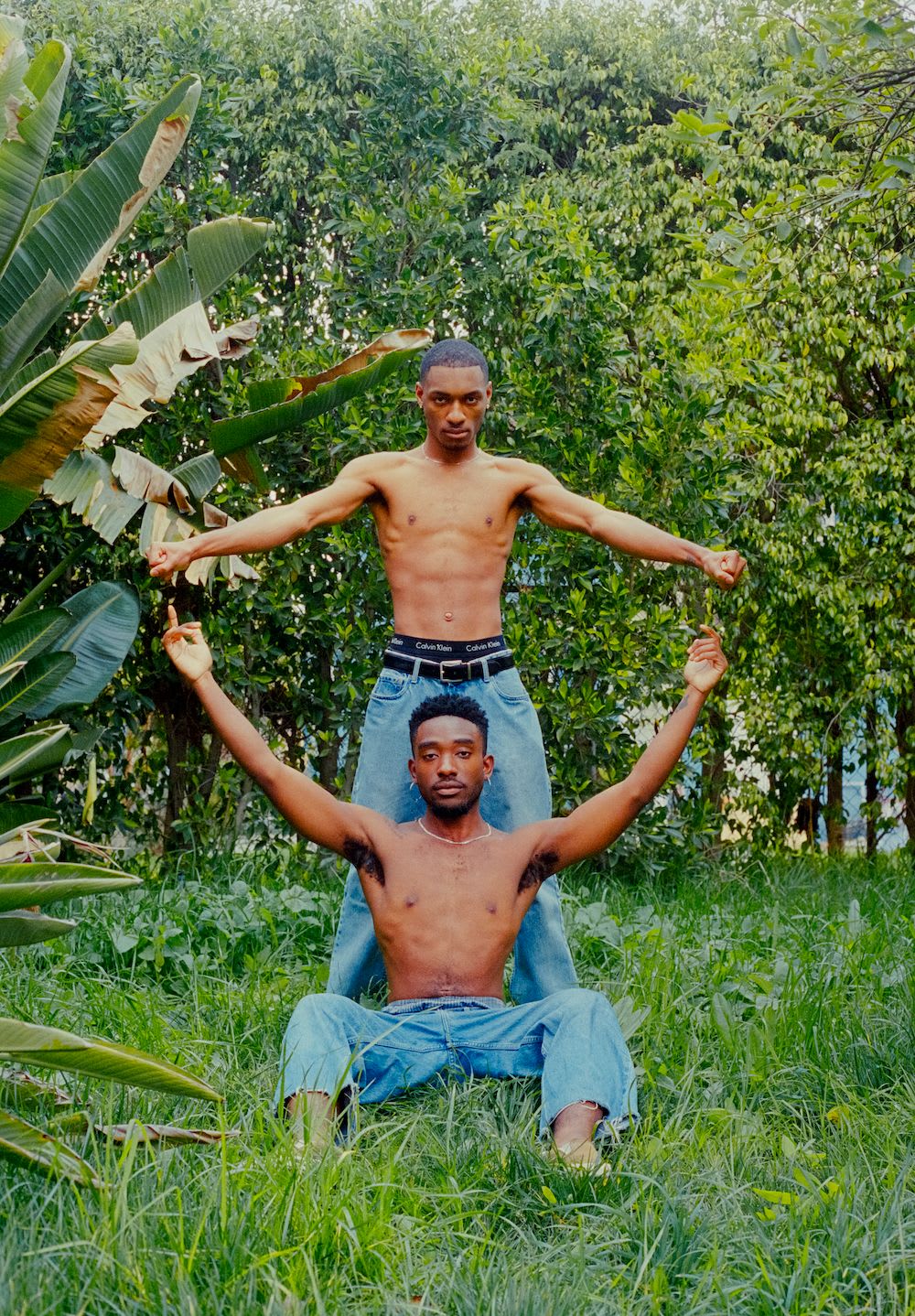 Clifford Prince King, The Backyard, 2019. © Clifford Prince King, Courtesy STARS Gallery, Los Angeles
Speaking of age, if you could tell anything to your younger self, what would you say?
King: I would probably say that things and feelings are only temporary – I love to soak in a lot of feelings and often get stuck there. So if I could teach my younger self anything at all, that would probably be how to let go and understand that within a year of time, I will be in a completely different mindset. I would tell myself to not get fixated on emotions that are meant to pass, because most of the time things have to go in a certain way. And to not put too much energy into keeping things like they are, but always be open to change, as constantly changing and evolving grants you the power to alleviate anything.
That's such good advice. The importance of change is something you have recently addressed in relation to your artistic practice. How do you see your work evolving in the years to come?
King: I will definitely focus on producing more moving image pieces in the next few years. I have some ideas, but I want to allow myself to be slow and let those ideas generate and grow. I have never enjoyed doing things on demand; I want experience and energy to pile up to the point that I am ready to release them. For now, I am just excited to travel a bit and be informed by new environments. Just like with Orange Grove, which came out of my early days of life in Los Angeles, most of my work is an embodiment of what I need at a certain point in time. Now that I feel more grounded, my practice will reflect that as well. Of course, it will always centre queerness and blackness, but I am looking at taking it outside of the domestic settings where it has been so far. I feel like I have a good eye for visuals and light, so I cannot wait to bring my craft into new spaces. I can feel myself evolving a lot as a person: ultimately, my work is going to reflect where I am at mentally. In the meantime, I will just make sure to keep my surroundings peaceful and beautiful.
Love Songs: Photography and Intimacy opens at the International Center of Photography, New York, on June 2 through September 11
Scroll for an extra dose of art and culture news, curated for you by woo
When there's so much to see and experience, it can be hard to choose where to spend your valuable time. Below, Bruno picks a selection of standout shows and culture events to explore in the coming weeks.
Hannah Lim, Shards of Fire, solo show, 9 French Place, London, UK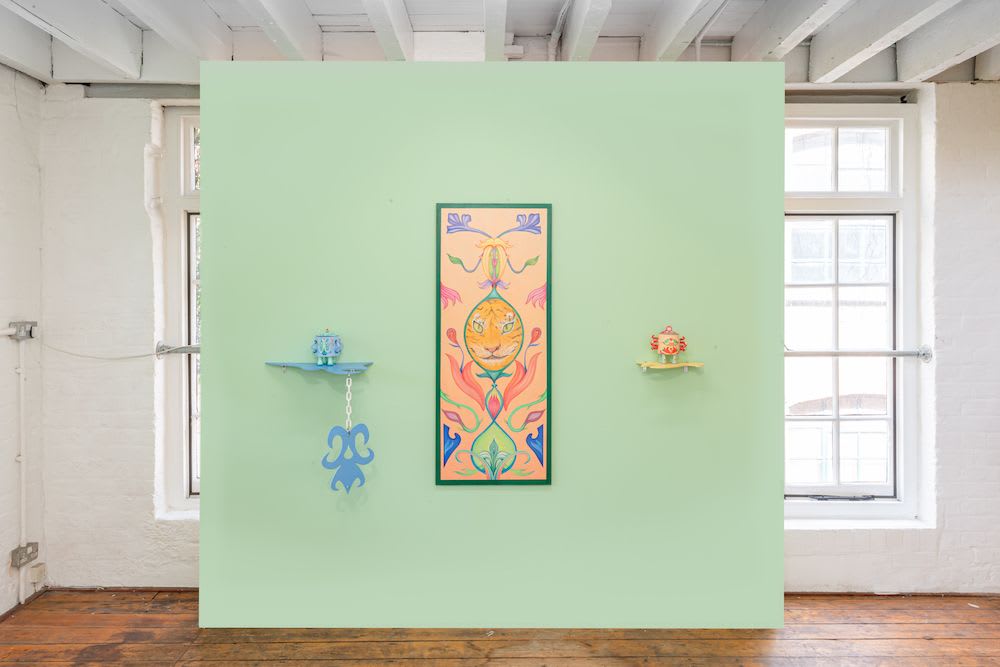 Installation view 'Shards of Fire' by Hannah Lim. Photography by Studio Adamson. Courtesy of the artist, BeAdvisors Art Department and 9 French Place
Based in London, Chinese-Singaporean and British artist Hannah Lim uses drawing, painting, sculpture, and installation to reflect on the different layers of her identity. In Shards of Fire, on view at 9 French Place, Shoreditch, through June 4, the artist reinterprets the 18th-century Chinoiserie design style, classical Chinese literature and mythology to reacquaint herself with her East Asian roots, denounce dynamics of cultural appropriation and examine the impact that Western colonial perspectives holds on our gaze.
An Archive of Love, new photo book published by Middle East Archive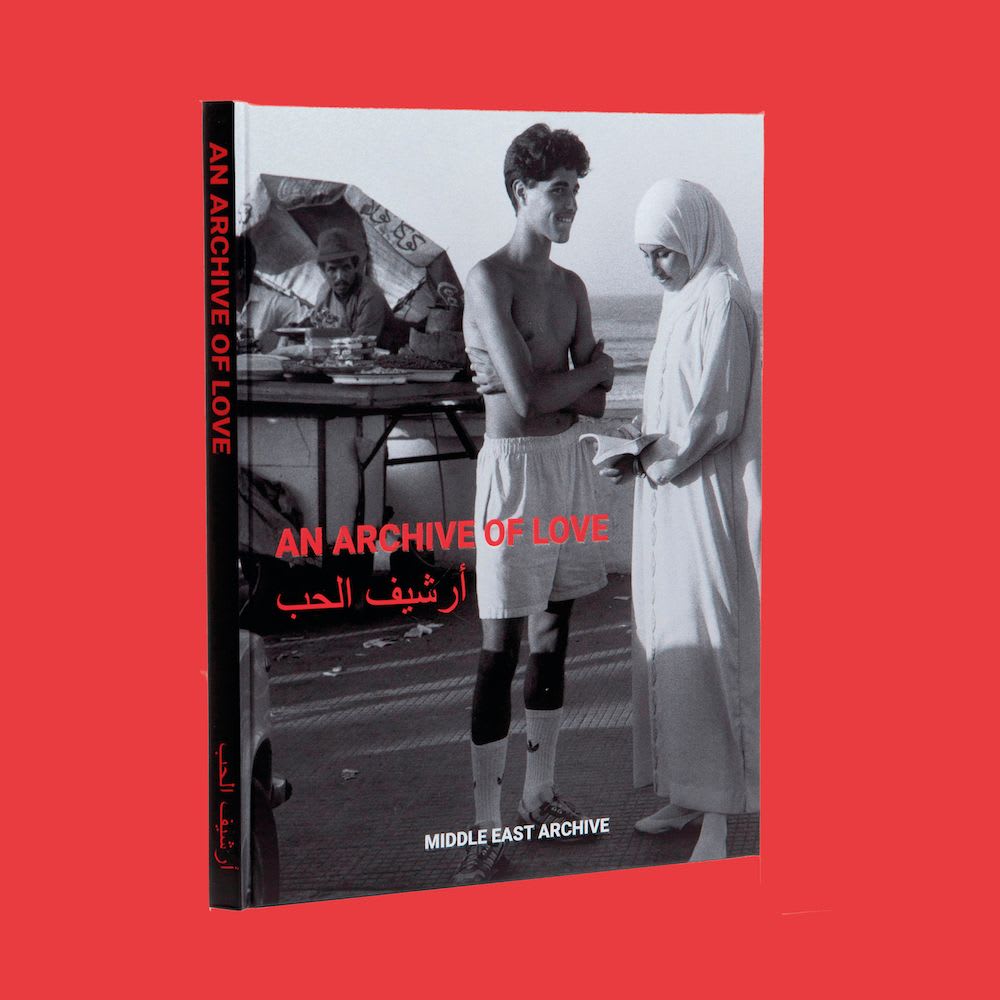 'An Archive of Love', published by Middle East Archive. Courtesy of Middle East Archive
Bringing together a candid, rich collection of photographs lensed across the Middle East and North Africa between the late 1960s and today, An Archive of Love is a heartfelt visual journey exploring love in all its possible forms.
Published by Middle East Archive (MEA) – a curated creative platform striving to revive the archival collections of photographers hailing from the Middle East and Maghreb – the book includes visual contributions by image-makers Attar Abbas, Raymond Depardon and Rachid Ouettassi among others, with texts by Nour Regaya and AZEEMA Magazine's Dalia Al-Dujaili.
Belfast Photo Festival, Belfast, NI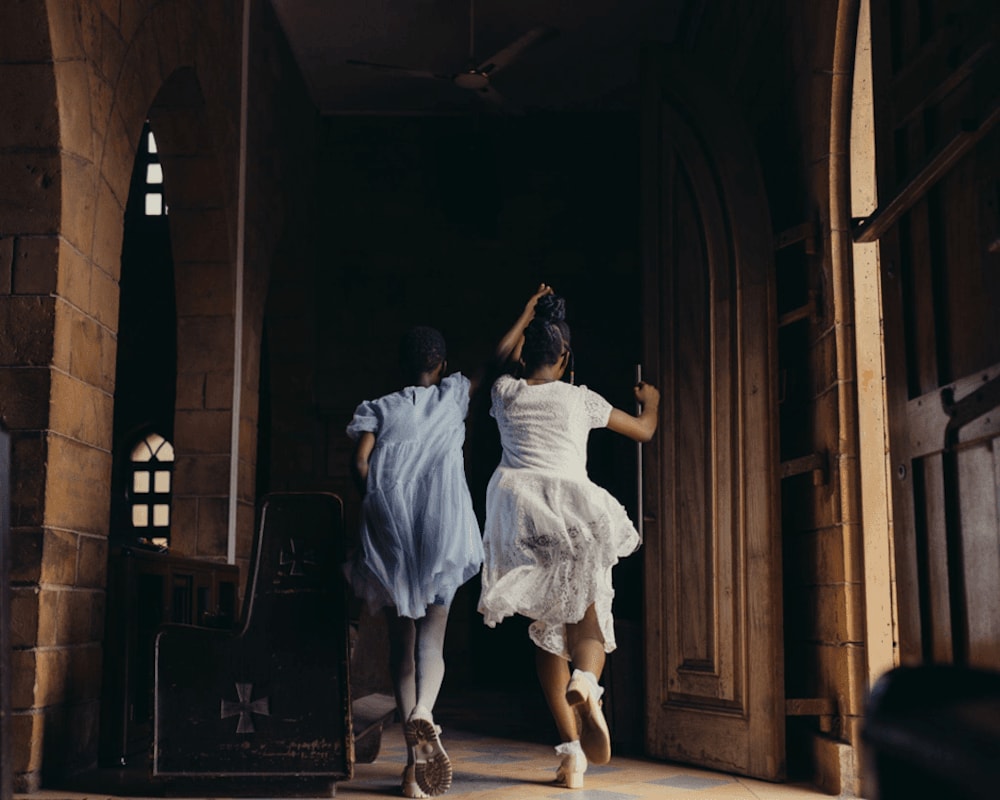 An image from Carlos Idun-Tawiah's 'Sunday Special' series, which was shortlisted at this year's Belfast Photo Festival. Courtesy of the artist
This June, Belfast is gathering the best of contemporary photography in a four-week showcase diving into the creative visions of a new generation of image-makers. Running between June 1 and June 30, the latest edition of the Belfast Photo Festival draws on the theme of "journey" to explore how international photographers are taking their medium of choice into uncharted territory.
Whether documenting their path to self-discovery, mapping intercontinental migrations, or exposing the rise of an increasingly monitored, digitalised realm, the event examines how photography can be used to bring to the fore journeys that exist beyond mainstream narratives. Captured by a thought-provoking selection of rising and established photographers, the projects exhibited as part of this year's programme look at the photographic medium as a lens through which to make sense of the world and the infinite events shaking its course.
Sara Cwynar, Next Level: S/S 23, solo show, Foam, Amsterdam, NL
'Doll Index 2', 1733-1950 (2022) by Sara Cwynar. © Sara Cwynar. Courtesy of the artist and Foam
Sick and tired of living in a rich influencer's world? Enter Canadian-born, Brooklyn-based artist Sara Cwynar, whose sharp critique of consumerist culture will have you look at today's reality with brand-new eyes. Known for her colourful photographic collages fusing visual excerpts from encyclopaedias, catalogues, literary essays and abrupt Instagram captions, Cwynar has built her career off a provocative rendering of the contemporary preoccupation with unachievable beauty standards.
In S/S 23 – the new edition of Foam's acclaimed exhibition series Next Level – the North American artist embraces the language and logic of the fashion world to condemn the negative influence those have on people's lifestyle, self-image and beliefs. Named after the current season in a nod to "the trends that push us to buy new items" and open through September 24, the show faces viewers with a mind-bending exploration of appearance culture and its underlying contradictions. Mapping out consumers' choices through collage, photography and video, Cwynar brings to the surface the gender divide and sexism characterising our diverging experiences of social media, shopping and the zeitgeist.
Kent Chan, Future Tropics, Gasworks, London, UK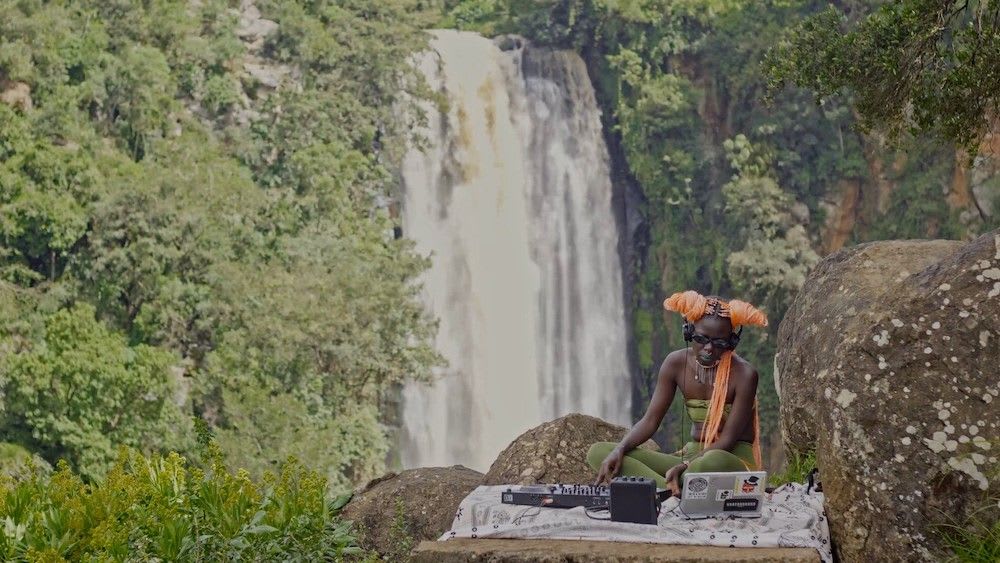 Kent Chan, 'Warm Fronts' (2021–ongoing). Film still. Four-channel video. Courtesy of the artist
Launched on May 24 at Gasworks, London, Kent Chan's Future Tropics ponders the link between climate and culture and how their interaction is reflected in contemporary society. Here, visitors are invited to step into a microclimate which, recreated by the Amsterdam-based Singaporean artist through humidifiers and heat lamps, immerses the public in "the tropical imaginary and the context, politics and aesthetics of heat".
Conceived as a spatial installation challenging the climate-control mechanisms that regulate the temperature of Western museums – "where cool and dry conditions are imperative" – Chan's newly unveiled Monsoons piece brings the fluctuating hot and humid atmosphere of the tropics straight into the rooms of the Vauxhall art non-profit. The artist leverages his moving-image works and the power of electronic music to envision an all-tropical universe where "days and nights, geographies, histories, and cultures all blur into one".
Sin Wai Kin, Dreaming the End, solo show, Fondazione Memmo, London UK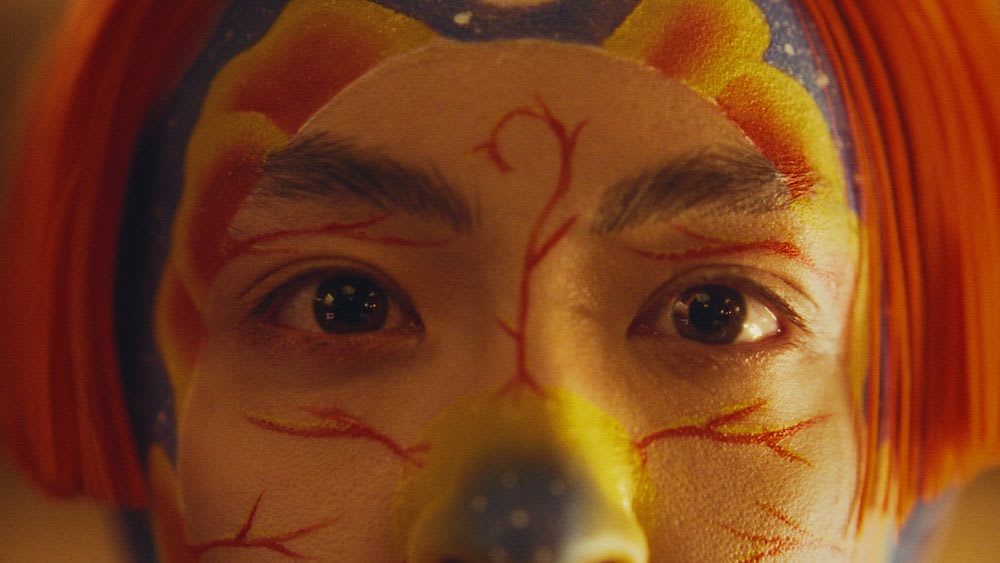 Still from Sin Wai Kin's 'Dreaming the End' (2023) film. Courtesy of the artist and Fondazione Memmo
Sin Wai Kin is a real shape-shifter in their solo show Dreaming the End, which continues at Fondazione Memmo, Rome, through October 29. Titled after the film serving as the centrepiece of the exhibition, the event sees the 2022 Turner Prize nominee impersonate Storyteller and Change, two of their recurring chameleonic alter egos, across a variety of Roman locations, including the Palazzo della Civiltà Italiana, the interiors of Palazzo Ruspoli and the leafy gardens of Villa Medici.
Curated by Italian-born, London-based Alessio Antoniolli, Dreaming the End emerges from Sin Wai Kin's personal deep dive into Italian culture and history. Propelling the uncanny storyline of its main audiovisual piece into the hosting institution through a series of stage wigs and face wipes carrying the imprint of the artist's ephemeral performances, the showcase projects the audience into a liminal dimension where traditional rules, categories and language lose their meaning.
Cover Image: Clifford Prince King, Conditions, 2018. © Clifford Prince King, Courtesy STARS Gallery, Los Angeles