Celebrities were 2022's wellness guinea pigs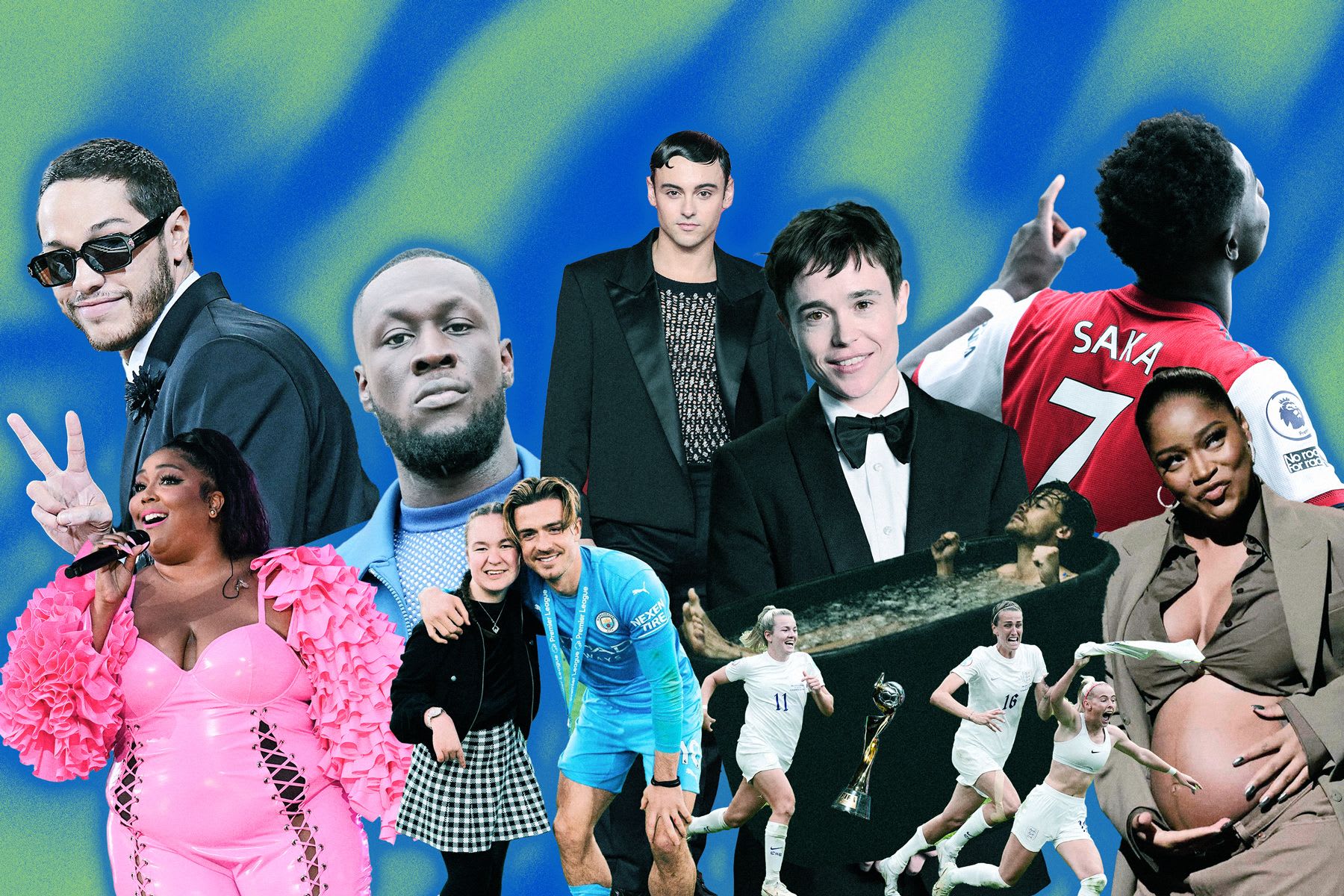 From mental health tips to ice baths and gummy treats, here's how the VIPs felt good this year
image Team Woo
words Louis Staples
And just like that… another year has been and gone. 2022 has been a year of seismic change, from politics to pop culture. And it's also been a year where, from celebrities to "normies", people have felt more confident than ever sharing their experiences and coping methods for navigating today's world.
From trans awareness, mental health tips and gummy treats, celebrities have been our wellness guinea pigs this year, sharing their tips and secrets along the way. Although the lives of the wealthy and famous might seem far removed, it can be heartening to realise that life in the public eye can come with its own stresses, or that sometimes famous people are struggling with similar things to us.
Whether it's revealing a pregnancy in the best way, taking the plunge and starting a new business, or literally plunging into an ice bath, here are 13 of our favourite celebrity wellness moments from 2022.
Kendall Jenner getting real about mental health
The Kardashian-Jenner clan have the capacity to rile people up like no other family. (Who remembers Kim's epic misstep: "Get your fucking ass up and work"?). This made it even more refreshing when Kendall Jenner opened up about her mental health and, well, people were quite happy about it? Jenner appeared on podcaster (and former monk) Jay Shetty's podcast, On Purpose With Jay Shetty, to share some of her coping methods and tips for keeping on top of her mental health. Jenner told Shetty that she works with her therapist on healing her inner child. As an exercise, she found a picture of herself as a small child and pasted it onto her mirror. Jenner – who has suffered from anxiety from a young age – also shared that she is now focusing more on herself, having struggled to find the right balance between work and life in the past. (She also said she likes her alone time… Just don't tell Kris Jenner!)
you are missing out on some content here because you rejected our cookies. want to change that?
Stormzy's vulnerable side
Stormzy is one of those musicians whose impact and influence goes beyond music, from sponsoring Black young people to study at Cambridge University, to his rallying cry for victims of the Grenfell fire at the 2018 Brit Awards. In his latest album, This Is What I Mean, Stormzy showed fans a more vulnerable side to him. A recurring theme of the album is Stormzy exploring whether he can forgive his father for not being in his life growing up. It's the sort of public exploration of masculinity that, in a mental health crisis that impacts young men, we could do to see much more of in the public eye.
you are missing out on some content here because you rejected our cookies. want to change that?
Hailey Bieber breaking down stigma
One way to ease the stigma around women's health is sharing stories and experiences: with friends, family, and – if you're famous – millions of followers. In November, Hailey Bieber shared a photo of her bare stomach on Instagram with a caption explaining what was going on: "I have a cyst on my ovary the size of an apple," she wrote. "I don't have endometriosis or PCOS but I have gotten an ovarian cyst a few times and it's never fun. It's painful and achy and makes me feel nauseous and bloated and crampy and emotional."
Benign ovarian cysts like Bieber's occur in anywhere between 8-18 percent of women. There is a lack of definitive statistics, which highlights why conversations like this are important. Bieber's post came mere months after her mini stroke – another health condition she discussed with her Instagram followers.
you are missing out on some content here because you rejected our cookies. want to change that?
Justin Bieber taking time off to get healthy
It wasn't just Hayley Bieber who had a difficult time health-wise in 2023, because in September her husband Justin Bieber cancelled his remaining tour dates after being overcome with exhaustion, following his diagnosis with Ramsay Hunt syndrome. Ramsay Hunt syndrome (RHS) is one of 60 causes of facial palsy, or facial paralysis as it is often called in the US. RHS is a complication of shingles – which is caused by the same virus that causes chickenpox – and the term describes the symptoms of a shingles infection affecting the facial nerve. RHS is often misdiagnosed as Bell's Palsy – the most common cause of facial paralysis – because of its varied presentation. It's not known exactly what causes it, but stress is a common factor with a lot of patients, so it's great to see Bieber slowing down to focus on his health.
you are missing out on some content here because you rejected our cookies. want to change that?
Tom Daley discussing his eating disorder
Tom Daley has been outspoken on a lot of issues, from global LGBTQ+ inequality in the Commonwealth to trans rights in the UK. Earlier this year, the British diver spoke about his experiences with bulimia, an illness triggered by being told he was overweight by a trainer ahead of the 2016 Rio Olympic Games. "Aged 17 and 18, I was being shown pictures of myself at the 2008 Olympics from when I was 14, saying this is what we want you to look like," he told Cosmopolitan. "I didn't really tell anyone because at the time men didn't really speak about mental health, especially eating disorders. It was a very taboo thing to talk about." Gay men like Daley are statistically more likely to be affected by disorders like bulimia than their straight male counterparts. Now, he says knitting is a form of self-care which helps him to unwind.
you are missing out on some content here because you rejected our cookies. want to change that?
Tasha Ghouri raising deaf awareness
The Love Island villa has been home to many scandals over the years – including a lot of bad behaviour. But this year, Tasha Ghouri became the show's first ever partially deaf contestant – and proved that reality TV can be a force for good. Ghouri has a cochlear implant, which is a small electronic device that can help those with deafness to hear the full range of speech sounds. It is a form of hearing aid which turns sound into electronic signals, providing a sensation of hearing by stimulating the auditory nerve. According to the National Institute on Deafness and Other Communication Disorders, the implant "consists of an external portion that sits behind the ear and a second portion that is surgically placed under the skin". Ghouri received her implant at the age of five, having been born deaf. She also runs an Instagram account dedicated to raising awareness for the deaf community, with @taskswithtashax highlighting how deafness is "not a disability" but "a superpower".
you are missing out on some content here because you rejected our cookies. want to change that?
Elliot Page discussing health and post-transition happiness
Since coming out as trans in 2020, Elliot Page has become one of the most visible trans men in the world. And in an interview with Esquire, the actor gave fans an update on his transition journey after getting top surgery. It turns out that fitness has played a big part in Page feeling more comfortable in his body. "I've never worked out more in my life," he said. "Working out always felt like such a conundrum, because it didn't feel good. I walked and I hiked, but that was it. The experience of being in my body now is so different. I'm absolutely hooked. The feeling of being really engaged with it, present, pushing it and getting stronger and gaining weight. It's thrilling. I feel like a kid doing it." Later in the interview, Page opens up about how gender dysphoria "got in the way" of him being able to enjoy the simplest pleasures, like getting up in the morning and drinking a coffee, or reading a book to relax. We're glad he's now in a better place.
you are missing out on some content here because you rejected our cookies. want to change that?
Selena Gomez's powerful documentary
In November, Selena Gomez dropped My Mind and Me, a new documentary following her last six years in the spotlight. The documentary follows Gomez through an era where she entered a psychiatric facility due to suffering from psychosis, before later undergoing a second stint after being diagnosed with bipolar. It also follows her during her kidney transplant, which was caused by the auto-immune disease lupus. Gomez has been at the forefront of raising awareness for lupus and the documentary explores both the differences and the connections between physical and mental wellbeing.
you are missing out on some content here because you rejected our cookies. want to change that?
Bukayo Saka opening up about fame
If you're still feeling nostalgic (or a little heartbroken) about the 2022 World Cup, All or Nothing: Arsenal is a documentary which brings us even closer to some of England's most beloved players. In the documentary, Bukayo Saka (one of the few people who can unite the divided nation behind his greatness) speaks openly about how lonely and strange the experience of fame can sometimes be. He explains to fellow players that despite wearing a hoodie and a mask, staff at his local supermarket spotted him and asked for pictures, and that he simply can't do "normal things" anymore. And we see him discussing this with Carlos Cuesta, Arsenal's individual development coach. "People think that because you live the dream, your life is easy, but you face a lot of problems that nobody faces," he says. "The only thing you need is to play, to enjoy, to be yourself." Particularly after the horrific way Saka and his Black teammates were treated after England lost the 2021 Euros, we couldn't agree more.
you are missing out on some content here because you rejected our cookies. want to change that?
Kourntney Kardashian launches Lemme
Kourtney Kardashian has always had a reputation for all things wellness: from her vegan and gluten-free diet to Poosh, her online lifestyle platform. So it was little surprise that, this year, Kourtney launched a new lifestyle venture: Lemme, a vitamin and supplement brand. Lemme's first offerings include three types of gummy supplements, which are made without artificial colouring or common gummy ingredients like gelatin. Each of the supplement bottles are also eco-friendly and made completely without the use of virgin plastic. Go Kourt!
you are missing out on some content here because you rejected our cookies. want to change that?
Pete Davidson opens up about therapy
Beyond his rigorous schedule of dating every beautiful woman on the planet, it's a miracle Pete Davidson manages to get anything else done. (Seriously, it's practically a full-time job). As woo theorised earlier this year, perhaps part of his charm is that he's emotionally intelligent? In August, it was reported that Davidson sees a therapist to deal with the stresses of public life. It's official: taking care of your mental health is hot.
you are missing out on some content here because you rejected our cookies. want to change that?
Lizzo's People's Choice speech
At the 2022 People's Choice Awards, Lizzo won the People's Champion award – an honour that recognized her impact on music and television, as well as her commitment to championing diversity and inclusion. During her speech, Lizzo presented 17 activists who she believed were more deserving of the recognition. The women she championed are fighting for Indigenous, transgender, religious and cultural equity, among other causes. Mere weeks after Roe v Wade was overturned by the US Supreme Court, one of the activists Lizzo highlighted was Amelia Bonow, co-founder of Shout Your Abortion. The organisation works to normalise abortion and motivate people to work and support abortion access in their communities.
you are missing out on some content here because you rejected our cookies. want to change that?
Harry Styles's ice bath
Travelling the world on tour may sound like fun, but the mental and physical toll it can take is well known. During his Love On Tour dates, Harry Styles posted a picture of himself submerged in a bath filled to the brim with ice water. Submerging yourself in an ice bath is an effective way to reduce inflammation, speed up metabolism and achieve mental clarity. Scientists have also found that the body's stress response is reduced after being submerged in cold water. While ice baths have long been used by professional sports people, they have become popular among celebrities. Gwyneth Paltrow swears by an ice bath, often drawing upon "The Ice Man" Wim Hof's techniques, which combine breath work with cold exposure. Brr!
you are missing out on some content here because you rejected our cookies. want to change that?
Keke Palmer's pregnancy announcement
The pregnancy announcement has become a major moment in online culture. But what's even more badass than posting about your pregnancy? Revealing it live, for the world to see, while you're hosting Saturday Night Live! That's exactly what Keke Palmer did when, during her opening monologue, she surprised viewers by baring her bump. Palmer's announcement had this iconic, feel-good energy about it, that was impossible not to smile at – especially seeing as she has had such an incredible year career-wise, and also that she has polycystic ovary syndrome (PCOS), which may have made getting pregnant more challenging. We look forward to meeting Baby Palmer in 2023!
you are missing out on some content here because you rejected our cookies. want to change that?