Saka's spirituality, dolphins in New York and all the other good news from this week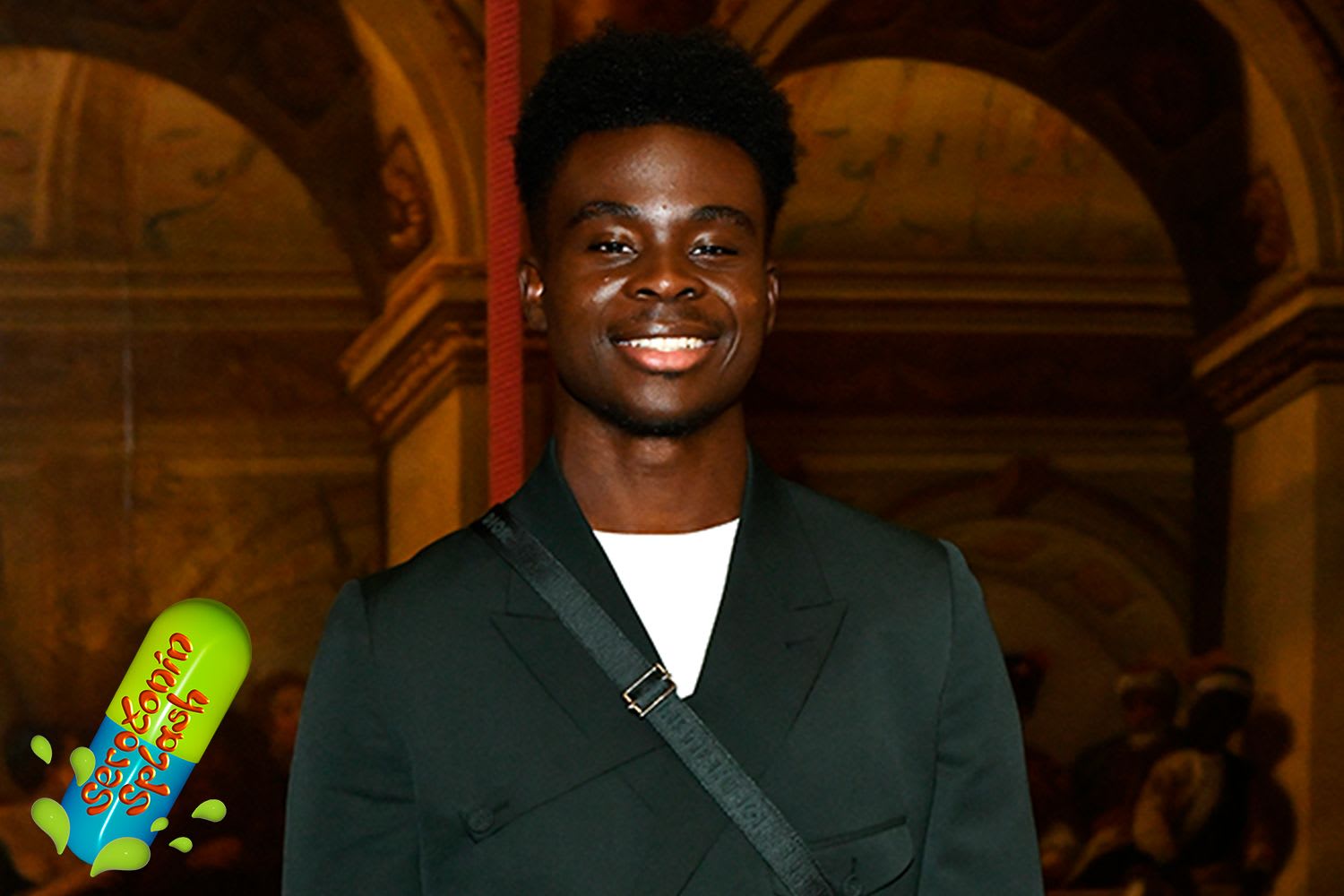 Just a bunch of good news to end your week on…
image David M. Benett / Getty
words Lucy O'Brien
People news
you are missing out on some content here because you rejected our cookies. want to change that?
In a landmark move, the senior Wales men's football team have decided to take a 25% pay cut to allow for a 25% pay-rise for the Welsh women's team. For the first time ever, the national teams will be paid equally for representing their country. More of this, please!
A bill that will officially ban conversion therapy has been put to Parliament. Importantly, this bill will include a ban on transgender conversion therapy, a stipulation that has been previously left out from past drafts of the legislation. Though it is yet to be approved by a pre-legislative scrutiny panel, this trans-inclusive bill is a step in the right direction towards ending the harmful practice.
The Online Safety Bill has been in the works for sometime now. Aiming to significantly reduce exposure to harmful content online and placing more responsibility on media companies for the content that they allow on their platforms, the latest version of the Bill has just passed in the House of Commons and is now one step closer to coming into action. The bill will also specifically target cyber-flashing and online bullying.
Paige Thorne, former Love Island Season 8 contestant and paramedic, has joined her fellow NHS workers on the picket line to stand in solidarity with strikers. The influencer took to Instagram – where she has over 1 million followers – to raise awareness for the cause.
Researchers are urging the government to use more vegan burgers, sausages and fillets in schools and other public institutions rather than meat in order to reduce our carbon footprint. The researchers argue that greater implementation of vegan menus in public institutions will have a significant positive knock-on effect on the global food market.
Chile's government has banned a multi-billion dollar mining project in order to protect a neighbouring penguin sanctuary. Ecologists worried that construction of the mine, intended to extract iron ore, could harm the nearby reserve, which is home to 80% of the world's population of Humboldt penguins. Thankfully, Chilean officials listened, and the project has been halted.
Culture news
you are missing out on some content here because you rejected our cookies. want to change that?
Calling all highly sensitive hotties and indie rock enthusiasts, your 2023 anthem is officially on its way. Our fave supergroup Boy Genius, which, if you didn't already know, is formed by icons Phoebe Bridgers, Julien Baker and Lucy Dacus, just dropped some new tunes and announced their forthcoming album, The Record. Oh, and the trio's Rolling Stone cover shoot, harkening back to a Nirvana shoot 30 years back, is going straight on our 2023 mood boards.
Bukayo Saka has just dropped his debut football boot with UK-based footwear giants, New Balance. In a recent interview celebrating the launch, Saka detailed his love for his West London roots, his pre-game Twix snacking ritual and his deep relationship with his spirituality. "I always pray. That's the number one thing," said the 21-year-old Arsenal player.
Loyle Carner really is the gift that keeps on giving. The singer is making waves on Twitter by offering to exchange concert tickets for special recipes from people's grandmothers, cool collectable football shirts or original Carner-inspired tattoos. Brb, just calling my nan.
To say new Frank Ocean music is long overdue would be a huge understatement. The singer's 2016 LP, Blonde is one of the most celebrated albums of our generation, and now Ocean might be blessing us with a new project. A poster from his latest merch collection hints at the potential of a new album – and as the singer is set to headline Coachella 2023, we can't wait to see what the artist has in store for us!
It's official: 2023 is officially the year of the introvert. Staying in, dressing cosy, embracing goblin-mode, is in. This was confirmed by Fear of God's iconic collab with cult-fave footwear brand Birkenstock, whose loungewear inspired drip is celebrating the beauty of comfort. Cosy season? More like year-round cosy-core.
A new study conducted by Vogue Businesshas found that the sale of visibly worn, crinkled bags are on the rise, showing an even larger move towards embracing pre-loved apparel. Gone are the days of ensuring your depop clothes look good as new before listing them for sale – today's shoppers want second-hand items that reflect that they have had a previous life, which, of course, is a great thing for fashion sustainability.
Bones and All star Taylor Russell revealed in her Harper's Bazaar cover interview that during lockdown, she took to learning the harp. She detailed how playing the delicate instrument helped with calming down – oh, and that the first song she learned to play was Creep by Radiohead. Wholesome and good taste.
Debuting at men's fashion week in Paris, Acne Studios' menswear drop is a welcome hit of nostalgia. Inspired by '90s astros and bootcuts, the eclectic footwear offering is a whimsical blast from the past. Founder and Creative Director of the Stockholm-based fashion house Jonny Johansson said he wanted the collection to explore "the so-called rules of masculinity".
You know the expression go big or go home? It seems these pizza chefs in Los Angeles took it to heart. They've set out to make the largest pizza in the world - 68,000 slices, to be exact. Good thing is, the entire pizza is set to be distributed among local food banks, so none of the food will go to waste. For those who are wondering, the pizza will be a classic pepperoni. Chef's kiss.
Animal news
you are missing out on some content here because you rejected our cookies. want to change that?
Dolphins have been spotted in the Bronx River in New York City! A river previously hostile to marine life due to being contaminated by excessive industrial waste is now healthy enough to welcome back its aquatic inhabitants. The recent visit from dolphins is being deemed as a huge win for the city, after what has been a decades-long battle to clean up the once vibrant waterway.
For years, olive trees native to southern Italy have suffered from a disease that prevents water from flowing effectively to their leaves. Until now, the disease has been extremely hard to detect early on – that is, until doggos got involved. Trained to sniff out this rare bacterium, local dogs are putting their super-senses to good use and could help save the next generation of olive trees.
So it seems we humans aren't the only ones who feel the benefits of feeling warm and snug: a new study has found that male chickens are more likely to be more sociable and less aggressive when grown in warmer eggs. Previous research has already shown that increasing the temperature of chicken eggs by one or two degrees celsius might help the species cope with rising global temperatures. Now, it seems, it can make them feel happier, too!
Science news
you are missing out on some content here because you rejected our cookies. want to change that?
Astronomers have dropped the most detailed radio image yet of the Milky Way's galactic plane, and it looks like an oil painting fit for a museum. The new image shows us gas between stars, highlighting where new stars are forming as well as supernova remnants. Believe it or not, 20 possible new supernova remnants are seen in this tiny speck alone – only seven were previously known.
Cambridge researchers have established a new and effective form of detecting multiple respiratory diseases at once. Rather than testing for one virus at a time, this revolutionary diagnosing process uses single strands of DNA as "bait" in order to detect multiple viruses at once. The discovery is a promising step forward in the effective early detection and treatment of common viruses like Influenza and Covid.
Zeus, step aside. For the first time in the field, scientists have been able to steer the direction of lightning bolts using lasers – yes, you read that correctly. The experiment, which took place at the top of a Swiss mountain, involved firing laser pulses directly into thunderclouds to divert the impact of bolts on the earth. The successful experiment hopes to pave the way for laser technology that can help protect airports and other vulnerable buildings from destructive lightning storms.
Health news
you are missing out on some content here because you rejected our cookies. want to change that?
Needless to say, more emotional memories make more profound impressions on our brains and retention. But now, scientists at Icahn School of Medicine at Mount Sinai in New York have discovered that using deep brain stimulation could reduce the emotional impact of memories. As a result, scientists hope these findings could pioneer new ways to treat emotional disorders like PTSD.
Good news for those coming off of antidepressants. The UK medicines watchdog National Institute for Health and Care Excellence (Nice) has advised that GPs should reduce dosage gradually, rather than let their patients go cold turkey. The recommendation comes after the quality standard for the care of adults with depression was updated for the first time in 11 years, which has used solid data and expertise to re-evaluate the best treatment courses for the condition.
Long-acting Prep injections could help reduce new cases of HIV in the United States. The research, which is a collaboration between Imperial College London and the Fred Hutchinson Cancer Center in Seattle, US, found that long-acting, injectable forms of the preventative medication could be an effective way of helping high risk men in America. According to the authors, the injections could prevent around 10% more new infections than tablets alone.
A new Finnish study has found that visiting green spaces can reduce the need to turn to medication for health conditions such as depression, blood pressure and asthma. The research suggests that among city-dwellers, visiting green spaces around three or four times a week significantly reduced - by a quarter - the desire to use drugs for both physical and mental health problems. The positive effects were felt most among those with the lowest household income.
Researchers looking into the differences between meat and plant-based alternatives have found that the latter actually possesses a healthier nutritional profile. They found plant-based meats to be lower in fat and sodium, while being higher in fibre.
A group of circus arts researchers have put together a health guideline specific to treating those with injuries as a result of the circus performing arts. In the first of its kind, this new guideline will provide the framework, resources and catered information to doctors and medical practitioners when treating circus artists.