The best hair oils for healthier hair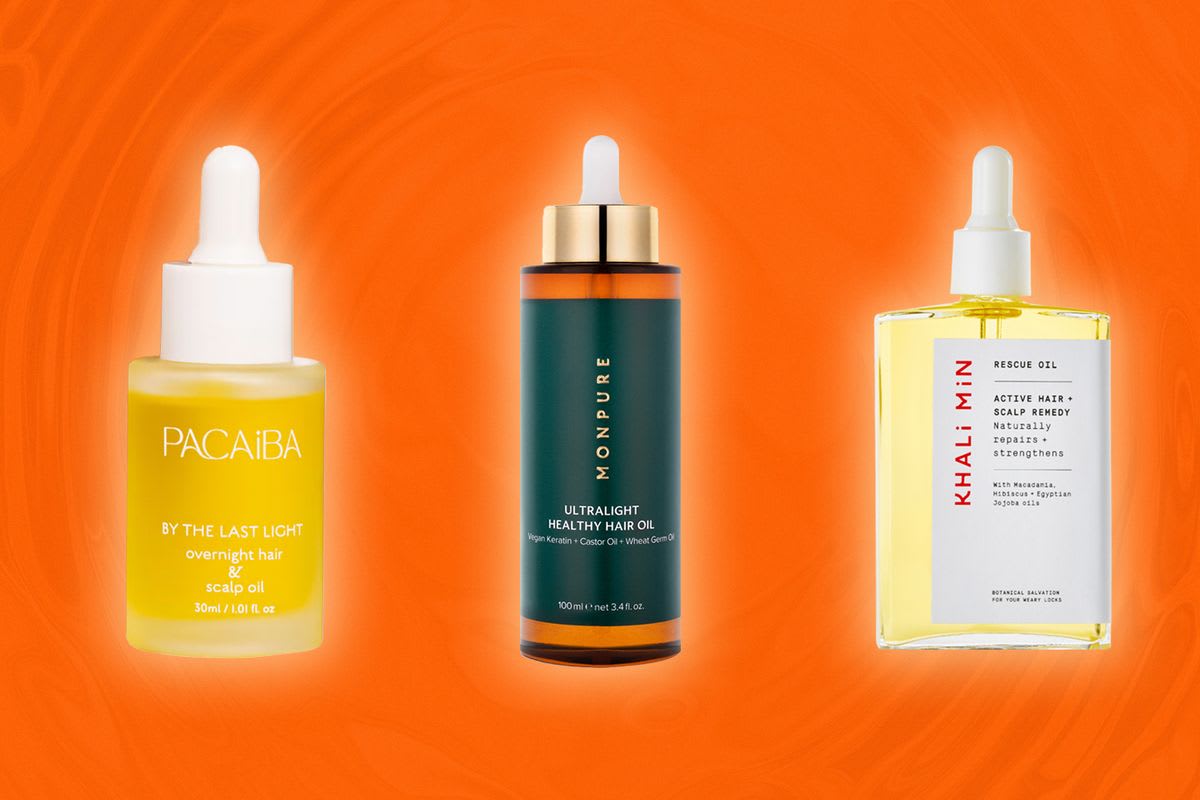 The TikTok trending beauty hack is an ancient self-love ritual
image Team Woo
words Sophie Lou Wilson
Be it rosemary, jojoba, castor, coconut or macadamia, hair oil has many wonderful benefits. The ancient practice of oiling one's hair dates back more than 5,000 years, originating in India where the Sanskrit word "sneha" means both "to oil" and "to love." It's no wonder then that the tradition has since flourished across the globe as a form of self-love and hair care. Hair oil's moisturising and de-frizzing qualities have made it a beauty cupboard staple the world over, particularly for people with textured and curly hair.
From hydrating dry scalps and soothing heat-damaged hair to adding shine and unravelling tangles, whatever hair woe you're looking to solve, you can bet there's a hair oil for it. But not all oils are created equal. When looking for a hair oil that works for you, consider your hair type as well as the weather and the environment you live and work in.
"The best way to determine which oils are best for your hair type is to first find out what hair type you have and what your goal is for using an oil," says hairdresser and co-founder of Centred, Kieran Tudor. "You can investigate yourself by feeling your hair and even doing some simple tests to help determine the porosity of your hair (how spongelike it is) or you can also discuss this with your hairdresser."
Benefits of hair oil
Figuring out exactly which hair products work best for your hair can feel like a lifelong mission. Hair type depends on factors like thickness, curls, porosity and scalp moisture and finding a hair oil that works for you will depend on these factors. "The best oils for curly, frizzy hair tend to be deeply hydrating oils like jojoba, argan, castor and avocado oils," explains Tudor, "whereas those with greasy hair may really benefit from a scalp oil treatment to rebalance the moisture levels on the scalp, nourishing hair follicles and taking care of any build-up that can cause issues." How you oil your hair will depend on your hair type, but there are a few benefits that hair oil has across the board:
It aids healthy hair growth
It moisturises the scalp and can help reduce dandruff
It helps hair look shinier
It strengthens hair
It protects hair from heat damage and prevents frizz
Where does hair oil come from?
When it comes to modern beauty innovations, we're spoilt for choice, but this one's an ancient ritual that dates back thousands of years. Originating as an Ayurveda holistic medicine practice in India, hair oiling has always been about more than just fuller, healthier hair. It's an act of self-care. Traditionally, a head massage is an integral part of the experience and Ayurvedic herbs like hibiscus, amalaki and brahmi are sometimes infused in the oil. This helps circulate blood flow to the scalp to tackle hair problems at the root (literally) and activate the seventh chakra to connect to the pineal gland and calm the mind.
Types of hair oil
Coconut oil
There are more hair oils than we can count, but a good rule of thumb is that heavier oils, like coconut oil and macadamia oil are best for thick, curly and afro hair to add moisture and reduce frizz. Coconut oil helps repair broken ends as well as aiding hair growth, protecting against heat damage and helping dry hair retain moisture. Not only that, but it helps prevent hair loss and promote a healthy scalp too.
Jojoba oil
"Jojoba oil is most commonly found blended into conditioning products like conditioners as it is great for hair repair," says Tudor. Jojoba oil shares similar properties to sebum, the oil that our scalps produce naturally. It can be used to target scalp dryness and dandruff. It's rich in vitamins and nutrients that are ideal for dry, damaged and dull hair.
Rosemary oil
New beauty trends go viral on TikTok on a weekly basis, but few this year have gone as viral as rosemary hair oil. The hashtag has racked up a total of 3.1 billion views with TikTokers praising its wonderful hair growth qualities. Women of colour with textured hair had already been using rosemary oil for decades for its soothing and smoothing benefits. It's ideal for coarser hair textures to add a natural shine while aiding hair growth and promoting a healthy scalp. The boom in rosemary oil has however, had repercussions. Earlier this year, many Black women found themselves struggling to get hold of their much-loved Mielle rosemary oil after it took off amongst white audiences on TikTok.
Castor oil
Try castor oil if you have brittle, frizz-prone hair to boost hair growth and reduce dandruff. It promotes healthy hair growth by increasing blood flow to the scalp. "Castor oil has been used to help promote healthy hair growth as it can nourish the hair follicles helping to stimulate blood flow which is amazing for hair growth," says Tudor. Applying castor oil as little as once a month can boost hair growth up to five times the usual rate while its antibacterial and antifungal properties can reduce dandruff. Tudor recommends putting a few drops in your favourite hair mask and applying it to the mid lengths and ends of hair to hydrate dry, frizzy hair.
So, now you know about all the different types of hair oil, we've curated a selection of the best products for all hair types, from curly, textured hair to dry locks suffering from heat damage.
Products are selected independently by our editors from the woo online store, a carefully curated platform for feel good fashion, beauty, wellness and lifestyle, as well as externally. Items on sale are subject to change pending stock availability. Discover more here.
Spring beauty
Our spring makeup, grooming, haircare and skincare picks