Gingham, faux fur and pink galore: here's what people are wearing to the Barbie movie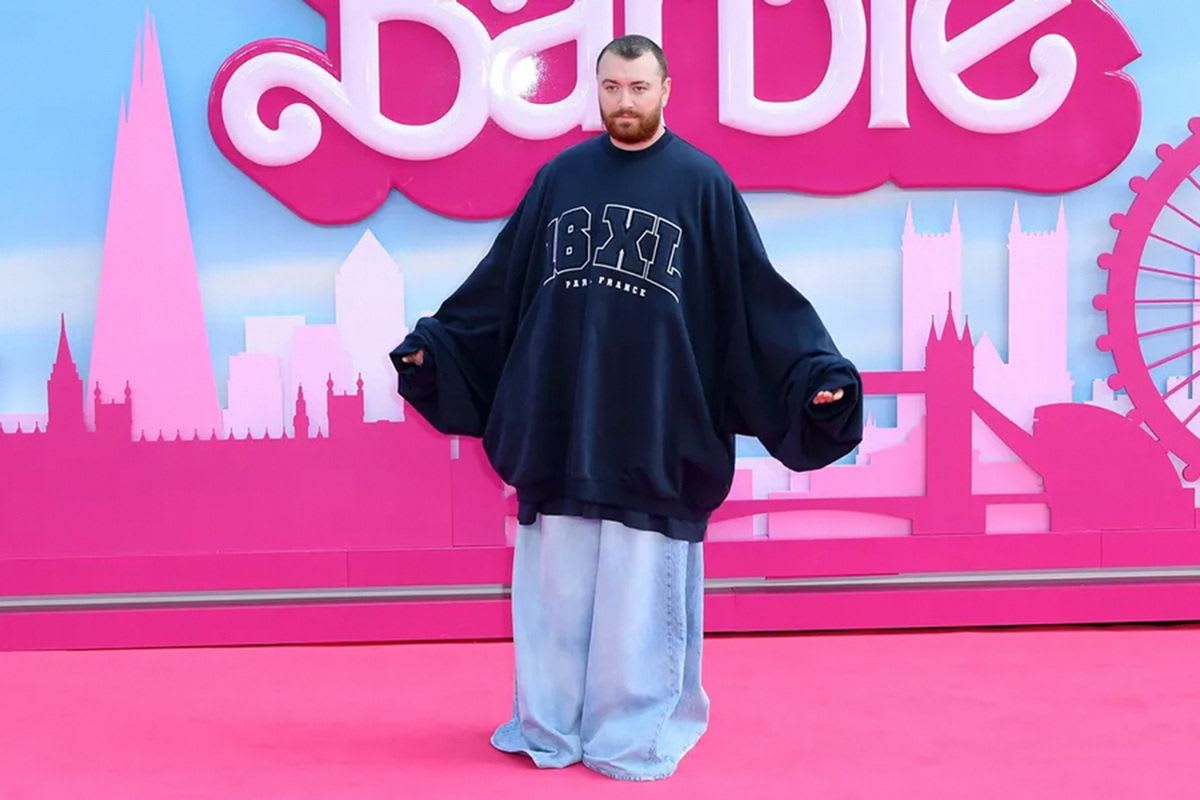 In case you're looking for inspiration on what to wear for the movie of the year, read for some feel-good fashion inspo
image Twitter via @imshanereaction
words Darshita Goyal
Unless you've been trapped in a no-internet zone, you know that the Barbie movie has finally hit cinemas. Over the last few months, Greta Gerwig's dopamine dressing, existential take on everyone's favourite it-girl-in-plastic, has taken over the online and IRL world. You're waiting at the bus stop and there's a two-dimensional "she's everything" Barbie and he's "just Ken" to keep you company. You walk past a department store and every brand has switched up their window display to feature the hottest shade of pink. You can't escape people online talking about that burger with the pink sauce.
Swayed by the mammoth marketing campaign, you give in and look for tickets, and there's yet another surprise glitter bomb. No, seriously, type Barbie on Google and watch your screen get enveloped in bubbly, pink confetti. Over on TikTok, @JustMejas is hosting a Barbie Bootcamp to prep people for the flick of the year (decade?). There's a curation of movies to see beforehand, tutorials on how to roller skate and spend a day in heels, and of course an abundance of outfit inspiration to help you decide what to wear when you watch the film.
Remember when Minions: The Rise of Gru premiered in 2022, and theatres were inundated with excited cosplayers? The Barbie movie is that but on steroids. "How can you not dress up to watch Barbie? That's an insult to the core of the movie," says Francesca Kane, a 22-year-old graphic designer. The many pink carpets, Margot Robbie's archival couture looks and the endless fashion commentary around the film have all been preparing us for this grand fancy dress marathon.
So, dig out those organza tutus, gingham tablecloths and chunky, bubblegum pink accessories from the back of the wardrobe. The moment to unflinchingly be a bimbo girl in a fantasy world is here. In case you're overwhelmed by choice, we asked Barbie fanatics what they're wearing to the movie to create a saccharine moodboard.
There's oversized sunglasses, retro boots, pink neckerchiefs and a yummy serving of glitter dusted ensembles to inspire you. Oh and suggestions on how to make a big Barbie day out of it. Take notes!
you are missing out on some content here because you rejected our cookies. want to change that?
Danielle, 24, content creator
Barbie has been a fashion inspiration to me since I was little and continues to be to this day. I've been dressing in pink for around 3 years now and that's how I grew my platform, so I've never been more excited about a film. I'm also looking forward to seeing Ryan Gosling's take on Ken, it's such a fun time for pop culture.
I already have my outfit planned. I'll wear a pink gingham mini dress from Frillie, a UK-based small business. It has puffy sleeves and a corset-style top with a lace trim. I'll style this with matching pink gingham mules from Primark, a fur trimmed purse from ASOS and a pearl necklace I thrifted from Vinted. I picked this to resemble Margot Robbie's Barbie from the trailer. My friends and boyfriend are also dressing up and we're getting pink cocktails and sweet treats after the movie.
you are missing out on some content here because you rejected our cookies. want to change that?
Key, 25, fashion student
Barbie is the only movie I'm planning to watch in the theatre this year, the soundtrack is so good and the promos are everywhere. I grew up with the doll — I've watched all the older movies and Barbie of Swan Lake is my favourite. It's so funny, as a child I promised myself that one day I would have an apartment big enough to have a separate room to keep all my Barbies.
Dressing up to watch the movie is like a dream come true for my inner child. I'm going to wear a pink crochet top that I made while working as a pattern tester; I even added some 3D flowers on the straps to make it look more dressy. I'll pair it with hot pink baggy pants that I thrifted from Vinted and Melissa x Lazy Oaf sandals. I'll also carry a giant pink, daisy bag that I got from Delias.
you are missing out on some content here because you rejected our cookies. want to change that?
Holly, 22, nursing student from
I've been obsessed with Barbie since I was a little girl so all the hype around the movie has been so nostalgic and amazing. I have a bunch of outfits planned for the movie. I bought Barbie x Peter Alexander pyjamas, so I could wear those as a tribute, or a pink dress with a cute ponytail and a bow! I also bought a top from the Barbie x Cotton On collection so I may wear that with my pink Jordan dunks. To make a day out of it, my boyfriend and I will grab dinner after the movie. I'm based in Sydney, where the burger restaurant chain GRILL'D has a Barbie burger so we might get the special Barbie meal deal.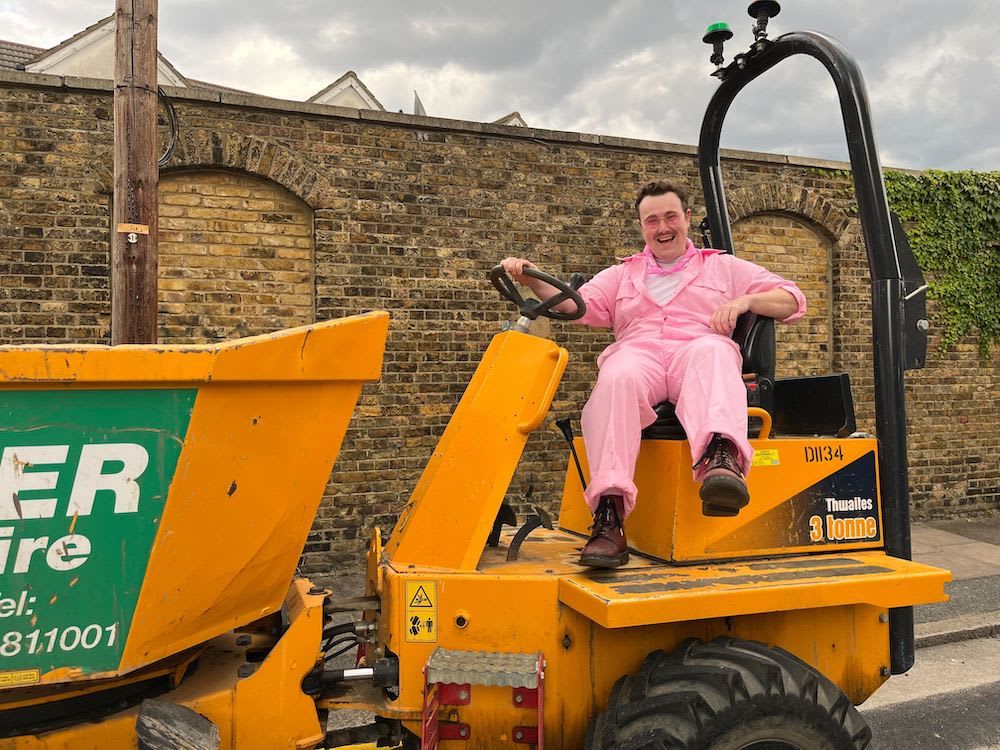 Tom, 25, government worker
A few years ago I would have been jaded and cynical about dressing up for the Barbie movie. But as I've grown older, I've realised how important it is to take joy in things where you can, so I'm really excited to be part of a cultural moment like this. I'm wearing an oversized, bright pink boiler suit, from this brand called TuffStuff, that was originally designed for gardening. I'm pairing that with purple Dr. Martens that I've owned basically since I was 18 - they've carried me through a lot and I love the look of a cuffed boiler suit with big boots!
I'm also going to wear big round-rimmed pink glasses that I wore to see Elton John at Glastonbury last month, for maximum pink and I might add a pink neckerchief on top of that. I chose this because earlier I dressed in a way to draw as little attention to myself as possible. I used to be very anxious about how I was perceived. But lately I've been trying to take these opportunities to dress as loud as possible and fall in love with the way I look. I really love that I can wear an outfit that is patently ridiculous and "look at me" whilst feeling that I'm engaging in a genuine attempt to shed my own insecurities.
you are missing out on some content here because you rejected our cookies. want to change that?
Ester, 19, fashion design student
When the first Barbie trailers came out, I decided to start creating Barbie-inspired content. I honestly believe I'm the most excited for the movie, Barbie is my dream. She shows us you can be fabulous, and kind and truly go after what you want. I was very lucky because I got to attend the movie premiere.
I wore a second-hand dress from Selkie, it was only $10 — such a rare find. It's a puffy, pink, baby-doll style dress with a fuchsia floral pattern and has poofy sleeves like Cinderella's gown. I picked it because it's pink but also because it looks like the dresses that my dolls wore when I was growing up. My friends and I have tickets booked for the opening day. I'm sure the theatre is going to be like the Met Gala. Everyone has to dress up, it's mandatory for Barbie.
you are missing out on some content here because you rejected our cookies. want to change that?
Sandra, 24, model and content creator
Like most people, I grew up dreaming of being like Barbie or living in a dream house like her. But I'm excited about the storyline of the movie, it's incredible that Barbie has to choose between her world and real life - that's so telling. I have so many outfits to pick from when I watch the movie because I love pink and most of my wardrobe has it naturally.
But I've decided to wear a pink lace dress from Oh Polly and pair it with Miu Miu kitten heels. I'm also going to wear pink eyeshadow and add ribbons in my hair. My friend and I are watching it together in the theatre and she is borrowing a pink Chet Lo set from me. After the screening we're going for a "Barbie in the dream house" theme party so it's going to be a complete Barbie day.
Candela, 18, student
I spent days looking for an outfit to wear to the Barbie movie and when I posted about it on TikTok, I was shocked by how many people were doing the same. I've finally settled on a fuchsia pink dress from Shein. It has puffy ruffles and is comfortable enough for me to have a good time at the movie while still looking like a Barbie. My friends and I are going together and we've had tickets booked for weeks. We're going for a screening at one of the biggest cinemas in Madrid, they are hosting a party before the movie and there's also pink popcorn. It just doesn't get better.
you are missing out on some content here because you rejected our cookies. want to change that?
Njoki, 20, economics student
I made a TikTok of all the outfits I wore over the last week and realised they all had a Barbie aesthetic to them. Clearly, I'm very excited for the new movie to come out - I had all the Barbie DVDs growing up and it holds so much sentimental value for me. I'm planning to wear a pink and white floral top from Missguided with flared mauve corduroy pants from G&H Jeans.
I'll pair it with my pink Nike Dunk Lows and accessorise with a cherry beaded necklace and a pink belt with rhinestones. I curated a Y2K aesthetic on purpose because when the animated Barbie movies released, all the cool, older girls whom I looked up to at the time wore this kind of clothing. After my friend and I watch the movie, we're definitely going to a photo booth to get some cute pics of our outfits.
you are missing out on some content here because you rejected our cookies. want to change that?
Sabrina, 26, social media manager and stylist
I'm a huge fan of Margot Robbie and I genuinely believe she's the perfect fit for the role of Barbie. I'm also very excited and curious to see how they style the original Barbie looks, I think the movie itself will be a historic moment for fashion. I'm definitely dressing up for the movie and while I don't have a final outfit decided yet, I have a Pinterest mood board with ideas. I love incorporating thrifted pieces into my look so I'll probably carry my vintage pink Dior saddle bag. Following the movie, my friend and I have a dinner date set up so we can discuss all the details.