A guide to Zendaya's future-classic style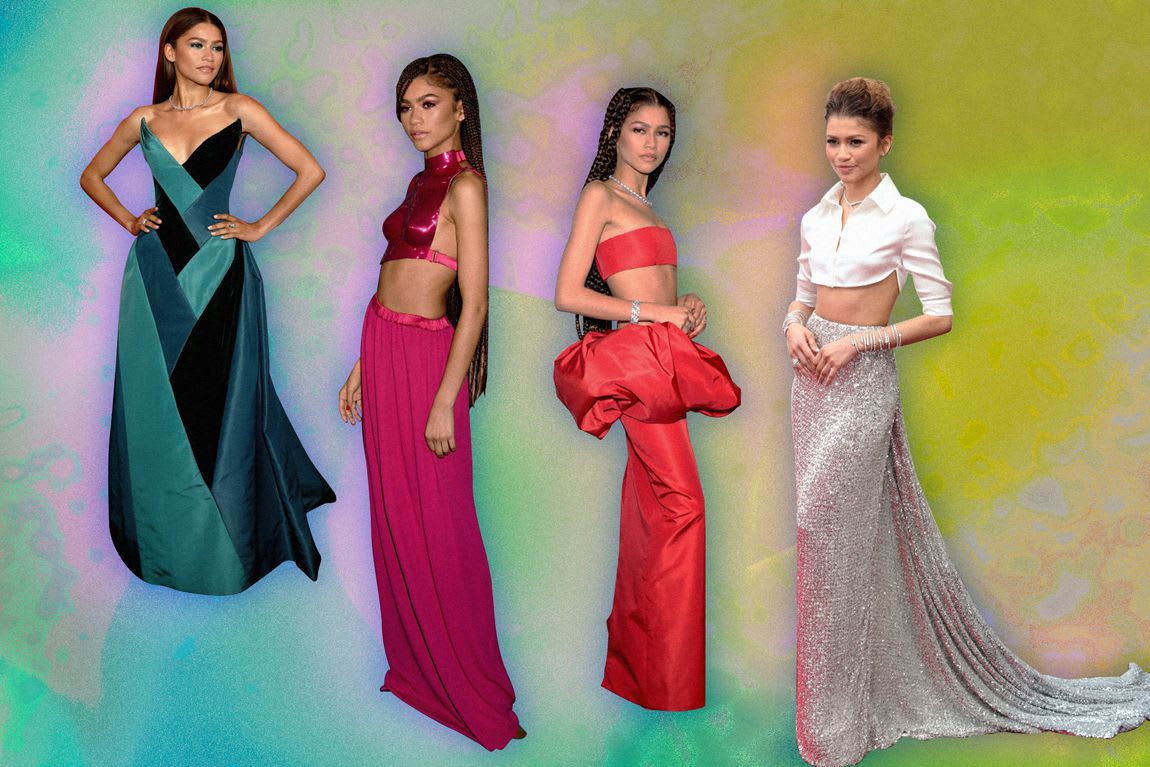 The actor and closet musician (please...give us the second album) puts her own spin on Hollywood glamour with Valentino pink, playful proportions and bold colours
image Getty / Collage by Jonas McIlwain
words Megan Wallace
Zendaya holds many an accolade to her name: whether it's a Critic's Choice Award or an Emmy. For fashion lovers out there, the most relevant statue in her awards cabinet will no doubt be the CFDA (Council of Fashion Designers of America) Fashion Icon Award she bagged at just 25 years old, making her the youngest ever person to win the title. But what's the secret to her iconic style?
Well, to be brutally honest, it definitely has a thing or two to do with the stylist (though he prefers the term "Image Architect") Law Roach. The pair have been working together since Zendaya was 14 — back in her Shake It Up, Disney Channel days — and Roach has also got an impressive roster of other celebrity clientele including Ariana Grande and Céline Dion.
Together, they've honed a pretty recognisable look: with Zendaya's style, the M.O is classic Hollywood elegance, with a contemporary spin. Something of a proponent of the clean girl trend, Zendaya always looks crisp and elegant and can span a Katherine Hepburn-worthy starched shirt as easily as the romantic silhouettes beloved by Dorothy Dandrige.
Want to try the look at home? We've got you — here's our cheat sheet to Zendaya's 2020s' screen-siren style (Valentino brand deals, sadly not included).
Trim tailoring
Euphoria costume designer Heidi Bivens has crafted Zendaya's character Rue into a bit of a gender fluid icon, giving the fictional high schooler a grungey wardrobe of battered high-top converses and printed trousers by brands Aries and Roberto Cavalli, all while making sure she jumped on the white tank top train before it became this summer's most unexpected style staple. IRL, Zendaya expresses her own androgynous streak through Marlene Dietrich-esque suiting that pushes the boundaries of tailoring. From an Alexander McQueen number cobwebbed with crystals to waist-cinching Sportmax and a slouchy Fear of God dove grey trouser suit, this woman knows power dressing. And did we mention her penchant for white cropped shirts?
you are missing out on some content here because you rejected our cookies. want to change that?
Colour-blocking queen
As a Valentino girl (she's also a Smart Water ambassador...get that H20 bread, babe) Zendaya is no stranger to a bit of Barbiecore pink, wearing a series of eye-scorchingly bold, pink-on-pink-on-pink looks in the Italian fashion house's latest campaign, alongside Sir Lewis Hamilton. But this isn't the only time she's hit the colouring crayons. As the actor's red carpet style tends to gravitate towards vibrant hues and jewel tones, whether it's her scarlet, asymmetric Vera Wang moment at the CFDA Awards, or her canary yellow Valentino gown at the Oscars – go bright or go home, we guess.
you are missing out on some content here because you rejected our cookies. want to change that?
Playful silhouettes
A classic Zendaya moment is a slinky, full-length gown (preferably with plunging neck) but she shines equally bright when she goes off-script and ventures into more experimental shapes and silhouettes. Specifically, she's given us some larger-than-life skirt moments, including a baroque (pre-cancellation) Dolce & Gabbana ball gown at the 2017 Met Gala and a huge, haute couture Valentino skirt in Cheeto orange at the Critics' Choice Awards. At the end of the day, Zendaya's a former theatre kid: she knows how to give us a bit of drama, whether it's on screen or on the red carpet.
you are missing out on some content here because you rejected our cookies. want to change that?
Avant-garde armour
Obviously, we're talking here about Zendaya's custom Versace, Joan of Arc-themed gown for the 2018 Heavenly Bodies Met Gala. Made from chainmail, with armoured detailing, this is definitely the moment that set Zendaya on her way to becoming the style icon she is today. Since then, she's continued the outer-armour trend by stepping out in a custom, hot pink Tom Ford breastplate and wearing a Loewe maxi dress with gold sculptural bustier to the 2021 Women in Film Awards.
you are missing out on some content here because you rejected our cookies. want to change that?
Jewels on jewels on Jules
Zendaya's Euphoria character is known as a bit of a queer icon for her on-screen romance with Jules: a 2020s' version of the manic pixie dream girl trope, as played by Hunter Schafer. However, this hasn't been her only iconic WLW moment (at least according to the internet). In May 2022, she appeared in a potentially queerbait Bulgari ad alongside Anne Hathaway, which saw the duo decked out in diamonds and cavorting around a mansion, to the amusement of sapphic Twitter. Whatever your thoughts on it, the jewellery looked expensive – which just so happens to be the mood whenever Zendaya appears out and about, really. While this is partly to do with her and Law Roach's unparalleled access to couture, it's also a result of her intimate relationship with Bulgari and the fact she's rarely seen in public without a whole freezer section's worth of multi-carat ice around her neck.
you are missing out on some content here because you rejected our cookies. want to change that?
Cut-out queen
Finally, it's worth pointing out that Zendaya has been an early proponent of the cutout trend – or should we say, way of life – which has dominated this summer's dressing. While many of us have been strutting around in everything stringy, slashed and fishnet during these warmer months, Zendaya's interpretation is more about razor sharp precision, clean lines and bold flashes of skin. There's been a flowing Nensi Dojaka at a London Dune premiere after-party and her aforementioned, yellow Valentino Oscars look, which revealed a snippet of her navel.
If that wasn't enough, there's also a range of looks featuring plunging necklines, like her Vogue Italia cover look or a JLo-worthy purple Versace number, and some funky two-pieces with full-on midriff on display, such as the burgundy, backless, Alaïa crop top and matching skirt she wore while promoting Dune in Paris. What can we say, there are those who lead and those who merely follow...
you are missing out on some content here because you rejected our cookies. want to change that?