escape into a Wes-world of whimsy at the Asteroid City exhibition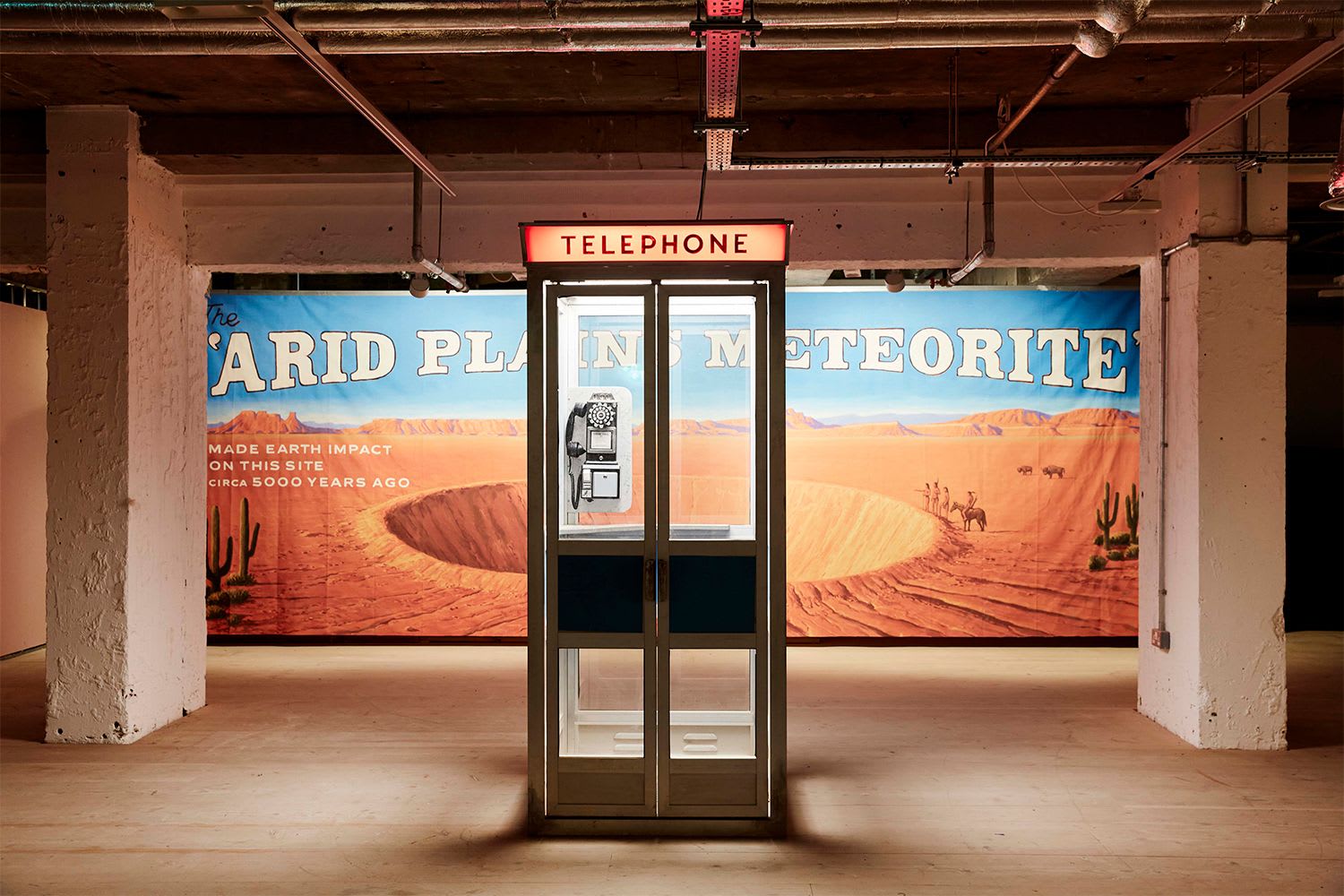 180 Studios is exhibiting original sets, props and costumes from Wes Anderson's latest film
If you've spent hours scrolling through DIY recreations of the Wes Anderson aesthetic online, you're not alone. Who can resist the sepia-toned pastels, deadpan expressions and calming symmetry of this universe? The director creates visual treats that soothe our twee little hearts, leaving us hopeful to experience this dramatic flair IRL.
Well, here's proof that manifestation is real: there's now an exhibition featuring actual props, rusty signs, miniatures, costumes and artwork from Anderson's newest film, Asteroid City. The sci-fi comedy gets its name from the make-believe desert town where it's set; a space where, 3,000 years ago, a mysterious meteorite landed and changed the lives of its 87 residents forever. Asteroid City is now a government observatory which hosts the annual Junior Stargazer Convention to award probable science prodigies.
The (enormous) ensemble cast, including Margot Robbie, Maya Hawke, Jeff Goldblum, Jason Schwartzman, Scarlett Johansson, Tom Hanks, Ethan Josh Lee and Jeffrey Wright, arrive in the eerie but adorable town for this convention. Soon after, all hell breaks loose as a surprise celestial visitor forces the town into an emergency lockdown. Oh and this is all actually a play, nothing is real. If that sounds absurd, it's because it is. Like all Anderson films, Asteroid City is a lovely maze, hypnotic to immerse yourself in just as long as you don't try to make sense of it.
And the accompanying exhibition urges you to leave all disbelief at the door as you walk through the transformed spaces of 180 Studios. In typical Wes-world fashion, life sized, painted backdrops make up the scenery of the desert town. These murals toe the line between reality and a surrealist moodboard with burnt orange hills, buttery yellow gas stations and plush cacti peppered with cutesy spindles. Another room is bordered by an almost life size 3D recreation of the sunflower yellow train that runs through Asteroid City.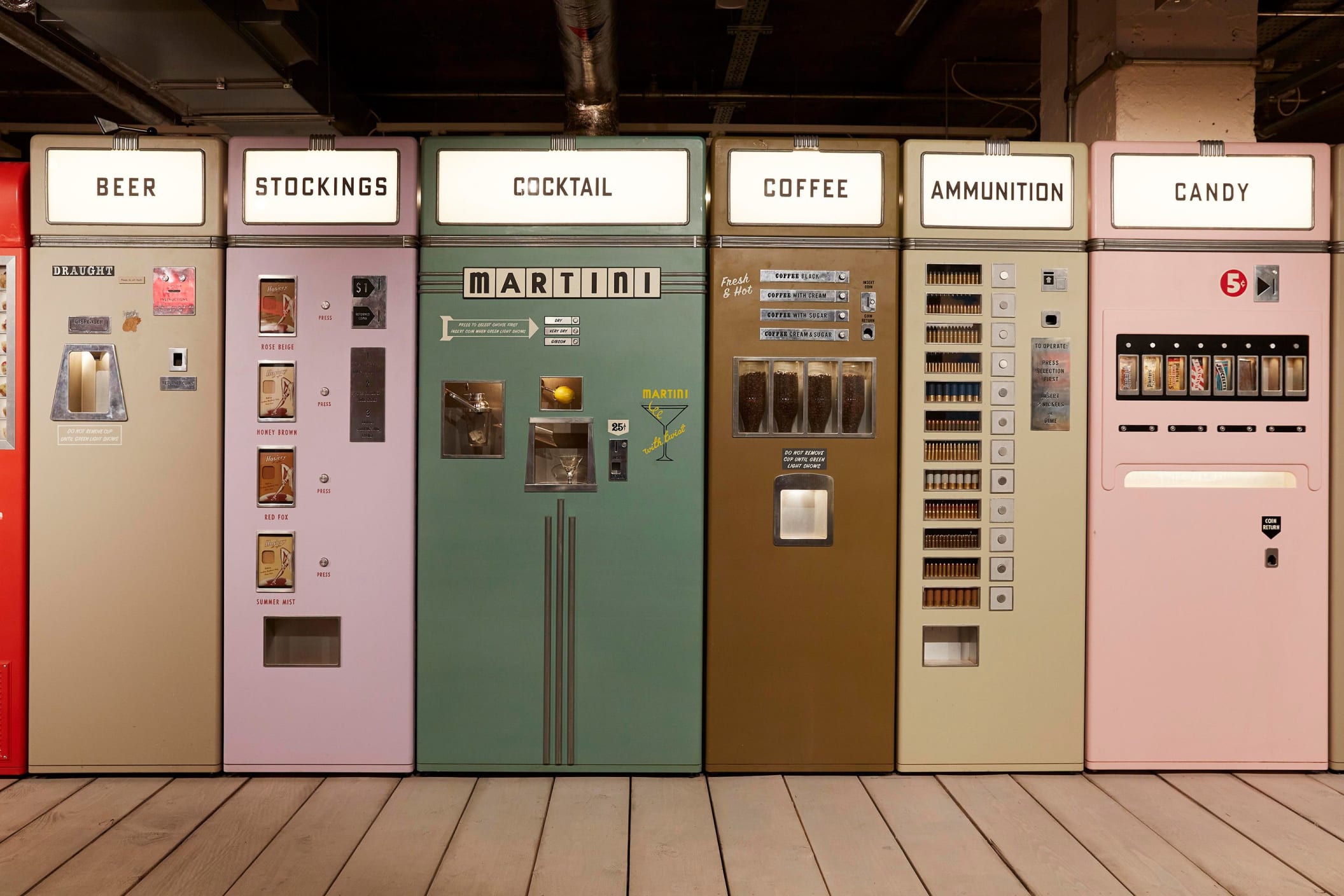 The Smeg-like vending machines from Asteroid City.
A closer peek reveals that just like in the movie, the train has separate coaches for coal, stones, trucks and of course, ginormous compartments (!) for miniature artichokes and avocados. What's life without a little whimsy? Speaking of which, the exhibition also features a string of glitchy, pastel vending machines from the desert town. Not only do these chunky models look like they were plucked from a Smeg catalogue, but they sell everything from candy, cocktails and cigarettes to mugs of draught beer, emergency stockings in a bunch of colours and…ammunition, all for a few dimes only.
In case it's the sci-fi of the film that draws you in, the exhibition also has the infamous jetpack, ray gun and chaotic meteorite on display, complete with custom log books and proof sheets documenting the space cadets' genius. Don't worry, along with the young prodigies' creations you can also see their costumes with handwritten name badges and the awards they won. There's Dinah Campbell's (played by Grace Edwards) cottage core white dress accessorised with her sparkly red sash as well as loverboy Woodrow Steenbeck's (played by Jake Ryan) high waisted shorts paired with a classic, striped shirt with the word 'brainiac' embroidered on it.
But the most popular set is undoubtedly Midge Campbell's cottage. In what seems like 1950s style foreplay, Schwartzman's character Augie Steenback, a former war photographer, takes a photo of Johansson's character Midge, a popular actor, through the windows of their neighbouring cottages. Later, Augie develops the picture showing Midge in her bathroom, posing sultrily in a dressing gown. While the original, vintage photographs are available to see, the exhibition does us one better. Immersion is what they promised, and so visitors can actually step into Midge's cottage and recreate the photo true to scale.
And there's more! Just when you think you've seen it all, there's a chance to taste it too. 180 Studios' cafe has been converted into the Luncheonette, a diner from Asteroid City that serves up classic American milkshakes, cheese toasties and hotdogs drizzled in mustard, obviously. The details are impeccable, right down to the red and white paper straws and bowls with astrological signs on them, to the servers dressed in cotton candy pink uniforms. If you're looking for a chance to even momentarily escape the overwhelming dissection that governs the big bad world on the outside, here's your golden ticket. Douse yourself in the absurdity of Wes Anderson.
Asteroid City releases in cinemas in the UK and Ireland on June 23, 2023
Asteroid City, the exhibition is on display at 180 Studios in 180 The Strand from June 17 to July 7
you are missing out on some content here because you rejected our cookies. want to change that?