Meet Victor Wembanyama: basketball's brightest prospect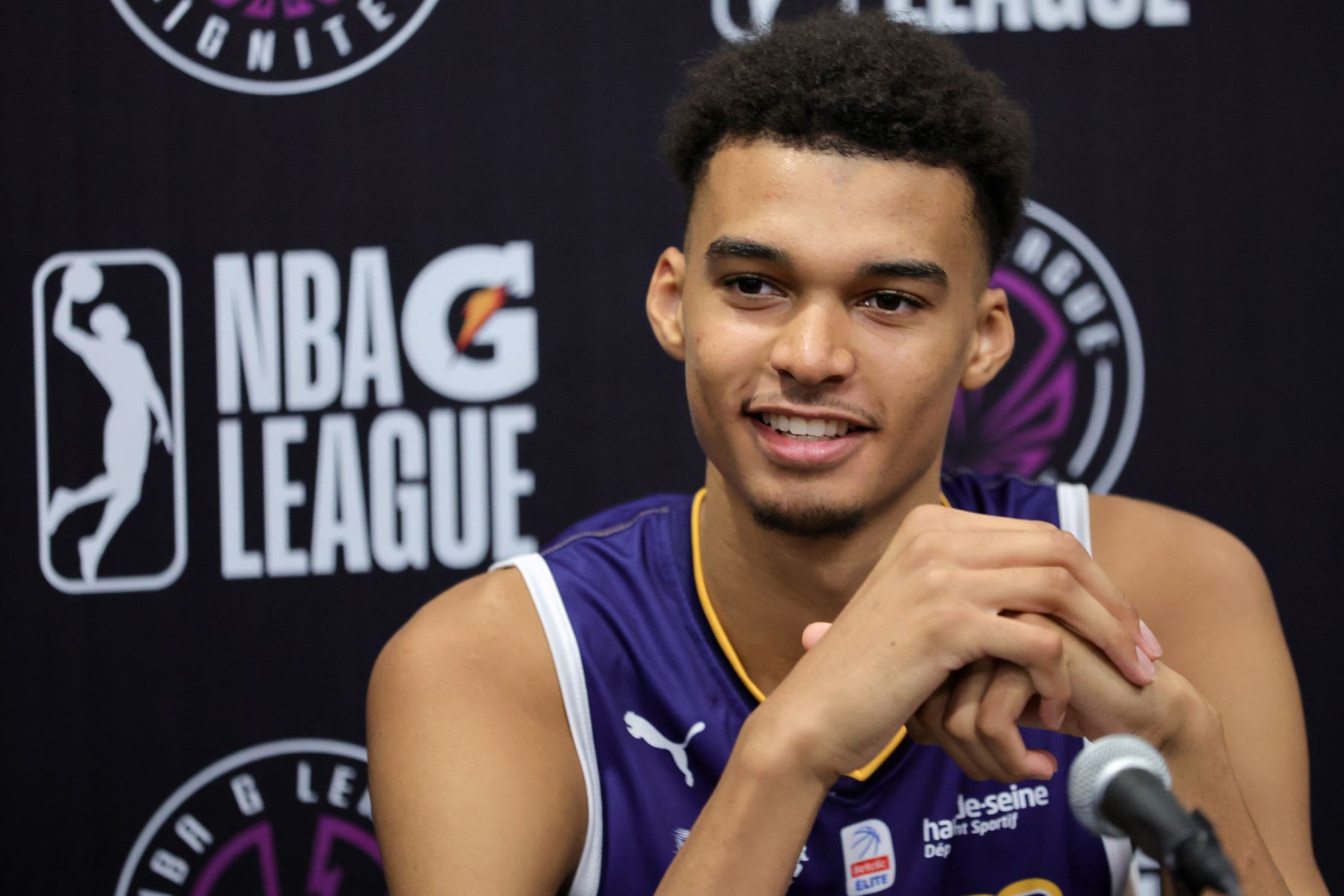 On paper, the 18-year-old might be the most exciting prospect in NBA history
image Ethan Miller / Getty
words Rhys Thomas
Gymnastics has Simone Biles, football has Erling Haaland, and snowboarding has Chloe Kim. All of these people are incredible young athletes who have stood at the top of their sport from an awe-inspiringly young age. Precocious performers, the lot of them. And now, another is very likely to join their ranks. His name is Victor Wembanyama. He's 18, born in Le Chesnay-Rocquencourt (a western suburb ~~striked out~~of Paris) in 2004, and has many pundits, fans, and coaches, drooling over his potential as a basketball player.
Why? Well, if you could design a perfect basketball player, they might end up looking like Wembanyama. The 18 year old is already at least 7"2 (conflicting reports suggest he could be as tall as 7"5) and has an 8ft arm span. This means he can almost touch the hoop without even jumping. This is super handy, especially as he plays center; a position where a player needs to protect their own goal while also scoring in the opponents'. It's a bit of an all-round position, and they tend to be the tallest players on the court.
But this youngster doesn't just look the part. As far as attributes go, while talking to ESPN, Wembanyama's coach also praised his agility, mobility, movement, and his ability to "shoot the 3" (a three point shot which is taken around 23-feet, 9-inches from the net). So you know, most things.
It's a set of attributes that make him feel like a character you'd build in a video game. Such potential prompted the National Basketball Association (otherwise known as the NBA) to invite Wembanyama's entire team over from France to take part in a pair of exhibition games on the outskirts of Las Vegas, just so they could see the prospect in action.
In that game, Wembanyama's team lost 122–115 to NBA G League Ignite, which is the NBA's developmental team, and an alternative to college basketball for Americans (it also offers salaries of up to $500,000). Despite the loss, he managed to score 37 points (almost a third of the points his team managed) and made five blocks. Impressive numbers, and in spite of jet lag from the 13 hour flight. Both the NBA G League and the NBA itself tweeted enthusiastically about his performance.
you are missing out on some content here because you rejected our cookies. want to change that?
The potential is still of course, just potential at the moment. But as far as possible greats go, it's hard to look beyond the young Frenchman. He's been touted by many as the number one pick for next year's NBA draft, which would mean that he is the most desirable player not currently in the NBA (and therefore, the most exciting non-senior player in the world). And it seems he truly is the full package.
His main competition for the top spot is likely with Scoot Henderson, an American player who is also 18 years old and over a foot shorter, though he is of average height for his position. Henderson plays as a point guard, whose job it is to set up shooting opportunities for the team. Henderson was playing against Wembanyama in that Las Vegas exhibition, having rejected at least two college scholarships to become part of the team. He scored 28 points.
It looked like the formations of a Haaland-Mbappé situation. In fact, Wembanyama's clinical precision and imposing physicality mirrors Haaland, while Henderson's flair and technical skill echoes Mbappé. Lord help anyone if they end up on the same team one day, but for now, it makes an exciting addition to what's becoming a good era for Gen Z sporting rivalries.
you are missing out on some content here because you rejected our cookies. want to change that?
Winter skincare for men
So come on now lads, let's get our skincare on.