TikToker Kelsey Russell wants Gen Z to bring back newspapers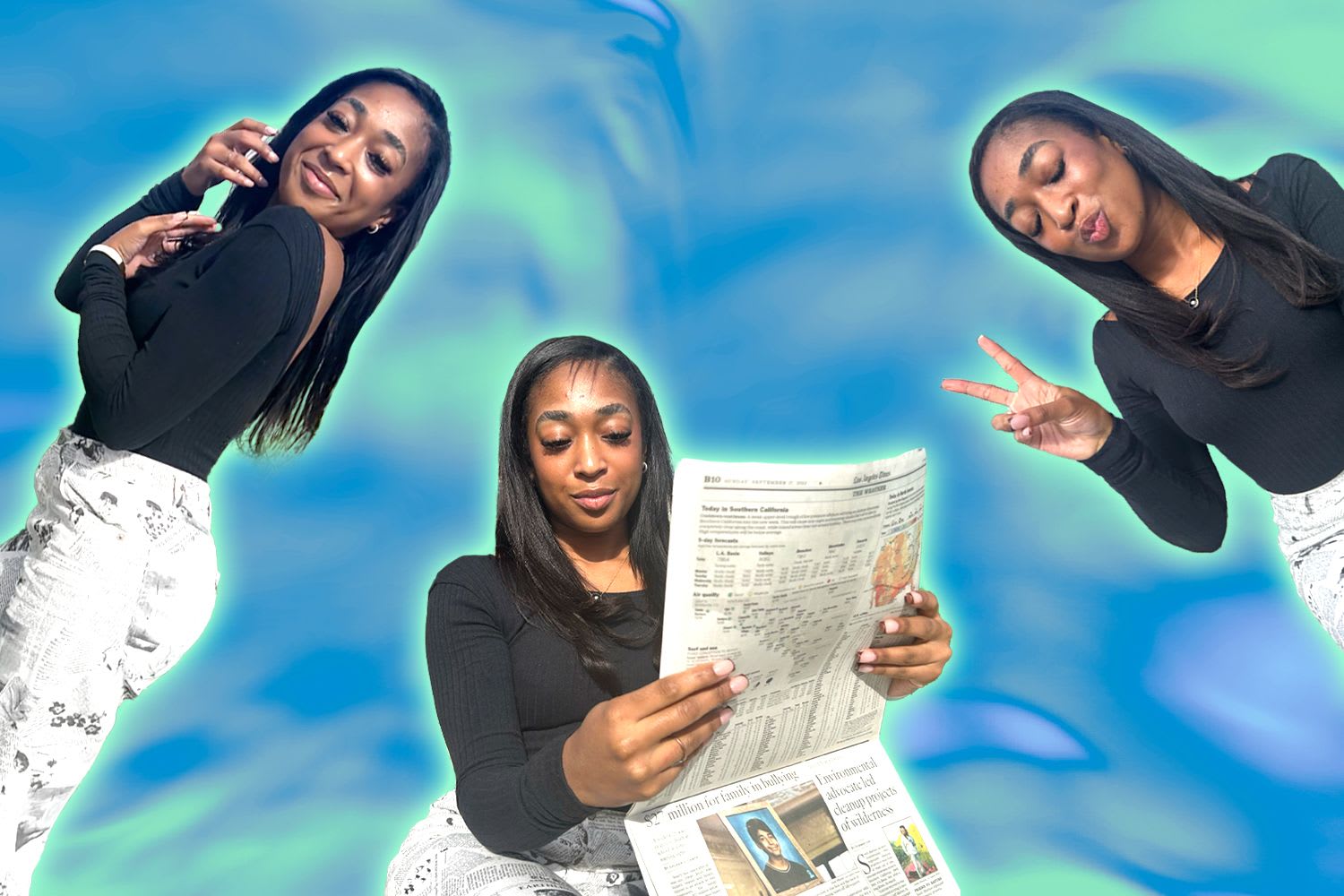 woo spent an afternoon with TikTok's ultimate newspaper girlie to understand why she's making a case for print media
image Team Woo
words Darshita Goyal
Sometimes the best thing about watching a popular movie is the discourse around it, you know the group chat is going to blow up and so is TikTok. Now imagine if reading the newspaper evoked the same hysteria? Enter: Kelsey Russell, a New York-based TikToker who wants to make print media relevant for Gen Z and start conversations about the news. A quick scroll through Russell's TikTok reveals a flurry of posts featuring physical editions of the New York Times, Washington Post, Tampa Bay Times, Time Magazine and the Wall Street Journal.
Seated at her kitchen counter, the creator breaks down one chosen story from the newspaper: the fate of Puerto Ricans at immigration, Disney's capitalist bid or a feature on Kylie Jenner's clothing line Khy, whatever piques her interest. Instead of reading straight from the paper, Russell simplifies the story with Gen Z slang and authenticity, often accepting her own lack of knowledge of certain subjects to remove the shame that young people may feel around asking questions.
you are missing out on some content here because you rejected our cookies. want to change that?
In a video, she explains how newspapers collaborate with the Associated Press, in another, she breaks down the different sections of a paper and the kinds of stories that they carry. Think of it as the cool girl's guide to reading and understanding the news, big slay. To understand what inspires Russell and how she became TikTok's ultimate newspaper girlie, woo spent an afternoon with the creator. Speaking about her journey with the news, she says, "My dad read the newspaper everyday when I was growing up and I would read it with him…I asked for a subscription because I wanted to be like him a little bit."
As a grad student at Columbia University, the 23-year-old understands that Gen Z consume information best when it's relayed as a series of concise, captivating stories. "I hope that young people fall in love with learning again and that they don't hate the news anymore. I want my videos to push people to be more curious," she explains. The creator's mission has resonated with TikTokers far and wide — Russell's videos have millions of views and she also appeared on the Drew Barrymore Show to talk about the importance of media literacy among Gen Z.
you are missing out on some content here because you rejected our cookies. want to change that?
"My favourite part about my content is the age range of my community. Since it's print media, often I have people in their 70s or 80s commenting on TikTok and some of them are in high school, I love that," Russell says. She also reveals that a lot of teachers have been incorporating her TikToks in their curriculum, "My aunt teaches 7th grade English and she's been bringing newspapers into class, that warms my heart for sure."
To find joy in reading and discussing the newspaper, follow Russell on TikTok here.