Olly Bowman wants you to "embrace stupidity"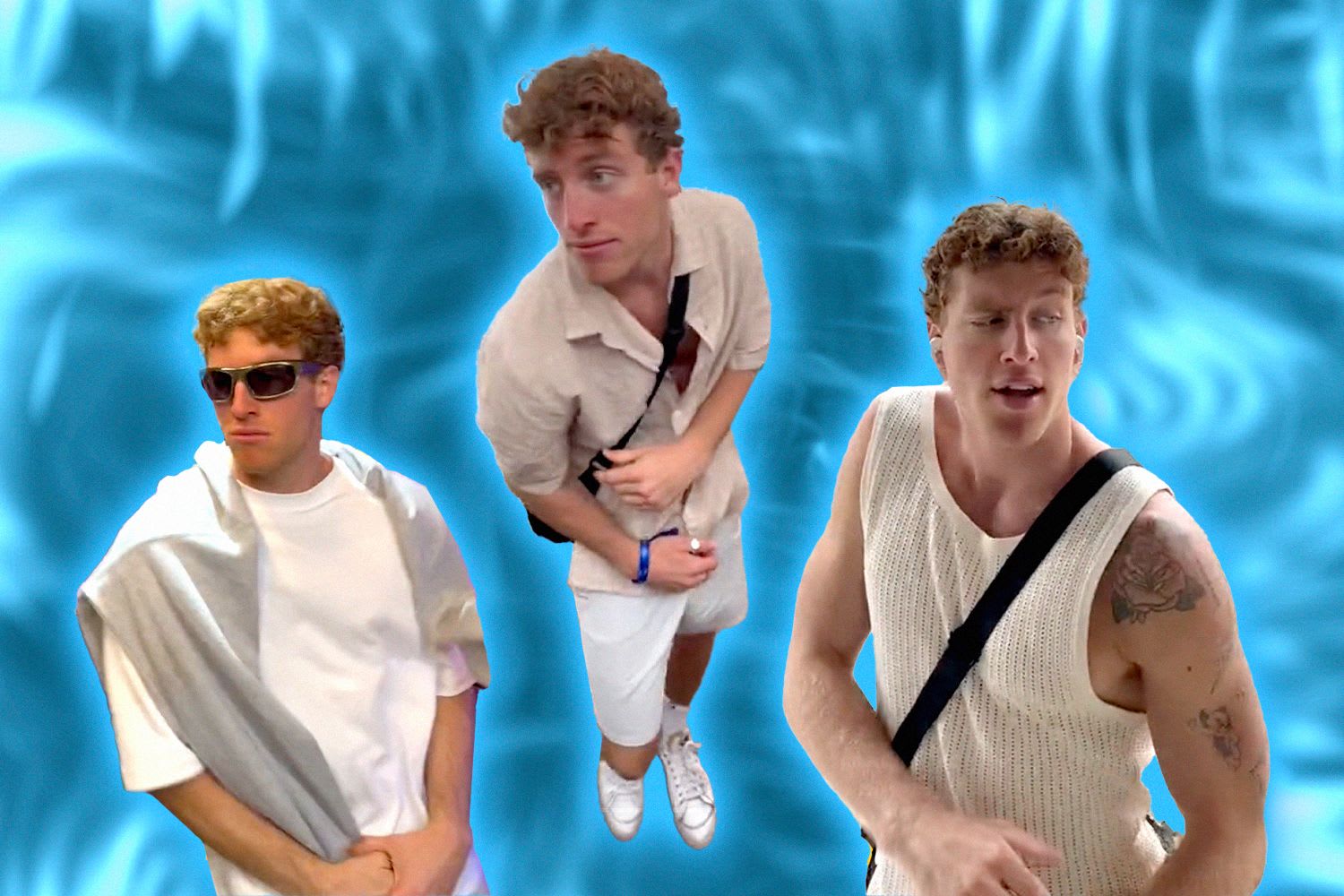 The wholesome Aussie TikToker behind the viral shoulder injury dance tells us what makes him tick
If your FYP isn't already dominated by Olly Bowman and his hilarious dance moves, PSA: it's time to change that. The 23-year-old Aussie creator lives in London and makes videos of basically everything but with a hearty side of dancing. Trying vintage clothing, listening to Taylor Swift, moving into a new house or struggling to beat a stressful day? Just shake your bum, do the shark dance and shimmy the bad vibes away. Bowman has renamed and invented plenty of quirky moves but his most popular and addictive one, has to be the iconic shoulder injury dance.
You know when you're shy and tell your mates you can't join them on the dance floor because of a (fake) injured shoulder? But then the grooviest beats come on and you can't help but shake the aforementioned hurt limb – that's it, you're doing it right, that's the move. And in case you need a visual ref, woo spent the day dancing through London with Bowman.
you are missing out on some content here because you rejected our cookies. want to change that?
The creator also told us what makes him tick and why he does what he does: "One side of it is, I'm just having fun and I would be doing that regardless if I was filming or not so may as well film it…The other side, there's always sort of a message behind the majority of my content which is being confident in yourself and not worrying so much about what everyone else thinks. I think I'm pretty good at doing that and more people should be able to feel free to be themselves."
But what makes the king of silly, wholesome content feel good on the daily? You'd never believe how simple it is. The creator tells woo, "After I wake up, I usually go for a walk, it makes me feel good and gives me a bit of energy. And then I FaceTime my family and chill with my friends." Sometimes it really is the little things that keep us going. Before Bowman took London by storm he lived in Norway for a couple years where he played professional basketball and (!) became a pop star. His song Fredag (Digg å være norsk) ranked number nine in the Norwegian charts in 2022 and has over 5 million streams on Spotify.
That's not all, the multi-hyphenate creator also uses his platform to share his sober nightlife experiences. Hacks for others looking to go alcohol free on the dance floor? "A lot of people feel weird about being sober and looking stupid when dancing or in social situations. But my tip would be to pinpoint someone and stay with them for 10 seconds, and then find another person and do it again. You'll realise everyone looks so stupid. There's no need to worry about looking stupid because literally everyone does, so just do whatever you want to do and realise regardless you're going to look stupid so just embrace stupidity."