Sex Education's costumer and mua on styling the cast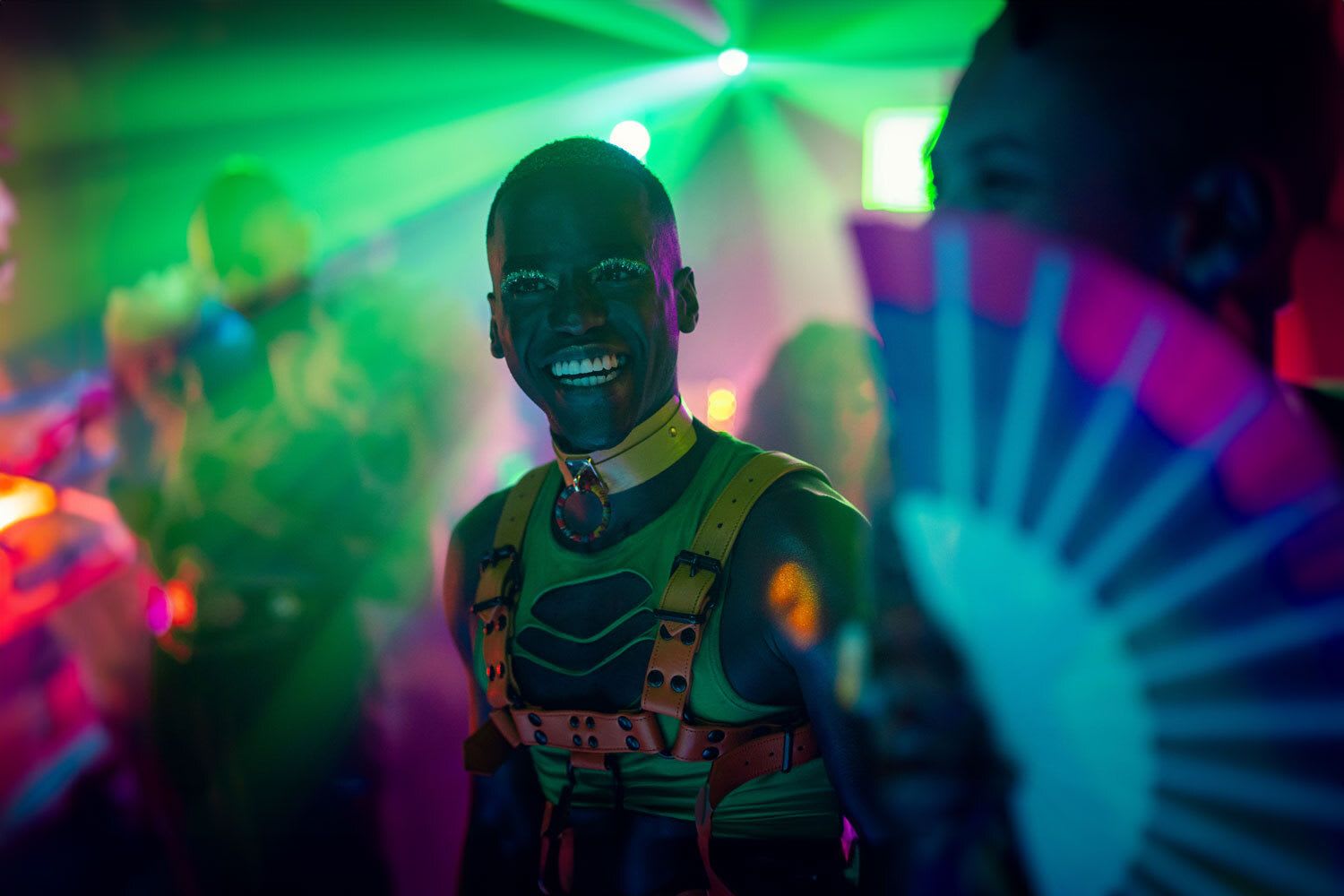 Daniella Pearman and Emily Bilverstone explain how the final series features influences of Troye Sivan, Grace Jones and Harris Reed
image Sam Taylor / Sex Education Season 4
words Darshita Goyal
Since 2019, Sex Education has altered the course of teen dramas – both in its content and styling. The show has brought to the fore everything that was a gaping lack in the existing sex education framework at schools. It tackled chaste teen romance, debilitating slut-shaming and inevitable whose-is-bigger bullying. But it also made space to ask perceivably odd questions about sex. You know, the kind that we've all had but relied on shaky porn videos or that slightly older friend to answer.
This vibe shift shapes the costume and makeup on the series, too. Without too many spoilers, each character's style is just as personal, and still relatable, as the sex ed queries that they have. Think of Ruby's (Mimi Keene) holier than thou print on print looks, Aimee's (Aimee Lou Wood) '80s inspired fall wardrobe full of cherry shades and deep marigolds or Eric's (Ncuti Gatwa) maximalist explosion of colours and patterns. It's likely that you (or someone you know) dressed as cockbiter Maeve Wiley (Emma Mackey) for halloween or lusted after Otis's (Asa Butterfield) nice guy red and blue coat.
But the fourth and final season of Sex Education gets a glow up like no other. The Moordale gang have started sixth form at Cavendish, a more progressive, luxury school with sound healing pods, silent disco rooms and free speech corners. The cool kids here are super queer and wear glitter eyeshadow and sequins to breakfast – think if Euphoria got a happily-ever-after makeover. In this (new and improved?) world, Queen Ruby is friendless, Eric is a bonafide social butterfly and Otis isn't the primary student therapist on campus. Basically, everything we believed as real and true is turned on its head.
As the characters grapple with countless firsts and nerve wracking growing pains, their fashion and beauty reflect these emotional rollercoasters. The grand final season also comes with an abundance of big style moments: an out and out queer party, a debate, an election, a baptism, a funeral, even a meeting with God herself. There's sequined kilts, holographic fish scales, excessive bow headbands, glitter coats and denim on fire.
Costume designer Daniella Pearman and makeup artist Emily Bilverstone worked closely to weave these narratives into every look. Below, the creative duo give woo a breakdown on the styling for the last season of the rapturous sex comedy. And of course, we talk about that ethereal Jodie Turner-Smith scene, I mean, how could we not? Final warning: an abundance of spoilers ahead, so if you haven't yet binged the final season, look away now!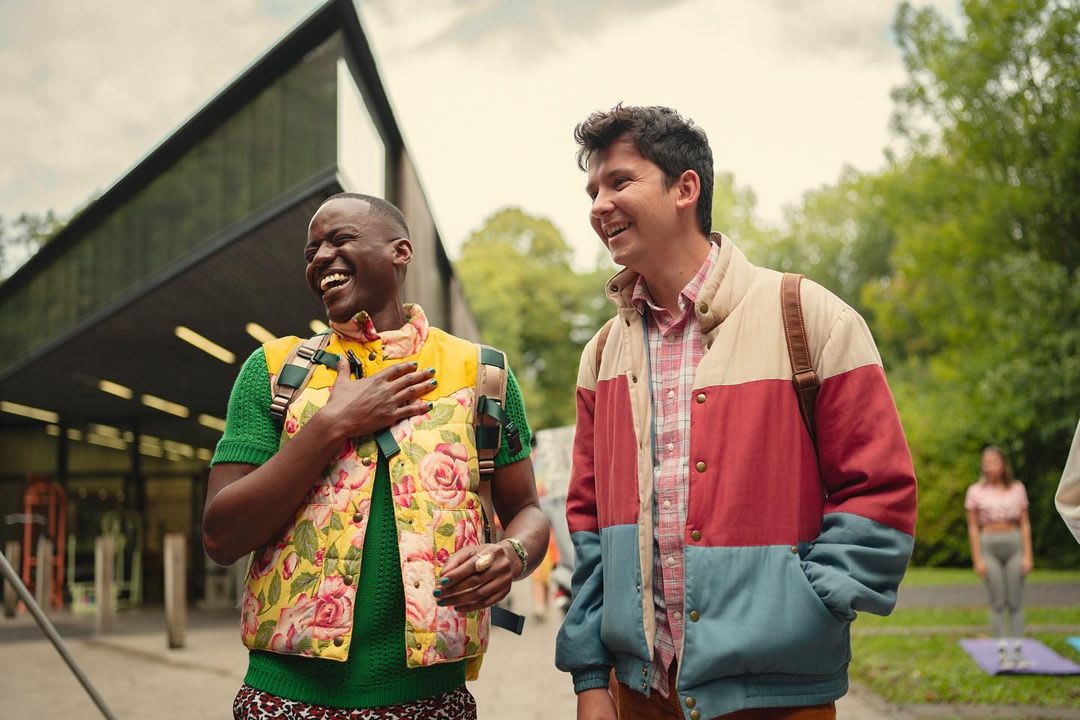 Eric really grows into himself this season, he's finally among people who validate his expression and this shift materialises at the queer party. Can you tell me about styling this look?
Daniella Pearman: We had so much fun with the queer party. When Eric meets The Coven, they become quite pally and give him this new perspective on expressing himself. It was scripted that Roman gives Eric a kilt but we wanted to make it quite iconic and different to what we've seen Eric in before. So my assistant costume designer and I went to London to pick out fabrics and we had the kilt made with sequins. We wanted to give the outfit a queer feel, especially when the kilt is paired with the harness, the look is very expressive and confident. It embodies Eric's eyes opening up to this world where [dressing like] this is totally normal and also welcomed. That's when he realises, "I can be me, I can finally start being who I am."
Emily Bilverstone: The queer party sequence was such a joy to design. My idea behind Eric's make up was that perhaps Abbi and The Coven had helped him, they lent him the kilt that he wears, and I imagined Abbi helping him with his graphic liner, too. Green has always been a strong colour for Eric. So for the eyes, I chose a bright green that blends into yellow to compliment the kilt, with glitter lashes. I knew the lighting would be quite dark, so I wanted them all to have a flash of something that would really pop. I used Refy's body glow all over Ncuti's skin that gave it a lovely shine. The green hair wax was inspired by a Frank Ocean album cover that Ncuti and I both loved. I've been desperate to give Eric bleached hair but it didn't quite work with his storyline this year - with Eric still hiding his identity from the church - so the colour wax was a perfect alternative as it's something he can do and then wash out.
This confidence really lends into Eric's interaction with God. I love how purple and metallics come together in that scene. What influenced Ncuti and Jodie's styling here?
Daniella Pearman: Jodie's God costume was very exciting for us because it was a collaboration with a designer; something that Sex Ed had never really done before. Jodie is dressed in an outfit by Harris Reed, luckily he had the piece already which worked out because the timelines in TV are so quick it's hard to get things turned over. Then we had Vivian Lee, the milliner, make the glorious halo-like headpiece as well. And since we knew what Jodie was wearing, we dressed Eric to reflect that style, the silvers and purple looked amazing on Ncuti's skin. I think the DOP was a bit angry with me about this look because it was a really sunny day on the bridge when we were shooting and the outfit reflected quite a bit, but I got away with it. The whole look was a bit dreamlike.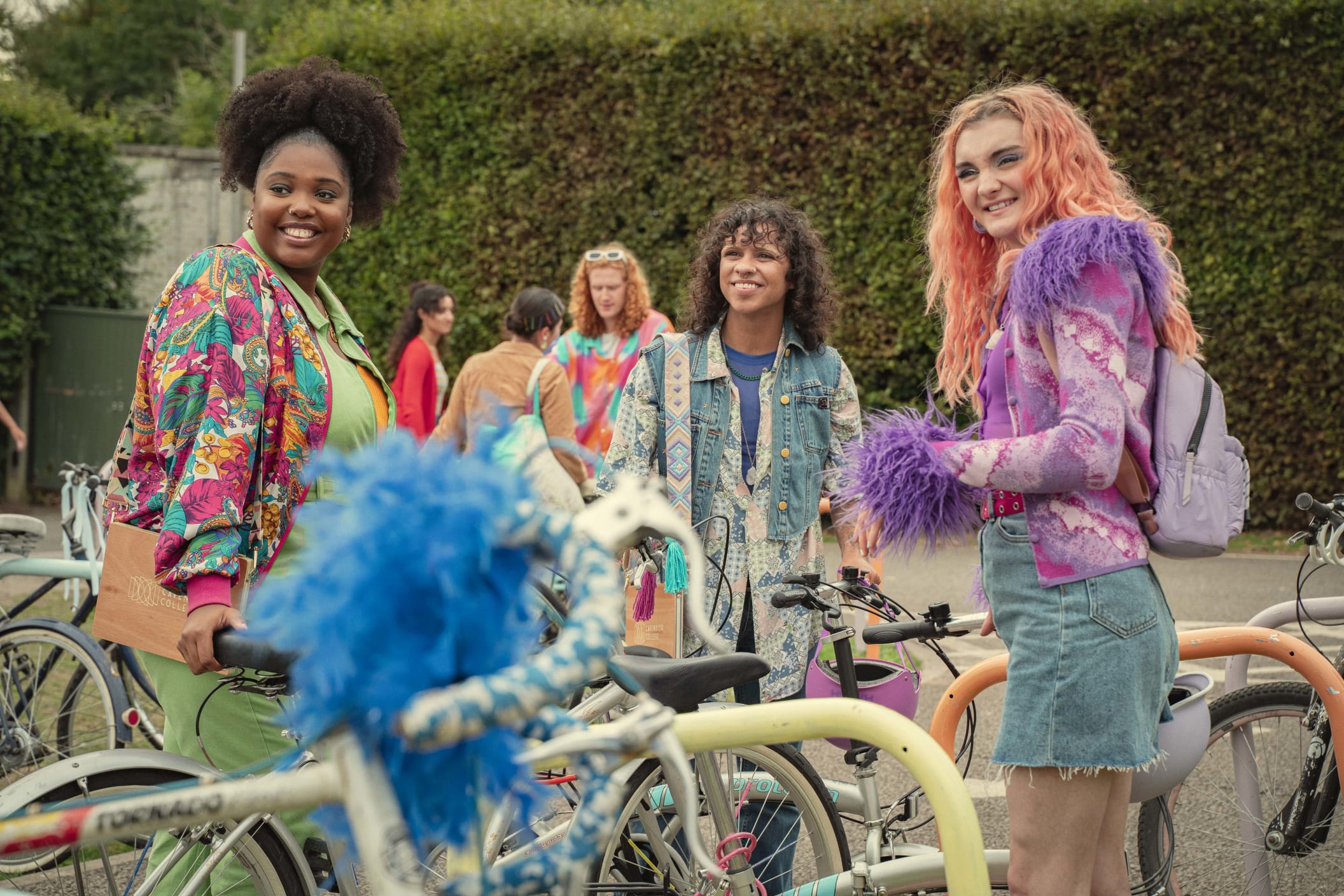 Among the new bunch at Cavendish, which character's hair and makeup did you have most fun with? What were some of your inspirations?
Emily Bilverstone: Roman and Abbi were so much fun to design. When I first met Felix [Muft, who plays Roman], he was wearing the most amazing nails, and we both instantly agreed that this would be a great addition to Roman's look. We worked with Natasha at Fuego Nails who made us five incredible sets of nails that incorporated Roman's character traits. Each set also had the letter 'A' for Abbi incorporated into the design. My favourite design has an earth theme, with mushrooms and the sun - which was a nod to Roman's passion for protecting the planet. Felix already had a gorgeous head of curly hair, but I wanted to give him a more defined haircut, leaning into a soft mullet. Roman's hair was inspired by an image of Troye Sivan and his bleached brows were inspired by an image of Isamaya Ffrench.
From the get go, my initial thoughts for Abbi were to have her look like the opposite of Ruby. She's the leader of Cavendish, everyone looks up to her. But unlike the popular girls of the coming-of-age films from the past, she isn't mean. I wanted to keep Ant's [Anthony Lexa] natural root colour and give her bright curly hair. This styling was inspired by Phoebe from Friends. Ant is very good at doing her own makeup, I loved the way she did her eyeliner, so together we found an Abbi version of what she was wearing already, by amping it up a little. Abbi is transfeminine, and Ant and I wanted to incorporate the colours of the trans flag somewhere into her look, so we painted her nails using the colours on the flag.
Through the season, as Eric and Abbi become closer, it seems like their colour palettes and style were merging as well. Was this a conscious choice?
Daniella Pearman: Definitely, yes. We wanted to show Eric's transition into that friendship group and the clothes enabled this a bit more, showing that he was obviously being influenced by his new friends.
Emily Bilverstone: This was very much a conscious decision! I am glad you noticed. I designed Abbi's looks with Eric in mind. I wanted him to see her at school everyday and be excited by her, she would help encourage him to go bigger and bolder with his looks. And as the show goes on, the longer they spend together, the more his makeup is inspired by hers.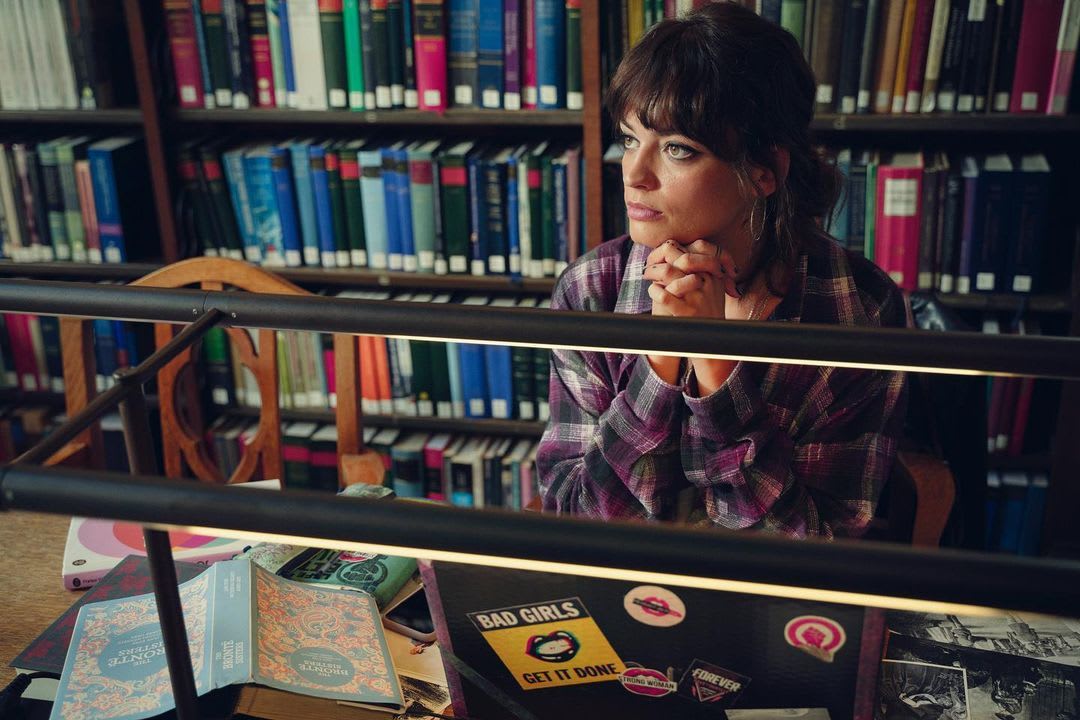 In many ways, season 4 highlights the teen to adult rebrand for the Sex Education gang, even Maeve tries to look more put together while she's doing her special programme at Wallace. What did you do differently with her style this season?
Daniella Pearman: We wanted to show a transition in Maeve's dressing but not take it too far away from what we know of her. We didn't want it to be jarring to the audience by suddenly having everyone look different. So we retained Maeve's basic look in America - the leather jacket, the boots, the fishnets, the short skirts. But what we did was give her a new vintage leather jacket and a pair of vintage cowboy boots to imply that she was shopping in thrift stores over there. Obviously Maeve's not got any money and she's still young, she's still finding herself and this reflects that. I think the only thing that was a bit different, a bit more demure than what we normally see Maeve in, was possibly the dress that she wears on her date with Otis. But again, we kept that kind of leather, kind of hard feel to her. Essentially we kept the essence of Maeve the same but just matured her slightly to show she has been mixing with older students because she's on this programme at the University.
Emily Bilverstone: Emma [Mackey] and I discussed Maeve's look for season 4 and we both agreed, by this point, she would be pulling back on her hard exterior and letting down some of the armour that we have seen her wear so far. We didn't want her to stick out amongst the preppy students at Wallace, and thought she would adapt her look a little to blend in. So we went for a grown out version of the fringe that we saw Maeve with, in Season 3. Her hair overall is longer, to imply that she hasn't paid too much attention to it since leaving Moordale. She's also still wearing her signature eyeliner, but it's slightly softer. By the end of this season, Maeve is becoming a young woman, which is clear in her life choices and the way that she presents.
Speaking of change, Otis sticks out like a sore thumb at Cavendish. Why did you retain the same colour palette for him?
Daniella Pearman: There's really no time for Otis to change his look. Over the summer holidays, he's been helping Jean with the baby and then he starts college. With this in mind, we changed things a little bit. He's got a new bag for Cavendish, a bit more of a grown up bag. And then obviously we can't get rid of that coat, it's iconic. We also gave him a new pair of chinos and new trainers. But when he's having that feud with O, he wears more shirts and polos in colours that pop. Maybe he's trying to look like the better, more mature therapist and that comes through in his clothing.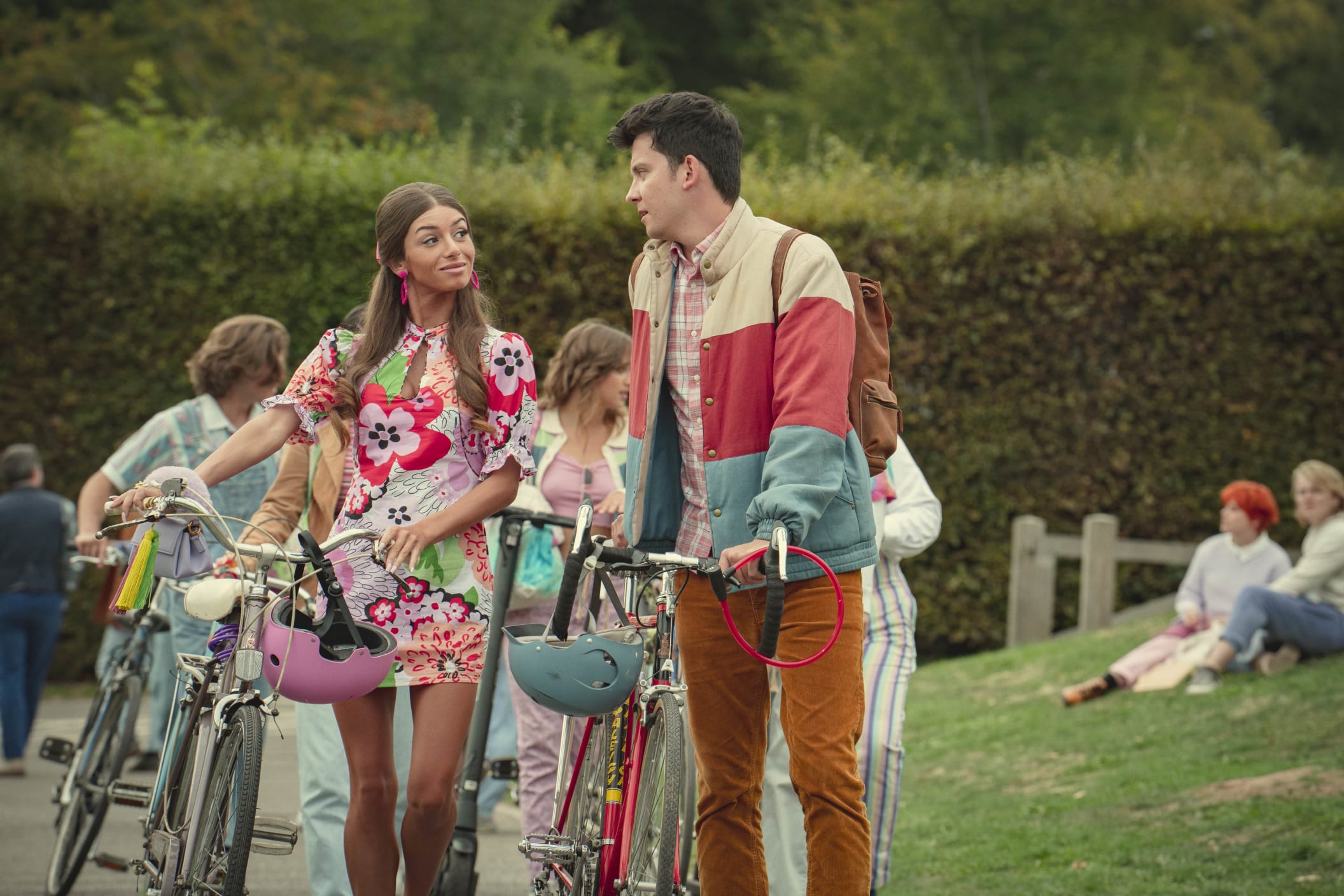 Finally, could you talk about the glorious styling for the fundraiser.
Emily Bilverstone: The fundraiser was our last opportunity to celebrate the characters. Daniella found Eric's amazing sequinned jacket, so I used that as my starting point for him. Grace Jones has always been at the back of my mind as an inspiration for Eric's make up and the '80s application of this look was specifically inspired by her. I wanted Eric's make up for the fundraiser to look like something he had done on his own. I also wanted to do something fun with his hair, but we had already seen him with green and lilac hair by this point. I was looking for head bands when I found this pearl headpiece on ASOS that I thought would be amazing on Ncuti. But we still had to match it to his jacket. Robyn, our trainee on the show, is very innovative, so she mixed some chrome pigments from Karla cosmetics in with nail varnish, and painted the pearls. I thought it was very effective and looked amazing on camera. To finish, I added a flash of gold on Ncuti's top lip, and on the tops of his ears to catch the light.
Abbi's look for the fundraiser was another really fun one to create. I wanted her to have mermaid hair. I knew she goes into an intimate scene with Roman following on from the fundraiser and I loved the visual of seeing Abbi from behind with all of this beautiful long hair covering her back. I wanted to incorporate the lilac of her outfit into her hair as well, so we coloured the ends of the extensions into lilac and coral. We didn't have much time to turn this around – we had a production line team of about five people on the bus, working on 30 inch hair extensions, one doing the coral colour, one with the lilac, someone drying and someone curling the hair. It was a challenge to get it all done in time but I thought the end result was perfect.
Sex Education Season 4 is on Netflix now