The intoxicating power of queer, Black love in Sola Olulode's latest exhibition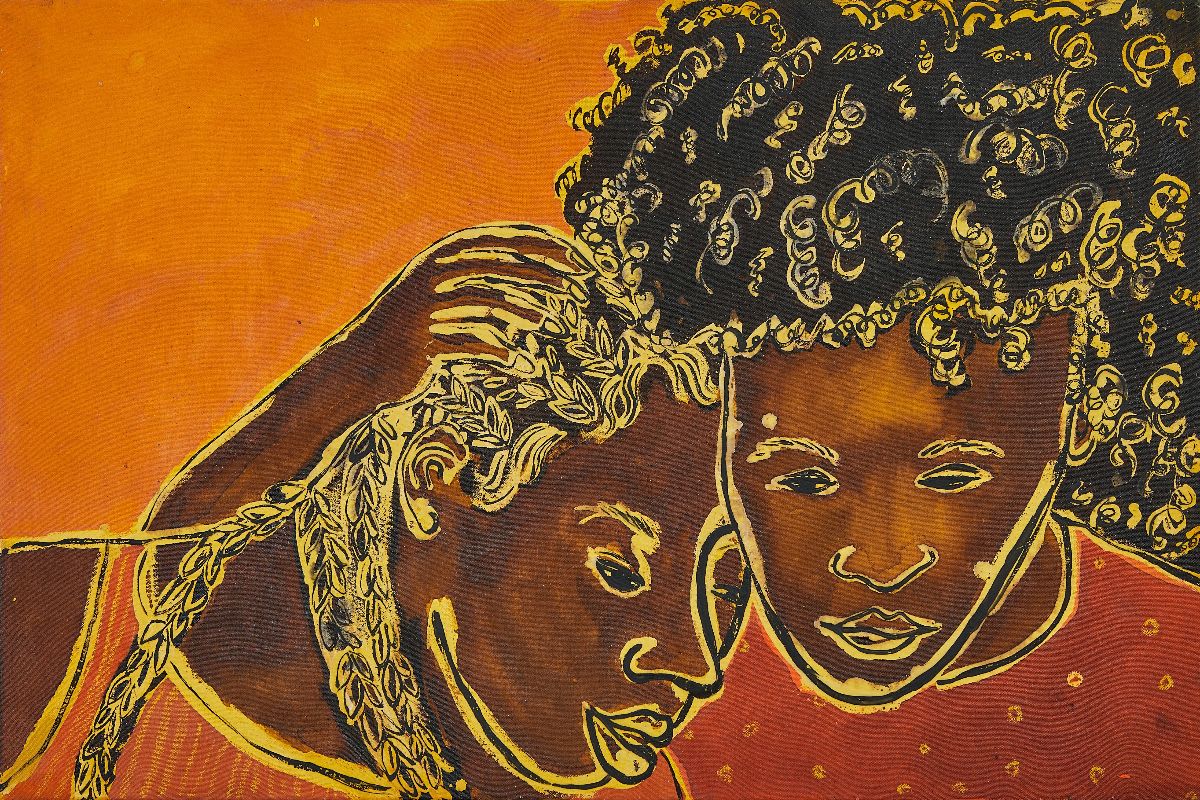 In her latest show, the artist captures the burning intensity of an early romance through a series of paintings imbued with joy, intimacy and affection
image Sola Olulode
words Gilda Bruno
Welcome to Stop Scrolling, where each fortnight arts and culture writer Gilda Bruno will be bringing you a roundup of carefully curated exhibitions, art fairs and photo books to check out, as well as exclusive conversations with some of today's most exciting emerging artists.
This week, Bruno speaks with London-based artist Sola Olulode about Burning, like the star that showed us to our love, her latest solo show, which chronicles the budding love story between two Black, queer women by depicting them in the oblivious bubble of their romance.
For some, creative expression provides a shelter from the challenges of everyday life by translating difficulties into something we can be proud of. For British-Nigerian artist Sola Olulode, other than being a way of processing traumatic situations, creative expression is the "blank canvas" onto which to pour the joy that lies in ordinary moments of connection, intimacy and affection. Her celebratory approach to art, which sees her paint dreamlike, romantic scenes focusing on one shade of colour at a time, is particularly prominent in Burning, like the star that showed us to our love, Olulode's newest solo show, which is on at Ed Cross, Clerkenwell, London, until September 16.
The exhibition follows the story of two queer, Black women as they growing fond(er) of each other. Beginning with their first encounter, the showcase details the rollercoster of unexpected sensations that comes with infatuation. Throughout the exhibition, we see the lovers walk hand in hand, laugh or get loose on the dancefloor. Elsewhere, the couple embrace candidly, eventually giving into the intoxicating feelings triggered by a shared brimming romance.
Having yellow as its leitmotif, Olulode's latest body of work follows the release of her indigo series, a moonlit, absorbing investigation into the physical, emotional, and atmospheric interactions that make nightlife venues so special the feeling transcends the space you're in. Here, the London-based figurative painter takes her long-term exploration of love into new territory across 15 warm and sun-soaked immersive canvases.
We speak to Oluode about how art-making can show us the brightest side of life, her symbolically charged use of colour and the political rationale behind her portrayal of black, queer joy.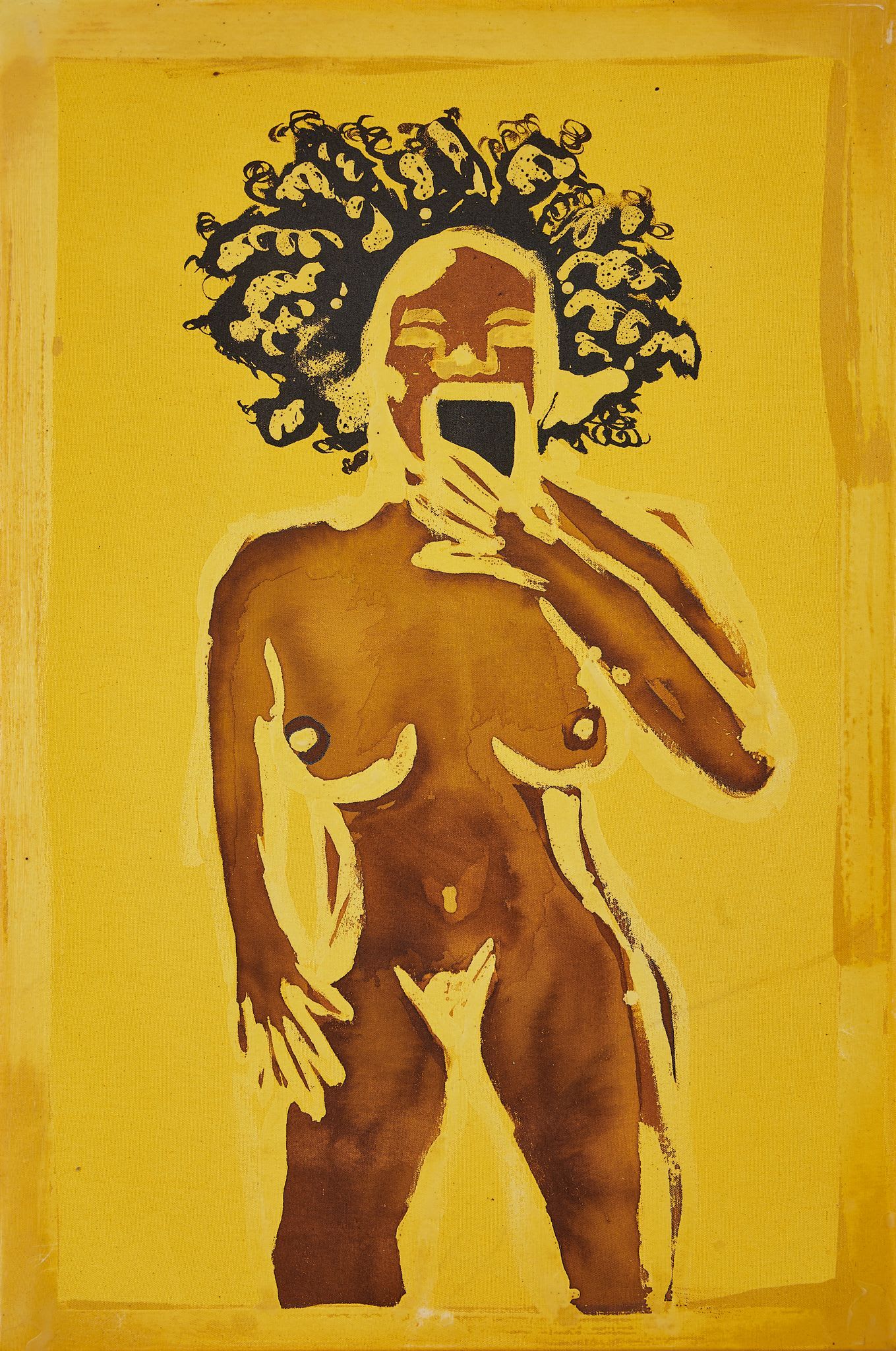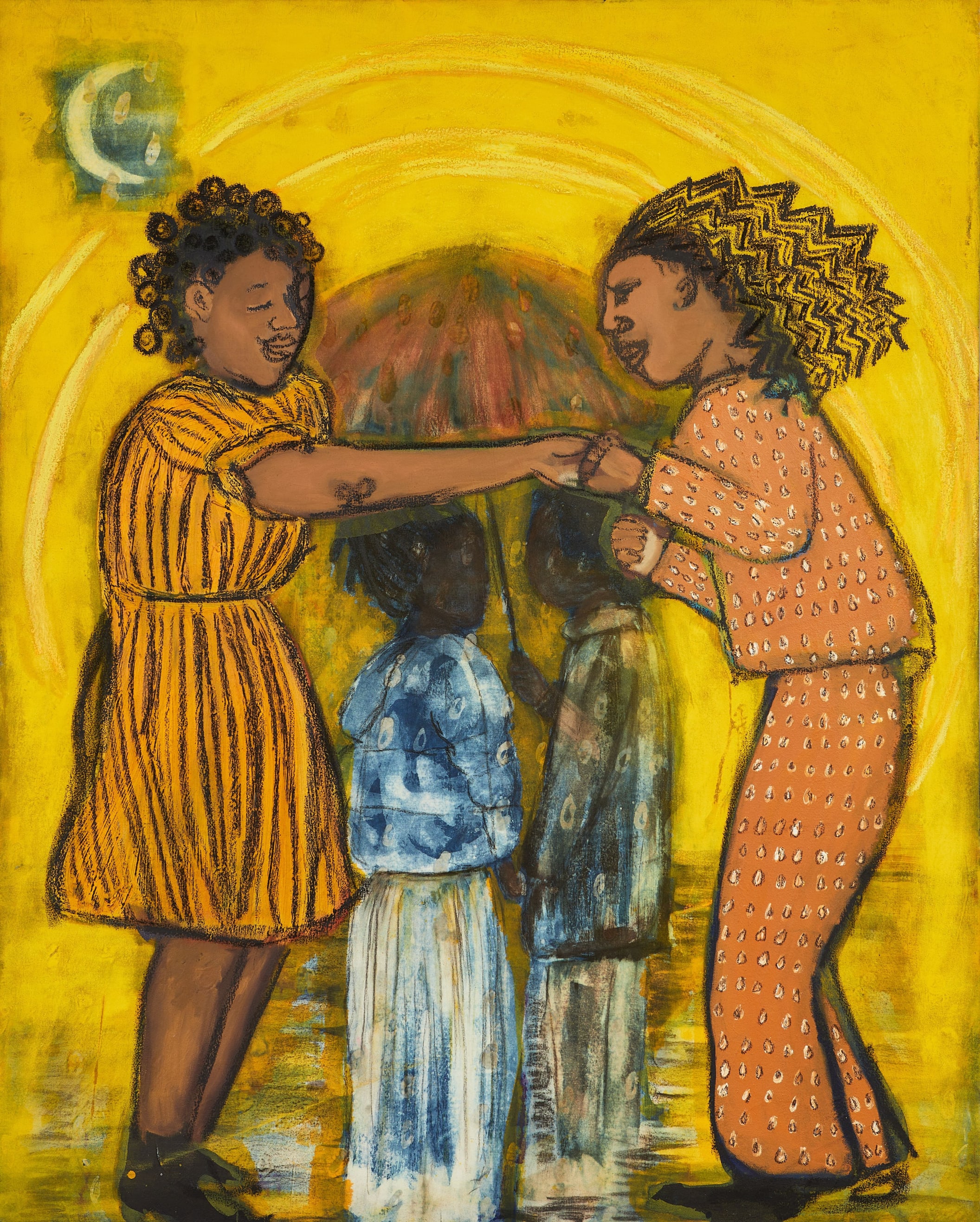 What does art mean to you? How did it make its way into your life?
Sola Olulode: From a very young age, art has been an interest of mine. I gravitated towards it very naturally. At the start, it was more of a hobby, something fun to do. Then, when those around me realised I had a talent for it, they encouraged me to pursue it more seriously. I studied Fine Art Painting at the University of Brighton and feel grateful to have had the opportunity to make a career out of it. Now art sort of consumes every aspect of my life. Most of my friends are artists, so I spend a lot of my week visiting the opening of their shows and mingling with other creatives in this field. Expressing myself artistically really captures the beauty which lies in our daily experiences. It's just embedded in me. Painting is also a form of therapy as it allows me to lose myself in the process of making and forget about anything else. While it took me a while to find my place within the art world, so far it has been a really nice ride.
Your canvases stand out for their vibrant palette. It feels as if every colour signified a specific experience, or mood, in your work. What motivates this stylistic choice?
Bright, striking colours have always been my favourite ones, and that really shows in both the way I dress and in my work. Because I mainly make figurative paintings depicting human relationships and interactions between different figures, colour offers me a way of creating a world for them to live in while simultaneously reflecting the mood or tone I want to convey in a given canvas. I would use blue to render the atmosphere of nightlife, and warmer hues to hint at the intense, ecstatic feelings brought about by falling in love, occasionally mixing the two. It is all about picking a tone that can evoke the emotional intensity of the scene I am painting. My colour palette is radiating, pulsing. Personalities like Lubaina Himid, with her vivid blues and yellows and Chris Ofili, because of the way he develops shapes by layering different, contrasting colours, are big inspirations of mine. Cinema is another key one; the opening scene of Barry Jenkins' If Beale Street Could Talk (2018), for example, shows how game-changing colour grading is when it comes to visual art: with its intimate atmosphere, it really sucks spectators into the story.
Where did the spark for Burning, like the star that showed us to our love stem from?
After completing a series of indigo paintings a couple of years ago, I started experimenting with yellow, hoping to bring to life a new body of work. However, I found dyeing my canvases yellow much harder than expected. As I struggled in that process, I ended up incorporating some blues in the paintings I was working on and even blending the two colours together, eventually obtaining different shades of green. Somewhere along the way, I went back to the original idea of developing a whole exhibition based on yellow paintings, and that's how Burning, like the star that showed us to our love came to be. This show truly enabled me to overcome my limits and finish paintings I had started years before: although one of these works was made in 2019 and another in 2021, the rest were only completed in 2023. With the yellow pieces, the goal was to give birth to an environment one could instantly feel joyful in. I also wanted a narrative to be woven through each and every canvas of the exhibition, just like I had done in my indigo series, which centred around the nocturnal feel of nightclubs. The paintings in this show follow the same couple as their romance blossoms by envisioning their first encounter, how their relationship takes shape and how they grow closer together.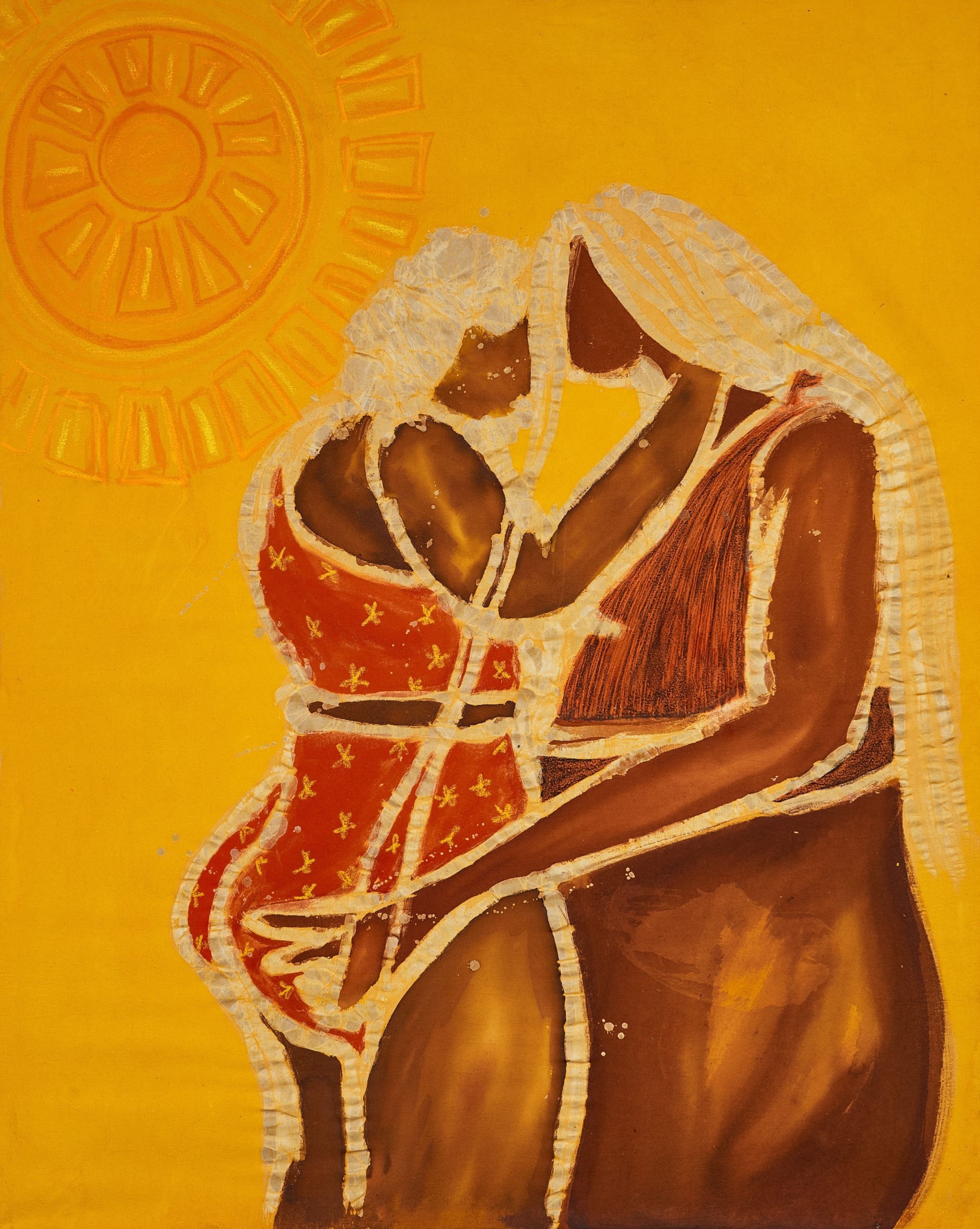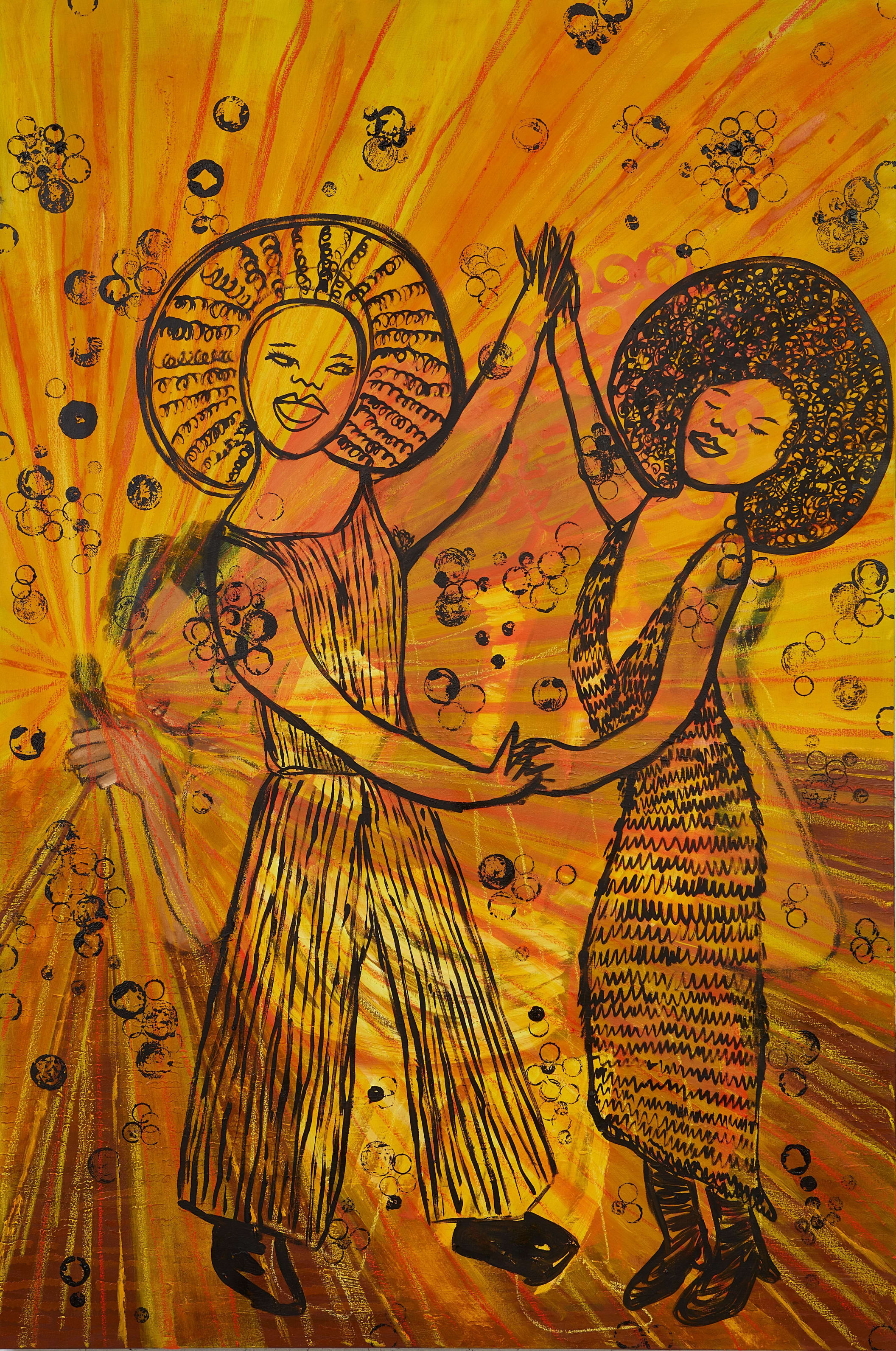 What connection, if any, is there between the artworks exhibited in this show, and the stage you are at in your life?
That's an interesting question. I first began making paintings focusing on romantic relationships three years ago. At the time, I had just started dating someone and was experiencing the rollercoaster of emotions that is falling in love. For some reason, it always feels as if my life imitates the art I am working on, rather than the other way around. At its core, my practice wants to portray individuals soaking up that kind of loveliness undisturbed by the threats of the outer world - something that can be especially hard for Black, queer and non-binary people, as well as women. There aren't many stories about Black people being joyful, serene and in love, and my work strives to remedy that. It is a political statement: by focusing on moments of affection, tenderness and lightheartedness, I aim to show people how those are a key part of our stories as well, not just the trauma.
Many people still think that good art can only come out of negative experiences. How do you relate to the tortured artist myth?
I don't feel I have the language or ability to explore that kind of negative emotion through my art. Other artists know how to turn difficult moments in their lives or societal issues inside out and unveil the positive in them. Yet, for me it has always been more spontaneous to seek positivity and joy and work with them. Just because right now I enjoy dwelling in those moments, that doesn't mean I will never explore other themes in the future. Still, what is important to me is to remind myself that art doesn't just stem from struggle, but emerges from the whole spectrum of emotions we experience as people. It can even arise from something as simple and powerful as hugging or holding someone's hand for the first time.
What are you hoping Burning, like the star that showed us to our love will move in visitors?
I would love people to immerse themselves in the happy, magical bubble unleashed by it; to feel motivated, happy and joyous while working around it. When conceiving the show, I tried to find new ways of making it as immersive as possible. Rather than hanging my works onto white walls, I hand-dyed some indigo fabric to give the space a cosier, more personal feeling: the idea was that the canvases would look as if they were floating around in a clear, blue sky. Disrupting the traditional conception of gallery spaces is definitely something I am planning on exploring more in my practice. For now, all I can hope is that the audience will embrace the explosion of colour and vibrancy of Burning, like the star that showed us to our love and that their mood will rejoice with them.
Sola Olulode's Burning, like the star that showed us to our love is open at Ed Cross, London, through September 16
Scroll for an extra dose of art and culture news, curated for you by woo
When there's so much to see and experience, it can be hard to choose where to spend your valuable time. Below, Bruno picks a selection of standout shows and culture events to explore in the coming weeks.
Design Researchers in Residence: Islands, group show, through 24 September, Design Museum, London, UK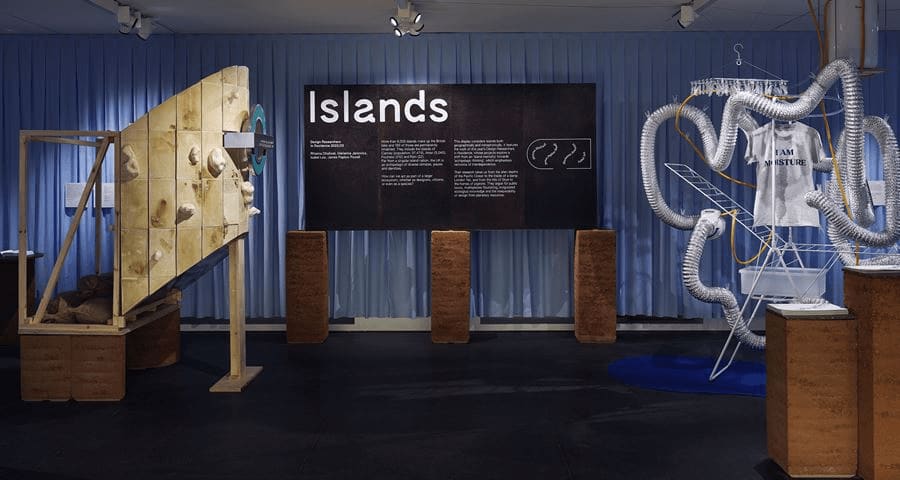 Exhibition photography by Felix Speller. Courtesy of the Design Museum and the artist
The fruit of the Design Museum's Design Researchers in Residence programme, Islands is a new group exhibition examining the concept of island from both a geographical and metaphorical perspective. With contributions by Rhiarna Dhaliwal, Marianna Janowicz, Isabel Lea and James Peplow Powell - the 2022/2023 cohort of the institution's annual residence opportunity - the showcase promotes a narrative shift "from an 'island mentality' towards archipelagic thinking'", thus unveiling hidden networks of independence existing between seemingly disconnected ecosystems. Conceived as a response to the ongoing climate crisis, Islands "takes us from the alien depths of the Pacific Ocean to the inside of a damp London flat, and from the hills of Skye to the homes of pigeons", reads the show's press release. The aim is to breathe new life into ecological knowledge, advocate for a more sustainable understanding of design and protect other species from the threats of human society.
Coconut Zine, debut issue launch, 24 August, The Common Press Bookshop, London, UK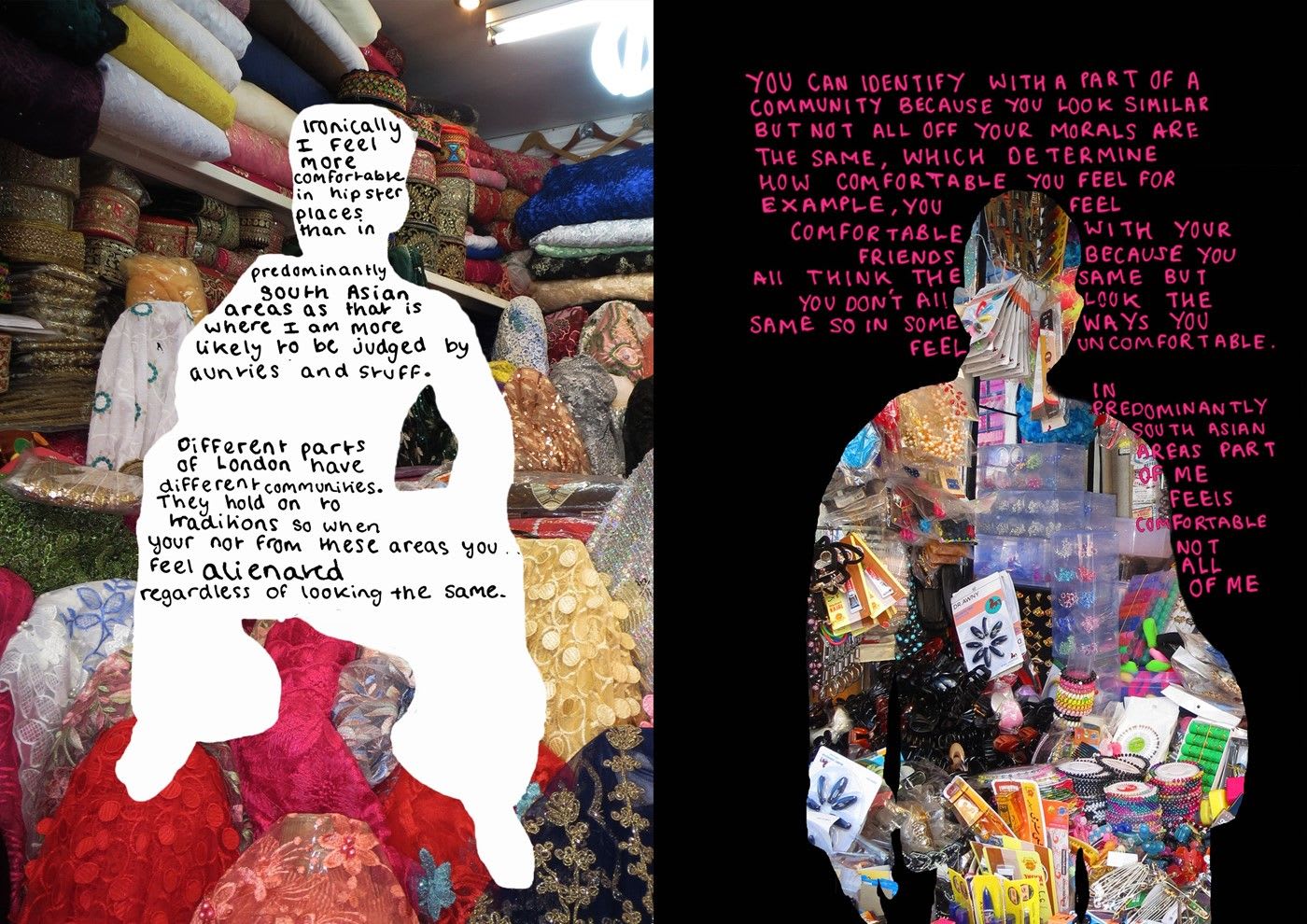 Coconut Zine by Anuhya Saxena. Courtesy of Coconut Zine and the artist
Launching at the Common Press Bookshop, Shoreditch, on 24 August, Coconut Zine is a new publication exploring what it is like to grow up as a British South Asian. Founded and run by rising creative Anuhya Saxena, the zine looks at the reality of finding your place in UK society as an individual with dual heritage. Sparked by Saxena's desire to bring to the fore the vibrance and multifaceted history of South Asian culture, Coconut Zine allowed the artist to tap into the unknown aspects of her roots while simultaneously serving as an opportunity to come to terms with the contrasting nature of her experiences. An eye-catching, inspiring collection of images, collages and unfiltered thoughts scrutinising the spectrum of identity; the publication spotlights the stories of fellow British South Asians straddling the fine line between tradition and innovation by sparking discussions on topics including sex, gender and gentrification.
The Shape of Things, Simone Brewster, through 24 September, NOW Gallery, London, UK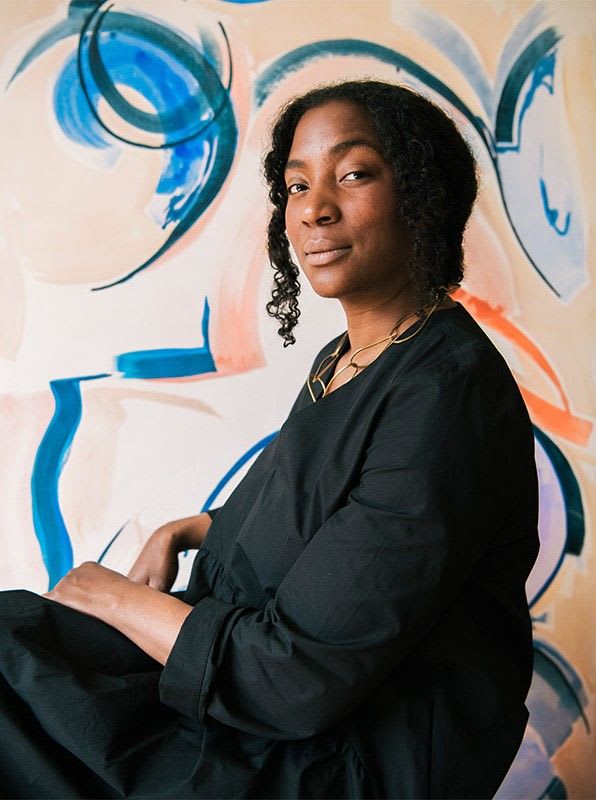 Simone Brewster. Courtesy of NOW Gallery and the artist
Simone Brewster is one of the leading voices in the contemporary design scene. In The Shape of Things, her solo show at NOW Gallery, south east London, which is on until 24 September, the artist and designer reflects on the symbolisms embodied by the objects that make up our everyday spaces, their ability to reflect societal expectations of beauty and the talismanic essence of our chosen lucky charms. As this year's Design Commission, the exhibition strips architecture and design of their structural, inherently physical nature to reflect on such disciplines' power to define the boundaries of our emotional experiences, memories and view of the world. Mimicking the artist's British-Caribbean background, the pieces on display - from furniture and jewellery to paintings and sculptures - reappropriate colonial artefacts embracing the visual canon of both Western and African traditions. Touching on themes such as heritage, history, race, gender and the body, the show stresses the role that design inadvertently plays in influencing our understanding of and interactions with others.
LOOK BUT DON'T TOUCH, Callum Eaton, through 9 September, Carl Koystal, London, UK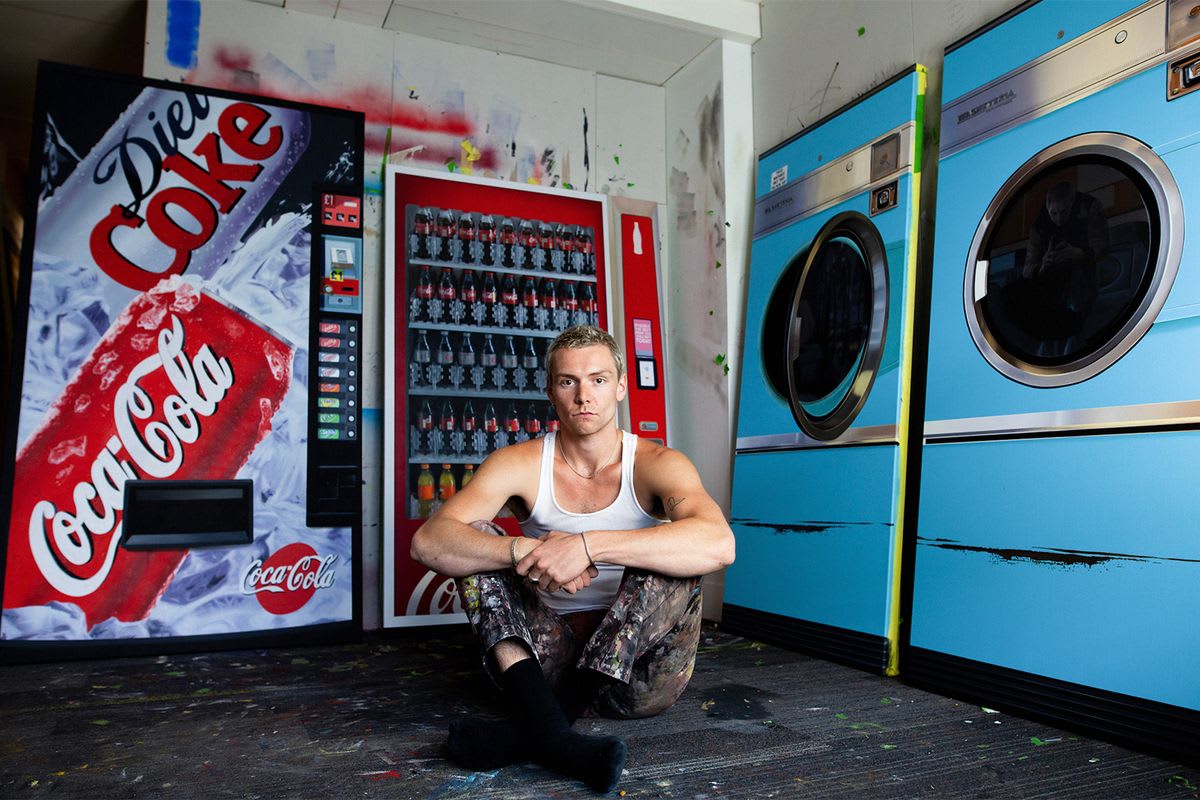 Callum Eaton, photography by Brynley Davies. Courtesy of the artist
Immerse yourself in the hard-to-believe, true to life trompe-l'œil paintings of emerging artist Callum Eaton with LOOK BUT DON'T TOUCH, his debut London solo show, which runs until 2 September. Known for his hyper-realistic rendition of the detritus of modern life, in his latest body of work the London-based creative reinterprets phone boxes, ATM machines, photobooths and disused vending machines recasting their legacy through his skillful oeuvre. By taking these once high-tech subjects as the focus point of LOOK BUT DON'T TOUCH, Eaton reflects on the ever-evolving face of capitalist culture, society and their long-lasting traces on the urban environment. If taken at an aesthetic value these paintings stand for the artist's ability to blur the lines between fiction and reality. When analysed in relation to the message they carry, the canvases on view force us to face the pitfalls of mass consumerism and the way this distorts our lives.
As You Grow Older, Vân-Nhi Nguyễn, through 1 September, Baxter Street, New York, US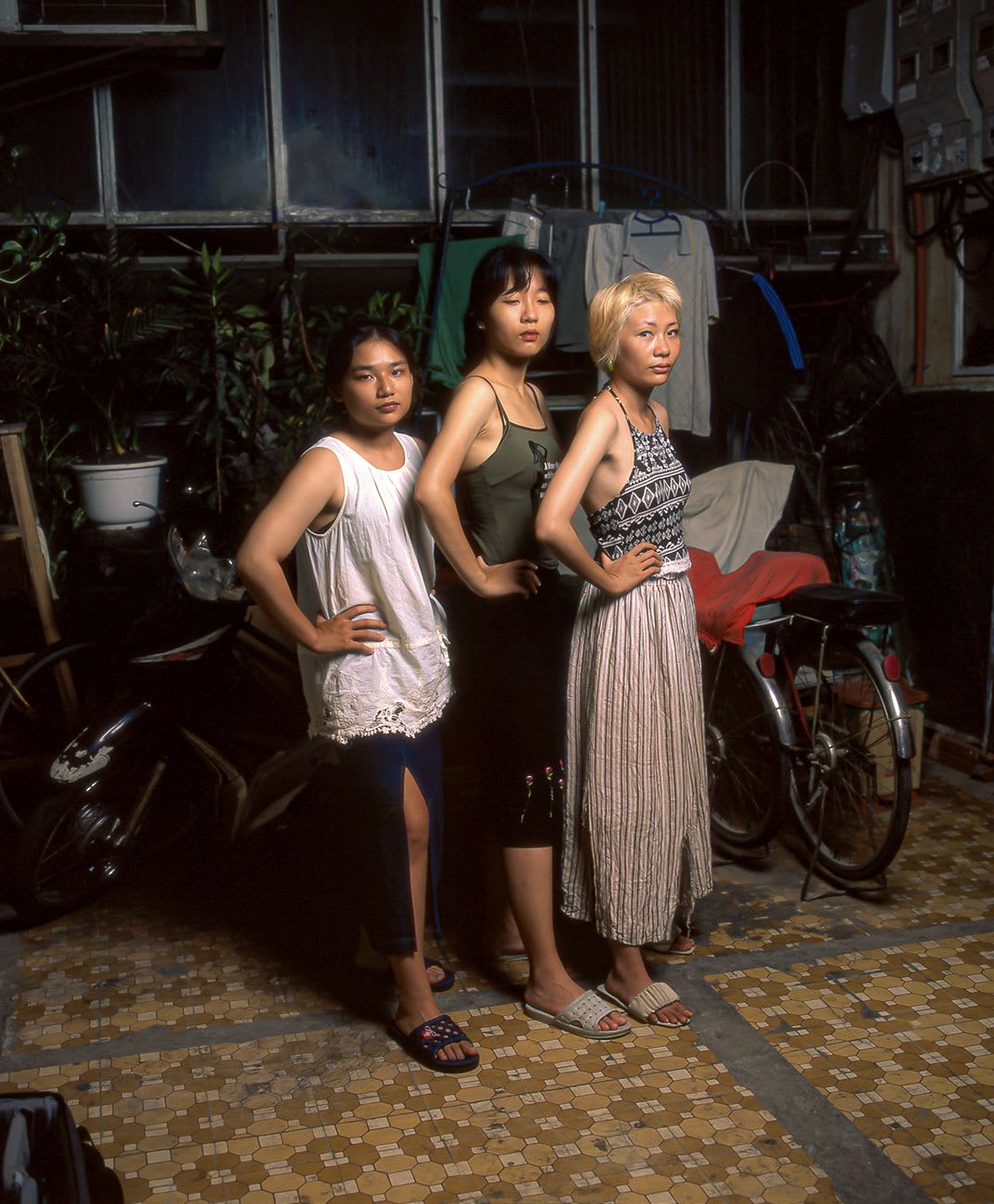 Vân-Nhi Nguyen, Ba Cô (Three Aunties), Vietnam, 2022
The brainchild of Vân-Nhi Nguyễn, winner of this year's Aperture Portfolio Prize, As You Grow Older takes us inside the lives of the Vietnamese youth to investigate how the new generations are dealing with the aftermath of Vietnam's long-endured violence and colonisation. Offering a raw, countercultural look at those attempting to write a new chapter in the history of the country, the series was born off Nguyễn's desire to put her people on the pedestal and celebrate the beauty which lies in their individual stories. Whether portrayed in the comfort of their bedrooms or against Vietnam's tropical landscape, each one of her sitters stares straight into Nguyễn's camera as if calling to be seen. Make sure to catch it before it's too late!