Euphoria, escapism and community in the NYC skate scene
To celebrate ten years of cult photography book Full Bleed, editor Alex Corporan reveals how a community of outcasts inspired a cultural legacy
image Mike O'meally, 1977
words Lucy O'Brien
"The minute I touched a board, my life just changed from there," says photographer Alex Corporan. Coming of age in the NYC skateboard scene of the 80s and 90s, Corporan witnessed the emergence of a subculture which gave birth to streetwear giants like Supreme and rose in tandem with the first strains of punk and hip-hop which were soon to shape the city.
A culturally potent time, that's for sure. However, many of the original skaters, would have no idea of the legacy that the fledgling sport would have - from influencing major fashion brands to being recognised at the Olympics - all those decades ago. Then, it was very much a DIY movement made of teenagers taking their first steps into adulthood, forming friendships and crafting an identity that was far different from the expectations of their parents' generation.
Advertisement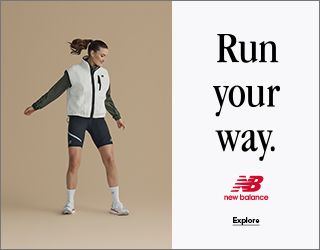 Corporan witnessed the changing face of skateboarding first-hand, starting out cruising through the unexplored corners of Brooklyn Banks before going on to work as a manager at Supreme's first ever skateboarding shop on in lower Manhattan. And not only did he live it, he documented it in de-facto skating bible Full Bleed: New York City Skateboard Photography.
Co-curated with fellow skaters Andre Razo and Ivory Serra, the volume brought together the key figures and moments which defined NYC skater culture from the 80s to the aughts. Now the book's 10th anniversary is being celebrated with a new edition expanding on the original with an unseen selection of more contemporary photographs and a foreword written by none other than skateboarding legend, Tony Hawk.
To coincide with the reissue, woo sat down with Corporan to chat nineties nostalgia, self-expression and his enduring love for the board.
'Quincy France, Mullaly Park' by Charlie Samuels, 1980s. Courtesy of Full Bleed
'Board collection' by Irene Ching, 1980s. Courtesy of Full Bleed
How would you describe skateboarder culture in the 80's and 90's?
Corporan: Skateboarding now and skateboarding then are two different things: we weren't cool, we were a bunch of bandits. Our parents didn't accept skateboarding. There was no real support for us. You just had to go for it – it was do or die. We shared everything with each other because no one was making money – we'd go to Burger King and share one little burger between like three of us. We were brothers and sisters hanging out in this new family.
How has the skate scene of that era influenced culture and street style?
Corporan: We started the fire in 1994 with the launch of Supreme. Now it's 30-something years later and skateboarding is cool. Everyone wants to be like us, or wants to be a part of what we did. I think people dress like the 90s now because they saw how raw that time was. And because they didn't live it, they couldn't understand it. So now everyone's just dressing it instead.
You mentioned Supreme, where you were once worked as manager for their first skate shop. What's your fondest memory from that time?
Corporan: The back of the shop was the best because it was the clubhouse that no one could get into. It was like our own Studio 54 – like, "You can't get in, sorry." We'd mostly be hanging out, smoking weed and drinking forties.
You mention that the skate community felt like a family. Why do you think you developed such a tight bond?
Corporan: It brought us an outlet to express ourselves. The skateboarding scene provided us a way to be different from being like a drug dealer or gang member. All those feelings were expressed through our art. If we wanted to sit down and cry for a second, or get a hug, we could. Because we were such a tight family, we had each other's backs. And that was the beauty of it. That's why it was such a special time.
'Eli Reed, 6th Ave' by Felipe Lara. Courtesy of Full Bleed
'Skate crew' by Peter Sutherland, 2000s. Courtesy of Full Bleed
How did it feel to put together 'Full Bleed' decades on from when you first got involved in the scene?
Corporan: Great, because I got to see so much of what I've done. I've been skateboarding for like 36 or 37 years now, so each photo is kind of a tearjerker moment because it helps me remember certain things; an area, a time or a person. When I put the book together, I did it out of love. I made the book as a love letter to New York City, saying, "Thank you for being such an amazing place for us."
'The Full Bleed' reissue contains additional images from the contemporary skate scene. What was it like to compare the skate scene of your youth versus the one of today?
Corporan: It was fantastic. I got to see New York through the new kids' eyes. It's also great to see what these new photographers are seeing, because photography is the other love of my life. We got thousands and thousands of photos, so the editing process was fun, but hard.
Given its beginnings in subculture, how does it feel to see that skateboarding is now recognised at the Olympics?
Corporan: I love it. I think it's great for the industry. But it's still hard to comprehend for a lot of people, it's not like baseball or football with just constant action. But it's great to see people who are in love with skateboarding now. I see mom and dad's at the skate park and I'm like, "Wow, this is wild."
As our last question, what impact do you hope the reissue has on its readers?
Corporan: The reason I did the book was so that readers can see how New York City was our beautiful backdrop and what it meant to us, because we didn't have skate parks. The city is what we worked with. I'd definitely push it for anyone that wants to skateboard, to do it. It doesn't matter how old you are; once you're on a board, it just makes you feel good.
Full Bleed, 10th Anniversary Edition is out now via Salamander Street.
'Ari, Shiki & Schimder' by Cole Giordano. Courtesy of Full Bleed
'Davey Sandy' by Angela Oneal, 1990s. Courtesy of Full Bleed
'Joe Humeres' by Charlie Samuels, 1980s. Courtesy of Full Bleed
'Harold Hunter' by Bryce Kanights, 1989. Courtesy of Full Bleed