How to run in warm weather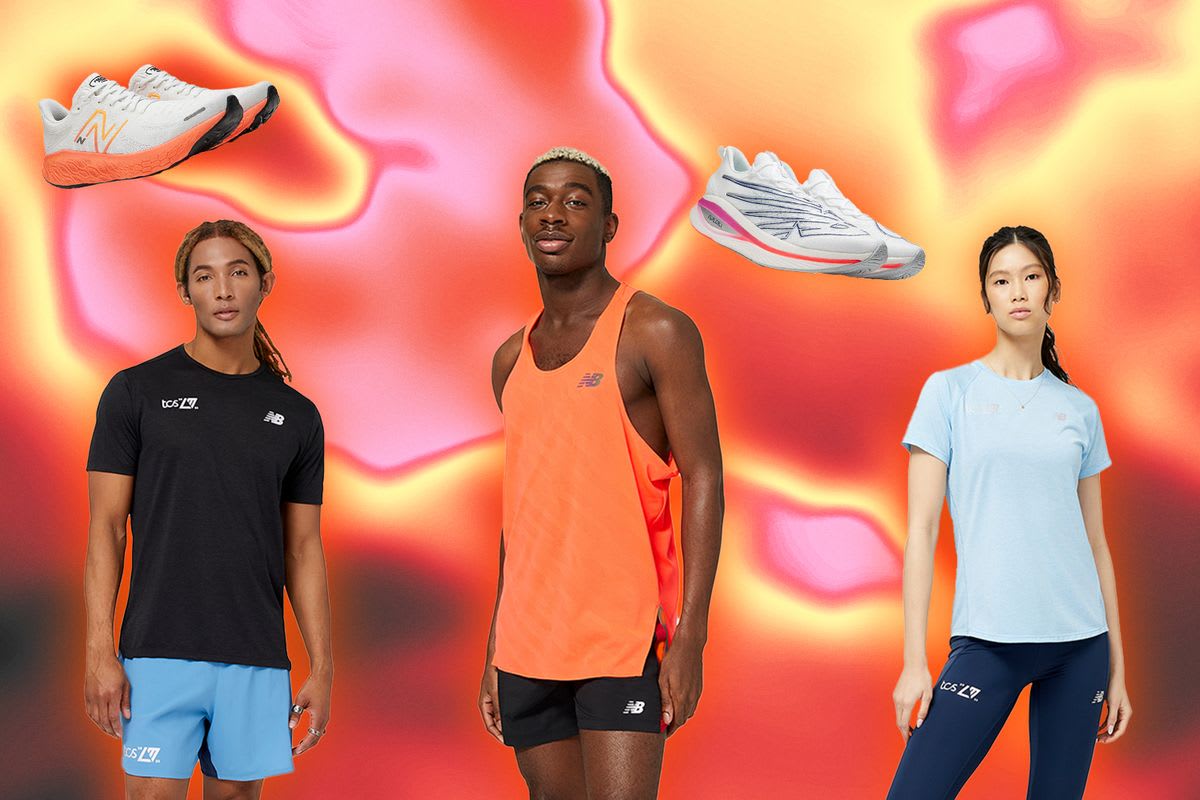 Sunny days lie ahead! Here's how to keep up your running routine without breaking too much of a sweat
image Team Woo
words Lucy O'Brien
Right. The clocks have turned back, the days are longer, the temperature is slowly creeping its way up and the sun is making itself less of a stranger – finally. For the keen runners out there that have powered through the past five months of cold, dark and recently windy af weather, we salute you. But the question is, how do you adapt your running routine to increasingly warm weather?
Naturally, exercise makes us hot. Believe it or not, this experience is actually our body's way of regulating our internal temperature: when your muscles expel energy due to increased movement, they begin to heat up. The body then responds to this by sweating. This is in order to cool us down – when liquid travels through our pores to form sweat on the outer layer of our skin, contact with the air causes it to evaporate and this in turn makes us colder. Sometimes, though, excessive sweating can result in severe dehydration as it causes us to lose a lot of the vital water stored in our bodies. So if we aren't able to regulate our body's temperature, we can either end up overheating or risk dehydration.
That's why, when running in warm weather, it's vital that you have the right kit and gear to optimise your ability to power through the sun's rays. It's also important to read up on the causes and signs that you might be experiencing heat exhaustion, which can happen when your water consumption levels are too low when exercising and there's not enough liquidity in you to produce enough sweat. Along with maintaining healthy hydration levels, climate-appropriate running fits can be the difference between a sluggish, tiring run and a personal best.
So if you're in need of a new wardrobe to help you reach those summer running goals, we've got you covered. Below is a curated list of gear optimised for high performance in warm weather, perfect for keeping cool and comfortable as you run your way through the heat that, we assure you, will arrive sometime this summer. Most are made with innovative fast-drying technology and fabrics that facilitate the process of moisture wicking, which works to draw sweat from your body toward the outer layer of the material while drying the inner layer to avoid saturation. Ready to get your sweat on? Here are some kit suggestions to help you make the most of it.
Aerodynamic
(Womens) Impact Run Fitted Short
New Balance
£45.00
This lightweight, fitted short is the perfect fit for optimising agility and range of motion while staying cool. Designed with New Balance's DRY technology, which works to draw moisture away from your body, this item means you can set off knowing that the shorts will keep you cool and active for the duration of your journey.
Started from the bottom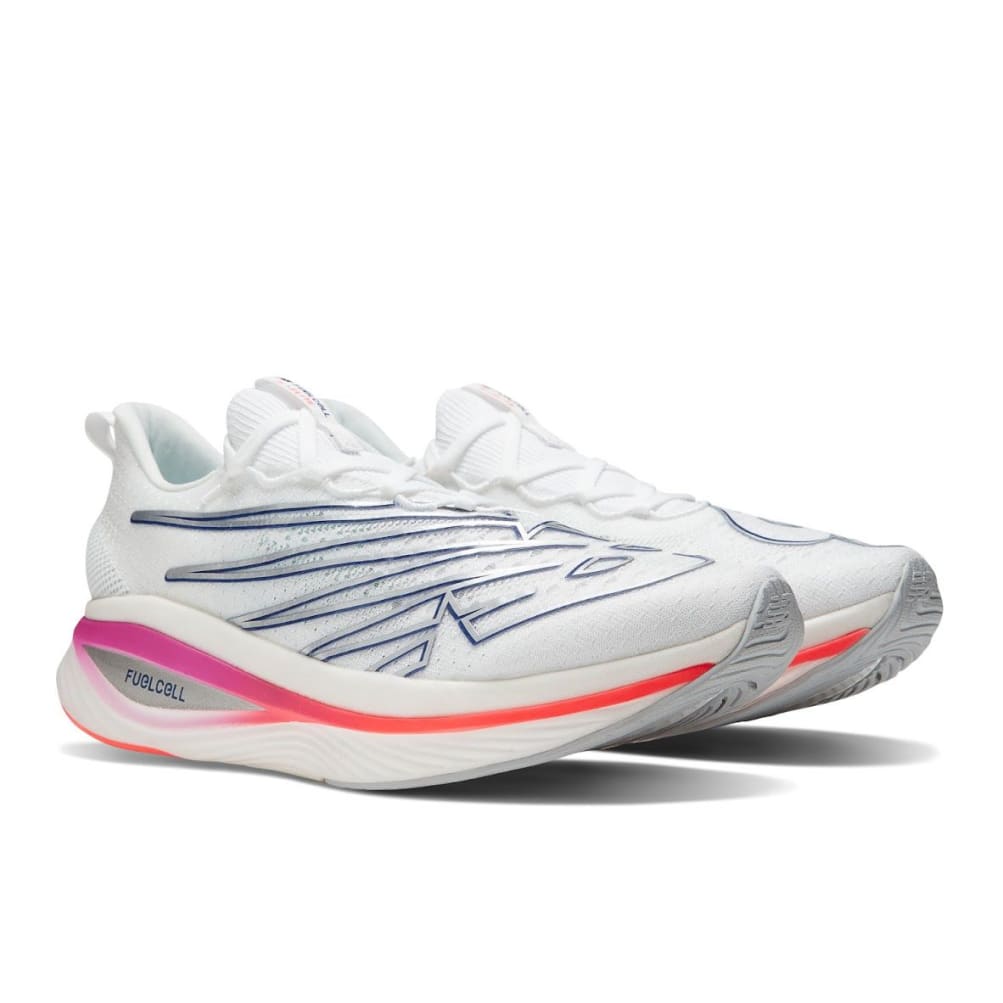 FuelCell SuperComp Trainer
New Balance
£210.00
Feet play a vital role in regulating the internal temperatures of our body – they have a large surface area and lots of blood vessels, which means more blood can flow to these areas. As large amounts of blood cells flow towards our feet on this journey of increased circulation, the cells transfer heat towards our skin layer, which is then expelled away from us. We love science! So this means that if we're trying to keep cool, feet are a great place to start. The FuelCell SuperComp trainer's upper mesh material and foam heel will keep your feet cool while giving your legs the energy you need to propel you forward.
Increased air flow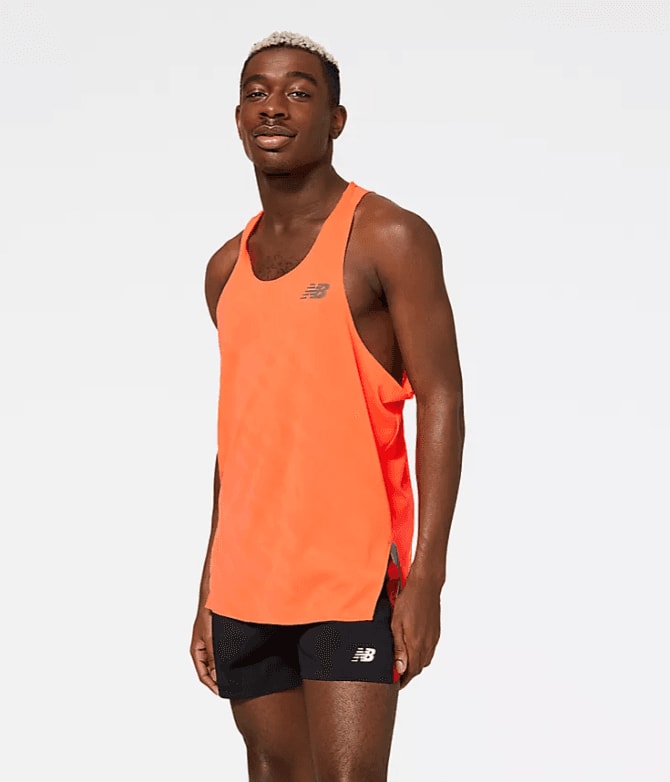 (Mens) Q Speed Jacquard Singlet
New Balance
£42.50
Other than the fact that this brightly-coloured orange singlet simply screams summer vibes, the top's mesh, lightweight material is ideal for keeping active as temperatures creep up. The low, racer-back drop design paired with New Balance's fast-drying ICEx technology will keep you cool and comfortable as you soak up some UV rays (with SPF 50 on, of course!)
Keep it short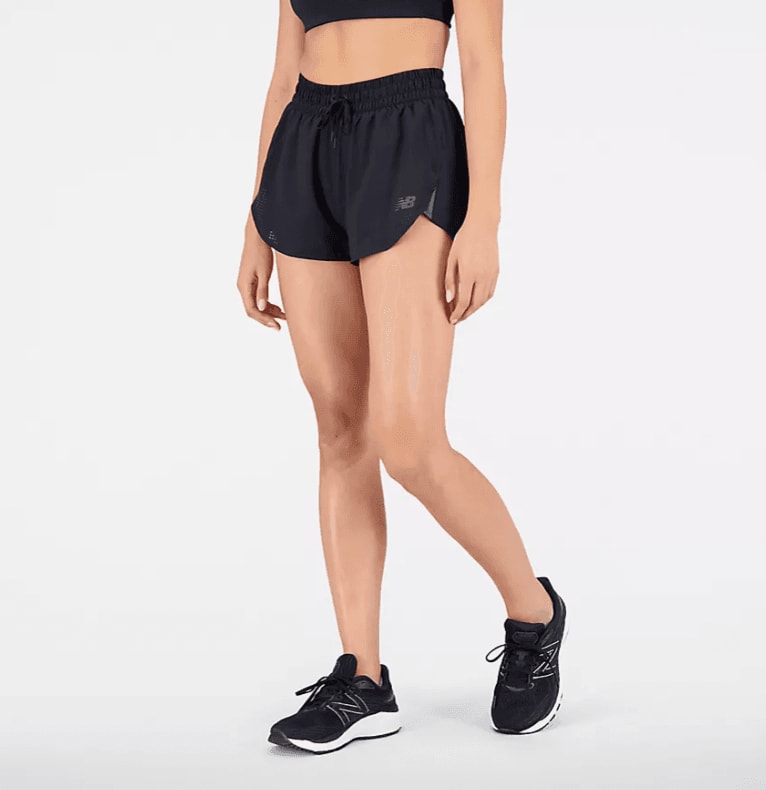 (Womens) Q Speed Short
New Balance
£45.00
Shorts in summer? Duh. But seriously, these moisture wicking, lightweight short shorts will become your running gear staple as the heat starts to creep up. With hidden interior pockets and fitted to sit loosely around the hips, this pair is perfect for keeping comfy when training for long runs. Short shorts never felt so good.
Spring in your step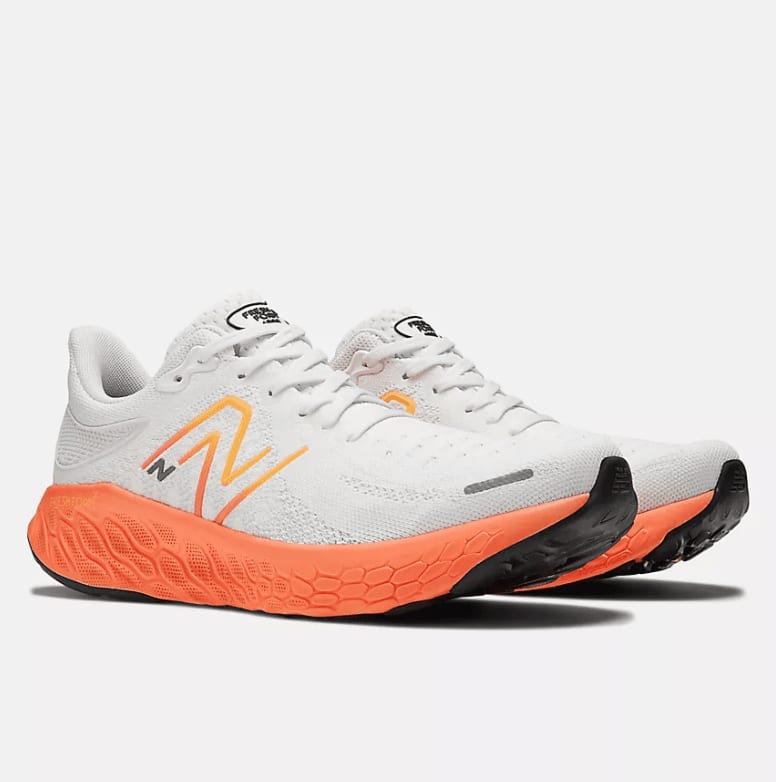 (Mens) Fresh Foam X 1080v12
New Balance
£160.00
The right shoe can be the difference between a great and poor running experience, especially when you're battling the heat. Designed to feel like a second skin, the Fresh Foam running sneaker range is ideal for keeping you light on your feet. Its hugging foam technology will keep you feeling supported as you run towards your goals, without making your feet too hot. Win win!
…And breathe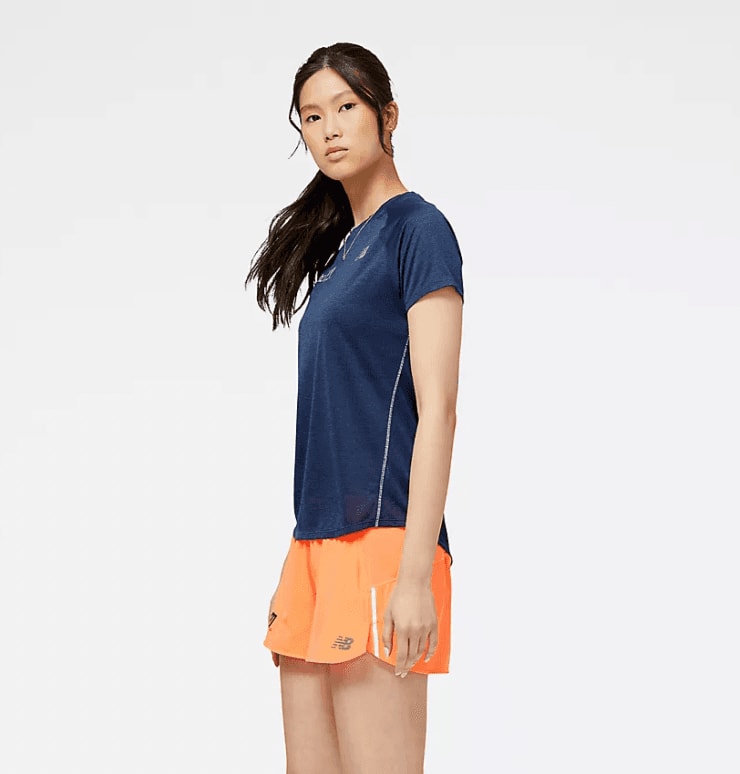 (Womens) London Edition Impact Run Short Sleeve
New Balance
£45.00
The Impact Run Short Sleeve is another essential for any enthusiast or runner-in-the-making. Made as an athletic fit built to skim your chest, waist and hips, this summer essential is perfect for active movement as it's not too tight. Meanwhile, the NB ICEx fast-drying technology will work to wick up those inevitable sweats, keeping you cool and focussed for the entirety of your run.
Mesh is a must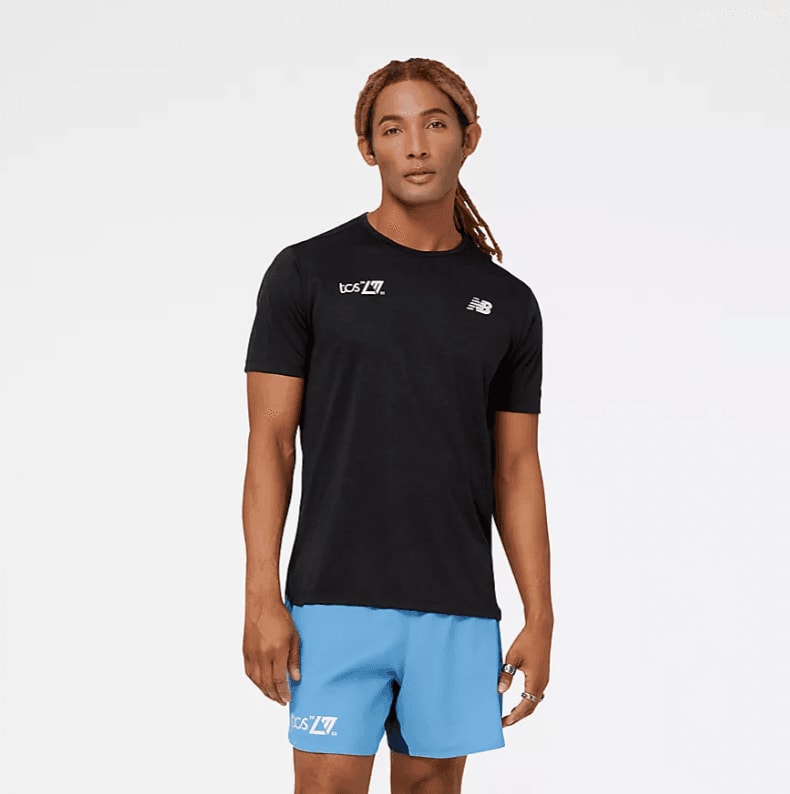 (Mens) London Edition Impact Run Short Sleeve
New Balance
£45.00
Be it for a quick morning jog in the early sunlight or a mid-afternoon training session, the lightweight, poly knit mesh fabric has all your runs covered. Built for breathability and equipped with the NB ICEx fast-drying technology, the London Edition Impact range will become your bestie in the summer months. Short sleeve, lightweight and even made with reflective details, you'll be smashing your way through personal bests whatever the weather (and looking great while doing it).
Easy breezy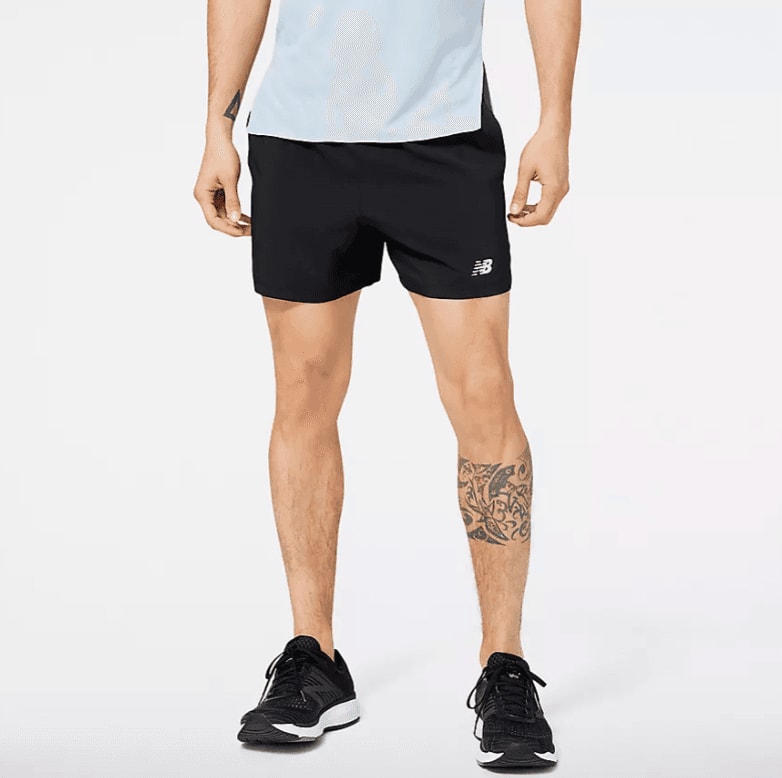 (Mens) Accelerate 5 Inch Short
New Balance
£30.00
Designed for longer runs, the Accelerate 5-inch Short will endure the heat, keeping you cool and comfortable along the way. With New Balance's innovative moisture-absorbing DRY technology, as well as drop-in disguised pockets perfect for storing valuables, water packs and nutrition, these shorts are the perfect pair for any keen runner in the making.
LDN calling
(Womens) Q Speed Jacquard Tank
New Balance
£19.00
Gearing up for the London Marathon with these longer, brighter days? Say less. A classic tank available in all sorts of bright colourways, this running top is built for increased agility and speed to help bolster your run. The sleeveless, polyknit mesh material will keep you refreshed and comfortable wherever your ventures take you, be it a morning training session or the actual London Marathon. Good luck!
This article has been brought to you in partnership with New Balance, which is working to get people on the move with its 2023 TCS London Marathon range.