How to master the mental challenge of a marathon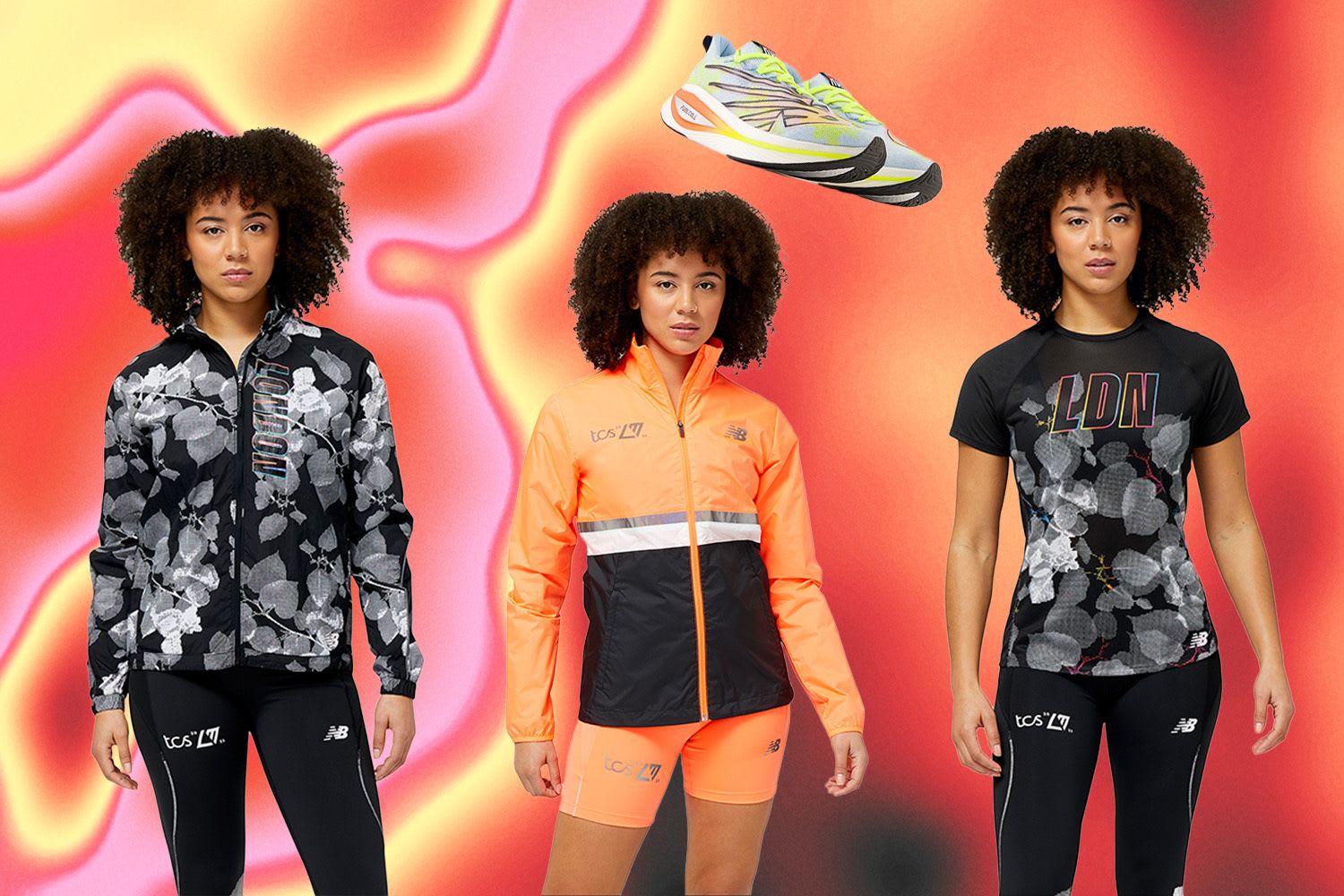 Sports psychologists give tips on how to prepare, we give tips on what to wear
image Team Woo
words Megan Wallace
Google "how to prepare for a marathon" and you'll get a bunch of tips on physical training, what to eat and even how much you should be sleeping. One muscle you might forget to stretch though? Your mind! Yep, running a marathon is as much a mental challenge as it is a physical one.
Don't believe us? Just ask Dr Phil Hopley, the founder of Cognacity, a leading performance and mental health consultancy who work with a range of elite performers in business and sport. As he explains, mental preparation is of particular importance for first-time runners as "the fear of the unknown" can put the nervous system into overdrive. "Most novices do not complete the distance before the big day so pre-race nerves are heightened," he says. "This anxiety triggers our fight/flight system, burning more energy than necessary, hampering performance."
But, as Dr Hopley points out, any marathon runner will need to turn inwards before the big race in order to get big results. "Mental resilience accounts for well over 50% of performance," he says. "Unhelpful thoughts can lead to demotivation, attention to physical strains and even catastrophising. These mind traps negatively impact performance and the whole marathon experience. Preparing mentally is just as important as physically."
While the process of hyping yourself to complete a 26-mile run is a hurdle in and of itself, there's also the phenomenon of "the wall", something marathon runners report usually around the 17 to 18 mile mark, where your muscles have used up all your glycerine (stored energy).If you've never experienced it before, it's the moment where it feels like your internal strength bottoms out and you have absolutely no will left to run another step, let alone nine miles. Add to this feelings of physical exhaustion and legs that feel like jelly and you get the picture: it's a bonafide nightmare.
Not having a strategy for getting through this means you'll probably resort to slowing down or walking – which can be pretty frustrating for people who have spent months training towards reaching a particular time. Typically, running through your glycerine supply puts your brain into preservation mode, which is why you might encounter self-defeating thoughts as your mind encourages you to take a break from unnecessary activity.
Luckily, Dr Hopley has some tips for getting through this mental block. "Directing attention away from this discomfort and fatigue is critical," he says. And, if you're into mindfulness or activities like meditation, you can put those skills to use here, too. "I teach runners mindfulness – deliberately focusing on something other than the discomfort," Hopley continues. "For example: pay attention to the scenery, crowd, music, other runners, mantras and meditation. Anything to disconnect from unhelpful mental focus."
How to mentally prepare for a marathon
Need more tips? You're in luck, clinical sports psychologist Dr Victor Thompson has pulled together some handy mental preparation tips to help you when the going gets tough and to do your best on race day, no matter the circumstances:
1. Remember your grit
"Recall times in training where you have persisted and shown grit and determination. This could be when fatigued, emotionally low, running in some bad weather. Then note how this experience will help you on marathon day
2. Set clear goals
"Remember your goals, or set some for the day. It can be good to envisage an ideal time for if things go smoothly and a time for if you have some rough periods and slow down more than is ideal."
3. Make friends with failure
"It's also important to prepare for if you have a rough day and things really don't go your way. Whether you finish slower than you planned or even pull-out from the race. Work to accept how this is okay, knowing that you will have future options."
4. Back yourself
"Grow your internal cheerleader. Make some notes on what will help encourage you on marathon day. Why are you doing it? What is good about the day? Why is it a good test? Test out these in training, so you have the most effective ones ready for marathon day."
Hassle-free clothes to help you stay focussed on race day
As well as engaging in mental preparation and working on things like goal-setting or building a healthy internal monologue, sports psychologist and performance consultant Elliot Smith argues that a key part of staying psychologically on track when you set out on race day is about preempting any potential stress or inconvenience.
"Taking part in a marathon can induce a lot of stress. Hence, a key factor in being mentally prepared for a marathon is taking steps to proactively manage said stress," he says. "Not all stressors can be fully reduced or prevented, but with good preparation they can at least be managed."
One thing that you don't want to be causing you grief on the big day? Your gear! The right kit can help you feel confident and supported going forward, which is why it's important to choose wisely and pick items that will shield you from unexpected weather, keep you dry when you build up a sweat, and give you plenty of pockets to store your precious valuables.
Without further ado, below we've rounded up the products for training or race day that will keep your mind on the running, prevent any discomfort from ruining your focus and give you a mood-boosting dose of colour to raise your spirits.
Keep on track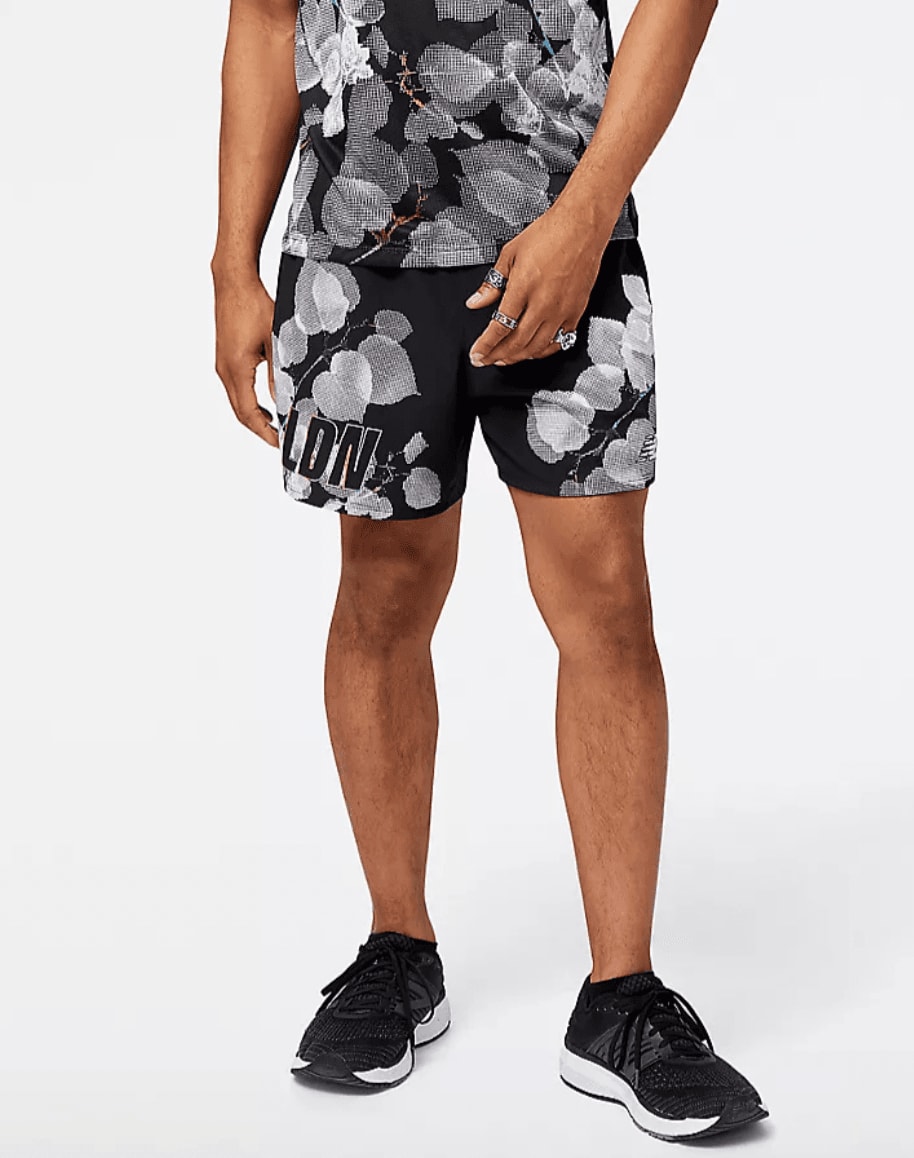 (Mens) London Edition Printed Impact Run 5 Inch Short
New Balance
£45.00
These hassle-free running shorts allow you to keep your mind on running without having to worry about how you're going to carry your keys. Thanks to easy-access drop-in pockets, a zipper pocket for valuables and a special storage tunnel (which you can thread extra layers through - either ones you've taken off or want to put on later) it promises a place for everything and everything in its place.
Just right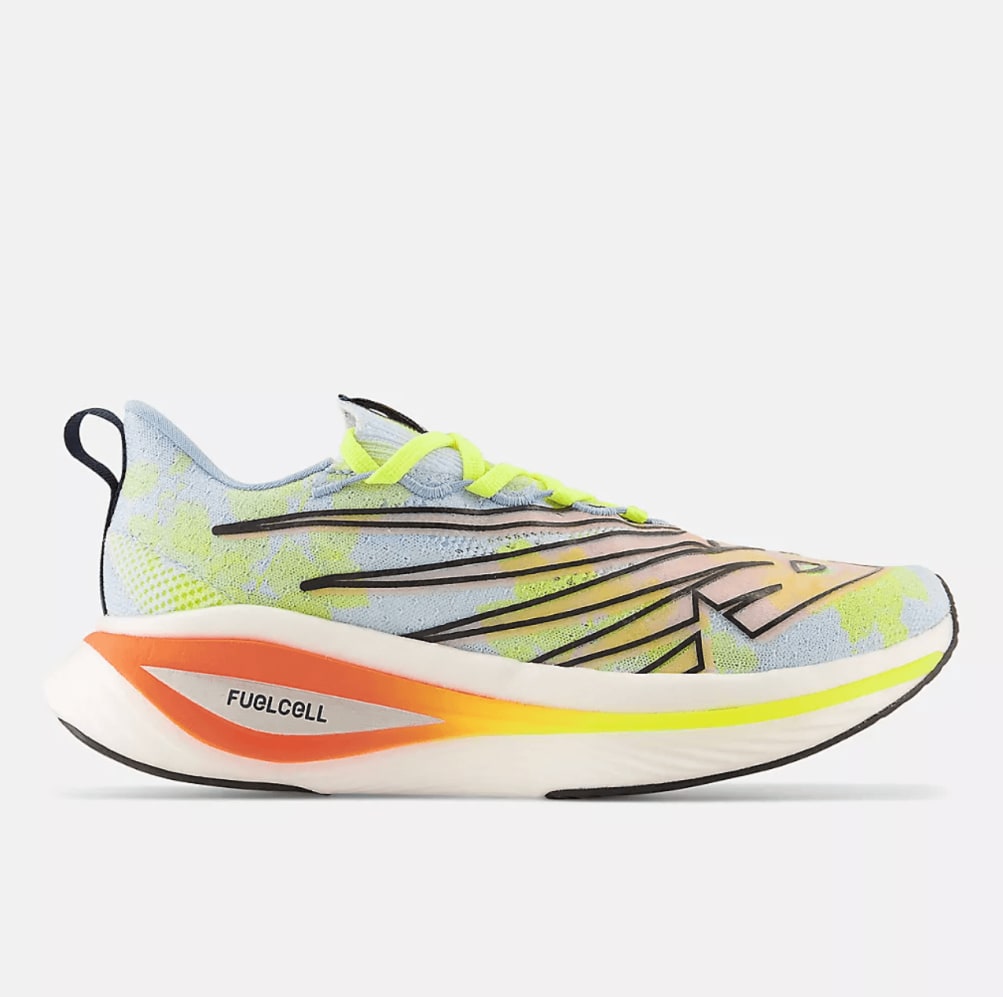 (Mens) London Edition FuelCell SuperComp Elite v3
New Balance
£220.00
Are you a running shoes Goldilocks? Do you struggle to concentrate if your shoes don't feel like the perfect fit? Trust us, we get it. Let us suggest an antidote: the FuelCell SuperComp Elite v3 running shoes. These custom fit trainers hug a runner's feet for a locked-in fit, and contain FuelCell foam for a cushy, propulsive feel.
Bright sky thinking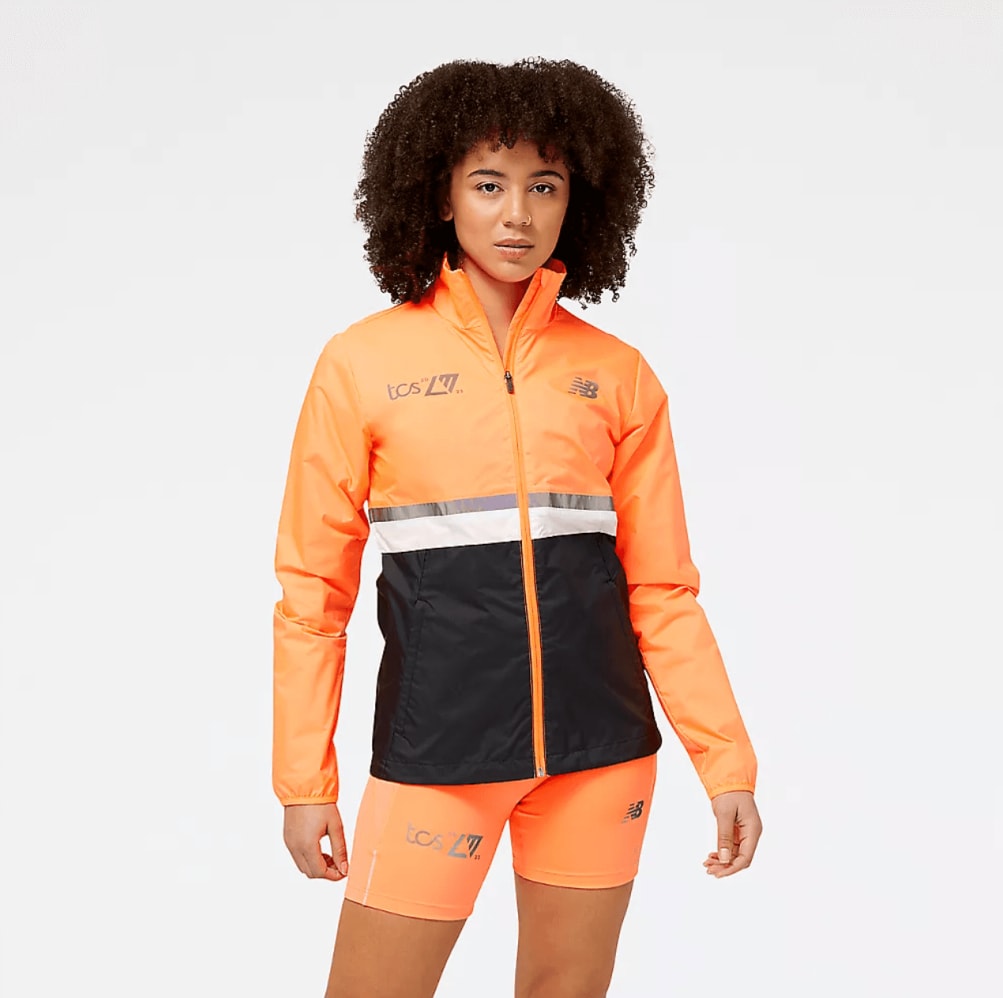 (Womens) London Edition Marathon Jacket
New Balance
£100.00
"Hope for the best, but prepare for the worst" - that's our motto, and this lightweight jacket helps you do just that. It's the 2023 TCS London Marathon Official Jacket from New Balance as well. And coming in a spirit-lifting shade of orange, it's wind-resistant and serves as a valuable layer to have on hand in order to combat changing weather conditions during a long-distance run. When you're prepared for a downpour, it takes a weight off your mind.
Stay dry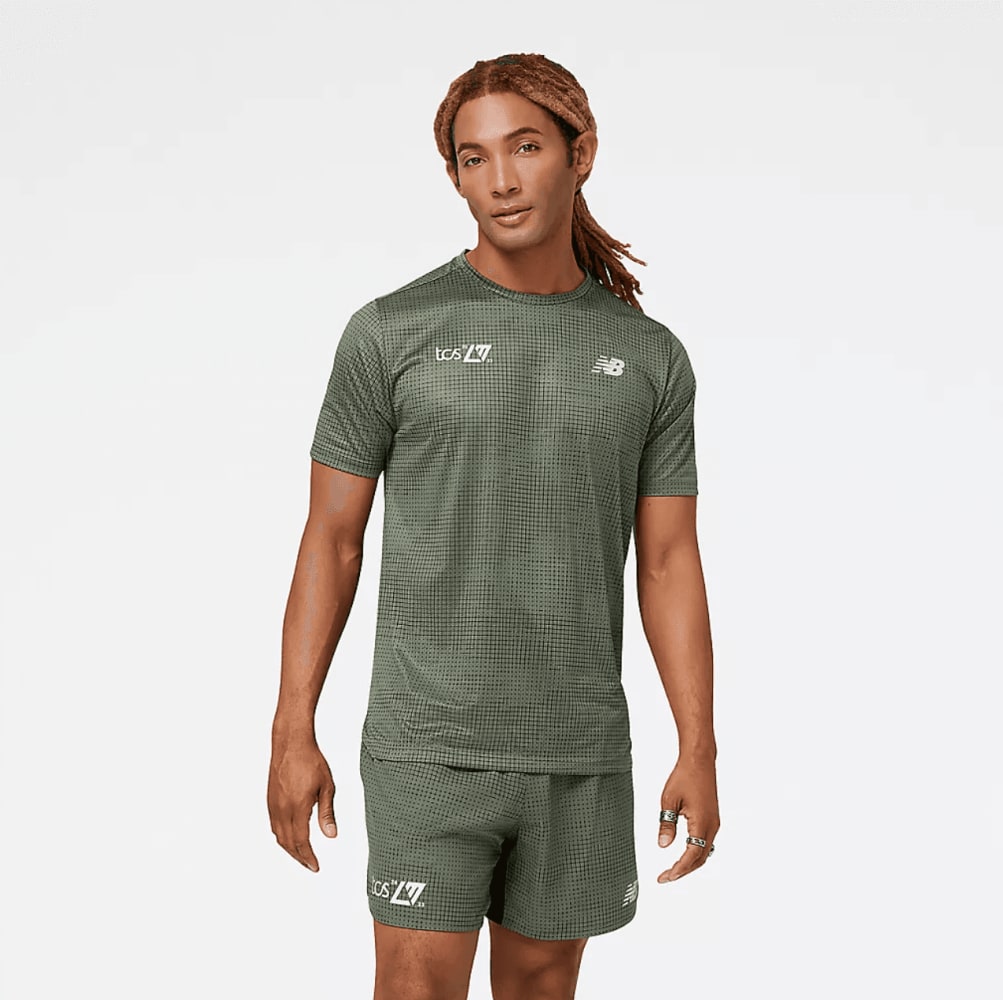 (Mens) London Edition Printed Impact Run Short Sleeve
New Balance
£48.00
When you're running for miles, it's only natural that you'll build up a sweat. When it's race time, however, a layer of perspiration can make you feel seriously grim as the racecourse stretches out into the horizon in front of you. The answer? Keep it cool and dry with the right gear. Speaking of which, the London Edition printed impact run short sleeve features fast-drying NB ICEx technology and a breathable mesh fabric so you'll feel comfy and in control no matter the distance.
The higher the foam, the closer to heaven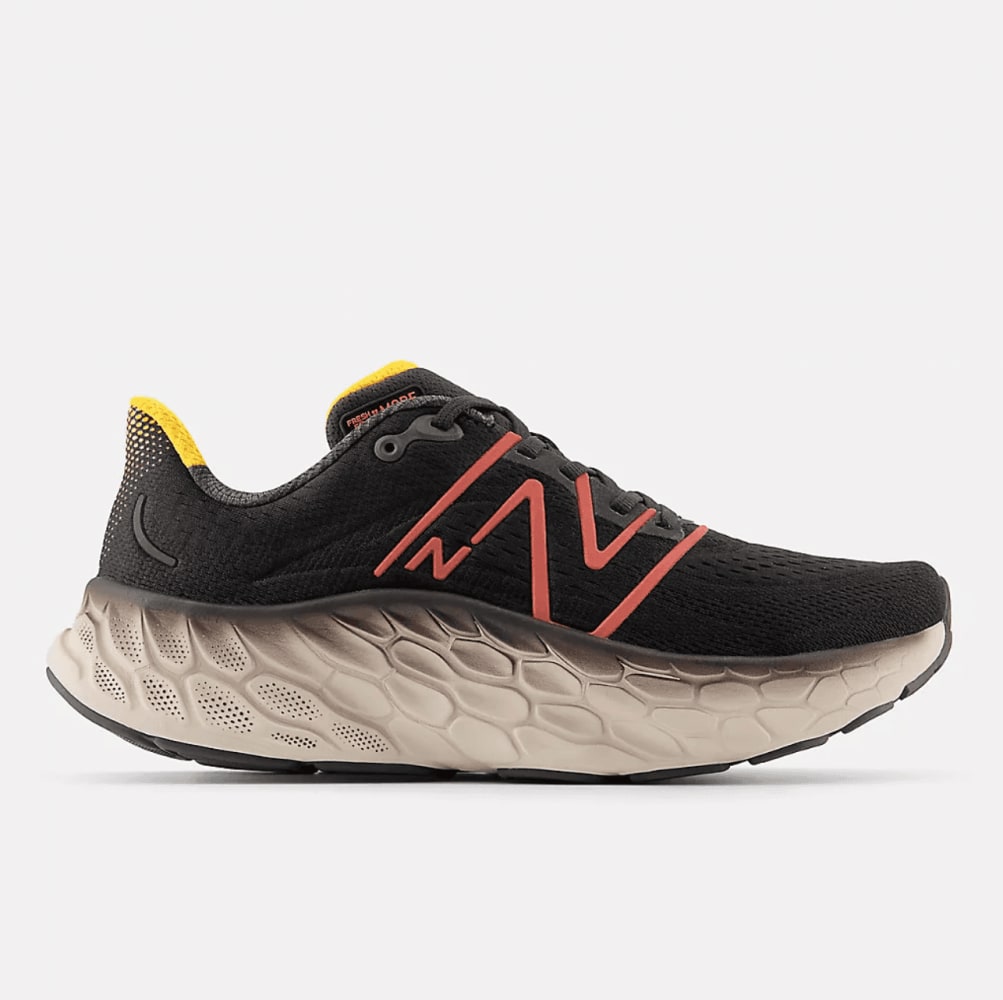 (Mens) Fresh Foam X More v4
New Balance
£140.00
Sadly, your shoes won't be able to run the marathon for you but, wow can they help. The right trainers can feel like your built-in cheerleader, there to cheer you on as you battle through your race. That's where the Fresh Foam X More v4 come in, which has the most Fresh Foam used in any New Balance shoe to date. This translates to a generous stack of foam to help cushion every step and keep you going.
It's all about flow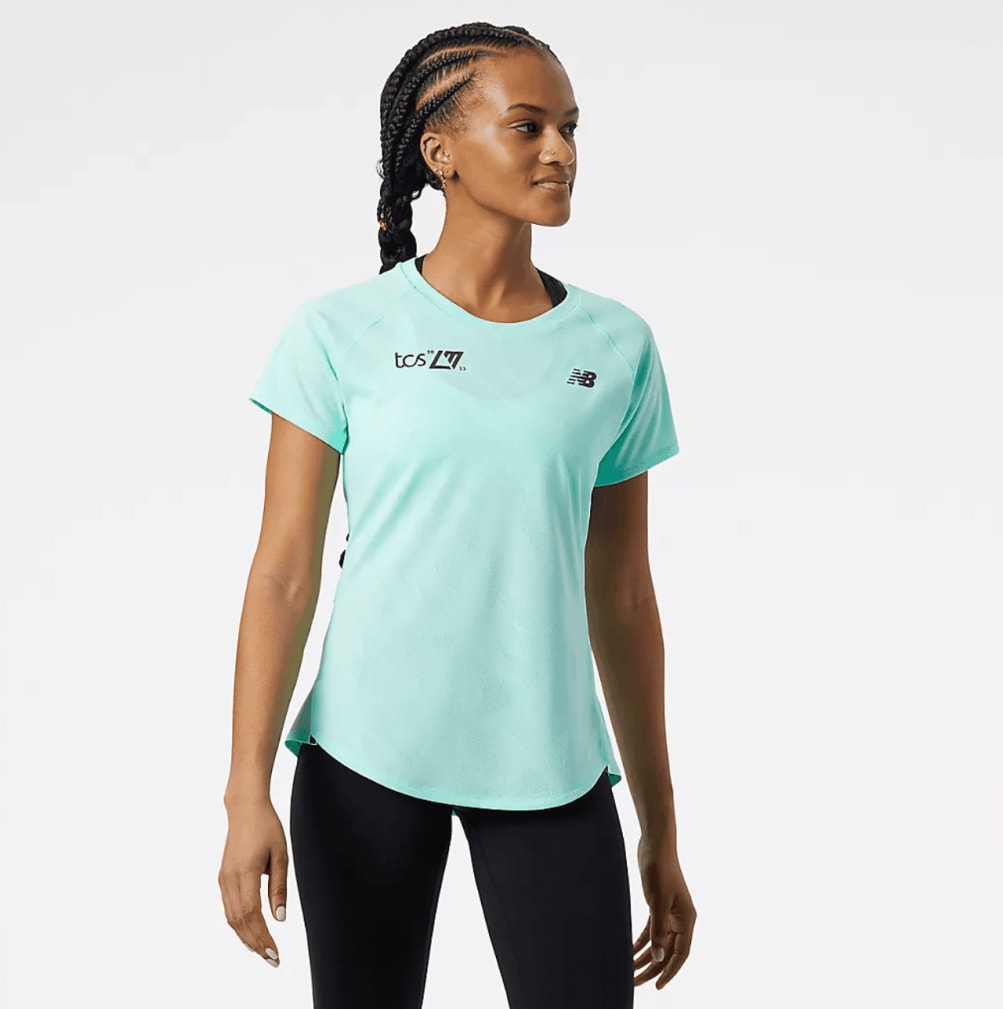 (Womens) London Acceptance Q Speed Jacquard Short Sleeve
New Balance
£45.00
Want to keep fresh while you tear through those miles? Going with the flow could well be the answer. And we don't mean slowing down your stride, either. The London Acceptance Q Speed Jacquard Short Sleeve combines NB ICEx cooling technology with a textured, jacquard design that keeps you cool by promoting the flow and circulation of air.
Going the distance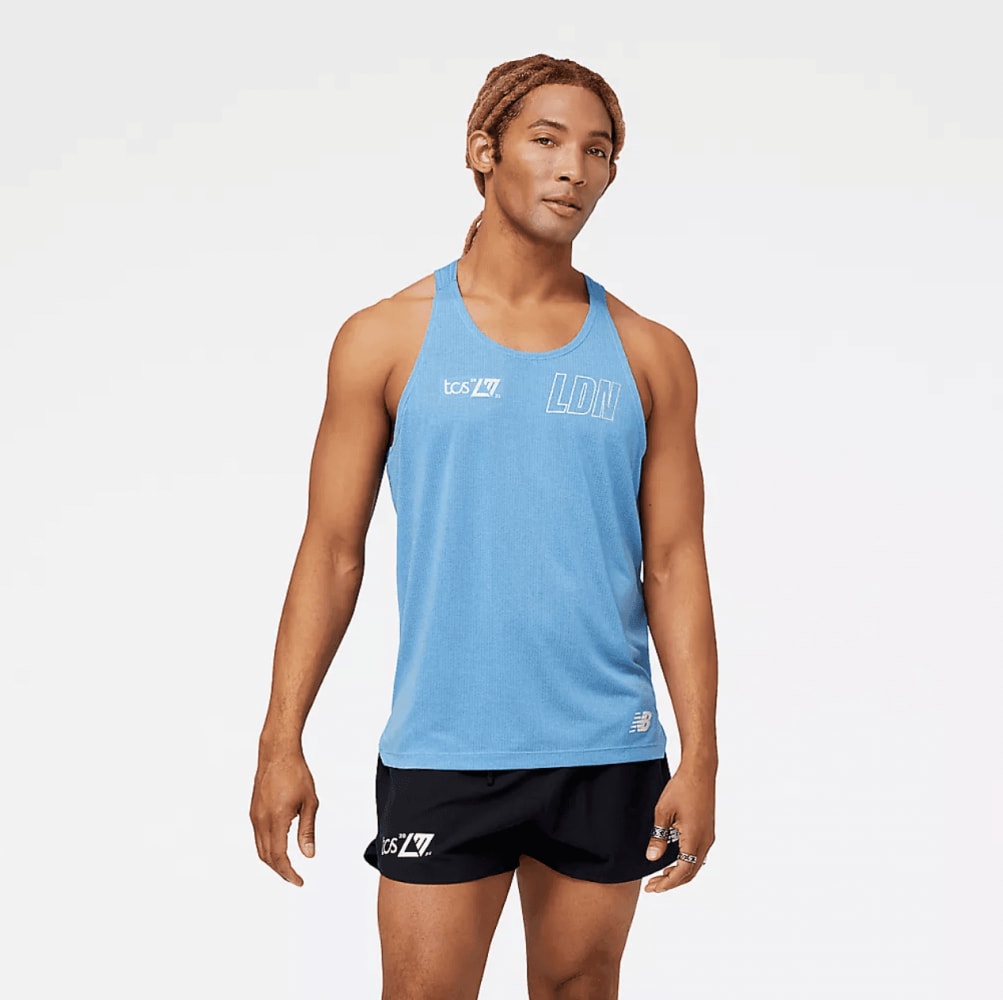 (Mens) London Edition Graphic Impact Run Singlet
New Balance
£40.00
One thing that helps you stay on top form? Top gear. That's where this singlet comes in. Prioritising comfort, it's designed to keep you cool thanks to mesh fabric. But it doesn't stop there: with reflective piping and graphics, it'll help you make a visual impact, too.
The right clothes for the job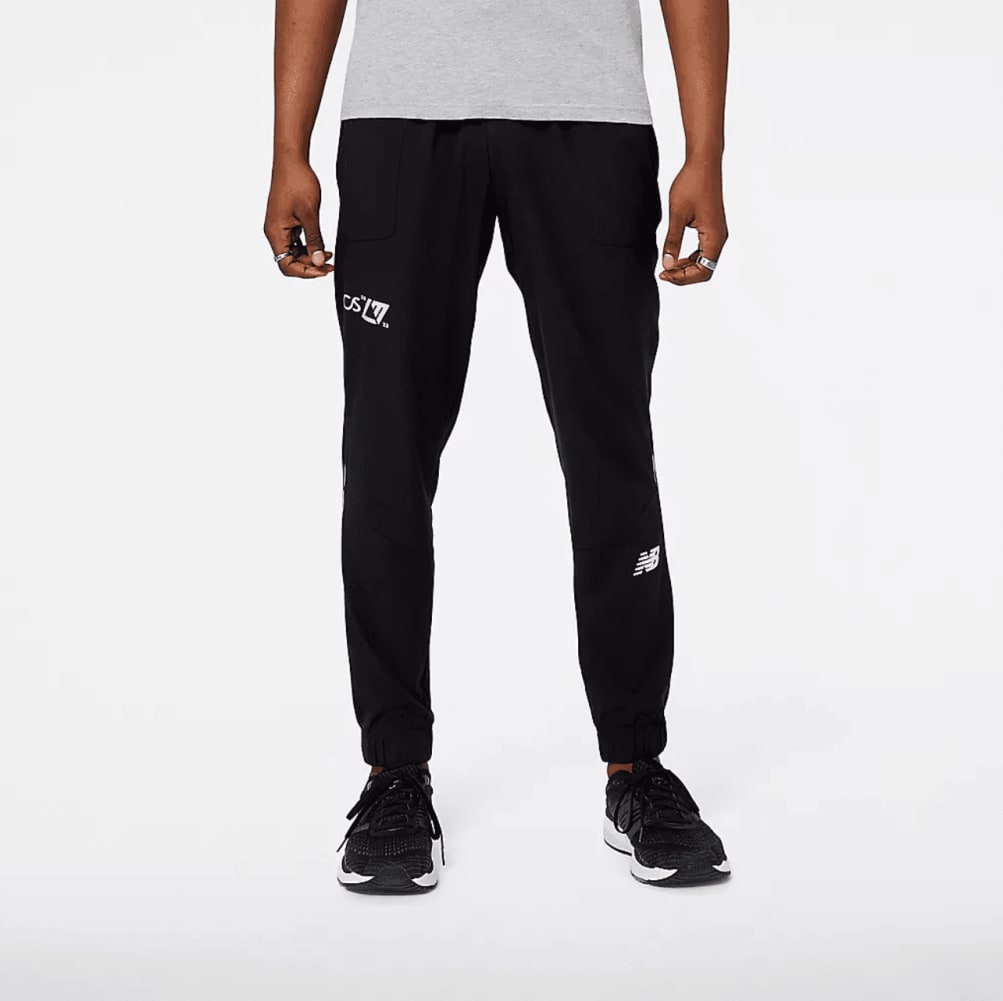 (Mens) London Edition Impact Run Woven Pant
New Balance
£70.00
Wrap up in these durable run pants, made from a water and wind-resistant woven material that will help shield you from the elements. With a tapered silhouette, they'll make sure to warm you up and keep you cosy post-marathon - no matter the weather.
The perfect fit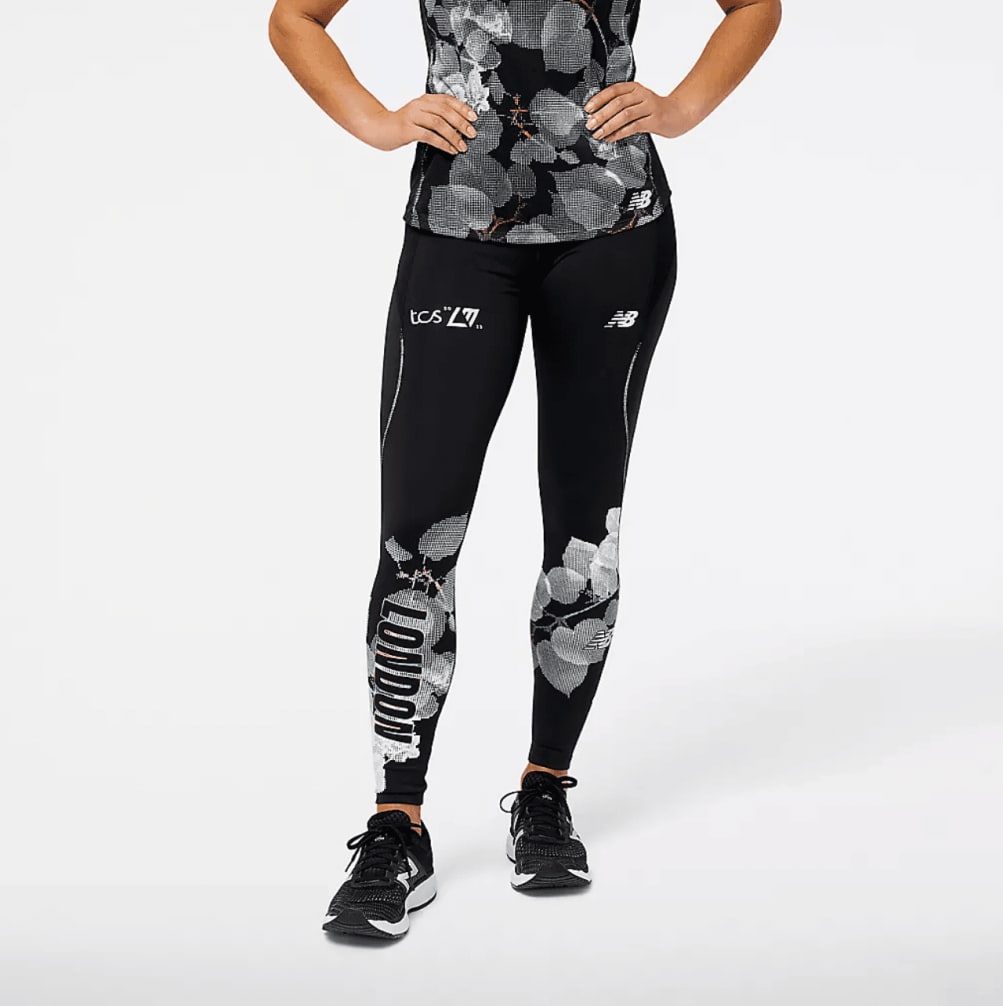 (Womens) London Edition Printed Impact Run Tight
New Balance
£65.00
Whether it's race day or training, these printed run tights are here to make sure you get the best out of your run. NB DRYx premium, fast-drying technology wicks moisture away from your body and helps promote comfort - so your mind can stay focussed on the end goal - and the mid rise fit ensures flexible movement.
This article has been brought to you in partnership with New Balance, which is working to get people on the move with its 2023 TCS London Marathon range.