Dover Street Market's sample sale is sending fashion girlies feral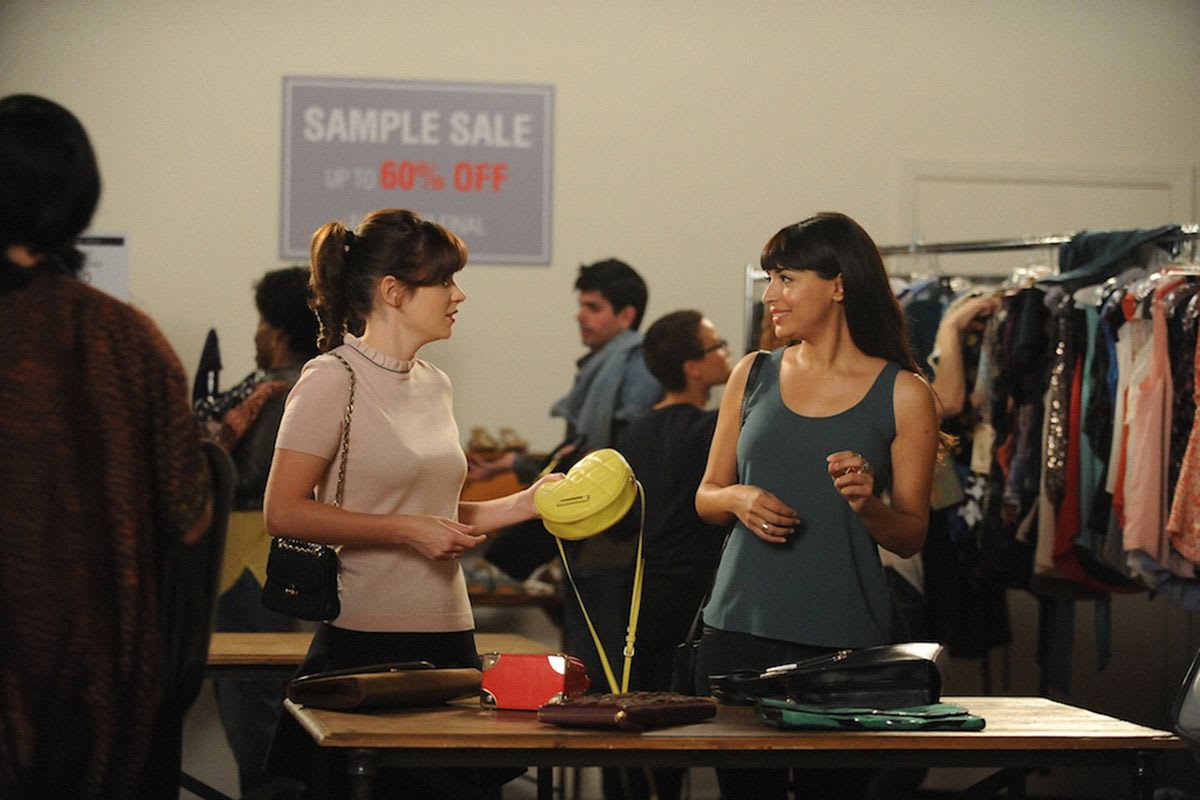 Plus Gucci and A$AP Rocky land in Seoul, the BFC announce this year's winners and the latest fashion from Cannes
image New Girl
words Sophie Lou Wilson
Attention London fashionistas! This is not a drill!! The Dover Street Market MARKET sample sale is BACK!!! For the first time since 2016, the iconic event has taken over Printworks, offering up to 80% off Comme des Garçons and other DSM faves, including Dries Van Noten, Maison Margiela and Jacquemus. The bad news? You'll have to join London's biggest queue since the Queen died if you want in. Elsewhere in fashion, we have Gucci's sporty, eclectic Resort 2024 collection in Seoul, the winners of the British Fashion Council's 2023 awards for emerging brands and the latest from the red carpet in Cannes. Here's all the feel good fashion news from this week you might have missed.
Set your alarms! It's time for the DSM sample sale
you are missing out on some content here because you rejected our cookies. want to change that?
Under normal circumstances, a bad experience at Printworks might involve a tacky chunder in the toilets or getting off with someone you'll regret getting with in the morning. But, alas! The iconic nightlife venue closed its doors for good earlier this month. Thankfully, there's already another chance to say goodbye to its hallowed halls one last time. A bad experience at the south London venue now might look more like queuing for 5 hours to fight with a CSM student over archival Comme des Garçons.
That's right. Dover Street Market MARKET, the legendary sample sale that only happens once every five or so years, has taken over Printworks, meaning London's hypebeasts and high fashion girlies have swarmed to the venue en masse for a chance to get their hands on some discounted designer goodies. The concept store has put around 80,000 pieces from their inventory on sale for up to 80% off their original retail price. And this isn't the kind of sale where they say "up to 80% off" but everything is actually 20% off. The discounts really are that good. Think Jacquemus boots for £25 instead of £475 or Comme des Garcons shirts for £50 instead of £170. The sale is on until Sunday, but free tickets are now sold out and having a ticket doesn't guarantee entry if too many people turn up to the queue.
With such impressive discounts on offer, it's no surprise that the fashion crowd is going absolutely feral. Some customers start queuing at 4am, despite the sale not opening until 11. Others are paying people to queue for them. On Tuesday, the queue closed after just a few hours because it reached capacity for the whole day. Now, us Brits love a queue and it's not unusual to queue for a sample sale. I willfully spent two hours shivering out in the street this February to get into the KNWLS sample sale, and it was worth it. But with waiting times up to seven hours and TikTokers sharing stories of people pushing in and poor crowd management, the Dover Street Market sale feels more like London's answer to Fyre Festival or The Hunger Games. The things we do for fashion, eh?
If you do head down this weekend, remember to pack water and snacks. Some people have even been bringing their laptops so they can work or watch Netflix in the queue. After all, if the royalists can muster up some camaraderie and high spirits while queuing to see the Queen's coffin, then surely we can do the same while queuing up for the sample sale that originated from our queen (Rei Kawakubo) Good luck!
16Arlington and Labrum win support from the British Fashion Council
you are missing out on some content here because you rejected our cookies. want to change that?
Setting up your own brand as a young designer is a huge undertaking, but fortunately the British Fashion Council offers various grants and mentorship schemes to support emerging brands on their ascent. This year, the BFC paid £1.1 million to scholarships and support schemes to elevate the next generation of fashion talent. The BFC/Vogue Designer Fashion Fund winner was 16Arlington, renowned for their endlessly covetable all-night party dresses. Meanwhile, the Queen Elizabeth II Award for British Design was presented by the King to Labrum London who showcase West African culture and style through a colourful contemporary lens.
Gucci enters its sporty era for Resort 2024
you are missing out on some content here because you rejected our cookies. want to change that?
Since king of kitsch Alessandro Michele left Gucci with immediate effect at the end of last year, the brand has been in a state of flux. This week, they landed in Seoul for Resort 2024, the last collection designed in-house before creative director Sabato De Sarno takes the helm. Skateboard bags, surfboards, neoprene aqua shoes and wrap around sunglasses spoke to the summer impulse to take up a bunch of sporty new hobbies while monograms and sequins spoke to a not so quiet luxury. While it wasn't the most cohesive collection, its strength lay in its wearability; the opening look was a black padded coat over jeans. Gucci ambassador A$AP Rocky performed at the afterparty in a white shirt and a kilt styled with a New York Yankees hat. Fashion killa forever.
Celebs are serving c*nt in Cannes
you are missing out on some content here because you rejected our cookies. want to change that?
If you just love judging celebrity fashion, you might have been suffering from a case of the post-Met Gala blues. Until Cannes Film Festival, that is. The annual festival kicked off in the south of France this week and so far, Iris Law, Elle Fanning and Phoebe Waller-Bridge have served some dramatic red carpet looks. Law wore an edgy office wear look straight from Saint Laurent's AW23 power dressing runway. Elle Fanning's ethereal balcony pics in Armani proved she's a real life princess. Meanwhile, Phoebe Waller-Bridge wore an understated black Schiaparelli dress that wouldn't look out of place on her character in Fleabag when she's feeling dramatic. The festival continues until Saturday 27 May.