Why cheering in the cinema builds community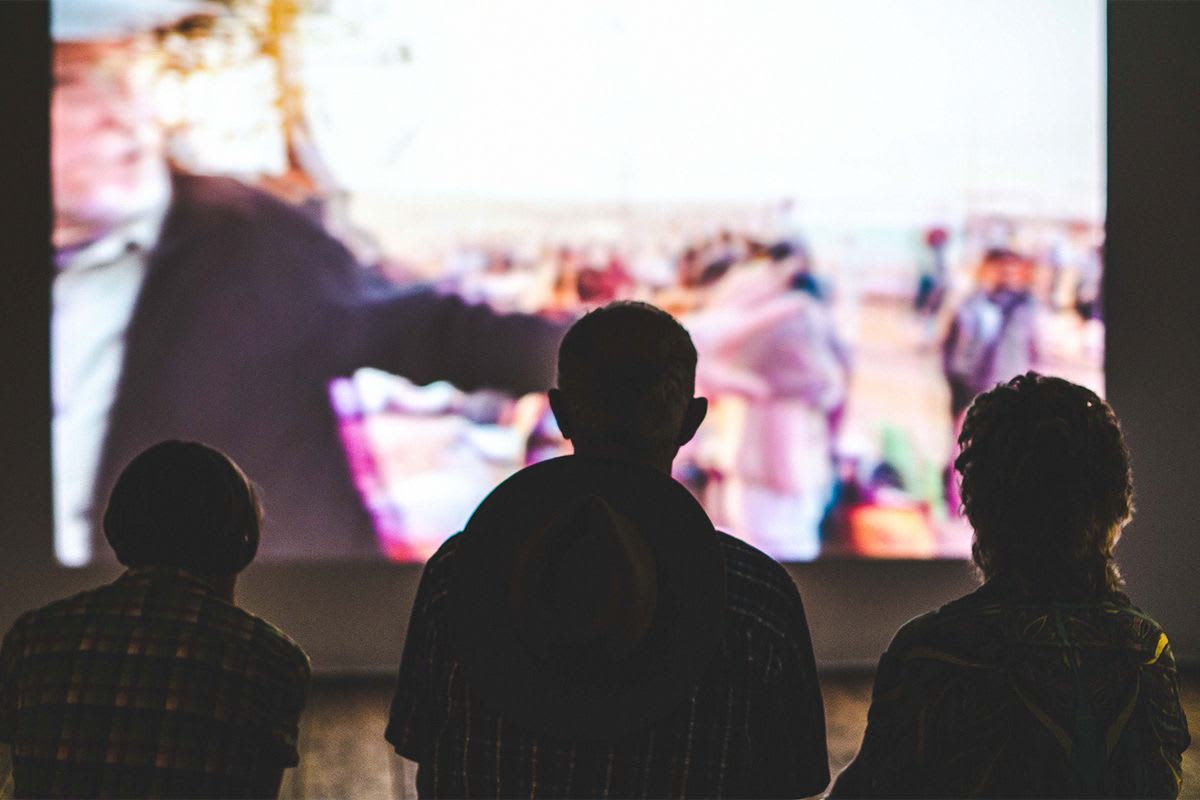 Texting in the cinema may be uncool but collective awwing and hooting builds a sense of belonging, here's why
image Aneta Pawlik / Unsplash
words Darshita Goyal
Over the last month, easily disgruntled Twitterati have been furious at cinema goers. With Barbie crossing $1 billion and Oppenhemier tagging along for the money-making ride, everyone and their mother is claiming that cinema is back. But with the new boom comes a new etiquette, one that is receiving immense flack too. After spending the last few years consuming content at home with friends and family, young people are accustomed to watching films passively.
Most often the mobile serves as the primary screen where we scroll on TikTok or Google random details from the movie, while the actual film itself is played on a second screen - think a laptop or an iPad. I'm not entirely a fan of extending this to the public realm - no matter how much I empathise with my peers who hate to be away from the scroll, I can't justify disrupting the immersive and communal experience of watching a film in the cinema to watch YouTube videos on full volume or take pictures with the flash on. But let's not paint it all in the same pessimistic shade. There is another, more wholesome by-product of the new cinema etiquette – the serendipity of collectively reacting and engaging with a movie that makes the experience feel a little less isolating.
Let me explain: remember when you watched Barbie in the cinema? Chances are you wore pink or at least saw others dressed in saccharine candy colours. Now think of that moment when you saw someone else dressed like you and exchanged a kind nod of approval or a knowing smile. It felt special, didn't it? Similarly, I remember certain bits of the movie more fondly than others because of how the strangers around me reacted to them. Like that scene when stereotypical Barbie is leaving for the real world and all the other Barbies wish her luck and say goodbye. On cue, me and the stranger seated to my right said "Bye Barbie."
I have no idea how that came out but it did; both of us looked at each other, equally embarrassed and delirious, and giggled. We never spoke again but that shared exchange made me feel like I'm part of a larger community of the cinema. In an earlier scene, when Margot Robbie's Barbie realised she had flat feet - an iconic moment wildly teased on social media - the whole theatre burst into fits of laughter. For a brief moment there, I was transported back to my childhood in India to a time where cheering, clapping and hooting in cinemas was a happy indicator that the film is a blinding hit.
This was a time before the multiplex, when people across socio-economic backgrounds watched films together at that one popular single screen theatre in the city. I remember seeing (the terrifyingly nationalist) 2006 Bollywood film, Rang De Basanti there. All of eight years old and oblivious to the propaganda, I left the theatre with a twinkle in my eye, feeling like I belonged in a larger world because of the audience's passionate and unified response to the movie. I can still smell the cheese popcorn that people threw in the air at the end to celebrate India's victory over evil and whatnot.
No, I'm definitely not suggesting we throw food to celebrate a fun scene, I am rather making a case for the shared ecstasy of watching a film together in a theatre. As screens got bigger, IMax got better and 3D, 4D even 5D became a reality, the cinema became synonymous with a space to consume content in high definition. As a family, we stopped going to the single screen theatres in India because the audience was deemed too rough and excited by my parents. Instead, we went to fancy cinemas with plush seats and expensive popcorn. There, you had to chew quietly and quickly during loud scenes to not bother your neighbour and if your elbows touched on the shared handrest, you recoiled immediately without any eye contact.
But watching films in the cinema is so much more than good quality viewing and cosy reclining seats. It's also the joy of knowing that the stranger in the front row laughed out loud at a joke you found relatable or someone in the back sang along to a popular song and made you feel less tone deaf. In some ways, the subtle community found in these shared moments can be compared to Swifties trading bracelets at the Eras tour. Instead of merely listening to their favourite artist together, Taylor Swift fans revel in the fandom by exchanging handmade bracelets with strangers – a reminder that you're not alone in the fandom and others there feel just as passionately about the singer.
A couple weeks ago, I watched the Bollywood movie Rocky Aur Rani at a cinema in Finsbury Park and experienced being part of a similar collective elation. Over three hours (yes, it was actually that long), people cackled to nostalgic Y2K references, sang along to cringe ballads and cheered when the protagonists made out – a common response to Indian movies in the noughties. Before leaving the theatre, I looked at the group of friends laughing as loud as me and my girlies and gave them a big toothy smile, which they returned with the same fervour. On the bus back home, I felt warm, fuzzy and part of a larger community in London, just the way I did back in India in 2006.
When I think of the two movies I watched in the last month, I can say with certainty that the people there made it better. And while we can be emphatic about bad cinema etiquette, it's also helpful to focus on the community that feels so very right. After all, with the pace at which technology is changing (at home we can have big screen TVs and accessible surround sound systems), the sole selling point of cinemas will soon be that they provide a communal experience, and it's time we embrace the goodness that it can bring.