If you love someone you should tell them, just like Billie Eilish does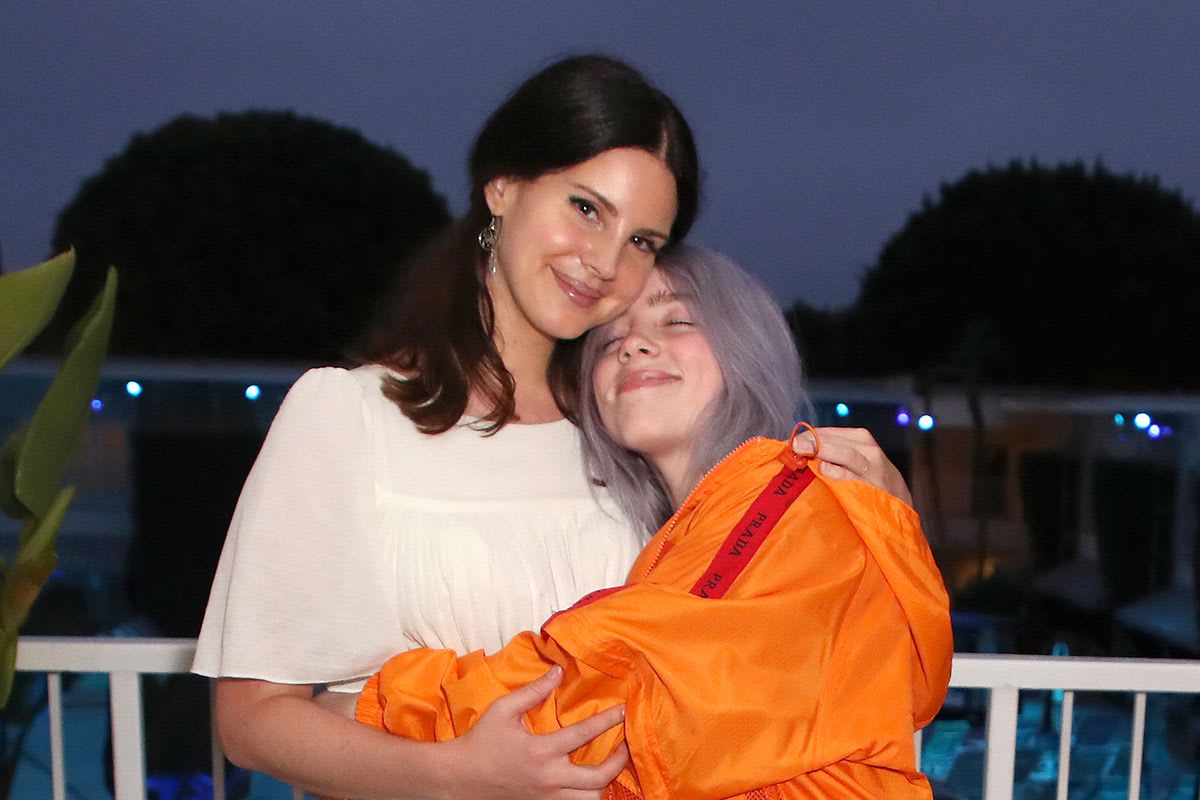 Game respects game, be kind, and other nice thoughts about Billie Eilish's recent conversation with Lana Del Rey
image Chelsea Lauren/Variety/Penske Media via Getty Images
words Rhys Thomas
Eilish grew up loving Lana Del Rey. She had just turned ten when Del Rey's major-label debut album Born To Die came out and changed the notion of alt-pop (and probably cigarette sales) blending a sort of collegiate baroque pop with a trippier cinematic soundscape and references to love, sex, and drugs, all through a moody 1960s Americana filter. A smash, a classic. We were all in love with it, and Eilish was, too.
Six months after Born To Die, we were entering peak Justin Bieber era. In 2021, his third LP Believe came off the back of two huge albums and a load of touring. It was generally described as his most ambitious work to date, and Eilish was by all accounts, a stan of both artists.
These sophisticated, grown-up pop albums also happened to come to Eilish in her formative years. Within a year of both records being released, she wrote her first 'proper' song at 11 years old. She was to no doubt influenced by these artists, and has even said Bieber saved her "from ruining her life". She's also vocally admired Tyler, the Creator more around the beginnings of her superstardom too.
you are missing out on some content here because you rejected our cookies. want to change that?
Of course, Eilish is now also world famous in her own right, having given Gen Z as much as Del Rey and Bieber gave her. She has even befriended Bieber. In the early part of this interview, we can see how Lana has always rated Billie too; "I remember seeing the first videos of you singing and I said to my managers, 'She's the one.' This is the girl. She isn't just talented. You can tell she's kind."
Eilish ends up reminding Del Rey that they're there to talk about her upcoming album, and they do so for the rest of the interview.
But let's focus on these exchanges of admiration. Del Rey calling Eilish kind is interesting. Talented, duh. But kind? It's a specific, very human, thing to add to compliments about her artistry. Clearly in Del Rey's world, kindness rules and is a notable part of being a pop star.
What has Eilish done to be kind? She's said she loves Del Rey, and other people. She isn't afraid to say, they are great. There is no gatekeeping of appreciation for Billie Eilish. And yeah, why shouldn't we aspire to be on the same platform as people we admire, and then continue to admire them and others below us when there?
We all have different timelines in life. If we can keep being ourselves, doing what we want to, while also making sure we tell people we rate and respect and are inspired by them. I think that would feel good.
And sure, sometimes we meet people we rate and the vibe is off, but they might be busy or even just not as socially inclined as you in that particular moment. These are the situations where we should separate the work from the artists. But honestly, most people in high places are nice. The idea of never meeting your heroes? Out. Outwardly loving people like Eilish does? In.