Billie Eilish's new, acoustic track speaks out for abortion rights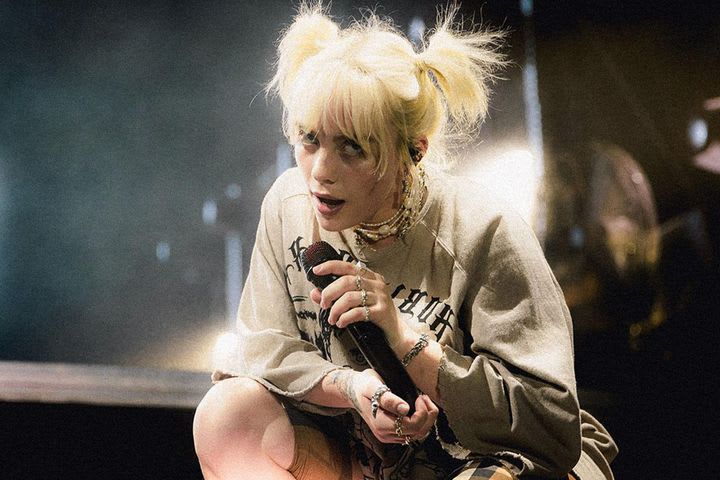 The song – which the musician debuted during the Manchester leg of her Happier Than Ever world tour – reflects on the media, while referencing Johnny Depp and Amber Heard and the overturning of Roe v. Wade
Billie Eilish is no stranger to using her platform to create positive change. Last year – ahead of the 2021 Glasgow's COP26 summit – the Grammy Award-winning artist called for the world's leaders to take "urgent" action against climate change, and last month, she opened up about "making friends" with her Tourette's syndrome on David Letterman's new Netflix series.
Now – during the Manchester leg of her Happier Than Ever world tour – the musician released a new song: a somber, acoustic ballad speaking out about the media with references to the US Supreme Court's impending overturning of Roe v. Wade.
"We haven't played a new song live before it's out since 2017 or 2018," said Elish, before performing the song – titled "TV" – accompanied by her brother Finneas on guitar. "This is one we just wrote, and we just wanted to play for you."
Opening the song, she sings: "I don't wanna talk right now / I just wanna watch TV / I'll stay in the pool and drown / So I don't have to watch you leave / I'll put on Survivor just to watch somebody suffer / Maybe I should get some sleep."
you are missing out on some content here because you rejected our cookies. want to change that?
Later, in the second verse, Eilish references Johnny Depp and Amber Heard's highly disputed defamation trial, before drawing attention to the 1973 abortion ruling. "The internet's gone wild watching movie stars on trial / While they're overturning Roe v. Wade," sings Eilish, which caused the crowd to erupt into applause in support of her drawing awareness and taking a stance on the issue. Meanwhile, the track closes in a slow, hypnotic chant, where Eilish repeats: "Maybe I, maybe I'm the problem."
This isn't the first time Eilish has used her platform to speak out for abortion rights. In 2020, the musician joined up with 200 musicians to voice support for Planned Parenthood, and in 2021, she spoke out against Texas' near-total abortion ban on Instagram after sharing multiple posts criticising the bill.
"I'm so fucking tired," she wrote on her Instagram stories. "Makes me sick how many men say nothing when it comes to women's rights." She continued: "I really wish men cared more."
Extending her impact, Eilish is gearing up to host the 02's upcoming six-day climate change conference. Named after her own track, "Overheated", the event will bring together environmental activists, musicians, and designers to discuss the climate crisis and how to "make a difference" and create positive change through their work.
Check out the full "TV" track below.
you are missing out on some content here because you rejected our cookies. want to change that?